The 10 Best Games in 2021, So Far
Looking to switch up your library with the best games 2021 has to offer? This year has seen the release of so many enchanting titles, spanning a broad spectrum of genres.
Whether you're a budding console or desktop PC gamer, there is something for everyone – from authentic sports games to the best MMOs 2021 has seen.
What are the top games of 2021? Which games made our list? How did we choose the best games of 2021?
The games we picked are those offering the most immersive entertainment value - titles with stunning visuals and audio, and storylines and game dynamics that offer unrivaled authenticity.

In other words - games that effortlessly transport us into next-generation gaming, including the absolute best releases, remastered classics, and long-awaited sequels that were and are available in 2021.
Without further ado, here is our list of the best games of 2021:
1. Returnal (Housemarque)
Returnal was one of the most eagerly anticipated releases on the PlayStation 5 and was an instant contender as one of the top games of 2021. It fuses super-quick load times, an impressive utilization of DualSense haptics, and a hugely immersive space-age storyline that is too addictive for words.
The game is set around a spaceship that's crashed in the wilderness. You take control of the protagonist who is the sole survivor of the crash and embark on a desperate and hell-raising sci-fi journey. Selene is an Astra scout that finds herself alone on the planet Atropos.
Developed as a third-person shooter, although this fits seamlessly into the futuristic sci-fi genre, some elements make it a psychological horror too.
Few video games have managed to quite articulate the feeling of loneliness like the escapist Returnal – justifiably one of the best games 2021 could hope for.
2. Disco Elysium: The Final Cut (ZA/UM)
Developed and published by ZA/UM, Disco Elysium: The Final Cut is up there as one of the top 2021 games released so far this year. Dubbed a role-playing game, Disco Elysium is unique in that it features no combat whatsoever. Without in-game conflict, each stage of the game concludes using skill checks and dialog trees.
The game is set within a city that's in post-war recovery. Players assume the role of a protagonist detective, tasked with making sense of a mysterious murder. As the criminal investigation ensues, the protagonist battles with past events within his own life simultaneously.
The game features atmospheric music from the hugely popular band Sea Power. As 2021 video games go, this is right up there as one of the most popular games 2021 has been gifted with. It deservedly won the title of Best Debut Game at the 16th British Academy Games Awards.
3. Hitman III (IO Interactive)
It wouldn't be a worthwhile best games of 2021 list without a nod to Hitman III. It's been three years since the release of Hitman II and its successor is the third and final release in the World of Assassination trilogy. The single-player stealth game assumes control of Agent 47 once again, as he forges ahead with his mission to take down the Providence organization.
As with Hitman and Hitman II, this game is designed to be played from a third-person perspective, but you still feel like you are walking in the shoes of Agent 47 throughout.
The storyline contains no less than six new open-world locations, including Berlin, Dubai, Dartmoor, and the Carpathian Mountains of Romania. The game is also PlayStation VR-compatible.
This adds to the heart-pounding immersion of IO Interactive's much-loved baby and one of the best games 2021 has to offer.
4. Ratchet & Clank: Rift Apart (Insomniac Games)
Although this title has only been released a matter of weeks ago on June 11, this light-hearted third-person shooter platform game has taken the PS5 by storm already.
It's shot to the top of the best video games 2021 charts, with millennial and Gen Z gamers throughout the years of PlayStation 2, 3, and 4 enjoying the warm fuzzy feeling of playing once again with Ratchet and his trusty side-kick Clank.
Ratchet & Clank: Rift Apart is the 17th installment of this much-loved video game series which promises to be one of the most popular games 2021 has seen to date.
It's a series that's long appealed to all ages – a real family favorite. In Rift Apart, the duo is heralded as galactic idols and the pair embark on a mission to preserve the Dimensionator that Doctor Nefarious is so desperate to get his grubby hands on.
It is one of the few titles on our best games 2021 list that's an exclusive PS5 release.
5. Resident Evil Village (Capcom)
Capcom's sequel to Resident Evil 7: Biohazard was released on May 7, 2021. Resident Evil Village was showcased at a PlayStation 5 reveal exhibition in 2020 to significant fanfare, having long been tipped as one of the best games 2021 could hope for.
Long-time fans of the franchise were excited about the prospect of action-based gameplay compared with the pure survival horror elements of its predecessors. Incorporating a new online multiplayer mode, Resident Evil Village is a must-get for horror fans.
Resident Evil Village is once again set in a first-person perspective, which further heightens the tension. Ethan Winters is still the protagonist, who battles to rescue his baby daughter from the clutches of Chris Redfield.
The chilling vampiress of Lady Dimitrescu makes this one of the best games 2021 has seen alone. Her residence at Castle Dimitrescu is eerie beyond belief.
6. Raid: Shadow Legends (Plarium)
Raid: Shadow Legends was one of the most popular mobile MMOs when it shot to prominence in 2018. It has since been ported to desktop PC and has already won admirers for its playability, making it one of the best games 2021 has seen to date.
Players are required to build their own "squad" of shadow heroes, which comprise over 300. Each of which has its own unique attributes.Once you've primed your squad and you're happy you've got the right balance, you can head into a single-player battle against the AI or log online to take part in hectic multiplayer battles.
With stunning visuals and immersive audio, Raid: Shadow Legends is a worthy entrant to the best games 2021 list - and the best MMOs 2021 list for all you niche gamers.
7. Hades (Supergiant Games)
Following an early release on the Nintendo Switch, Windows, and macOS in September 2020, Supergiant Games rolled out Hades to the PS4 and 5, as well as the Xbox One and Series X/S this month.
It was promptly hailed as one of the best games 2021 had been waiting for. This action role-playing game sees players assume the role of Zagreus, the prince of the Underworld. He harbors ambitions to flee from the clutches of his father Hades to Mount Olympus.
Thus far, the game has received universal acclaim selling 700,000 units during its early access release. A further 300,000 units were shifted upon its official release, making it one of the most popular games 2021 has seen.
IGN described Hades as an "authentic reinterpretation of a classic Greek myth". The portraits of the in-game characters are what help this onto our best games 2021 list, aided by the skills of art director Jen Zee.
8. Microsoft Flight Simulator (Microsoft)
The long-awaited Microsoft Flight Simulator has finally reached the Xbox Series X/S, with an exciting expansion from its normal desktop PC home to video game consoles. This sim is one of the great 2021 games and a true celebration of the console's next-generation hardware.
In terms of the level of mid-flight detail, pilots can expect a crystal-clear experience akin to operating the game on PC using "Ultra" settings.
Admittedly, you need to invest a huge portion of your Xbox storage into the new MS Flight Simulator. It will require a staggering 97.2GB of storage space for full installations. Nevertheless, you receive rewards in spades, with an open world that's waiting to be explored from the cockpit, with regular sim updates downloaded.
It's rare for a sim to hit the headlines but there's no doubting that the new Microsoft Flight Simulator is worthy of being one of the best games 2021 will see.
9. Final Fantasy VII Remake: Intergrade/Intermission (Square Enix)
Final Fantasy VII Remake was one of the fastest-selling PS4 games of all time, shifting 3.5 million-plus units in just 72 hours of its release. It's back again this year as one of the top 2021 video games due to Square Enix's enhanced version, exclusively for the PS5.
This sure-fire entrant to the list of the best games 2021 has to offer is set in the dystopian cyberpunk world of Midgar, where you'll assume control of protagonist Cloud Strife.
The protagonist is enticed to join an eco-terrorist organization known as AVALANCHE. The organization's primary goal is to topple the Shinra conglomerate from draining the planet's energy sources. Square Enix has been applauded for staying true to the original Final Fantasy VII plot from the original PlayStation released in 1997, although dedicated fans may see some differences.
Regardless, the enhanced battle system is what makes this one of the best video games 2021 has seen so far.
10. Super Mario 3D World + Bowser's Fury (Nintendo)
To augment the port-heavy year thus far, Nintendo's Super Mario 3D World + Bowser's Fury was released as an enhanced 2021 video games release in February.
It was hotly tipped to become one of the top games 2021 will see for Nintendo fans. In fact, Super Mario 3D World + Bowser's Fury registered almost a three-fold increase in the number of units sold in the UK compared with the original, putting it near the top of the 2021 games sales chart.
Unsurprisingly, the 3D versions of vintage Super Mario World-Esque levels is hugely welcome, as are the additional power-up features that make it possible for Mario, Luigi, and friends to scurry up vertical levels.
The addition of the Bowser's Fury game is just a bonus for Switch fans who consider this worthy of our best games of 2021 list.
Summing Up Our List of the Best Games of 2021
Although it was incredibly hard to be so selective and hand-pick the 10 most popular releases in 2021, the titles listed above are guaranteed to offer you a mix of thrills and spills to feed your competitive streak!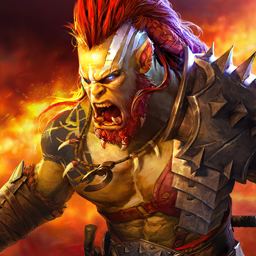 RAID: Shadow Legends
Collect 700+ Champions & Fight For Glory