Trends In Online Gaming In 2017 And Beyond

Check out our summary of the top video game trends of 2018
The video game industry is getting bigger and bigger every year. Last year, in 2016, the industry raked in an all-time high revenue of $91 billion. The predictions for this year are even more optimistic - $108.9 billion in revenue. Whoa...
But what is causing this surge in revenue? The easy answer is just two words - Mobile Games.
The Hottest Video Game Trends of 2017
Mobile games currently hold the largest segment of the industry's revenue. By the end of 2017, they are expected to have generated $46B, which makes up 42% of the global market for game products. For comparison, console games will make up 31%, and PC games only 27%.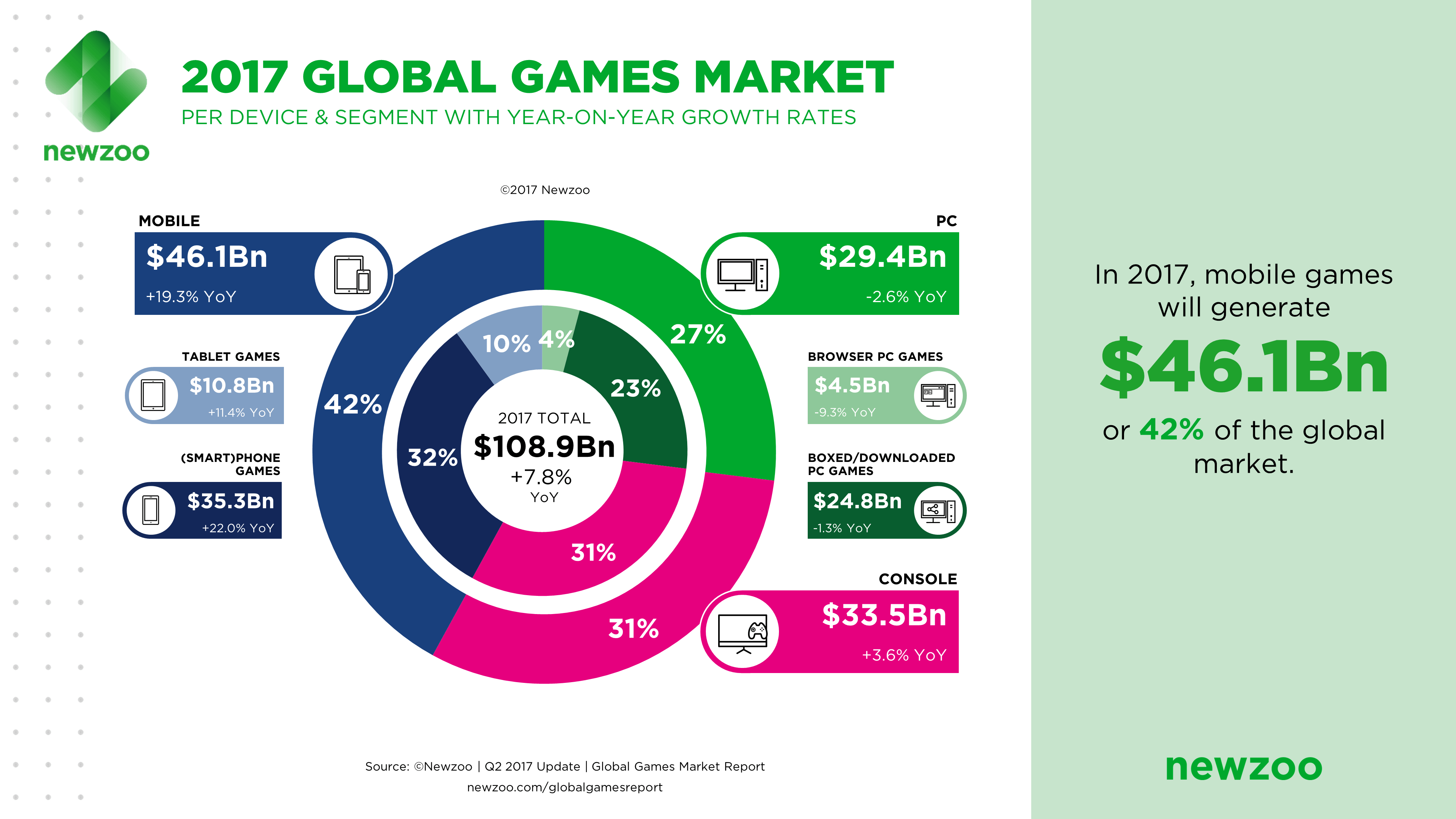 However, mobile games are not the only rising trend in the industry. Virtual Reality is another promising stream of revenue, with analysts predicting a growth of 104% from 2016 to 2017. In fact, by the year 2020, the annual worldwide revenue for VR is expected to reach $28B, which is 6 times more than what it's expected to be this year. Granted, only about $4.5B will come from actual VR games, but that's still more than 20 times what gamers spent by the end of 2016.
VR is indeed growing in popularity, but I think we can attribute that to mobile as well. Mobile devices and smartphones are getting more powerful with every generation. They already support VR and AR games, and as their tech gets better, we'll see more affordable, fun and unique experiences. Using your phone with a wireless VR headset is much easier and comfortable than using the more expensive PC and console ones. It's cheaper, doesn't involve messy cables, and is accessible to everyone with a smartphone.
I'm not saying VR is exclusively the domain of the mobile device, but I do believe the rise in its popularity can be attributed to the rise of mobile gaming more than to hardcore gamers buying an expensive PSVR or HTC Vive.
If we do want to talk about the contribution of the "hardocre" crowd to the growing success of the video game industry, there are two segments we can examine: esports and online gaming.
When talking about video games, esports is one of the fastest-growing markets, second only to VR. Between 2016 and 2017, esports revenue shot up 26%. Granted, the numbers themselves are still relatively low, with $892 million in 2016 and an estimated $1.1B in 2017. What is more impressive is the esports scene's reach. From highly competitive console games to collectible card games and free-to-play MMOs, almost every video game genre is trying to dominate the esport scene, with varying levels of success.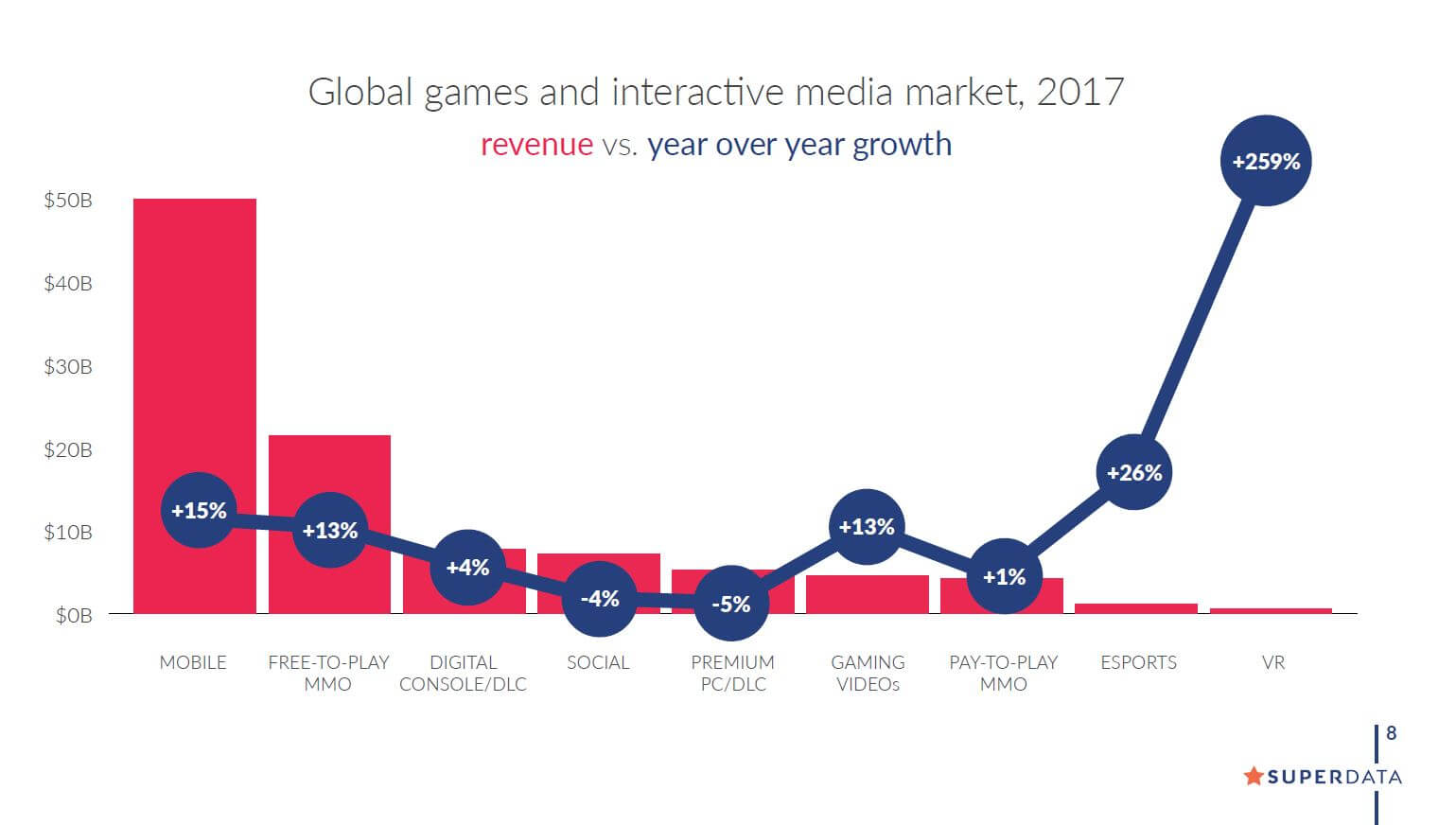 Mobile, VR and esports are the hottest trends right now. But the backbone of the industry is, and will always be, the games. So that's what I want to focus on - games. More specifically, online games.
Most Popular Online Games of 2017
Playing games online has never been so popular. In 2017, there are 575 million people playing online games around the world, and that's excluding free-to-play browser games. That's an increase of 3% over 2016, and the number is expected to steadily rise to 645 million players by the year 2021. Furthermore, a quick look at the official Steam statistics page reveals that the top 5 games on the platform are all online games. Not to mention games that aren't on Steam, like Overwatch and Hearthstone that have around 100M players between them across all platforms.
So people play a lot of online games, but the more interesting question is "what exactly are they playing?" There are too many genres and subgenres to count, so let's look at what type of games people are playing, both online and off.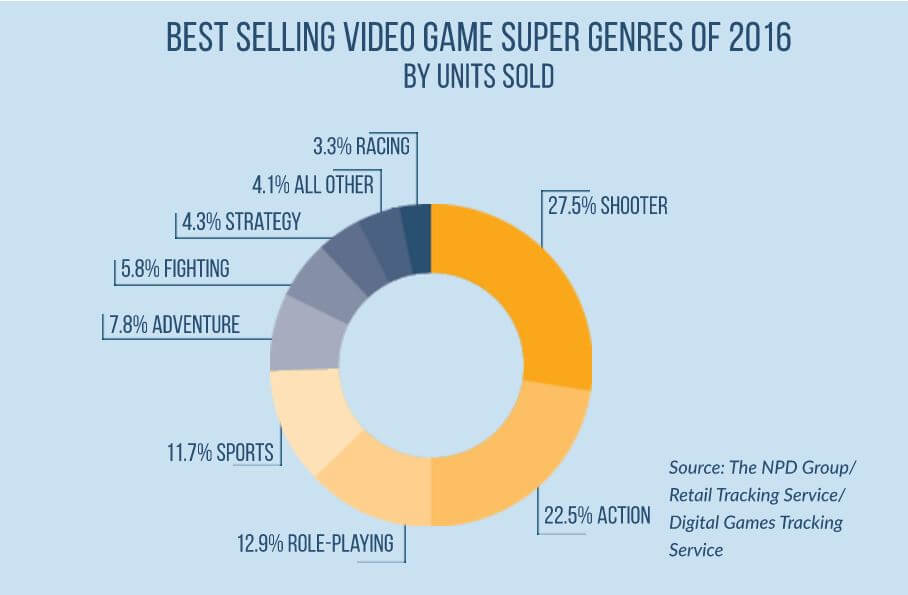 It seems like action, shooter and role-playing games pretty much dominate the PC and console markets. If we look at the popular mobile game genres, the breakdown is completely different, with puzzles, strategy and gambling taking the first spots.
With this information in mind, let's focus on 5 of the most popular genres for online games:
MOBA
Role-playing, or MMORPG
Shooter
Strategy
Gambling
MOBA
MOBA, or Multiplayer Online Battle Arena, is a relatively new genre. It took the gaming world by storm with big titles like League of Legends, Dota 2, and Heroes of the Storm. Some also claim that this genre is responsible for the rise of esports of we know them today.
While it's difficult to determine exactly which MOBA is more successful overall, we can easily see which is the most popular in 2017. According to online viewership numbers and numbers of active players, LoL is by far the winner, even 8 years after its initial release date. This time last year, developer Riot Games claimed LoL had 100M monthly active players. Just to compare, Dota 2, the game's biggest competitor, reported 13 million unique monthly players. LoL is also the most played PC game of the year so far, and is the most-viewed game on Twitch.
The biggest proof that the MOBA genre is still the undisputed king of online gaming is, as always, in the money. Not only is LoL bringing in more revenue than any other MOBA title this year, but it's the highest-grossing of all PC games in 2017. That's impressive, to say the least.
On mobile, the situation is almost identical. Honor of Kings, known as Arena of Valor in the west, is 2017's biggest mobile game, and it's a 5v5 battle arena. The game has gathered 55 million active players since it was first released in 2015, and generates $435 million in revenue every month. It's so popular in China that the biggest newspaper there called it a "poison" and a "drug". So people seem to really, really like it.
However, there's one other type of game that threatens the MOBA genre's reign over the online gaming scene, and that's the shooter.
Shooters
MOBAs are still considered to be the most popular genre for online play, but the shooter is catching up. Fast.
Popular games like Overwatch, Counter-strike: Global Offensive and GTA Online give the top MOBAs a run for their money. In fact, CS:GO is now the most popular esport game on Twitch, ending League of Legends' streak. With the recent release of Destiny 2, shooters are more popular than ever; they could soon overtake MOBA as the most popular online game genre.
No other game is a better example of that coming shift than PlayerUnknown's Battlegrounds, a multiplayer only game by Bluehole Studio. Right now, PUBG is the most played game on Steam. Around 1M people play this game every day, and the funny thing is that it hasn't even been released yet - not officially, anyway.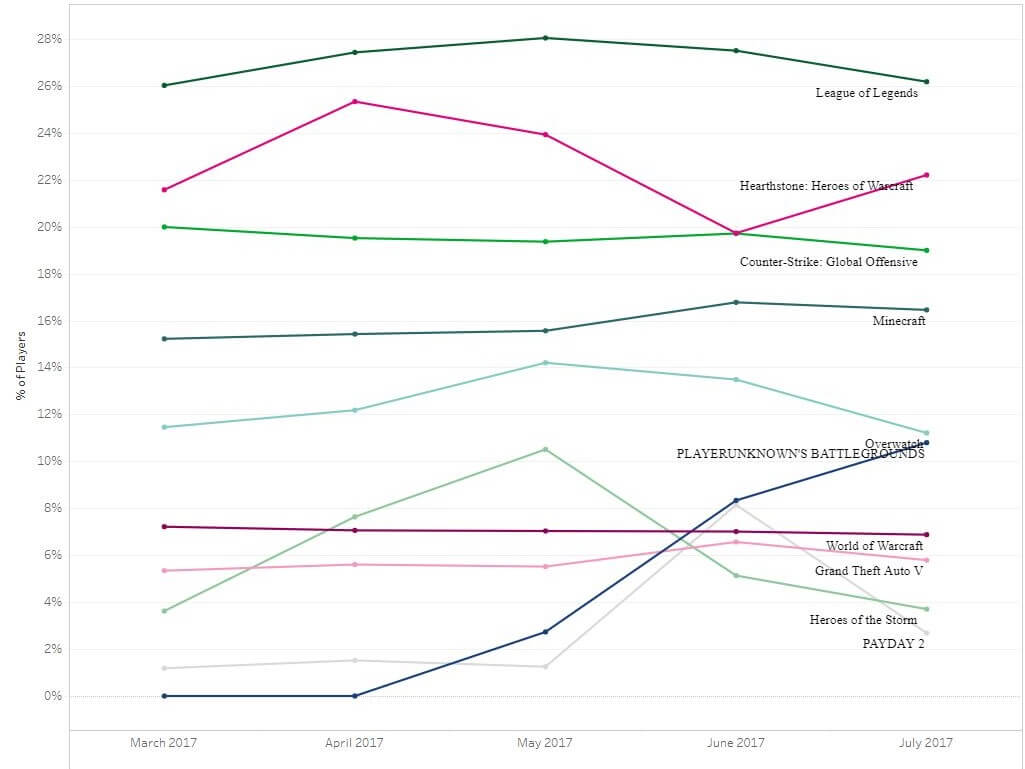 According to a study by Newzoo, PlayerUnknown's Battlegrounds is the 6th most popular game on PC right now. In May 2017, only 2.73% of PC gamers played the game; in July, the number spiked to 10.81%. It's actually number 1 in the Japanese market, number 3 in China, and number 4 in the US. With numbers like these, it's well on its way to conquering the top spots all across the world.
MMO and MMORPG
Massive Multiplayer Online games, especially Massive Multiplayer Online Role-playing games, are still a staple of online gaming.
As one of the charts above shows, free-to-play MMO games are estimated to bring in around $20B in revenue this year, which is 13% more than in 2016. Pay-to-play MMOs are still doing well, with around $5B - an increase of 1% over last year.
The most popular MMORPGs of 2017 won't surprise anyone who has been playing these kinds of games for the last few years. World of Warcraft still holds the top spot, with Guild Wars 2, The Elder Scrolls Online and Final Fantasy XIV picking up the slack.
However, it's difficult to determine whether the genre is doing well or not. Most MMORPGs refuse to publish the number of active players, instead showing off the number of total subscribers (which doesn't tend to go down in F2P games). If you check the numbers, you do see a small but steady decline in the leading games' popularity, but whenever new major content is released, the numbers go back up again. We can safely say that MMORPGs aren't going away anytime soon, but they don't seem to be as popular as they once were.
The genre's biggest obstacle on its way back to mainstream popularity is definitely esports. Many believe that MMOs are simply not built for esports, though that isn't really the case.
Online Strategy Games
Strategy games were always kind of a niche market, but one that has performed consistently well since the mid 1990s. In recent years, the genre has enjoyed a new surge in popularity thanks to the return of the classic StarCraft and XCOM, and a bunch of new city-building and space-sims.
But this new "golden age" of strategy is mostly felt in the mobile market. On PC and consoles, strategy games are often ignored by mainstream audiences. Only 4.3% of the best-selling games in 2016 were strategy games. On mobile, however, online strategy is booming, with these titles constantly taking the top spots of the most popular and highest grossing mobile games lists.
Games like Clash of Clans, Game of War and Vikings: War of Clans are incredibly popular, even more so than a lot of the big casual or puzzle games on the platform. It could be thanks to the rise of the free-to-play or "freemium" business models that work so well with resource- and time- based games.
Whichever the case may be, It seems like the real-time strategy genre is slowly moving to mobile, while genres like MOBA are taking over on PC and consoles.
Online Gambling
While the online gambling market is technically not part of the video game industry, it is definitely part of the online gaming market. And a pretty big part, especially on mobile. Running through the numbers, it's pretty easy to understand why.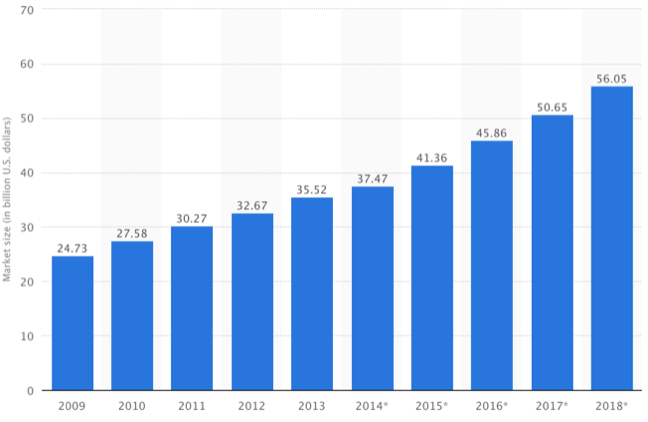 In 2016, the online gambling market revenue was $45.86 billion, and in 2017 it is expected to reach $50.68B. If we look even further into the future, we're talking about $66.59 billion by 2020, and $96.89 billion by the end of 2024. These numbers are staggering. Just as reminder - mobile games will pull in around $46B by the end of the year, and they are the lucrative segment of the video game industry.
So while some gaming purists may choose to ignore it, pioneers in the field, like 888casino, have already proven online gambling can be just as popular, and sometimes more so, than most other game genres.
The Future of Online Gaming
So what does the future hold for online gaming?
As mobile devices continue to become more and more powerful, will they completely replace PCs and gaming consoles? I doubt it, although the success of the Nintendo Switch, a hybrid between a home console and a portable gaming device, might be a sign of things to come. But let's stick to what we can say with a little more certainty.
Virtual and Augmented Reality is on the rise, and as headsets become less expensive and more comfortable, we will start to see new experiences that appeal to wider audiences. One of these audiences could be the causal online gambler. Instead of booking a flight to Las Vegas, gamers could slip on a VR headset and step into a virtual casino.
And finally, gaming will finish its evolution into a legitimate spectator sport. With the number of people watching gaming tournaments and events online growing with each year, the gap between "real" sports and virtual sports is getting smaller. We're not far from the day the FIFA World Cups will take place online instead of on the pitch.
These are just some of the possibilities. We'll have to wait and see what the gaming public demands, and what game developers come up with.
Raid: Shadow Legends
Collect 400+ Champions & Fight For Glory