However, almost since its inception, gaming has had an image problem: one propelled by stereotypes that, unfortunately, do regularly get reinforced by gamers and the industry. This stereotype is that it's for young, white, cis males.
When you look at the industry hierarchy and prominent characters, it's easy to see why.
As gaming is so immersive, compelling, and accessible, though, the stereotype was never going to hold up in reality.
Increasingly so, people who defy the stereotype are reaching the peak of the gaming scene, with one of the most prominent of these almost-anti-establishment communities being that of the gaymer.
To celebrate the revolutionary efforts of the gaymer community, we're delving into what it means to be a gaymer, how prominent gaymers are changing the industry for the better, and the LGBT video games that have broken out.
What Does Gaymer Mean?
Gaymer is a portmanteau of "gay" and "gamer", referring to someone who identifies as homosexual and enjoys playing video games (either casually or as a hardcore player).
Nowadays, the term extends to represent the LGBT community as a whole, meaning that "gaymer" can include anyone whose self-identification falls under the LGBT umbrella, such as queer, non-binary or trans people.
Who Is Considered a Gaymer?
Essentially, a "Gaymer" encompasses all gamers who don't consider themselves heterosexual and / or cisgender, and take part in the gaming community, in any numbers of ways, such as by playing video games, competing in competitions, making games, and partaking in gaming communities
Members of the Gayming Community
While gaymer culture and gaymers are still wildly underrepresented across the industry, people and events are making a big difference. The online community has become manifest in the real world with GaymerX.
Having started in 2013, the annual conference brings the gaymer community together, often welcoming thousands of fans through its gates.
As you'll know, it's the individual gamers who come out to proclaim their gaymer-ness who make the biggest difference for awareness and representation. The eSports scene is fairly diverse, welcoming people from all over the world, but one of the best and loudest representatives is also a gaymer.
Dominique "SonicFox" McLean identifies as gay, non-binary, and a furry and just happens to be one of the most versatile fighting eSports players out there.
They rose to fame both within games, but also for their Esports Player of the Year 2018 acceptance speech, in which they proclaimed: "I'm gay, black, a furry – pretty much everything a Republican hates – and the best eSports player of the year, I guess!"
It's not just the SonicFox show, though, with an increasing group of trailblazing gaymers breaking into the spotlight.
Mobile Legends: Bang Bang star Johnmar "OhMyV33nus" Villaluna has established himself as both a class mid-laner in iOS and Android games as well as a vocal advocate for his LGBTQ+ community, embracing the affectionate nickname "The Queen."
Alexa "Asahina" Gabriel has proven to be quite the talent in eSports circles, being a competitive PC gaymer in League of Legends, as well as a strong combatant in Tekken 7.
Hailed as one of the "Tekken Queens" of the Philippines, Asahina is a transgender woman who has praised video gaming for its escapism, stating "we're all equal when it comes to video games."
That said, many still see that there's more to be done, with gaymers rightly calling out the gaming industry on a regular occasion.
Most recently, Vincent "Biofrost" Wang, sent out a very personal tweet, detailing his experience and take on the subject.
After officially coming out, he tweeted that he wants "there to be more awareness," but also that the amount of support received makes him hopeful for change.
Games and Characters Championing Gaymers
Representation is certainly lacking in the mainstream gaming space for just about everyone who's not part of the stereotyped label of "gamer." Still, there have been some breakthrough games and characters that deserve praise and gaming hours.
One of the biggest steps for LGBT video games came in the form of The Sims.
In this, one of the most popular PC games ever made, there isn't a distinction between same-sex and heterosexual couples, and any households with two adults living together can receive an adoption call.
Same-sex relationships continue to be available up to the most recent installment, with there being several pre-made gay couples dotted around the series.
Elsewhere, titles have earned a reputation as subtle LGBT video games due to the choices offered to the protagonists. In Fallout 2, which was released in 1998, you could marry characters of the same sex, just as you could in the 2004 game Fable.
More recently, the 2019 RPG GreedFall has four total romance options, two of whom are heterosexual, and two of whom are bisexual.
Player choice has often been the main way for gaymers to engage with LGBT video game characters. Still, there's an increasing collection of games that do have characters that would be welcomed into the gaymer community.
While a background character in Moonmist of 1986 is credited as the first gay character in gaming, most point to Birdo from 1988's Super Mario Bros. 2, who was described with the following statement: "He thinks he's a girl."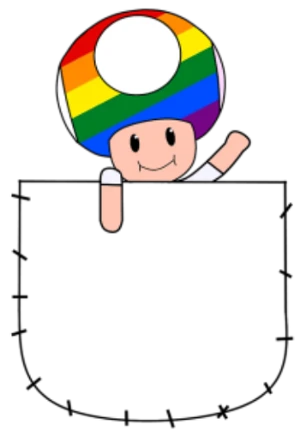 With Nintendo's notorious stance, Birdo's gender identity and sex have been nullified since, but other much more prominent characters have followed, particularly over the last ten years.
LGBT video game characters like Ciri in The Witcher III: Wild Hunt, Tracer in Overwatch, Parvati in The Outer Worlds, Krem in Dragon Age: Inquisition, and the trio of Dina, Ellie, and Lev in The Last of Us Part II are all increasing gaymer representation.
As a gaymer, it is difficult to find video games suitable for the LGBT community, but efforts are being made, gaymers are coming to the fore to raise awareness, and studios are taking notice of the need for increased representation.