What Are the Main Types of Fantasy & RPG Characters?

Fantasy characters and races aren't only used for the story, in fact, one of their many functions is to inform how players engage with game systems.
With this in mind, it's interesting to explore some of the most popular mythological fantasy Role-Playing Game (RPG) characters. What makes these characters special, and how do video games represent them? Read on to find out!

In this post we will cover:
Orcs
Elves
Giants
Dwarves
Skin-Walkers
Necromancers
The Undead
Witches
Dragons
Noble Humans
1. Orcs
Orcs have been prevalent fantasy characters within many mythologies throughout human history. Roman naturalist, Pliny the Elder, described orcs as an enormous mass of flesh armed with teeth. In a more modern context, it was Tolkien who most influenced their depictions through his famed high fantasy adventure series.
Amongst the fantasy characters available, Orcs are mostly used as high-strength and low-intelligence brutes of RPG characters. This makes them well-suited to tank or damage rolls, where they take the front lines to fight in a melee. That said, some Orc leaders buck the trend. These standouts can become thoughtful leaders and adept mages, though warriors are still the most common orc roles.
2. Elves
It's strange to think of fantasy RPG characters, but many people associate elves with the fabled creatures that make presents at the North Pole. For gamers, elves often represent a near opposite of their Santa-based counterparts when it comes to fantasy characters.
Game elves are usually tall, beautiful beings that are both intelligent and in touch with magic and nature.
Most Elves in gaming dedicate themselves to long-distance combat. Here they use bows as archers, and magic as mages to support the stronger physical forms of other fantasy characters. In more direct combat, Elves can also take the form of assassins. Elves on this path use daggers in a fighting style that emphasizes agility and quick strikes over brute force alone.
3. Giants
Across the world of mythologies, giants range from destructive to wise, aggressive to calm. They take so many forms in so many stories that a fantasy RPG can do almost whatever they want with the creature.
In video games, implementing Giants in games with other fantasy characters can be problematic due to their size. For this reason, they are often relegated to support as summon attacks, or NPCs in areas where size isn't a concern.
When they are playable, their raw strength and Health Points (HP) make them a valuable tank or warrior unit, even in small numbers.
4. Dwarves
While almost always diminutive and mountain-dwelling, dwarves also take multiple forms throughout mythology. Probably the most recognized depiction is from Germanic mythology. As fantasy characters, they are expert miners, smithies, crafters, and boast tremendous wisdom.
As playable fantasy characters, Dwarves usually have high stamina and HP, making them great as tank fantasy characters. They might not have the strength of orcs or the HP of giants, but their tenacity in combat makes them indispensable. Just don't challenge them to drinking contests.
5. Skin-Walkers
Skin-walker is a term given to humans who can shape-shift into, or possess, animals, the most famous of which is the werewolf. Noted in folklore all over the world, skin-walkers reflect the human fear of animal instincts.
While rare in gaming, skin-walkers usually have some unique attributes which can give them a serious edge. Often this involves changing form in direct combat. Such surprises can turn them from puny humans into powerful Damage Per Second (DPS) warrior classes who can quickly take less-prepared foes by surprise.
6. Necromancers
Necromancers are users of dark and evil magic who can summon and control the dead in spirit or by raising corpses. Recognized since the ancient Greek Homer penned the epic poem, The Odyssey, Necromancer morality is always in question.
A favorite with fantasy RPG characters and series, necromancers often act as indirect DPS magic classes supported by powerful spells.
Though they can be powerful fighters in their own rights, necromancers set themselves apart by summoning hordes of skeletons, golems, or other mythological creatures to fight for them.
7. The Undead
The undead fantasy characters of RPG titles are often the minions of dark and powerful beings. Yet, some of the best video game characters that come under the undead category aren't mindless minions.
Ingame, undead are usually balanced by the dichotomy of their physiology.
Mostly used as front-line fighters, an undead character might not have the highest health or damage, but their reanimated bodies can often resist pain or other negative status effects. After all, creatures don't have to worry about drowning if they don't have lungs.
8. Witches
Featured in folklore across Europe and North America, the average witches are creatures who can be as enticing as they are dangerous. Often depicted as women, they are generally evil beings or those that have been cast out by society.
Powered by dark magic, witches are usually demonized as unnaturally powerful. Witches are complex as fantasy characters, sometimes existing as fantasy characters, other times acting as an archetype adopted by other fantasy characters.
Bolstered by magic, witches can act as healers and support through spells and potions, fling magic attacks from afar, or even boost their physical abilities in direct combat. This can give them a lot of flexibility in roles like DPS spellcasters, though they rarely act as tanks.
9. Dragons
Dragons take many different forms in mythology and are common across European and Asian mythos. While Asian dragons tend to be more serpentine than most European depictions, they all spawn from humanity's innate fear of snakes and similar dangerous reptiles.
Like giants, dragons are difficult to implement as playable RPG characters due to their size. When they do appear, they can often become hybrids of DPS and tank units, relying on flight and fire to give their playstyle flexibility. Acting as both melee fighters and spellcasters, dragons are power companions in and out of combat.
10. Noble Humans
Creatures of myth often go hand-in-hand with a noble human tasked with killing them. From ancient Greek mythology to the tales of the middle-ages, great beasts of myth almost always meet their demise at the hands of a noble, often male, hero.
When playable as characters, humans are often the most flexible of all RPG characters. As a jack of all trades and master of none, they can fit into any of the holy trinity fantasy characters equally well.
While they might not have the special abilities of the more dedicated fantasy characters, their capacity for mixing strengths can give them unique combinations of skills that others might lack.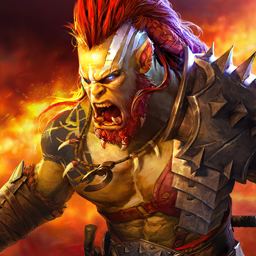 RAID: Shadow Legends
Collect 700+ Champions & Fight For Glory