Möchtest du dich beim Spielen wie ein König fühlen? Dann sind Castle Games vielleicht genau das richtige Genre für dich! Die populären Mittelalter Spiele lassen Spieler in eine Zeit reisen, in der die Monarchen alles bestimmen und ganze Völker anführen konnten. Unsere Top 4 der Burgen Spiele besticht mit unterschiedlichsten Gameplays und wunderschönen Grafiken, mit denen Gamer mühelos in die Vergangenheit reisen. Von Tower Defense bis zu Castle Building Games ist hier alles mit dabei. Vielleicht findest auch du deinen Favoriten darin!
Was sind Castle Games? 📢
Klassische Castle Games fallen in das Action-Genre, sind dabei aber an eine gewisse Zeit und einen gewissen Ort gebunden. Was kaum überraschen wird: Dieser Ort sind Burgen. Meist handelt es sich bei den Titeln um Mittelalterspiele PC, in denen Burgen überall auf der Welt aus dem Boden sprossen und große Monarchien errichtet wurden. Oftmals sind die Spiele keine reinen Action-Games, sondern haben auch Puzzle-, RPG- oder Echtzeitstrategie-Elemente.
Das 2001 erschienene Stronghold ist ein gutes Beispiel dafür. Der Titel erfüllt alles, was man sich von Castle Games erwartet. Spieler müssen darin ihre eigene Burg vor Eindringlingen beschützen. Damit diese zu einer uneinnehmbaren Festung wird, muss sie laufend erweitert werden. Spieler bauen deshalb die Burg, die umliegende Stadt und das Militär aus, und zwingen so den Feind in die Knie. Mit einer blühenden Wirtschaft und glücklichen Bewohnern lässt sich langsam aber sicher ein eigenes Imperium erbauen.
1. Stronghold: Warlord
Nachdem Stronghold einen großen Erfolg feiern durfte, wurden weitere Ableger des Titels herausgebracht. 2021 erschien Stronghold: Warlord, das mittlerweile wesentlich vielschichtiger gestaltet wurde. Es ist das erste Spiel der Reihe, das nicht in Europa sondern in Ostasien stattfindet. Dabei stehen die Königreiche von China, Japan und Vietnam im Fokus, deren Beziehungen zueinander einem stetigen Wandel unterstehen. Spieler müssen wichtige strategische Entscheidungen treffen und auf jeden Angriff vorbereitet sein. Zwar schafft es der Titel nicht unter die besten Strategiespiele 2023, trotzdem bietet Stronghold: Warlords jede Menge Spaß und Spannung!
Das neue Element im Game sind die Kriegsherren. Im Spiel gibt es insgesamt acht Kriegsherren, die von der KI gesteuert werden und selbstständig agieren können. Es ist von Vorteil, möglichst viele von ihnen auf deine Seite zu holen, denn sie können dabei helfen, die eigene Burg zu beschützen.
89,997,040
RAID-SPIELER WELTWEIT. MACH MIT!
2. Age of Empires II: Definitive Edition
Wer in Castle Games keiner linearen Storyline folgen, sondern sich völlig frei entscheiden können möchte, der ist bei Age of Empires II: Definitive Edition genau richtig. Viele Burgenbau Spiele sind reine Single-Player-Games und arbeiten mit KI-Gegnern. Der Ableger aus der Age of Empires-Reihe besitzt jedoch zahlreiche Koop-Möglichkeiten und könnte damit auch in die Liste für beliebteste Online Spiele aufgenommen werden.
Das Spielgeschehen in Age of Empires II: Definitive Edition kann besonders frei gestaltet werden und entwickelt sich aus den Entscheidungen aller Online Spieler. Die Definitive Edition wurde zum 20-jährigen Jubiläum veröffentlicht und bringt 4K-Ultra-HD-Grafiken mit. Außerdem wurden im Spiel drei neue Kampagnen integriert, sowie vier weitere Zivilisationen. Age of Empires II: Definitive Edition lässt sich am besten gemeinsam spielen: Es wurden neue Koop-Optionen hinzugefügt, mit denen die Welt zusammen erobert werden kann. Würden wir es als bestes mmo 2023 bezeichnen? Nein! Aber die neuaufbereitete Version des Spiels ist trotzdem ein großer Spaß für alle Fans von Multiplayer-Games!
Die Spielreihe besteht mittlerweile aus mehr als 30 Titeln, einige davon sind sogar für mobile Geräte verfügbar. So schaffen es die Castle Building Games sogar unter die besten Handyspiele auf dem Markt.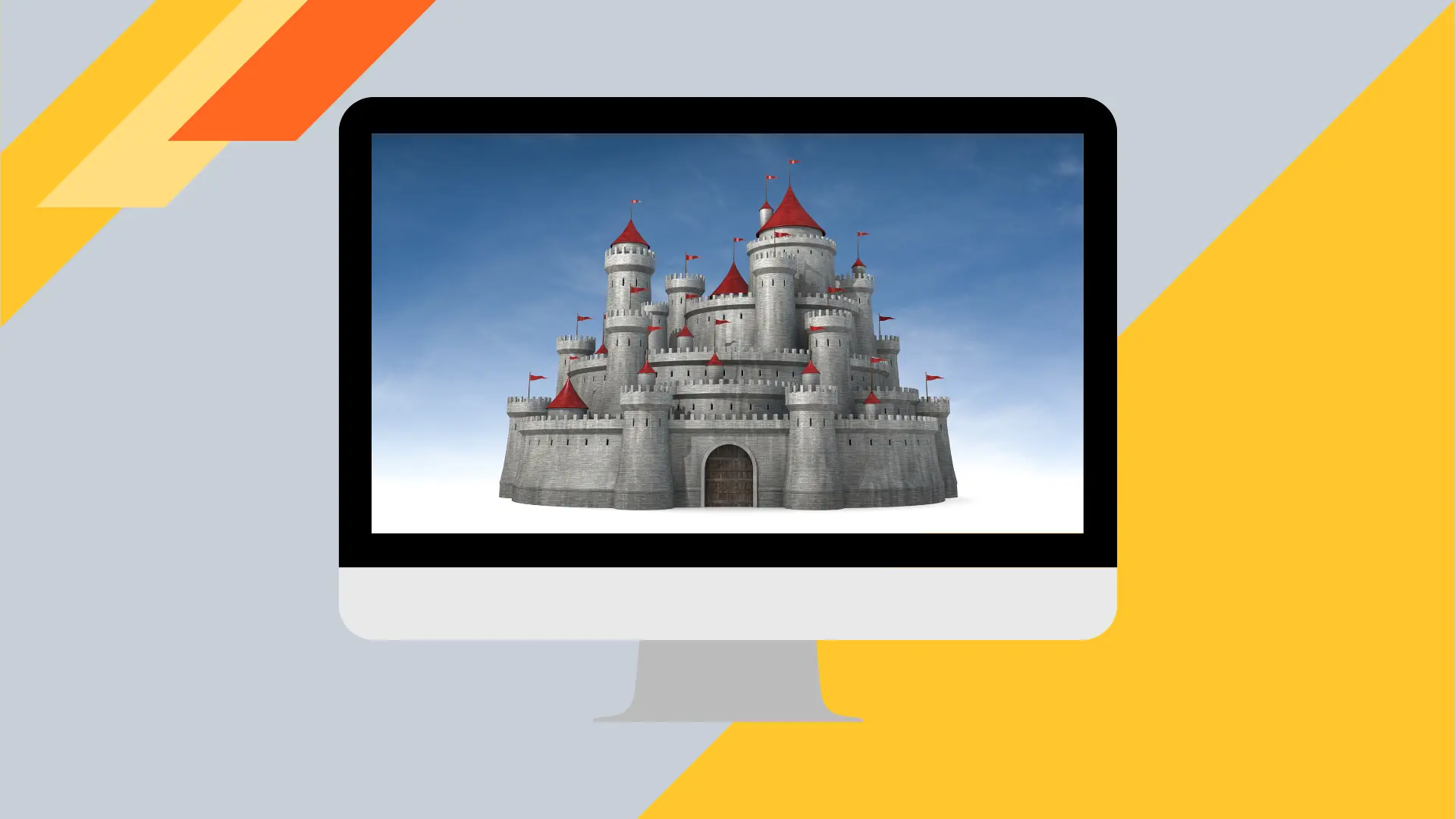 3. Sort the Court!
Castle Games müssen nicht immer etwas kosten, denn im Netz warten zahlreiche Spiele, die gratis genutzt werden können. Sort the Court! ist eines der besten Spiele PC kostenlos, die man im Genre finden kann. Zu Beginn des Spiels kann gewählt werden, ob man einen König oder eine Königin spielen möchte. Danach werden Spieler mit Lautenmusik in die mittelalterliche Welt eingeführt, die mit Retro-Grafiken gestaltet wurde.
Dem König oder der Königin steht ein majestätischer Berater zur Seite, trotzdem sind es die Spieler selbst, die laufend schwere Entscheidungen treffen müssen. Die Fragestellungen drehen sich um das Königreich und die Strategie zur Expansion. Um Beschlüsse zu fällen, kann einfach mit Ja oder Nein auf die anfallenden Fragen geantwortet und damit der Spielverlauf maßgeblich gesteuert werden. Jede Entscheidung hat Folgen auf das Königreich.
Obwohl es sich bei dem Castle Game um ein simples Ja/Nein-Fragespiel handelt, bietet es hervorragende Unterhaltung. Im Prinzip fällt es trotzdem unter die Castle Building Games, obwohl man darin nicht selbstständig bauen kann. Durch die gefällten Entscheidungen wächst die Burg jedoch trotzdem. Sort the Court! fällt definitiv unter die simpleren Burgen Spiele, ist deshalb aber nicht weniger unterhaltsam. Auf den meisten Plattformen, die den Titel anbieten, kann Sort the Court! im Browser gespielt werden. Wer das Spiel kostenlos herunterladen möchte, um es offline zu spielen, findet ebenfalls zahlreiche Downloadlinks im Web.
4. Castle of Secrets
Wer gerne wichtige Entscheidungen trifft, der wird auch von Castle of Secrets begeistert sein. Dabei müssen jedoch deutlich komplexere Problemstellungen mit einer Reihe von Fragen gelöst werden. Dank der 3D-Animationen ist dieses Indie-Game ein visuelles Festmahl, die düstere Atmosphäre schafft eine besondere Gruselstimmung. Spieler bewegen sich durch die dunkle Burg und müssen nach Hinweisen suchen, die in jeder dunklen Ecke lauern können. Mit seinem Erscheinungsdatum im Mai kann Castle of Secrets bald die Liste für neueste PC Spiele 2023 erweitern.
Castle Games spielen meist im Mittelalter, doch Castle of Secrets ist historisch etwas später angesiedelt. Spieler übernehmen die Rolle von Susan, die den mysteriösen Tod ihres Vaters aufklären möchte. Sie kann dazu jeden Raum des Schlosses nach Hinweisen absuchen und mit 30 einzigartigen Charaktere interagieren. Mit einer simplen Steuerung bewegt sich Susan in alle Richtungen und kann so in jeder Ecke nach Beweisen suchen. Die Entscheidungen, die im Spiel getroffen werden, haben einen Einfluss auf die restliche Storyline, wodurch der Titel auch mehrfach genossen werden kann. Damit ist Castle of Secrets nicht unbedingt eines der klassischen Castle Games und mischt damit das Genre gehörig auf.
5. Janissary Tower
Unter die lustigsten action spiele 2023 gesellen sich einige kostenlose Games, die einfach im Netz gespielt werden können. Dazu zählt auch Janissary Tower, das mit seinem Retro-Vibe punktet und perfekte Unterhaltung für zwei Spieler bietet. Burgenbau Spiele sind oftmals nicht nur Strategietitel, sondern fallen auch in das Genre Tower Defense. Dies gilt auch für Janissary Tower, denn nachdem man seine eigene Burg erbaut hat, muss man diese mit allem, was man hat, beschützen. Dazu stehen drei Modi bereit: PvP, Kampf oder ein Editor.
Besonders interessant ist der Aspekt der Castle Building Games, denn im Editor können Spieler ihr eigenes Schloss aus dem Boden stampfen. Dazu werden Elemente mit einer Drag-&-Drop-Funktion auf den Bildschirm gezogen. Jeder Spieler kann selbst entscheiden, wie er seine eigene Festung gestalten möchte und mit welchen Waffen sie ausgestattet werden soll. Nachdem beide Spieler mit ihrer Burg zufrieden sind, müssen sie nun versuchen, die des Gegners zu Fall zu bringen. Ähnlich wie Sort the Court! ist Janissary Tower eines der simpleren Castle Games mit einfachen Grafiken. Dafür kann es auch problemlos im mobilen Browser geladen werden und damit die besten handy spiele 2023 ergänzen. Für schnelle Runden mit Freunden eignet sich der Titel ideal.
Werde der Herrscher der Burgen Spiele
Es gibt einige gute Gründe, weshalb Castle Games sich solch großer Beliebtheit erfreuen. Das mittelalterliche Setting bietet die perfekte Bühne für spannende Geschichten, außerdem bestechen Castle Games mit einer breiten Palette an Gameplay-Optionen. Viele der Titel sind im Genre der Burgenbau Spiele angesiedelt, grundsätzlich können Castle Games aber auch Puzzles oder reine Entscheidungsspiele sein. Man findet simple, kostenlose Browsergames, aber auch komplexe Strategiespiele, die Konzentration benötigen. Eines ist sicher: die besten Videospiele 2023 sollten auf jeden Fall das ein oder andere Castle Game beinhalten!