Was kann man einen Gamer schenken?
Das genau passende Geschenk zu finden, das Freunde und Familie begeistert, ist nie einfach. Und wenn es sich dann auch noch um einen Gamer handelt, kann es besonders schwierig sein, das Richtige zu finden. Wir sind da, um dir diese Aufgabe zu erleichtern. Wir präsentieren unsere Top 10 der besten Geschenke für Gamer. Mit diesen Geschenkideen wirst du den Gamer in deinem Leben vom Gaming-Hocker hauen.
Wir haben extra Geschenkideen für Gamer für alle Budgets inkludiert, damit du auch wirklich etwas Passendes findest. Egal, ob du Weihnachtsgeschenke für Gamer, Gaming Geschenke zum Geburtstag oder auch das optimale Geschenk für einen Gamer suchst, der nur bestes Handy Game am iPhone spielt, wir bringen dir die Inspiration, die du brauchst.
Du bist selbst kein Gamer, kennst den Difference between MMO und MMORPG nicht und bist ideenlos, was die besten Geschenke für Gamer sein könnten? Kein Problem, denn du musst nicht selbst ein Gamer sein, um die besten Weihnachts- und Geburtstagsschenke für Gamer zu finden, die die Augen des Beschenkten zum Strahlen bringen werden. Dafür gibt es uns.
Mini Retro Arcade Game von My Arcade – Geschenke für Gamer mit Retro-flair
Retro ist im Trend! Von neuen Konsolentiteln und Hit-PC-Games bis hin zu freie Online Spiele auf Deutsch finden sich selbst im 21. Jahrhundert immer wieder die alten 16-Bit-Grafiken von früher. Sie lösen in uns pure Nostalgie aus und mit dieser Mini-Version einer alten Arcade-Maschine werden Gamer kurzerhand in die 70er und 80er zurücktransportiert. Wenn du Geschenke für Gamer suchst, die zu gern in der damaligen Gaming-Ära schwelgen, ist es das optimale Geschenk. Es enthält zahlreiche eingebaute Retro-Titel aus verschiedenen Genres, die alle eine Welle der Nostalgie versprechen.
Diese Miniatur-Arcade-Maschine ist keine 20 cm hoch und findet damit problemlos auf jedem Schreibtisch eines Gamers Platz. Egal, ob es sich um einen Gamer handelt, der am liebsten MMORPG Browsergames spielt oder sich an der Konsole in die neusten AAA-Titel stürzt, dieses Mini-Arcade ist eines der Gamer Geschenke, das die Herzen aller Spielfans höherschlagen lässt, während man in eine simplere Zeit der Videospiele zurückreist.
Sony PlayStation Classic – Geschenke für alteingesessene PlayStation-Fans
Keine Liste der besten Geschenke für Gamer wäre ohne eine Retro-Spielkonsole vollständig. Die Sony PlayStation Classic nimmt Spieler zurück in das Jahr 1994 – das Jahr, in dem die originale PlayStation-Konsole in Japan auf den Markt kam.
Die Konsole ist eine Miniaturversion des Originals und ist mit 20 klassischen vorinstallierten PlayStation-Spielen ausgestattet. Sie umfasst zudem eine eingebaute virtuelle Speicherkarte, die es Spielern erlaubt, ihren Spielstand zu speichern und später weiterzuspielen. Suchst du noch nach den besten Gaming Geschenkideen? Gamer werden diese Retro-Konsole lieben.
Xbox Gamer Fleece-Bademantel – kuschlige Geschenke für Gamer 📢
Hast du einen Gamer in deinem Leben, der schon alles hat? Dir fehlt es komplett an Geschenkideen? Gamer, die alles haben, könnten sich dann über einen kuscheligen Bademantel mit Gaming-Thema freuen, wie etwa den Xbox Gamer Fleece-Bademantel. Der Bademantel mit Kapuze eignet sich hervorragend, um Gamer im Winter beim Spielen warm zu halten, und ist damit nicht nur eins der besten Weihnachtsgeschenke für Gamer, sondern auch perfekt, um dann Online Spiele für Silvester zu spielen, ohne zu frieren.
Damit werden selbst die anstrengendsten Gaming-Sessions kuschelig bequem. Mit dem entsprechenden Gamer-Logo ist es außerdem ein Must-Have für Hardcore-Gaming-Fans. Die Bademäntel gibt es meistens in der Einheitsgröße, sodass du es ganz entspannt kaufen kannst, ohne dir Sorgen über die Größe zu machen.
Was schenkt man einem Nerd zum Geburtstag?
Vor allem, wenn man gerade tief im MMORPG 2022 PC eingetaucht ist oder sich an der Konsole in ein Open-World-Abenteuer gestürzt hat, können sich Spielsessions durchaus in die Länge ziehen. Suchst du nach Geschenkideen für Gamer, die gern viel Zeit in den virtuellen Welten verbringen? Dann könnte diese Gaming-Brille das optimale Geburtstagsgeschenk für Gamer in deinem Leben sein.
Wir haben uns extra für diese limitierte Edition der Gunnar-Gaming-Brille entschieden, die sich perfekt für lange Gaming-Sessions eignet. Die Vorteile der Brille sind grandios und werden jeden Gamer begeistern – besonders all diejenigen, die am PC Spiele kostenlos downloaden Vollversionen Deutsch. Mit der Brille werden nicht nur die Belastung der Augen, Augenermüdung und Augentrockenheit reduziert, denn es wird auch ein Großteil des blauen Lichts blockiert, was dabei hilft, besser zu schlafen.
Obendrauf wird die visuelle Ausdauer, Fokus und Sicht verbessert, sodass sogar bessere Leistung im Game erzielt werden kann. Die Gaming-Brille ist damit eines der besten Gaming Weihnachtsgeschenke, das auf Begeisterung treffen wird.
Geschenke für Gamer, die unterwegs spielen: Razer Kishi – der universelle Controller für Gaming am iPhone
Möchtest du jemanden beschenken, der ein iPhone hat und besonders gern beste iOS Spiele 2022 spielt? Dann ist dieser universelle Gaming-Controller für das iPhone eines der besten Gaming Weihnachtsgeschenke, das du derjenigen Person machen kannst. Es handelt sich dabei um ein Gerät, dass das iPhone kurzerhand in einen echten Controller verwandelt und sich optimal für Casual Games für unterwegs eignet. Damit heißt es auf langen Fahrten oder beim Pendeln: Langeweile Ade!
Durch das ergonomische Design eignet sich der Controller auch hervorragend für lange Sessions, wenn man etwa beste Handy Spiele 2021 kostenlos auf langen Strecken ausgiebig erkundet. Zudem wird durch die Verbindung des Controllers über den Ladeanschluss eine enorm geringe Latenzzeit erreicht, sodass einem hervorragenden Gaming-Erlebnis nichts im Weg steht.
Es ist zwar eine der besten Geschenkideen an Gamer, es gibt allerdings auch Nutzer, die mit dem Endprodukt nicht ganz begeistert sind. Schau dir also am besten vor dem Kauf die Bewertungen an, um sicherzustellen, dass es das passende Geschenk ist.
Was kann sich ein Gamer zu Weihnachten wünschen?
Die Zukunft ist virtuell, und wenn du dem Gamer in deinem Leben ein Geschenk machen willst, das euch an diesem Zukunftstrend teilhaben lässt, dann ist ein VR-Headset wohl zweifelsohne eines der besten Geschenke für Gamer – sofern es dein Budget zulässt.
Mit dem Headset können Gamer in das Metaverse treten und in der dritten Dimension in allerlei VR-Games eintauchen – von Kampfspielen über Action-Adventures bis hin zu Sportspielen und vielem mehr. Es bietet eine einzigartige immersive Spielerfahrung und ist damit ein ultimatives Weihnachts- oder Geburtstagsgeschenk für Gamer.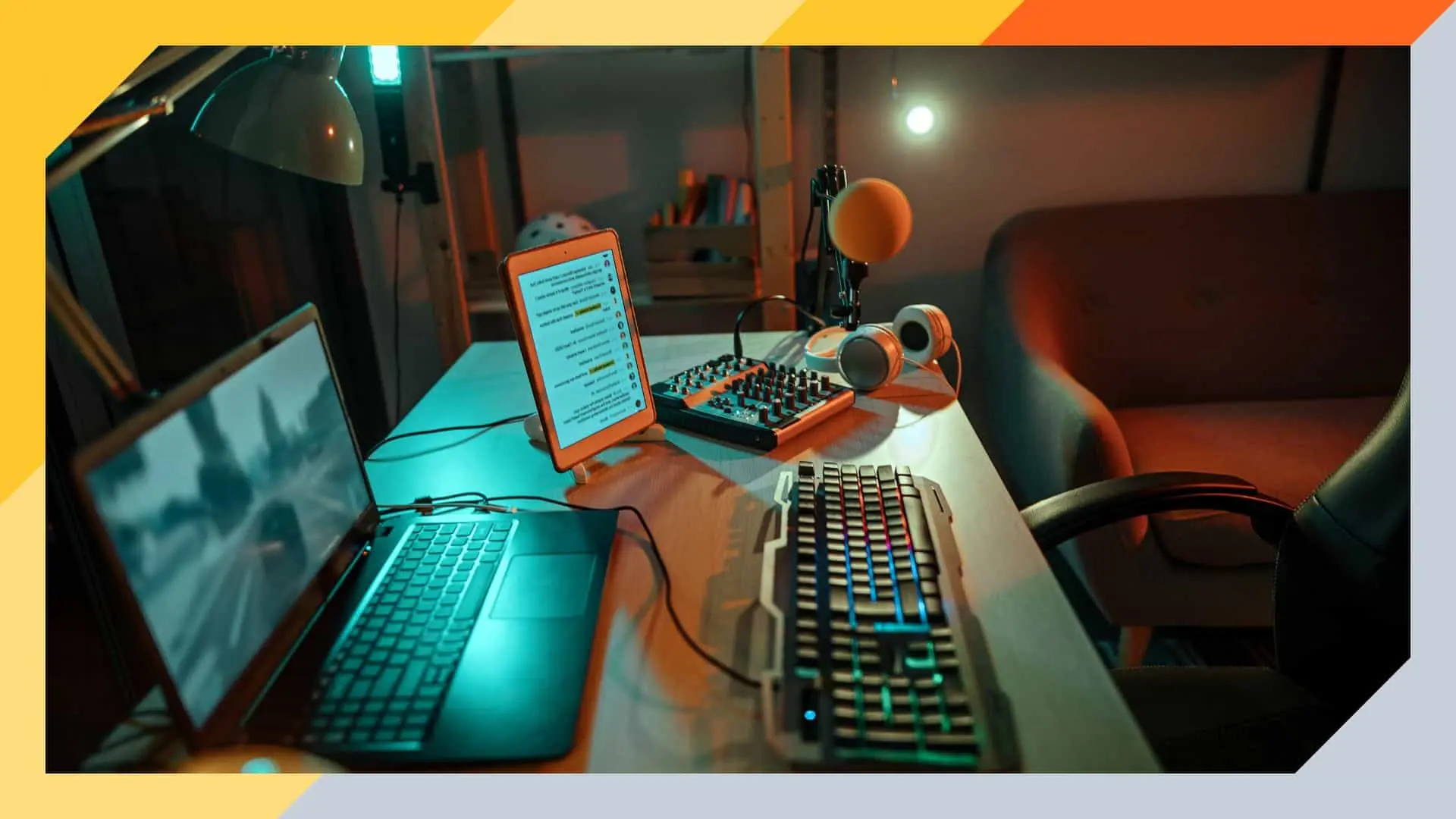 X Rocker Floor Rocker – der faltbare Gaming-Sessel für den Boden
Suchst du nach echt coolen und ausgefallenen Geschenken für Gamer? Dann solltest du dir diesen genialen Gaming-Sessel anschauen. Der X Rocker Gaming-Stuhl hat eine 2.1 Stereo-Anlage in der Kopfstütze und einen Subwoofer in der Rückenlehne montiert, was echt immersive Gaming-Erlebnisse ermöglicht – ob man sich ins Best Browser Game stürzt oder im FPS-Shooter sein Bestes gibt.
Der ergonomische Stuhl stützt optimal und eignet sich damit perfekt für lange Spielsessions. Vor allem wenn man MMORPGs spielt, bieten die Vibrationsmotoren, die mit dem Bass des Tons synchronisiert sind, einen ganz besonderen Effekt. Der Gaming-Stuhl im typischen Floor-Rocker-Design ist zudem ein grandioses Geschenk für Gamer mit wenig Platz – er lässt sich nämlich praktisch zum Verstauen zusammenfalten!
K70 RGB RAPIDFIRE mechanische Gaming-Tastatur – Das Nonplusultra der PC Gamer Geschenke
Bist du auf der Suche nach den besten Ideen für PC Gamer Geschenke? Willst du jemanden beschenken, der am liebsten mit Maus und Tastatur in Spielwelten taucht? Dann ist diese mechanische Rapidfire-Gaming-Tastatur eine hervorragende Idee, die die Spielperformance am PC mit einer 100 % Anti-Ghosting-Technologie auf eine neue Ebene hebt.
Als eines der besten PC Gaming Weihnachtsgeschenke eignet sich die Tastatur allerdings nicht nur, um etwa stimmungsvolle Weihnachtsspiele am PC zu spielen, sondern ist auch zum Spielen auf dem höchsten Wettbewerbsniveau startklar. Der geschmiedete Aluminiumrahmen hält selbst den frenetischsten Spielrunden und härtesten Tastenanschläge unerschütterlich stand. Die ausgereifte Lichtsteuerung mit einer anpassbaren mehrfarbigen Hintergrundbeleuchtung und Tastenkappen mit großer Schrift sorgen zudem nicht nur für einen extrem coolen Look, sondern werden dem Gamer auch dabei helfen, mehr Kämpfe als je zuvor zu gewinnen.
Blood, Sweat, and Pixels – ein Buch über die Videospielindustrie von Jason Schreier
Das Buch Blood Sweat, and Pixels ist eine herausragende Idee unter den besten Weihnachtsgeschenken für Gamer, die gern lesen. Es ist ein Buch vom bekannten Journalisten Jason Schreier und erzählt davon, warum es so schwer ist, Videospiele zu entwickeln.
In seinen eigenen Worten:
(übersetzt: Ich bin hierbei zwar etwas voreingenommen, doch falls du nach einem guten Weihnachtsgeschenk für Videospiel-interessierte Freunde suchst, probiere Blood, Sweat, and Pixels, ein Buch darüber, warum es so verdammt schwer ist, Videospiele zu machen)
Schreier nimmt Leser hinter die Kulissen und zeigt den enormen Aufwand, der hinter der Produktion von modernen Videospielen steckt. Es ist vor allem ein herausragendes Geschenk für Gamer, die daran interessiert sind, selbst in der Gaming-Industrie und der Entwicklung von Spielen fußzufassen. Zudem bietet es auch eine angenehme Abwechslung zum Gamen: Lesen!
Was braucht jeder Streamer?
Logitech StreamCam – Gaming Geschenke für Streamer
Möchte der Gamer in deinem Leben ein Twitch-Streamer werden oder einen eigenen YouTube-Gaming-Kanal starten? StreamCams sind ein Treffer unter den Geschenkideen für Gamer, die Videospiele streamen.
Die Kamera ist mit Full HD und 1080p Auflösung optimal für Live-Streams ausgestattet und liefert dabei herausragende Qualität. Der Autofokus stellt sicher, dass Gamer während der Session scharf bleiben, selbst wenn sie während des Streams alles andere als still sitzen bleiben. Das wird noch durch die Auto-Framing-Funktion verbessert, die den Gamer immer im Mittelpunkt behält, egal wie viel man sich bewegt. Damit ist es zweifelsfrei eines der besten Gaming Geschenke für Streamer.
Da ist etwas für alle dabei
Wir hoffen, dieser Guide hat dir einige Inspirationen für die besten Geschenke für Gamer geliefert und dir die Suche nach dem perfekten Geschenk erleichtert. In unserer Auswahl ist etwas für jeden dabei, egal ob du nach einer kleinen Aufmerksamkeit suchst oder den Gamer in deinem Leben mit einem High-End-Geschenk zum Geburtstag oder zu Weihnachten überraschen willst.