Musikspiele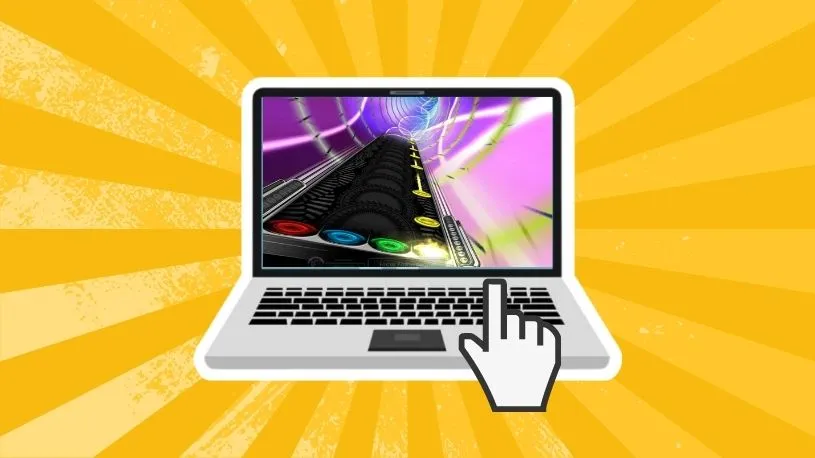 Musik ist ein Teil des Lebens. Ein besonderer Teil, denn Sie setzt in vielen Momenten die Atmosphäre. Oder hast du schon einmal ein Heavy Metal Song in einem feinen Restaurant gehört?
Natürlich nicht. Musik hat sehr viel Macht über menschliche Emotionen. Sie kann traurig machen oder auch fröhlich. Und sie kann so richtig Spaß machen!

Hast du dich schon einmal von einem richtig guten Rhythmus hinreißen lassen? Sofort mitgesungen, wenn ein Top-Hit im Radio lief? Dann sind Musikspiele genau das richtige für dich!
Egal ob für den Browser, die Konsole oder das Smartphone – Rhythmus Spiele gehen bereits auf die Zeit der Joystick-Spiele auf Adventure Games PC in den 1980er Jahren zurück und werden seit je gefeiert.
Eine ganz neue Dimension der Musik Spiele bringt nun die virtuelle Realität. VR kann dich in einen heißen Club versetzen, während du die Tanzfläche in deinem Wohnzimmer rockst.
Es ist an der Zeit, dich durch die Best Music Games führen zu lassen, bevor du voll in die Party einsteigst. Lass dich vom Rhythmus leiten und finde deinen inneren Beat mit den 10 besten Musikspielen auf dem Planeten. Let's get the Party started!
Was sind Musikspiele?
Musik Spiele sind laut Definition erst einmal Computer- oder Videospiele, bei denen Musik das zentrale Element ist. Dies deckt eine breite Palette an Spielen ab.
Da wären zum einen die Karaokespiele wie Sing Star. Die Vielfalt des Angebots ist mittlerweile kaum noch zu übertreffen. Von verschiedenen Genres und Party-Versionen bis hin zu einzelnen Künstlern wie Abba ist das Spektrum des Sing Star Angebots unschlagbar. Basis dieser Gesangsspiele war unter anderem das von NanaOn-Sha 1996 veröffentlichte Spiel PaRappa the Rapper, wo die Spieler im Rhythmus der Charaktere rappen sollten.
Eine andere super populäre Sparte der Rhythmus Spiele sind die Tanzspiele. Beliebteste Spiele, darunter Just Dance und Dance Dance Revolution, fordern die Spieler dazu auf, richtige Tanzsmoves und Rhythmen zu finden. Sich im richtigen Moment richtig zu bewegen bringt Punkte, die dir den Sieg bescheren können. Gleichzeitig sind diese Spiele gegen Langeweile auch super für deine eigene Kondition! Werde zur Dancing Queen und tanze einmal solch ein Spiel durch. Danach hast du auf jeden Fall ordentlich was für deinen Beach Body getan.
Du liebst das Taktgefühl, möchtest dich aber nicht ganz so viel bewegen? Kein Problem! Computerbasierte Musikinstrumente wie Guitar Hero fordern dich heraus, den richtigen Rhythmus zu Evergreens und aktuellen Top Hits zu finden. Je nach Song werden deine Fingerfähigkeiten ordentlich gefordert. Aber es lohnt sich! Sammel Punkte für jeden richtig gesetzten Akkord und gewinne das Musikstück für dich!
The Best of Rhythm Games: Die Helden der Beats
Rollenspiele sind schon lange dafür bekannt, riesige Conventions mit Live-Battles – so die Gaming Sprache - zu haben. So ist es auch mit den Musikspielen. Es gibt Leute da draußen, die den Beat beherrschen wie kein anderer. Natürlich ist der Sinn dieser Spiele der große Spaß daran. Es ist jedoch wie in jeder Gamingsparte – competitive. Die Challenge so viele Punkte wie möglich zu sammeln kombiniert mit der Leidenschaft für Tanz und Musik locken bei einigen Spielern den Gamer Rage hervor.
Und genau wie auch in anderen Genres sind diese Leute unter manch einem seltsamen Namen bekannt. Wenn auch du dir mit einem ganz besonderen Namen einen Namen machen möchtest, stehen die verschiedene Tools wie ein "Nickname Generator" oder ein "Name Generator Fantasy" online zur Verfügung.
Hier einmal eine kleine Auswahl der 5 besten Spieler, die den Rhythmus beherrschen – Die Helden der Beats:
CHRS4LFE
Der US-amerikanischer eSport Spieler ist auch unter dem Nickname iamchris4life bekannt. Sein bürgerlicher Name ist Chris Chike und er ist aktuell einer der besten Spieler für Dance Dance Revolution und Guitar Hero. 2008 erlangte er sogar einen Eintrag ins Guiness Buch der Weltrekorde für seine Performance von DragonForce's "Through the Fire and Flames" mit einem Punktestand von 840,647. Später konnte er denselben Song sogar fehlerfrei mit 987,786 Punkten spielen.
Ryota Wada
Der wohl jüngste Spieler, der jemals einen Highscore bei Dance Dance Revolution erlangt hat, war Ryota Wada. 2010 erhielt er dafür einen Eintrag ins Guiness Buch der Weltrekorde mit einer perfekten "AAA"-Bewertung. Seit er 5 Jahre alt ist, tanzte er dieses Spiel mit Leidenschaft, sodass er mit nur 9 Jahren den Song "Hyper Eurobeat" perfekt beherrschte.
Acai
Acai startete seinen Gaming YouTube Account bereits 2007 und lädt seit je her regelmäßig neue Gaming Videos hoch. Mit Musikspielen wie Friday Night Funkin' und Guitar Hero hat er sich eine riesige Fanbase aufgebaut und ist auf dem besten Weg einer der beste Spieler für den Rhythmus Spiele PC zu werden.
Jeremy D
Dieser Spieler wurde 2015 zur Guitar Hero Legende als er eine 7.500-Noten-Serie bei Guitar Hero: Warriors of Rock erreichte. Jeremy D beweist eine ultra schnelle Fingerfertigkeit, die diesem Punktestand nur gerecht wird. So lange und so genau in die Gitarrentasten zu hauen, schafft niemand so einfach.
FrostedGH
Ihm ist gelungen, was bisher nur zwei Leute auf dieser Welt geschafft haben: er rockte durch die "Soulless 5" bei Guitar Hero fehlerfrei. Und das bereits zwei mal online über seinen Twitch-Account. Das zweite Mal war er sogar sehr viel schneller. Hierbei handelt es sich um die 5 berüchtigsten Songs, die Guitar Hero zu bieten hat. Darunter fallen "Through the Fire and Flames" und "Jordan". Damit hat sich FrostedGH definitiv einen Titel als Bester Guitar Hero Player verdient.
Die Top 10 der Rhythmus Spiele
Bist du bereit für den absoluten Musikrausch? Willst du in die Fussstapfen der größten Rhythm Games Player steigen? Dann mach dich bereit für den ultimativen Beat mit den 10 Besten in den Kategorien "Musik Spiele PC" und "Musik Spiele Konsole".
Beat Saber
Mit Lichtschwerter Würfel im Rhythmus von Elektro Beat lastigen Songs zu zerteilen, ist dein Ding? Dann ist Beat Saber etwas für dich!
Das Spiel ist nicht besonders komplex und die Grafik schlicht gehalten. Dennoch gehört dieses Musik Rhythmus Spiel zu den beliebtesten VR-Games unserer Zeit.
Versuche dich in fünf verschiedenen Schwierigkeitsgraden sowie unterschiedlichen Modi wie Multiplayer mit bis zu sechs Spielern. Für 10-15 Euro zusätzlich kannst du dir Tracks von Green Day, Linkin Park, Billie Eilish und vielen mehr für diese Art der Spiele runterladen.
Audiosurf 2 – kostenloses Spiel
Nicht mehr eines der neueren Spiele, dennoch eines der "Best Music Games Ever" - die Rede ist von Audiosurf 2. Im Grunde bewegst du dich im Rhythmus eines Tracks und musst dabei die Noten zur richtigen Zeit treffen. Klingt simple, ist es auch. Das ist aber nicht der Grund, warum Audiosurf 2 seinen Platz unter den 10 besten Musikspielen verdient hat. Dieses Spiel gehört zu den besten Rhythm Games, weil du deine eigenen Songs ins Spiel hochladen kannst. Du kannst die Noten also zu deinen persönlichen Lieblingssongs treffen und musst dich nicht durch automatisierte Tunes kämpfen.
Let's Sing 2022
Jetzt einmal ehrlich: keine Bestenliste für Musikspiele wäre komplett ohne Let's Sing. Das Karaokespiel ist das FiFa unter den Rhythmus Spielen. Jedes Jahr kommt eine neue Version mit kaum Veränderungen, bis auf die neuen Lieder.
Das geniale daran? Let's Sing gibt es in allen möglichen Varianten, zum Beispiel verschiedene Musikgenres oder nur einzelne Künstler. Zudem ist das Spiel für eigentlich alle gängigen Konsolen und sogar fürs Smartphone erhältlich. Entdecke dein geheimes Gesangstalent oder habe einfach nur Spaß mit Freunden bei einem gemütlichen Abend.
Just Dance 2022
Was Let's Sing für die sangesmutigen Spieler ist, ist Just Dance für die Tanzwütigen. Mach dein Wohnzimmer zur Tanzfläche und bringe dich und deine Kontrahenten zu einer super Musikauswahl so richtig ins Schwitzen. Ähnlich wie bei der Karaokeversion gibt es für Just Dance mittlerweile unzählig verschiedene Versionen von Pop über Elektro bis hin zu Classic Rock. Auch hier ist es egal, ob du Nintendo, PlayStation oder XBox besitzt – Just Dance gibt es für jede gängige Konsole. Ein Spiel, dass du auf keinen Fall in deiner Sammlung fehlen darf, denn "You are the dancing queen..."
Friday Night Funkin'
Natürlich gehören auch die Free-To-Play-Spiele für den Browser in diese Liste, so wie Friday Night Funkin'. Dieses Retrospiel bringt dich in eine Zeit zurück, wo ein Musik Rhythmus Spiel noch Tanzherausforderung allein war. Battle dich mit deinen Freunden oder anderen Spielern weltweit und steche sie im richtigen Takt aus. Genieße dabei Musik mit Nu-Jazz Einflüssen bis hin zu Vocaloid-Dance-Beats.
Bei Friday Night Funkin' handelt es sich um eine Open-Source-Kreation. Dies bedeutet, dass es allein von Spenden lebt und immer weiter entwickelt wird. Spieletester haben dieses Tanzspiel so super bewertet, dass tanzwütige Leute immer mehr spendeten, sodass Friday Night Funkin' definitiv zu den "Best Music Games" aller Zeiten gehört.
Rhythm Doctor
Du liebst Musik und wolltest schon immer mal ein Doktor sein? Dann solltest du dich an dem einfachsten und zugleich schwierigsten Musik Rhythmus Spiel versuchen, dass du jemals spielen wirst. Bei Rhythm Doctor arbeitest du an der Medizinausgabe. Du musst also in regelmäßigen Abständen den Patienten ihre Tabletten verabreichen. Doch es handelt sich hierbei nicht um irgendeine Regelmäßigkeit. Nein, deine Patienten brauchen ihre Tabletten genau bei jedem siebten Beat.
So weit so gut. Bis sieben zählen kann ja schließlich jeder! Jetzt das große Aber! Nicht nur wird der Beat mit der Zeit schneller, sondern es kommen auch einige Ablenkungen auf dich zu wie Hintergrundgeräusche und verschiedene Animationen. Du solltest dich jedoch nicht vor deinem Rhythmus Spiele PC frustrieren lassen. Es geht ja schließlich um den Spaß.
BPM: Bullets Per Minute
Springen, Schießen, Rutschen – was fast wie eine Disziplin bei den Olympischen Spielen klingt, ist eines der angesagtesten rhythmischen Adventure Games der Welt: Bei Bullets Per Minute beschießt du Noten mit einem Maschinengewehr im Takt der Musik und bewegst dich dabei im 4X Spiele Style durch Fantasiewelten. Erlebe die Action mit kraftvollen Rockstücken und bekämpfe dämonische Feinde. Nicht umsonst wird BPM auch gerne in der Liste "Beste Strategiespiele" gelistet.
Sayonara Wild Hearts
Bei Sayonara Wild Hearts handelt es sich um eine rhythmische Komposition für deinen Musik Spiele PC. Es ist wie ein Album, wo die einzelnen Stücke und Level perfekt aufeinander abgestimmt sind. Dabei sind die Animationen in ihrer Gestaltung so einfach, dass es wieder wunderschön ist. Die Stücke wurden extra für das Spiel geschrieben. Tanze dich durch 23 verschiedene Level und konzentriere dich nur auf die Musik und deine Bewegung.
Pistol Whip
Man nehme Spiele wie Doom, Counter Strike und Battlefield, versehe diese mit der Waffe der rhythmischen Musik und schon ist es geboren – Pistol Whip. Hier geht es nicht darum, einen Song mit Hilfe von Waffen nachzuspielen, sondern den Takt der Musik zu nutzen, um Feinde auszuschalten. Jeder Schuss im richtigen Takt trifft den Gegner schwer bis tödlich. Je genauer dein Timing, desto tödlicher dein Schuss.
Fuser
Fuser setzt sich ab von allen anderen Musik Spielen auf dem Markt. Hier geht es nicht darum, die Uhr zu schlagen oder Gegner auszuschalten. Du kannst ganz frei in deiner musikalischen Gestaltung sein. Sei ein DJ auf einem Musikfestival und kreiere mit 4 verschiedenen Tonspuren deinen persönlichen Mix. Dabei musst du im Karrieremodus einige Aufgaben meistern, um deine Fans in Stimmung zu halten. Völlig ohne Druck kannst du dich auch im Freestyle-Modus einfach musikalisch ausleben.
Kaum zu glauben, dass Fuser aus dem selben Haus wie Guitar Hero stammt. Das Studio Harmonix hat sich bei diesem Spiel für dein Rhythmus Spiele PC oder deine Konsole auf jeden Fall selbst übertroffen.
Rhythmus Spiele – Ein Genre wie kein zweites
Musikspiele sind schon eine besondere Sparte, die nicht jeden erfüllt. Aber das ist doch das tolle an dem riesigen Angebot an Konsolen und PC Games: Es ist für jeden etwas dabei. Bei den Rhythmus Spielen steht der Beat im Vordergrund. Ganz egal, ob du für deinen Sieg singen, tanzen oder gar schießen musst. Die verschiedenen Rhythmen zu erleben, macht einfach Spaß. Es lohnt sich durchaus, sich durch die unterschiedlichen Musik Spiele durch zu testen. Ob nun für deine Konsole, deinen Musik Spiele PC oder sogar für dein Smartphone – Games wie diese bringen dir den wahren Beat.
Und wer weiß, vielleicht entdeckst du ein verstecktes Gesangstalent und wirst schon bald zu Deutschlands neuem Superstar gekürt?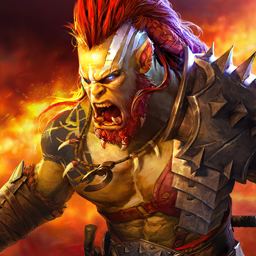 RAID: Shadow Legends
Sammle über 700 Champions & kämpfe um Ruhm