Jeu de rythme : danse en rythme et gagne la partie !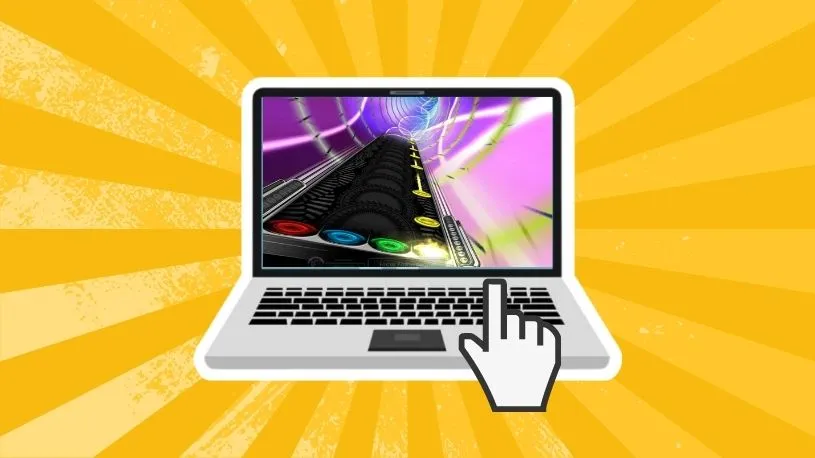 As-tu déjà senti le rythme prendre possession de ton corps ? Te surprends-tu parfois à battre la cadence en écoutant un air de musique ou à fredonner une chanson sans réfléchir ? Si c'est le cas, les jeux de rythme sont faits pour toi.

Ces jeux pour navigateur, console et PC sont devenus populaires auprès des joueurs du monde entier au cours des 20 dernières années. En effet, depuis la sortie de classiques tels que Dance Dance Revolution et PaRapper the Rapper, les joueurs adorent bouger en rythme.
Aujourd'hui, alors que la réalité virtuelle (VR) fait passer le genre dans une nouvelle dimension et que les anciens succès font l'objet de remakes, l'heure est venue d'examiner le phénomène des jeux de rythme en ligne.
Nous allons te guider à travers les nuances du genre comme un partenaire de danse bien entraîné. Nous te montrerons les meilleurs mouvements à faire (c'est-à-dire les meilleurs jeux). Ensuite, ce sera à toi de jouer.
Alors, si tu es prêt à te lancer dans la musique et à trouver ton rythme intérieur, voici un récapitulatif des dix meilleurs jeux de rythme en ligne.
Le jeu de rythme, c'est quoi ?
Les jeux de rythme sont des titres musicaux dont le but est de bouger les pieds et/ou les doigts au son d'un rythme. La définition technique des jeux de rythme pour PC et consoles est la suivante : « un jeu vidéo d'action qui met au défi le sens du rythme du joueur. »
La principale façon dont ce défi se manifeste est la danse. Par exemple, si tu es déjà allé dans une salle d'arcade, tu auras vu des jeux tels que Dance Dance Revolution. Le but de ce jeu est de taper du pied en suivant le rythme.
Cependant, si la danse domine le genre des jeux de rythme, ce n'est pas le seul défi que tu auras à relever. Certains des meilleurs jeux de rythme testent ta capacité à trouver le tempo en jouant d'un instrument virtuel. La série Guitar Hero en est un excellent exemple.
Les jeux de chant font également partie du genre. PaRappa the Rapper a été le premier jeu de rythme chantant. Développé par NaNaOn-Sha et sorti en 1996, il s'agissait de rapper en rythme avec les personnages à l'écran.
D'autres titres à succès, tels que Sing Star, se sont inspirés de ce principe et sont ensuite devenus des jeux de rythme parmi les plus populaires des jeux en ligne.
Jouer à des jeux quand on s'ennuie se termine souvent en partie de jeu de rythme. Pourtant, ce genre très spécifique a ses propres héros.
Les grands noms du jeu de rythme
Il y a des gens qui peuvent trouver le rythme et le garder mieux que d'autres. Mais bien sûr, ce que tous les joueurs de jeux de rythme sur PC ou sur console veulent, c'est s'amuser.
Cependant, ces titres sont aussi des jeux de compétition, ce qui signifie que le but est d'atteindre un score élevé.
Naturellement, il vaut mieux avoir une passion pour la musique. Les joueurs suivants ont tout cela et bien plus encore :
PP1 OTL
Ce mystérieux joueur est devenu une légende de Dance Dance Revolution le 21 mai 2011, après avoir atteint un score élevé de 3 419 points. Il a remporté les 50 trophées et le plus grand nombre de points « Gamerscore », ce qui lui a permis d'obtenir le meilleur score de tous les temps.
Ryota Wada
Dance Dance Revolution est un hit depuis plus de dix ans, mais Ryota Wada reste l'un des plus jeunes joueurs à avoir atteint un score parfait. Le groover japonais a obtenu la note AAA en mode expert à l'âge de 9 ans après avoir maîtrisé la chanson « Hyper Eurobeat ».
En fait, Wada n'est pas seulement une légende dans le monde du jeu, mais aussi dans le monde entier. Sa performance parfaite lui a valu une place dans le Livre Guinness des records.
Matthew A
Ce joueur de Guitar Hero III est devenu une légende du rock à part entière après avoir obtenu l'un des meilleurs scores jamais réalisés. Matthew a obtenu un total de 916 745 points en jouant à Through the Fire and the Flames en mode expert.
Jeremy D
Un autre fan de Guitar Hero a établi un record en 2015 lorsqu'il a atteint une série de 7 500 notes sur Warriors of Rock ! Ce score est non seulement impressionnant, mais témoigne aussi de l'endurance de Jeremy, car tapoter aussi longtemps est une tâche difficile pour n'importe qui.
Jeff « JediMaster633 » Ashby
Des batteurs, bassistes et guitaristes. ont réalisé des performances impressionnantes dans Rock Band au fil des ans. Cependant, lorsqu'il s'agit de chant, peu sont aussi bons qu'Ashby.
Le joueur américain a obtenu de superbes résultats à Cyberscore, mais son interprétation de « Give it Away » a été la meilleure. Son total de 467 496 est un record mondial et a suffi à battre le Canadien Jay « stealthhack ».
Les 10 meilleurs jeux de rythme en ligne
Tu as envie de t'amuser et de bouger en rythme ? Pourrais-tu battre certains des meilleurs joueurs de jeux de rythme ? Es-tu prêt à en découdre ? Voici dix des meilleurs jeux de rythme sur console et navigateur :
10. Beat Saber
Si tu as envie d'un jeu de rythme immersif où il est plus important de frapper des blocs que de jouer les bonnes notes, Beat Saber est fait pour toi.
Ce jeu n'est pas excessivement complexe et ses visuels sont simples. Cependant, cette simplicité masque un jeu de réalité virtuelle absolument captivant. Le but est simple : choisir un sabre laser de couleur et frapper les objets en mouvement au bon moment.
9. Audiosurf 2
Audiosurf 2 n'est pas nouveau, mais il mérite quand même une place dans notre top des jeux de rythme les mieux notés. Sa dynamique est similaire à celle de Thumper et d'autres hits du genre. Tu te déplaces sur une piste et tu dois frapper les notes (désignées par des blocs de couleur) au bon moment.
Si le jeu est cool, ce n'est pas pour autant la raison pour laquelle il figure sur cette liste. Audiosurf 2 fait partie des meilleurs jeux de rythme car tu peux télécharger tes propres pistes, donc tu n'as pas à écouter des chansons et des airs génériques.
Nous aimons tous écouter nos propres morceaux préférés, c'est pourquoi Audiosurf 2 reste un jeu incontournable dans la communauté des jeux de rythme.
8. Rez Infinite
Rez a fait taper du pied lors de sa sortie en 2001 sur la Sega Dreamcast et, grâce à quelques mises à jour astucieuses, il a retrouvé ses marques en 2017 sous le nom de Rez Infinite. Rez Infinite te permet de contrôler une machine à chercher des rythmes futuristes qui vole dans l'espace.
Cette fois, cependant, tu es immergé dans un univers à 360 degrés.
Pourquoi ? Parce que Rez Infinite est disponible en réalité virtuelle. Tu peux te perdre dans le rythme en appuyant sur des boutons en synchronisation avec des sons techno.
Si tu parviens à faire correspondre les bandes-son battement par battement, tu vaincras tes ennemis et prendras le contrôle de l'univers de Rez Infinite.
7. Thumper
Thumper a été décrit comme les montagnes russes des jeux de rythme. En effet, tu es aux commandes d'un scarabée qui dévale une piste pleine de virages, de bosses et d'obstacles.
Il faut éviter ces obstacles et traverser neuf niveaux psychédéliques pour vaincre le boss final (une tête géante), le tout sur fond de musique agressive. Voici un exemple des meilleurs jeux d'aventure !
6. Friday Night Funkin'
S'il y a un jeu de rythme gratuit à connaître, c'est bien Friday Night Funkin'. Cette création open source est sortie en 2020 et survit uniquement grâce au financement participatif.
Les gens ont en effet fait des dons et continuent d'en faire parce que le jeu renvoie à une époque où les jeux de rythme étaient de purs défis de danse. C'est l'incontournable pour les amateurs de jeux rétro. Mais ça ne veut pas dire que les nouveaux jeux de rythme pour PC sont mauvais, au contraire...!
Cependant, nous avons tous un côté nostalgique et c'est ce qu'exploite Friday Night Funkin'. Les animations rétro sont assorties d'un principe tout aussi vintage : effectuer les bons mouvements de danse au bon moment.
À toutes fins utiles, ce jeu est une version moderne de Dance Dance Revolution.
5. Rhythm Doctor
Il s'agit à la fois du jeu de rythme le plus difficile et du plus facile auquel tu puisses jouer. Dans Rhythm Doctor, tu joues le rôle d'un distributeur de médicaments. Tu dois donner des médicaments aux patients à intervalles réguliers.
Réguliers, mais à quel point ? Tous les sept temps. Chaque fois que tu entends le septième temps, tu appuies sur la barre d'espacement, et le patient reçoit ses médicaments.
Ça semble facile, non ? Eh bien, à bien des égards, ça l'est. Cependant, le problème est qu'il y a d'innombrables distractions. Non seulement les sons deviennent plus rapides et plus complexes, mais il y a aussi des bruits de fond et toutes sortes d'animations qui se déroulent pendant que tu essayes d'atteindre le septième temps.
Pour un jeu de rythme sur PC, celui-ci est terriblement frustrant et captivant.
4. BPM: Bullets Per Minute
Quiconque est capable d'égrener des notes à la vitesse d'une mitraillette devrait jouer à Bullets Per Minute. Sans surprise, la liste des pistes est remplie de morceaux de rock puissants et ton travail consiste à sauter, tirer et esquiver dans des mondes fantastiques.
Pour effectuer ces mouvements, éviter les attaques et tuer tes ennemis, tu dois frapper les boutons sur les bonnes notes. Il te faudra tirer et recharger au rythme de chaque chanson.
Étant donné que Bullets Per Minute est un jeu d'action à haute intensité truffé d'ennemis démoniaques, il est parfait pour ceux qui souffrent de la rage dans les jeux vidéo et ont besoin de se défouler.
3. Sayonara Wild Hearts
Dans l'univers du jeu de rythme gratuit, comme dans celui du jeu premium, on trouve une surabondance d'animations. Certes, certaines d'entre elles sont superbes, mais parfois il y en a trop et elles empêchent de se concentrer sur le jeu. Sayonara Wild Hearts ne tombe pas dans cet écueil.
En fait, le jeu est beau et simple, avec une large sélection de chansons conçues spécialement. Tu peux te concentrer sur la danse à travers les 23 niveaux du jeu. Ce qui est également génial dans Sayonara Wild Hearts, c'est la façon dont chaque niveau s'enchaîne.
Cela rappelle littéralement le principe d'un album, ce qui explique aussi pourquoi on l'a classé parmi les meilleurs jeux de rythme en ligne.
2. Pistol Whip
Qu'est-ce qui se passe lorsque l'on croise des jeux de rythme avec les jeux de tir à la première personne (FPS) ? On obtient Pistol Whip. Contrairement aux autres jeux de rythme que les joueurs de PC et de consoles connaissent, Pistol Whip consiste à utiliser la musique pour vaincre un ennemi.
Donc tu ne touches pas les notes pour faire une mélodie ou exécuter un mouvement de danse.
Au lieu de cela, à chaque battement, une balle se dirige vers les ennemis qui arrivent. Plus ton timing est bon, plus tes tirs seront précis et mortels. À bien des égards, Pistol Whip est autant un jeu d'action qu'un défi rythmique.
Au fond, peu importe le genre dans lequel Pistol Whip s'inscrit, tu adoreras ce jeu si tu aimes le principe des notes de musique mortelles.
1. Fuser
Que seraient les jeux de rythme sur PC et sur console sans Harmonix ? Le studio qui nous a apporté Guitar Hero est devenu l'un des noms incontournables des jeux de rythme PC, et Fuser en est l'un des meilleurs. Il est divertissant parce qu'il est différent.
Contrairement aux autres jeux de rythme sur console, PC et navigateur, Fuser ne te met pas sous pression.
En d'autres termes, tu ne joues pas contre la montre ou contre des méchants. Au contraire, tu es libre de faire tes propres expériences. En fait, c'est même le but. Tu es placé derrière un jeu de platines avec une tâche simple : créer un morceau à succès.
Pour les amateurs de jeux de rythme, Fuser est en rupture avec la norme, et c'est une bonne chose.
Un genre à apprécier
Les jeux de rythme ne sont pas faits pour tout le monde. De nombreux joueurs acharnés pensent que Fuser, Pistol Whip et autres ne sont rien d'autre que des nouveautés. Cependant, c'est faux.
Les jeux de toutes sortes, qu'il s'agisse de jeux sur PC avec une ambiance RPG ou de jeux de tir à la première personne sur console, peuvent être amusants.
Le fait que les jeux de rythme t'obligent à bouger et à réagir en fonction du rythme ne les rend pas moins divertissants, techniques ou agréables. Essaye donc un des jeux de rythme pour PC, consoles et navigateurs répertoriés dans ce guide.
Pourquoi ne pas commencer par tester un jeu de rythme gratuit ? On ne sait jamais, tu pourras te découvrir un talent insoupçonné pour la danse, le chant ou les instruments de musique !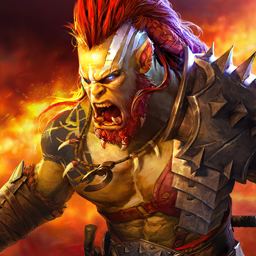 RAID: Shadow Legends
Récupère + de 700 Champions et décroche la gloire