Der Aufbau einer Stadt ist kein Zuckerschlecken, doch glücklicherweise geben Videospielentwickler uns die Chance, in die Fußstapfen des Schaffers zu treten und unsere eigene Vision der Welt mithilfe vieler Aufbauspiele PC zu errichten. Es gibt auch einige Aufbauspiele, die mit Konsolen und Mobilgeräten kompatibel sind. Zusätzlich kannst du dich für Online Aufbauspiele bzw. Strategiespiele online entscheiden.
Falls du einfach nur wissen möchtest, welche Titel wir zu als beste Aufbauspiele des Jahres 2022 ausgewählt haben und welche unsere absoluten Allzeit-Favoriten Bau Spiele sind, scrolle weiter nach unten.
Das Spannende an einer Aufbausimulation
Auf den ersten Blick mögen Aufbauspiele im Vergleich zu allem anderen, was freie Spiele deutsch zu bieten haben, nicht sonderlich spannend erscheinen. Aufbauspiele bieten nicht ganz denselben Adrenalinschub wie ein Ego Shooter, aber es gibt viele Gründe, warum Einzelspieler- und Multiplayer-Aufbauspiele in den Augen vieler an erster Stelle stehen.
In erster Linie lieben wir Menschen es von Natur aus, die Kontrolle zu haben - und Aufbauspiele ermöglichen uns ein noch nie dagewesenes Maß an Kontrolle, was auch daran liegt, dass man viele kostenlose Spiele downloaden kann. Vor allem ist es aber die Tatsache, dass die Gestaltung bis ins kleinste Detail allein in deinen Händen liegt. Du kannst deine Welt von jedem Zentimeter Asphalt und jedem Grashalm bis hin zu den größeren Elementen, wie z. B. der Art und Weise, wie bestimmte Charaktere miteinander interagieren, konzipieren – egal, ob du Stadt Bau Spiele kostenlos spielst oder eine Kaufversion für Aufbauspiele PC.
Es hat etwas seltsam Entspannendes, sich zurückzulehnen und seine eigene Stadt mit einer Aufbausimulation zu entwickeln. Du kannst die kreative Freiheit genießen, dass sie sich zu dem entwickelt, was du dir vorstellt. So liefern Aufbau Strategiespiele PC ebenso wie Multiplayer Aufbauspiele etwas Unbeschwertes, in das man sich nach einer langen Arbeitswoche vertiefen kann.
Nicht zuletzt bevorzugen einige Spieler aber auch einfach nur realistischere Spiele. Aufbauspiele beziehen sich schließlich nur auf reale Dinge und manch einem fällt es schwer, sich mit apokalyptischen Survival-Horrorspielen oder PC-Spielen mit Weltraum Simulation zu beschäftigen. Wenn du mit dem Gedanken spielst, zum ersten Mal in diesen Teilbereich der Bau Spiele einzusteigen, haben wir zwei Listen erfolgreicher Aufbauspiele zusammengestellt, die dir den Einstieg erleichtern.
89,997,040
RAID-SPIELER WELTWEIT. MACH MIT!
Die 5 besten Aufbauspiele 2022
1. Two Point Campus
Two Point Campus wurde von den Entwicklern der Two Point Studios entwickelt und ist der lang erwartete Nachfolger von Two Point Hospital. Es stellt dich vor die Aufgabe, deinen eigenen Universitätscampus zu entwickeln und zu verwalten. Es muss an alles gedacht werden, von Hörsälen und Bibliotheken bis hin zur Organisation von außerschulischen Studentenveranstaltungen. Einige Videokonsolen bieten dir sogar die Chance, in die Stadt Bau Spiele kostenlos hineinzuschauen!
2. Pharao: A New Era
Seit dem Original von 1999 ist fast eine Generation vergangen, doch die Pharao-Franchise ist endlich wieder zurück im Genre der Aufbauspiele. Der Titel spielt im alten Ägypten und erkundet sechs ikonische Epochen der ägyptischen Geschichte in 53 Einzelmissionen, darunter einige aus dem Erweiterungspaket des Originals von 2000 - Cleopatra: Queen of the Nile.
3. Farthest Frontier
Begib dich mit Farthest Frontier von Crate Entertainment an den Rand der bekannten Welt. Obwohl die Aufbausimulation noch nicht erschienen ist, kannst du dich für einen frühzeitigen Zugang zum Spiel anmelden, sobald es per Steam unter den Browser Games deutsch verfügbar ist. In diesem Spiel ist es deine Aufgabe, diese kleine Siedlung zu einer vollwertigen Stadt auszubauen. Du musst alle dir zur Verfügung stehenden Rohstoffe nutzen, um deine Bürger zu schützen und sie mit den Fähigkeiten und Werkzeugen auszustatten, die sie benötigen, um Bedrohungen von außen abzuwehren.
4. Prehistoric Kingdom
Wenn du schon einmal nachts im Bett lagst und dich gefragt hast, ob es Online Aufbauspiele mit einer Mischung aus Zoo Tycoon und Jurassic Park gibt, dann hat Entwickler Blue Meridian mit Prehistoric Kingdom die Antwort für dich. Jetzt kannst du das Zeitalter der Dinosaurier feiern, indem du einen Park aufbaust, in dem deine Lieblingsdinosaurier zu sehen sind. Als eines der neuesten Aufbau Strategiespiele PC soll es noch diesen Monat erscheinen, du musst also nicht mehr lange warten!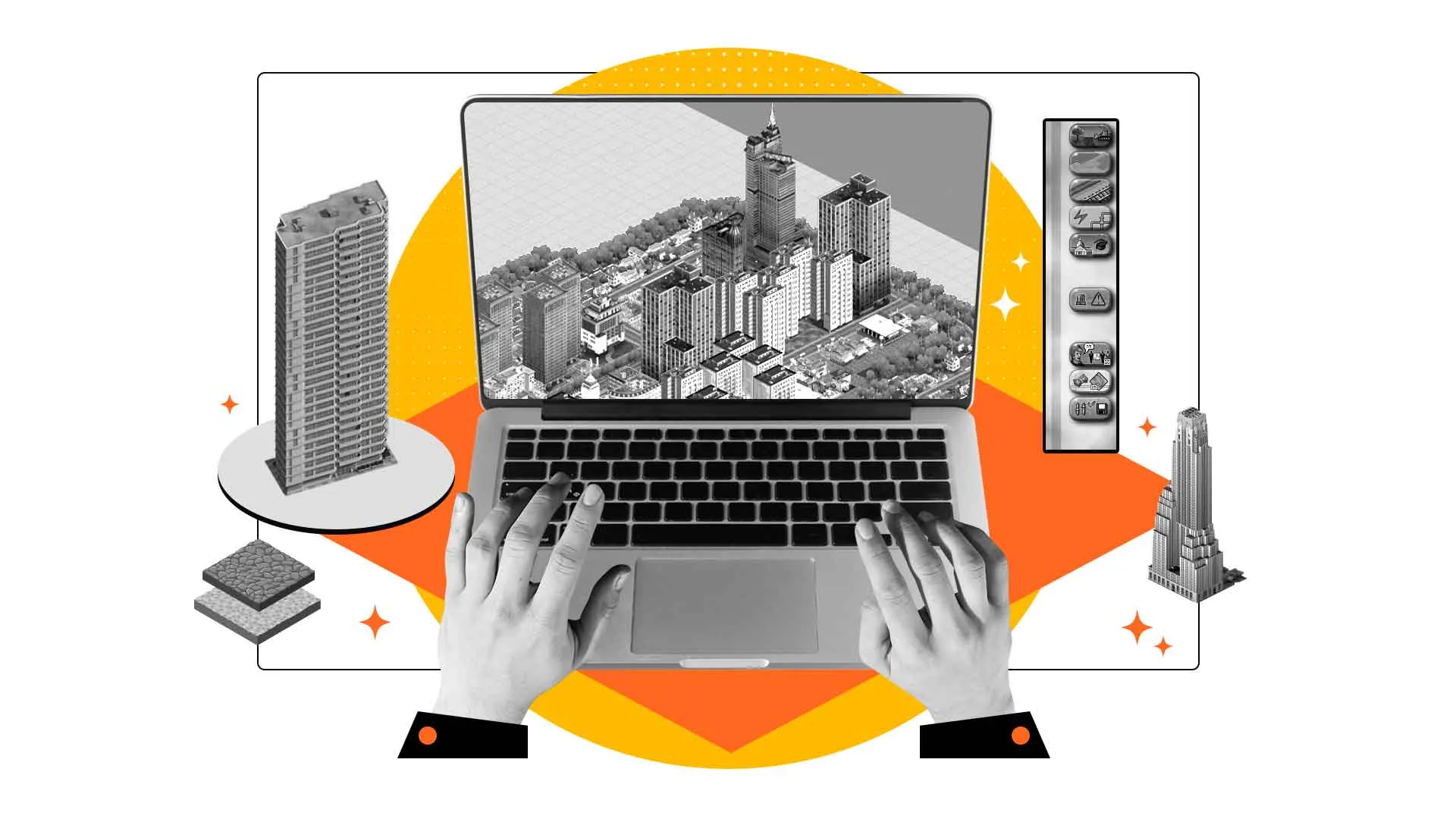 5. Frostpunk 2
Das ursprüngliche Frostpunk war ein BAFTA-nominierter Titel. Es kombinierte auf spektakuläre Weise die Mechanismen der Aufbauspiele mit denen der Survival-Spiele. Im Original schlüpfst du in die Rolle des Herrschers der letzten noch existierenden Stadt auf der Erde. Frostpunk 2 fällt unter die Kategorie neue PC Games und versetzt dich in eine postapokalyptische Eiszeit, in der deine Stadt stark vom Öl abhängt. Deine Aufgabe ist es, die Bedrohungen abzuwehren, die sich am Horizont zeigen.
Die 5 besten Aufbauspiele PC aller Zeiten
1. SimCity 3000
Maxis und Electronic Arts haben mit dem dritten Teil der SimCity-Franchise ein wahres Meisterstück abgeliefert. SimCity 3000 war ein riesiger kommerzieller Erfolg und verkaufte innerhalb von sechs Monaten nach Veröffentlichung eine Million Einheiten. Bis Januar 2002 wurden weltweit 4,6 Millionen Exemplare verkauft. Es folgten erweiterte Editionen, darunter auch optimierte Versionen für Smartphones, damit es in der Kategorie beliebteste Handyspiele anknüpfen konnte. SimCity 3000 gilt noch immer als Vorbild für andere Aufbauspiele.
2. Banished
Banished von Shining Rock Software gilt als eines der besten Aufbau Strategiespiele PC aller Zeiten. Du übernimmst das Ruder einer Gruppe von Reisenden, die sich in einem neuen, unbekannten Gebiet niederlassen wollen. Durch sorgfältige Verwaltung von Ressourcen und Rohstoffen musst du diese isolierte Gruppe in eine voll funktionsfähige Gesellschaft verwandeln.
3. Pharao
Impressions Games knüpfte mit der Veröffentlichung von Pharao im Jahr 1999 an den Erfolg des preisgekrönten Titels Caesar 3 an. Obwohl es eine ähnliche Spielmechanik wie Caesar 3 aufweist, spielt Pharao, wenig überraschend, im alten Ägypten. Es ist deine Aufgabe, jeden Aspekt des Stadtaufbaus zu verwalten und die Bürger zu schützen, indem du dafür sorgst, dass sie ernährt, bewässert und sicher sind.
4. Cities: Skylines
Cities: Skylines wurde im März 2015 auf den Markt gebracht und ist zu einem der kultigsten Aufbauspiele aller Zeiten geworden. Diese Simulation mit offenem Ende ist eine zeitgemäßere Version von SimCity 3000, die den Spielern erweiterte Spielelemente bietet, um die realen Herausforderungen der Entwicklung und Erhaltung einer städtischen Umgebung zu verstärken. Es gibt auch eine Reihe von Erweiterungspaketen, darunter Flughäfen, die deiner Sammlung der besten Aufbauspiele eine zusätzliche Dimension verleihen können.
5. Caesar 3
Als dritter und letzter Teil der Caesar-Spielreihe ist Caesar 3 seinen Vorgängern weit voraus. GOG bezeichnete es im Veröffentlichungsjahr (1998) als Sieger der besten Bau Spiele. Deine Aufgabe ist es, die Ewige Stadt zu entwickeln und die Menschen im alten Rom zu kontrollieren - trotz ihrer individuellen, von der KI gesteuerten Bedürfnisse und Ziele. Es war eines der ersten Aufbauspiele, das die Wahl zwischen friedlichen und militärisch ausgerichteten Aufgaben bot.
Es besteht kein Zweifel daran, dass die diesjährigen Veröffentlichungen mit ziemlicher Sicherheit die Aufbauspiele von 2021 kommerziell aufwerten werden, wobei eine Handvoll beliebter Franchises erneut andere Entwickler auf die Probe stellen wird. Als leidenschaftlicher Spieler solcher Aufbauspiele könnte es sich bei den vielen Neuveröffentlichungen sogar lohnen, über die Aufwertung des PCs mit einer DDR5 RAM nachzudenken.