Come i Battle Royale Stanno Modificando i Videogiochi Online

Ci troviamo di fronte ad un nuovo re dei giochi online.
Counter-Strike, Dota 2, e League of Legends si sono tutti fatti da parte al cospetto dei Battle Royale, un termine che ormai su Google è divenuto più popolare degli stessi "MMO".
I navigatori virtuali di tutto il mondo stanno improvvisamente gettandosi a capofitto nel violento ed al contempo elettrizzante mondo dei giochi in modalità Battle Royale. Ma perché?
Cos'è che rende questo nuovo genere così popolare e, aspetto ancor più importante - come influirà sul cambiamento dei videogiochi online?
Cos'è il Battle Royale?
Un Battle Royale consiste in uno scontro tra molte persone diverse che termina quando un solo combattente rimane in piedi. Una sorta di tutti contro tutti.
Non esiste un gruppo designato e i combattenti possono usare qualsiasi strumento a loro disposizione per conseguire la vittoria. Pensate a Hunger Games e praticamente vi siete fatti un'idea.
Il termine Battle Royale divenne popolare in occidente a seguito della pubblicazione di un romanzo giapponese con lo stesso nome, scritto da Koushun Takami nel 1999.
La storia segue un gruppo di studenti fatti oggetto di un rapimento e trasportati su un'isola privata al largo della costa giapponese. Giunti lì, ogni studente dovrà cercare di sopravvivere finché non ne rimarrà solo uno in vita.
La versione più conosciuta della storia di Battle Royale è, ad ogni modo, l'adattamento cinematografico del 2000 diretto da Kinji Fukasaku e interpretato dal leggendario Takeshi Kitano. Il film sarebbe poi diventato fonte di ispirazione diretta per PlayerUnknown's Battlegrounds (PUBG) - il più famoso gioco in modalità Battle Royale oggi sul mercato.
Come Funzionano i Giochi di Battle Royale
Fu nel 2012 che i modder (una sorta di modellatori virtuali) introdussero un vero e proprio concetto di Battle Royale nel gioco di enorme successo Minecraft.
I talentuosi modder AntVenom e SkyDoesMinecraft gettarono quindi le basi per quello che divenne il primo gioco ufficiale in modalità Battle Royale che abbia riscosso successo.
Da quel momento, i modder della comunità ARMA iniziarono ad apportare modifiche più o meno gradite al concetto di Battle Royale. Uno di questi modder ARMA rispondeva al nome di Brendan Greene, il cui pseudonimo online era PlayerUnknown.
Greene si unirà poi all'editore coreano Bluehole per sviluppare e lanciare PlayerUnknown's Battlegrounds, più comunemente conosciuto dai suoi 3 milioni di giocatori simultanei con l'acronimo "PUBG".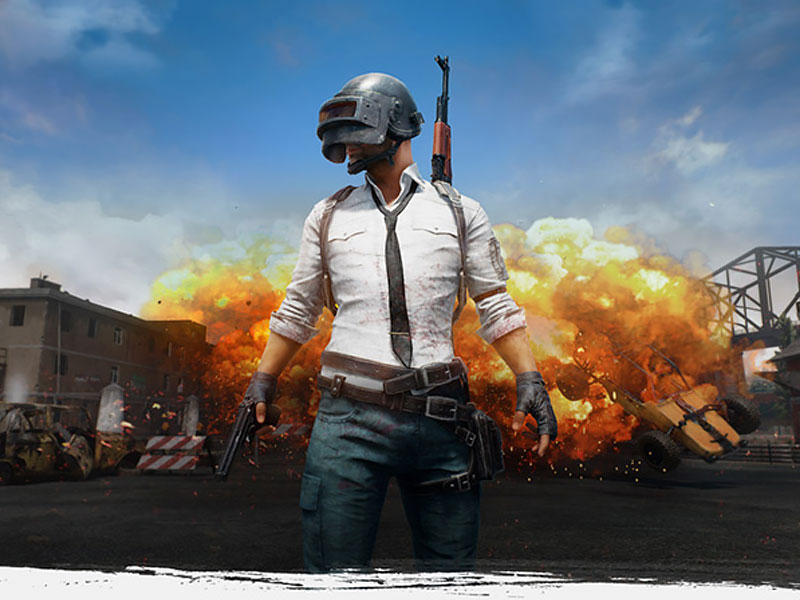 PlayerUnknown's Battlegrounds rappresenta la lente perfetta attraverso cui esaminare le componenti di un gioco in modalità Battle Royale.
Un tipico round di PUBG inizia con qualcosa come 100 giocatori che si paracadutano su una grande isola situata da qualche parte al largo di una costa dell'Europa Orientale.
I giocatori possono raggrupparsi in squadre di 4 o 2, oppure scegliere di giocare in un vero e proprio Battle Royale all'ultimo sangue - con un solo vincitore superstite dei 100 giocatori iniziali.
Una volta a terra, i giocatori devono continuare a cercare armi, armature e articoli rigenerativi. Devono anche riuscire a scovare i veicoli - non tanto per spostarsi da un punto all'altro - quanto piuttosto per rimanere all'interno della Zona Sicura.
La Zona Sicura è contenuta all'interno di un gigantesco cono circolare blu di plasma sfrigolante, che continua a ridursi con il passare del tempo e come conseguenza della morte di sempre più giocatori. Man mano che il campo di battaglia si riduce, i giocatori vengono costretti a radunarsi in un ambito sempre più ravvicinato fino al finale esplosivo.
L'ultima squadra, duo, o singolo, che riesca a rimanere in vita viene dichiarato vincitore.
Questa semplice formula è alla base dei giochi di Battle Royale: un folto gruppo di giocatori uguali, un'enorme mappa che si riduce lentamente nel tempo, ed una scarsa disponibilità di armi e munizioni.
L'Evoluzione del Battle Royale
Nel 2014, il MOBA DotA 2 della Valve deteneva il precedente record di maggior numero di giocatori simultanei con 1.291.328 di utenti. PlayerUnknown Battlegrounds è riuscito a superare questa cifra il 16 settembre con una base di giocatori simultanei di 1.348.374.
Da allora, il gioco ha raggiunto oltre 3 milioni di giocatori simultanei nel dicembre 2017.
Come accade sempre, nel momento in cui un nuovo fenomeno fa la sua comparsa, gli sviluppatori cercheranno spesso di emularlo e apportarvi delle migliorie affinché diventi ancora più grande.
PUBG contribuì a rivoluzionare il mondo del gioco online a tal punto che gli altri titani nel settore ludico online si trovarono costretti ad emulare i suoi prodotti apportando modifiche ai titoli in uscita in base al concetto del Battle Royale.
Diamo un'occhiata agli adattamenti di maggior successo di PUBG per capire come i giochi di Battle Royale stiano traghettando il genere al livello successivo.
Fortnite: La Costruzione Di Un Battle Royale Migliore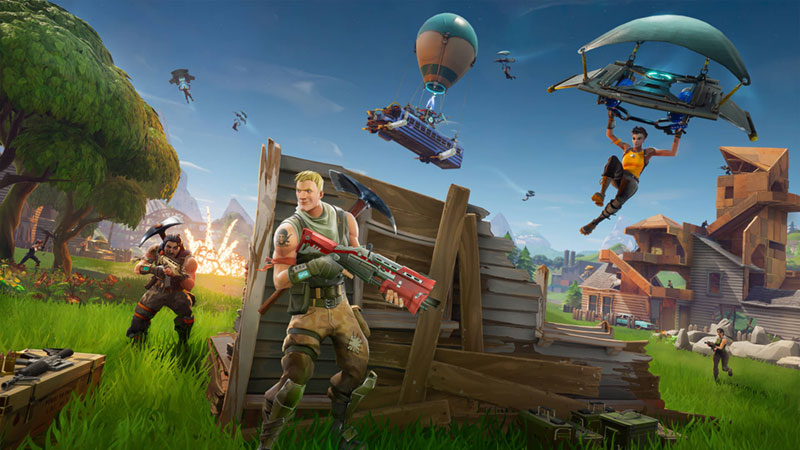 Fortnite è sviluppato da Epic Games e People Can Fly, ed è stato lanciato poco dopo PUBG, nel Luglio 2017.
A differenza di PUBG, che in realtà non ha una trama o un'ambientazione reale, Fortnite presenta un mondo in cui tempeste apocalittiche hanno devastato tutto, ad eccezione del 2% dell'umanità. I sopravvissuti, a questo punto, si trovano costretti ad unirsi per sopravvivere contro dei mostri zombi.
Il titolo originale riscosse un discreto successo, raggiungendo la pietra miliare di un milione di giocatori circa un mese dopo la sua uscita. Tuttavia, fu proprio la modalità autonoma Fortnite Battle Royale, lanciata del settembre 2017, che spinse Fortnite verso la vetta, con 10 milioni di nuovi giocatori in appena due settimane.
Seppure la modalità risulti molto chiaramente un'emulazione di PUBG, l'aggiunta dell'ingegnoso sistema di creazioni e costruzioni di Fortnite introduce un'intelligente ed assai creativa innovazione rispetto alla tradizionale formula di saccheggio, sopravvivenza e combattimento del Battle Royale.
Ricordate quello sbalorditivo numero di 3 milioni di giocatori raggiunto da PUBG? Ebbene, Fortnite di recente ha infranto quel record con 3,4 milioni di giocatori, rendendolo ad oggi il più grande gioco in modalità Battle Royale sul mercato.
Paladins: Come Mantenersi Al Passo Con I Tempi
Prima del monumentale successo del genere Battle Royale, "Hero Shooters" era l'ultima tendenza nel settore dei videogiochi online.
Giochi come Overwatch e Team Fortress 2 hanno portato squadre di veri e propri specialisti a confrontarsi l'un l'altro in round basati su obiettivi incentrati in arene stracolme di pacchetti salute e potenziamenti. Ciascun giocatore aveva un ruolo e tutti dovevano collaborare in modo intelligente e strategico per uscire vittoriosi.
Seppure questi giochi godano ancora di notevole popolarità, molti sviluppatori ed editori hanno capito che la parte del leone nel conquistare l'attenzione dei consumatori si è effettivamente spostata a favore del genere Battle Royale. Come conseguenza di ciò, hanno iniziato a integrare il Battle Royale nelle loro modalità di gioco. Uno di questi giochi è Paladins: Champions of the Realm.
Lo sviluppatore di Paladins, la Hi-Rez Studios, recentemente ha annunciato l'ultima integrazione apportata al suo titolo a partecipazione gratuita: Paladins: Battlegrounds. Come il titolo ben suggerisce, la tradizionale esperienza di gioco di Paladins verrà sottoposta ad una netta trasformazione in stile Battle Royale.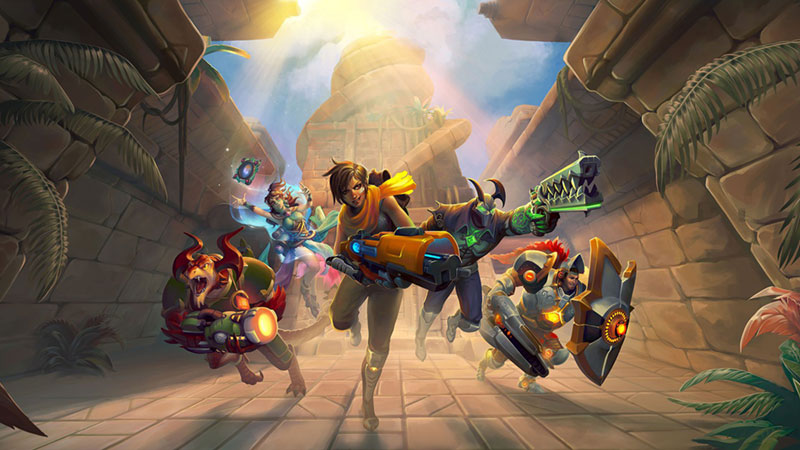 Da quanto finora trapelato, la modalità Battleground sembra aver preso molto in prestito da PUBG. Abbiamo avuto modo di verificare le modalità di saccheggio dei vari edifici, la ricerca dei rari articoli di equipaggiamento lanciati all'interno di pacchetti da parte dei dirigibili, per non parlare della zona di sicurezza sottoposta ad un metodico restringimento.
Come sarà facile intuire - soprattutto se avete partecipato a PUBG per un po' - questa nuova installazione già ha tutte le componenti che la riconducono a PUBG, seppure con skin e personaggi tipici di Paladins. Anche il titolo della modalità, Battlegrounds, ci pare un riferimento spudorato all'ammiraglia di Battle Royale.
Detto questo, sarà sorprendente vedere come i diversi eroi andranno ad affrontarsi in un combattimento di sopravvivenza a campo aperto. Dato che Paladins è un Hero Shooter, ciascun eroe detiene capacità ed armi ben distinte, e sarà perciò portato ad affrontare gli scontri in un modo diverso dagli altri. Ciò significa che i giocatori non inizieranno su un piano di parità, andando pertanto a sconvolgere la familiare formula di Battle Royale.
I Giochi MMO Entreranno A Far Parte Della Formula Battle Royale?
A questo punto, risulta chiaro come i giochi online stiano cambiando ed evolvendosi per adeguarsi ad un mondo dominato dal Battle Royale. Ma vale la stessa cosa anche per i giochi MMO?
Gli analisti esperti del mondo degli MMO concordano soprattutto sul fatto che, all'inizio del 2017, l'ingegnosità e l'originalità nel campo degli MMO sembravano ormai in via di esaurimento. Mentre i giganti come Counter-Strike, Dota 2 e World of Warcraft continuavano a produrre contenuti meravigliosi, non si può negare che molte persone cominciassero a lamentarsi dell'aria ormai stantia imperante nell'ambiente.
In altre parole: il mondo degli MMO e dei giochi online ha raggiunto una battuta d'arresto quanto a creatività.
Tuttavia adesso, grazie alle interessanti fusioni di meccaniche di gioco e stili determinati da prodotti come PUBG e Fortnite, i titoli MMO e MMORPG stanno vivendo una curiosa fase di transizione.
Gli sviluppatori stanno apportando miglioramenti ai loro titoli avvalendosi dei nuovi contenuti in stile Battle Royale, e sempre nuovi giochi in modalità Battle Royale stanno facendo la loro comparsa sul mercato. Tuttavia, molti popolari MMO sembrano rimanere indenni a questo fenomeno.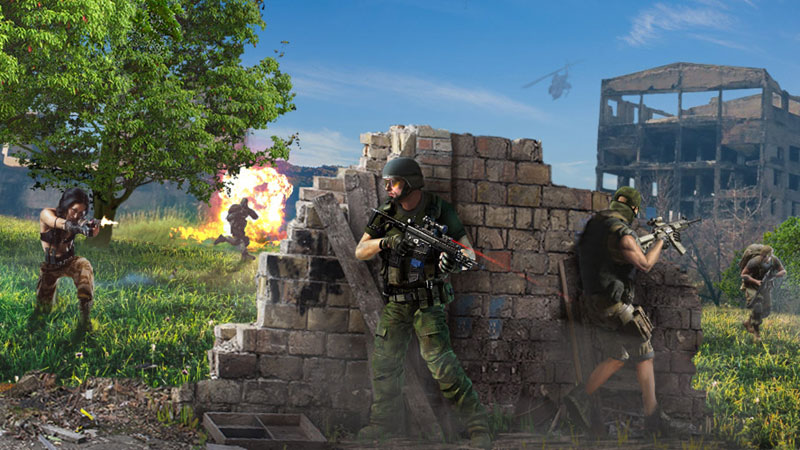 Ma quando i giocatori pretendono originalità e nuove sensazioni, questi giochi rischiano di rimanere decisamente indietro. La formula Battle Royale è di così semplice implementazione, e riserva una tale quantità di concetti ancora da esplorare, che gli sviluppatori MMO rischiano di lasciarsi sfuggire un successo pressoché sicuro scegliendo di non prenderne parte.
Riusciremo alla fine a vedere un vero MMO in versione Battle Royale? Ce la farà questo sottogenere a funzionare anche come MMO?
È facile immaginare Counter-Strike introdurre mappe più vaste con un numero superiore di giocatori proprio per facilitare un'adeguata "esperienza PUBG". Ma che ne sarà di giochi come World of Warcraft?
Molti MMO dispongono già di epiche arene "Giocatore contro Giocatore" che potrebbero risultare perfette per il combattimento su vasta scala, ma ci sono ancora svariati problemi da superare. Molti di questi sono gli stessi problemi che saltano fuori quando i giochi MMO provano ad assumere le sembianze di titoli Esport.
In termini strategici, possiamo facilmente capire su cosa si concentri l'apprezzamento della stragrande maggioranza di giocatori - sul concetto dell'ultimo sopravvissuto. Se vogliono sperare di entrare a far parte della nuova ondata di giochi online attesa per il 2018, gli sviluppatori dovranno prestare la massima attenzione e fare il possibile per associare i loro giochi a questa nuova imperante tendenza.
Raid: Shadow Legends
Raccogli 400+ Campioni & Battiti Per La Gloria