Comment la Battle Royale change le jeu en ligne

Un nouveau roi règne sur les jeux en ligne.
Counter-Strike, Dota 2 et League of Legends ont tous cédé la place à Battle Royale, un terme désormais plus populaire que « MMO » sur Google.Aux quatre coins du monde, les gens se jettent dans l'univers violent, explosif et palpitant de la Battle Royale. Mais pourquoi ?
Qu'est-ce qui rend ce genre si populaire et, plus important encore, comment changera-t-il les jeux en ligne ?
Qu'est-ce qu'une Battle Royale ?
Une Battle Royale est un combat entre de nombreuses personnes qui dure jusqu'à ce qu'un seul combattant soit debout. Une sorte de mêlée générale.
Il n'y a pas de groupe désigné et les combattants peuvent utiliser tout ce qui se trouve à leur disposition pour décrocher la victoire. Pense à Hunger Games et tu auras une bonne idée de ce que c'est.
Le terme Battle Royale est devenu populaire en occident après la publication du roman japonais éponyme, écrit en 1999 par Koushun Takami.
L'histoire suit un groupe d'étudiants kidnappés et transportés sur une île privée détachée du continent japonais. Là, chaque étudiant doit survivre jusqu'à ce qu'il n'en reste plus qu'un.
La forme d'histoire de Battle Royale la plus connue reste, toutefois, l'adaptation en film, datant de 2000, réalisée par Kinji Fukasaku, avec le légendaire Takeshi Kitano. Le film est l'influence directe de PlayerUnknown's Battlegrounds (PUBG), le jeu de Battle Royale le plus célèbre aujourd'hui.
Comment fonctionnent les jeux de Battle Royale
Le véritable concept de Battle Royale a été introduit en 2012, par des moddeurs, dans le jeu au succès phénoménal, Minecraft.
Les talentueux moddeurs AntVenom et SkyDoesMinecraft ont posé les fondations du premier jeu de Battle Royale officiel à succès.
À partir de là, les moddeurs de la communauté ARMA ont commencé à sortir des mods de Battle Royale aux succès variés. Un de ces moddeurs d'ARMA était Brendan Greene, dont le pseudo en ligne était PlayerUnknown.
Greene a rejoint l'éditeur coréen Bluehole pour développer et sortir PlayerUnknown's Battlegrounds, plus communément appelé « PUBG » par ses 3 millions de concurrents actuels.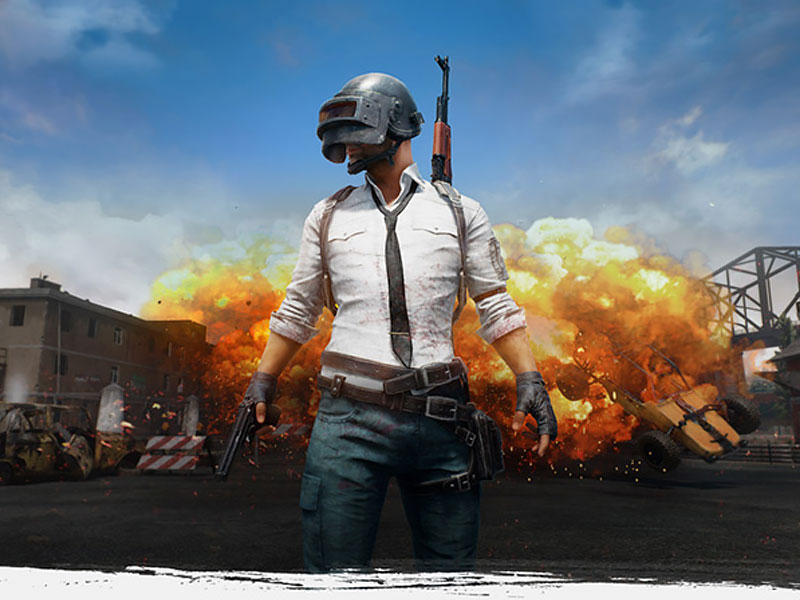 PlayerUnknown's Battlegrounds est le parfait objectif pour examiner ce qui constitue un jeu de Battle Royale.
Un round typique de PUBG commence avec près de 100 joueurs parachutés sur une grande île, qui semble se trouver quelque part sur les côtes d'Europe de l'Est.
Les joueurs peuvent se grouper en équipes de 4 ou de 2, ou choisir de jouer une pure Battle Royale du dernier homme debout avec un seul gagnant sorti des 100 joueurs.
Une fois au sol, les joueurs doivent continuer à fouiller à la recherche d'armes, d'armure et d'objets de soin. Ils doivent également trouver des véhicules, pas uniquement pour se déplacer d'un endroit à un autre, mais également pour rester dans la Safe Zone (Zone de sécurité).
La Zone de sécurité se tient dans un cône bleu circulaire géant de plasma crépitant qui continue à rétrécir à mesure que le temps avance et que de plus en plus de joueurs sont tués. À mesure que le champ de bataille rétrécit, les joueurs sont rassemblés de plus en plus près l'un de l'autre, jusqu'au final explosif.
La dernière équipe, le dernier duo, ou le dernier individu vivant gagne.
Cette formule simple est la base des jeux de Battle Royale : un grand groupe de joueurs équivalents, une carte énorme qui rétrécit lentement au fil du temps et une quantité limitée d'armes et de munitions.
L'évolution de la Battle Royale
Le MOBA de Valve, DotA 2, a décroché, en 2014, le précédent record du nombre de joueurs concurrents le plus élevé, avec 1 291 328. PlayerUnknown Battlegrounds a réussi, le 16 septembre, à améliorer ce chiffre avec une base de joueurs concurrents de 1 348 374.
Depuis, le jeu a atteint, en décembre 2017, plus de 3 millions de joueurs concurrents.
Naturellement, lorsqu'un phénomène de mode apparaît, les développeurs essaient souvent de l'émuler et de l'améliorer pour qu'il devienne encore plus important.
PUBG a révolutionné le monde du jeu en ligne à tel point que les autres titans de l'industrie du jeu en ligne ont commencé à l'émuler dans leurs titres actuels et à modifier les titres à venir pour qu'ils tournent autour du concept de Battle Royale.
Examinons les adaptations de PUBG les plus réussies pour voir comment les jeux de Battle Royale font passer le genre au niveau supérieur.
Fortnite : construire une meilleure Battle Royale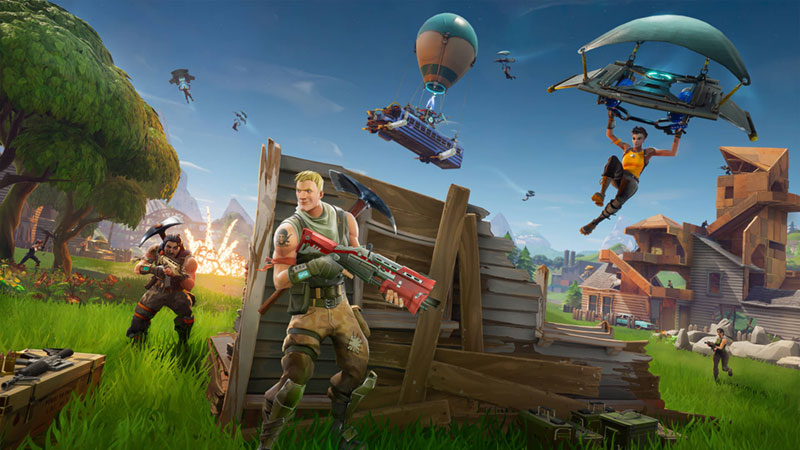 Fortnite est développé par Epic Games et People Can Fly. Il est sorti peu après PUBG, en juillet 2017.
Contrairement à PUBG, qui ne possède pas d'intrigue ni de véritable cadre, Fortnite présente un monde où des tempêtes apocalyptiques n'ont laissé que 2 % de l'humanité en vie. Les survivants doivent désormais s'unir et survivre contre des monstres de type zombie.
Le titre original a connu une belle réussite, atteignant le million de joueurs un mois environ après sa sortie. Toutefois, c'était le mode indépendant Fortnite Battle Royale, sorti en septembre 2017, qui a poussé Fortnite au sommet, avec 10 millions de nouveaux joueurs en deux semaines seulement.
Même si le mode imite clairement PUBG, l'ajout de l'ingénieux système d'artisanat et de construction de Fortnite offre un dérivé intelligent et très créatif de la formule traditionnelle de la Battle Royale : pillage, survie et combat.
Te souviens-tu de l'impressionnant record de 3 millions de joueurs détenu par PUBG ? Eh bien, Fortnite a récemment battu ce record avec 3,4 millions de joueurs, faisant de lui le plus gros jeu de Battle Royale en date.
Paladins : rester dans l'air du temps
Avant le succès phénoménal du genre de la Battle Royale, les « Hero Shooters » (Jeux de tir de héros) étaient la dernière tendance du jeu en ligne.
Des jeux comme Overwatch et Team Fortress 2 ont placé des équipes de champions spécialisés face-à-face dans des tours basés sur des objectifs, avec pour cadre des arènes remplies de packs de santé et d'objets d'amélioration. Chaque joueur a un rôle à jouer et, pour décrocher la victoire, tout le monde doit travailler de concert, intelligemment et de manière stratégique.
Avec de tels jeux toujours très populaires, de nombreux développeurs et éditeurs ont réalisé que la part du lion de l'attention des consommateurs était vraiment passée sur la tendance de la Battle Royale. En conséquence, ils ont commencé à inclure la Battle Royale dans leurs modes de jeu. Un de ces jeux est Paladins: Champions of the Realm.
Le développeur de Paladins, Hi-Rez Studios, a récemment annoncé le dernier ajout à son titre free-to-play : Paladins: Battlegrounds. Comme le nom le suggère, les mécaniques de jeu de Paladins recevront un relooking Battle Royale.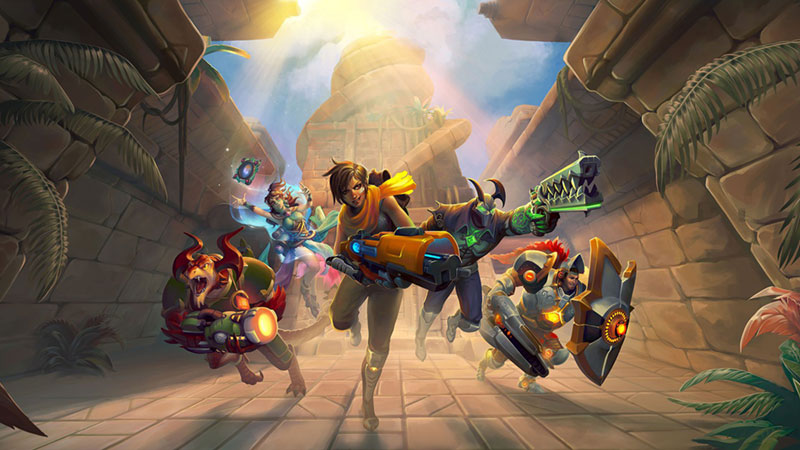 D'après ce qui est sorti jusqu'à présent, le mode Battlegrounds semble emprunter très lourdement à PUBG. Nous avons vu le pillage de divers bâtiments, la ruée pour un équipement rare lâché par des zeppelins dans des colis de ravitaillement, sans parler de la zone de sécurité rétrécissant sans cesse.
Comme tu le vois, particulièrement si tu joues à PUBG depuis un moment, cette nouvelle mise en place sonne déjà comme PUBG avec un habillage et des personnages de Paladins. Le titre du mode, Battlegrounds, est également une référence avouée au fleuron de la Battle Royale.
Ceci dit, ce sera génial de voir comment les différents héros s'affrontent dans un combat de survie ouvert. Puisque Paladins est un Hero Shooter, chaque héros possède ses compétences et ses armes distinctes et, par conséquent, se joue différemment des autres. Cela signifie que tous les joueurs ne débutent pas sur un pied d'égalité, ce qui bouscule la formule régulière de la Battle Royale.
Les jeux MMO rejoindront-ils la tendance Battle Royale ?
Pour le moment, il est clair que les jeux en ligne se modifient et évoluent pour rester pertinents dans monde dominé par la Battle Royale. Mais cette vérité s'applique-t-elle aux jeux MMO ?
Les analystes experts du monde des MMO s'accordent à dire que depuis début 2017, l'inventivité et l'originalité du royaume des MMO ont eu tendance à s'amenuiser. Alors que les titans tels que Counter-Strike, Dota 2 et World of Warcraft ont continué à produire des contenus merveilleux, il faut admettre que de nombreuses personnes ont commencé à penser que les choses devenaient un peu périmées.
En d'autres termes : le monde des jeux MMO et en ligne était arrivé à un point mort créatif.
Mais désormais, grâce à la fusion intéressante des mécaniques de jeu et des styles offerte par des jeux tels que PUBG et Fortnite, les jeux MMO et MMORPG connaissent une curieuse phase de transition.
Les développeurs améliorent leurs titres avec du nouveau contenu de Battle Royale et de nouveaux jeux avec des systèmes de Battle Royale continuent à sortir. Toutefois, de nombreux MMO populaires ne semblent pas touchés.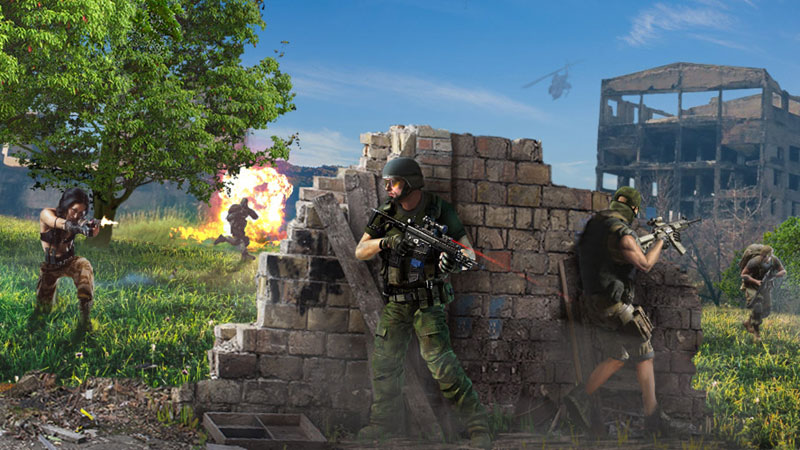 Mais lorsque les joueurs réclameront de l'originalité et de nouveaux frissons, ces jeux risquent d'être délaissés. La formule Battle Royale est si facile à mettre en place, et il reste tant de choses à explorer dans ce genre, que les développeurs de MMO rejetteraient un succès presque certain en choisissant de l'ignorer.
Verrons-nous enfin un véritable MMO de Battle Royale ? Ce sous-genre peut-il même fonctionner sous forme d'un MMO ?
Il est facile d'imaginer Counter-Strike introduire de grosses cartes, avec plus de joueurs, afin de faciliter une véritable « expérience PUBG ». Mais qu'en est-il d'un jeu tel que World of Warcraft ?
De nombreux MMO possèdent déjà des arènes de « Joueur contre Joueur » épiques qui pourraient être perfectionnées pour des combats à plus grande échelle, mais il reste de nombreux obstacles à franchir. La plupart ont les mêmes problèmes qui surgissent lorsque les jeux MMO essaient de devenir des titres d'E-sport.
Au niveau statistique, nous pouvons très facilement dire qu'une écrasante majorité de joueurs apprécie beaucoup d'être le « dernier homme debout ». S'ils espèrent faire partie de la nouvelle vague de jeux en ligne de 2018, les développeurs doivent prêter attention et faire ce qu'ils peuvent pour associer leurs jeux à cette nouvelle tendance.
Raid: Shadow Legends
Récupère + de 400 Champions et décroche la gloire