Comme dans le football ou la boxe, des personnes entraînées à l'eSport, et parfois des équipes eSports entières, s'affrontent pour connaître la gloire et devenir des célébrités mondiales en empochant au passage un « cash prize » pouvant se chiffrer en millions de dollars. Dans cette discipline, les rings et autres terrains de sport font place à des systèmes électroniques à travers lesquels les joueurs de sport électronique s'affrontent : les jeux vidéo.
Les sports électroniques sont généralement des compétitions de jeux vidéo multijoueurs en ligne, organisées autour d'équipes qui s'affrontent dans des territoires délimités. Au début des années 2000, il s'agissait généralement de jeux de stratégie en temps réel, mais depuis 2010, les MOBA (Multiplayer Online Battle Arena, ou combat en arène multijoueurs en ligne) et les jeux de tir à la première personne (FPS) sont devenus les genres d'eSport les plus populaires.
À l'instar de la plupart des jeux à caractère compétitif, on trouve des fans, des spectateurs et un environnement professionnel qui gravitent autour du jeu eSport concerné. Les jeux de combat, les jeux de course et même les jeux de cartes à collectionner sont aujourd'hui très populaires dans le monde de l'eSport. Si un jeu est divertissant et passionnant à regarder, il pourra certainement s'imposer avec un certain succès dans le monde de l'eSport gaming.
Qu'est-ce que l'eSport ? Aperçu de l'évolution des jeux eSports
Si les compétitions de jeux vidéo existent depuis des années (par exemple, le premier championnat Space Invaders a été organisé en 1980), l'eSport gaming tel que nous le connaissons aujourd'hui a réellement commencé à évoluer au cours de la première décennie du XXIe siècle.
Nombreux sont ceux qui se souviennent que StarCraft, un jeu de stratégie en temps réel populaire sorti en 1998, a été le premier véritable jeu eSport. En 2000, l'engouement pour StarCraft a submergé la Corée du Sud et toute une manne de joueurs professionnels d'eSport a émergé. Les pro gamers sont devenus des célébrités et trois chaînes de télévision ont retransmis les tournois. L'impact de ce jeu eSport sur le pays a été tel qu'il est rapidement devenu plus populaire que le sport officiel de la Corée du Sud, le taekwondo.
Depuis lors, la popularité de l'eSport gaming a dépassé les frontières de la Corée du Sud et de l'Asie, et ce phénomène connaît aujourd'hui un véritable succès en Europe et sur le continent américain. Les tournois d'eSport gaming attirent des foules immenses qui remplissent des stades entiers, et sont streamés en direct par différentes chaînes.
En fait, l'eSport est la tendance la plus chaude du moment dans le domaine des jeux vidéo. En 2021, on estime que 662,7 millions de personnes dans le monde ont regardé, commenté ou participé à un événement de jeu eSport. Cet enthousiasme a généré près de 950 millions de dollars de recettes, venues principalement des droits de diffusion, de la vente des billets, de la publicité et des parrainages.
Tous les éditeurs de jeux vidéo cherchent à faire le prochain gros coup dans le monde de l'eSport. Ce n'est pas surprenant quand on sait que Riot Games, le développeur du MOBA et du jeu eSport à succès League of Legends, a gagné plus de 1,6 milliard de dollars en 2015 rien qu'avec ce jeu free-to-play (gratuit). Ce chiffre n'est pas si étonnant quand on sait qu'il comptait plus de 115 millions de joueurs actifs chaque mois en 2020. Une grande partie de cette popularité tient au fait que ce jeu est l'un des eSports les plus populaires au monde, avec un système de ligue officiel et un championnat mondial dont le vainqueur remporte un prix de plus d'un million de dollars.
Les jeux eSport font un carton de nos jours, et ce qui explique pourquoi tous les jeux multijoueurs veulent leur part du gâteau. Étrangement, l'un des principaux genres du monde du jeu vidéo semble avoir échappé à l'engouement pour l'eSport pour l'instant : les jeux en ligne massivement multijoueurs (MMO).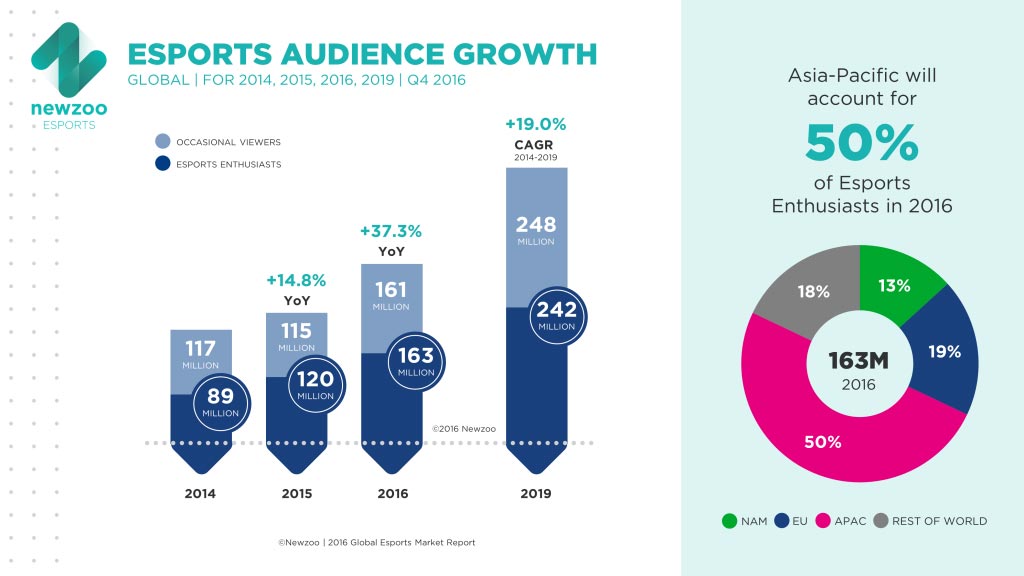 Multijoueurs et compétitifs par nature, les eSports MMO semblent parfaits pour l'eSport gaming, du moins en théorie. Alors pourquoi ne voit-on pas des eSports MMO aussi souvent qu'on pourrait l'espérer ? Ce n'est certainement pas un problème de promotion, car il y a eu des tentatives importantes.
Sans doute l'eSport MMORPG le plus célèbre au monde, World of Warcraft, est sorti en 2004, mais n'a pas eu de mode joueur contre joueur (PvP) avant 2007, lorsque Blizzard a finalement réalisé le potentiel énorme des tournois d'eSports MMO pour attirer de nouvelles foules vers les sports électroniques.
Pendant un certain temps, les joueurs et les spectateurs de WoW étaient au rendez-vous, mais cette popularité s'est rapidement fanée. En 2010, Major League Gaming, la plus prestigieuse autorité en matière de tournois d'eSport, a retiré World of Warcraft de sa liste de jeux, un choix justifié par le logiciel de visionnage problématique de cet eSport MMO.
Même sans les retransmissions des matchs de championnat de WoW, le PvP compte toujours une base solide de spectateurs fidèles. Demandez à Jackson « Bajheera » Bliton, qui a remporté le prix Blizzard du meilleur streamer PvP de World of Warcraft en 2014.
Jackson Bliton est un joueur d'eSport qui compte plus de 300 000 followers et 20 millions de vues sur Twitch, un service de streaming très populaire. Cela peut sembler beaucoup pour un eSport MMO, mais ce n'est qu'une portion infime des chiffres atteints par les meilleurs streamers de League of Legends. Par exemple, Michael « Imaqtpie » Santana, un ancien joueur professionnel de LoL et l'un des streamers les plus populaires sur Twitch, compte actuellement plus de 1,5 million de followers et 180 millions de vues.
Étant donné l'essor des eSports et la grande base de fans de sports électroniques, il n'y a pas qu'aux Etats-Unis qu'on trouve de grands joueurs. L'Argentin Leandro « Newbie » Marcos s'impose comme le meilleur joueur d'eSports d'Amérique latine, tandis que de l'autre côté de l'Atlantique, en Espagne, c'est Jorge « MethodZ » Bancells qui fait figure de proue. En France, Mathieu Herbaut, alias Zywoo, est en 2021 le meilleur joueur mondial sur Counter Strike : Global Offensive. Quant à Alexandre « Andilex » Christophe, il a remporté près de 100 000 euros en jouant à Fortnite : Battle Royale, en 2020.
Les communautés de ces jeux compétitifs sont très importantes, de nombreux joueurs d'eSport gaming ayant des millions de followers. C'est un chiffre à la hauteur du nombre de vues de leurs parties en streaming sur Twitch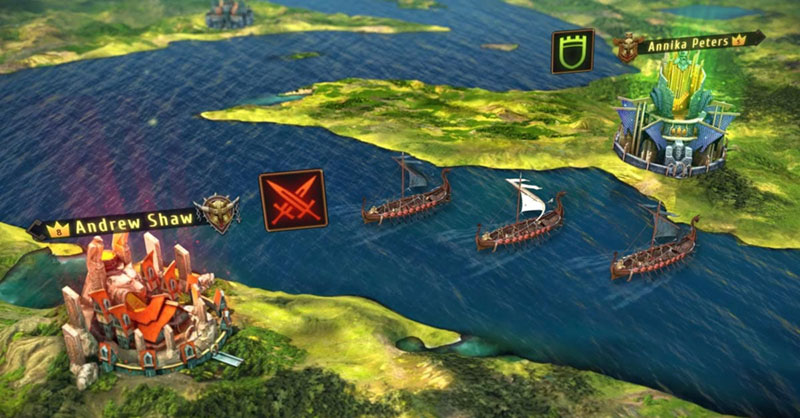 Soulignons que League of Legends n'est pas le jeu vidéo le plus regardé sur Twitch. Selon une étude de marché réalisée par Newzoo, LoL occupe la troisième place, devancé par Dota 2 (un autre MOBA) en deuxième position. Le FPS compétitif Counter-Strike : Global Defense occupe la première place de ce classement.
WoW ne figure même pas dans le Top 10, ni aucun autre eSport MMO. Selon Jackson Bliton, cette différence entre les jeux MMO traditionnels et les sports électroniques s'explique pour une raison principale : les gens ne suivent pas World of Warcraft sur Twitch parce qu'ils sont intéressés par les matchs. Ils veulent simplement voir comment jouent les meilleurs joueurs d'eSport afin d'améliorer leur propre niveau.
Le dilemme du PvP
Difficile de reprocher aux spectateurs de ne pas vouloir regarder quelqu'un jouer à un eSport MMORPG par pur plaisir. Ce type de jeu est généralement assez lent et l'expérience de base n'est pas spécialement excitante pour les spectateurs. Rappelons que les eSports sont avant tout des sports électroniques de spectateurs, donc si ces derniers n'apprécient pas le spectacle, le jeu ne s'imposera pas dans le paysage des sports électroniques.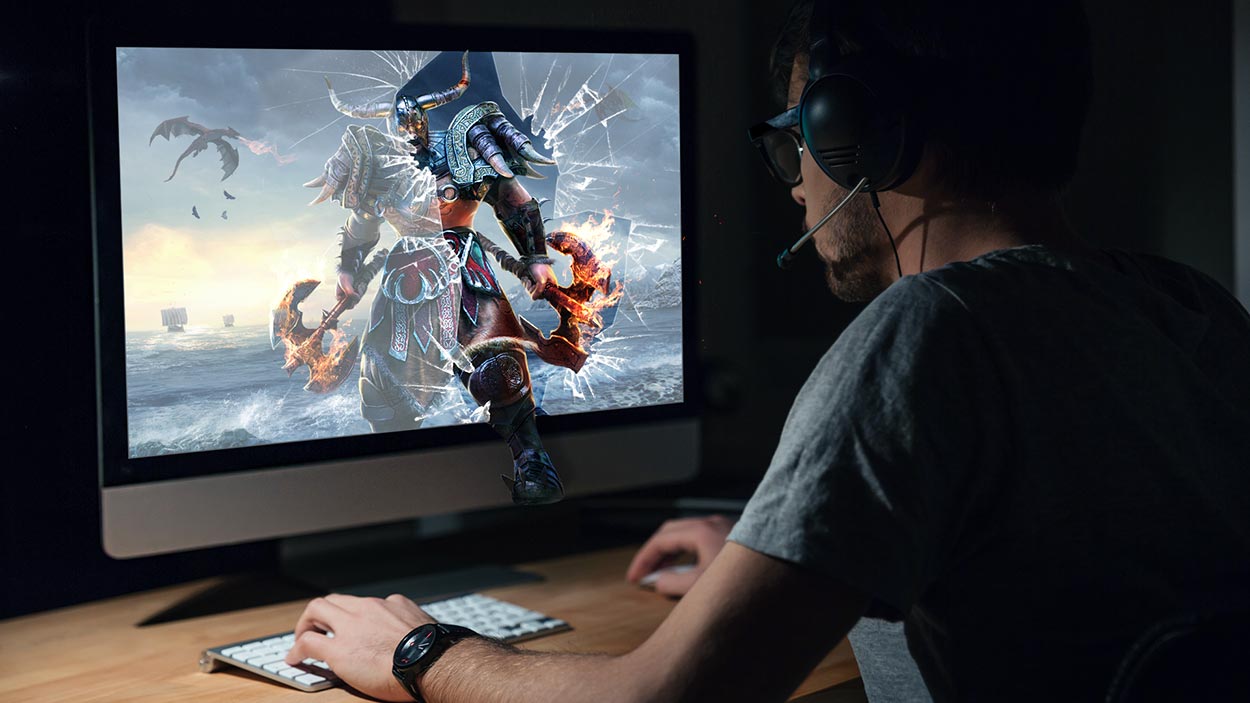 L'un des meilleurs moyens d'attirer les fans vers les MMO eSports est de proposer des matchs en mode « joueur contre joueur » qui intéressent le public.
Mais les MMO ne sont pas toujours conçus dans une optique de jeu compétitif et tendent à se focaliser davantage sur l'exploration, les quêtes et d'autres activités plus coopératives. Ces activités sont de type « joueur contre l'environnement » (PvE), où les joueurs se battent contre un ennemi contrôlé par l'ordinateur, ou contre le jeu lui-même. Le mode PvE n'est pas aussi compétitif que le PvP, ce qui constitue un obstacle pour les MMO qui veulent devenir des MMO eSport.
Même si les développeurs décident de se concentrer davantage sur le PvP pour attirer le public des eSports, ils courent le risque de s'aliéner la base de leurs joueurs. Les MMO vivent et meurent par leur contenu, et il faut absolument proposer de nouvelles expériences aux joueurs pour préserver le bonheur et le dynamisme de la communauté. Trouver un équilibre entre amélioration du PvP et introduction de nouveau contenu PvE est un exercice délicat. La plupart des développeurs préfèrent se concentrer sur ce dernier point, surtout lorsqu'il s'agit de MMORPG.
Quid des butins ?
Le manque d'intérêt pour le PvP n'est pas le seul problème majeur auquel la plupart des MMO doivent faire face. Si un eSport MMORPG est axé sur une expérience compétitive, la question du butin, de l'équipement et de la progression du personnage de jeu reste problématique.
Rassembler des butins et de l'expérience pour améliorer les compétences et les traits de ton personnage est un élément essentiel de tous les RPG. En revanche, être plus fort simplement parce qu'on possède un certain objet ou une certaine arme ne fonctionne pas dans le sport électronique, tout simplement parce que ce n'est pas équitable. Dans tous les bons jeux eSport, les joueurs surpassent leurs adversaires grâce à leur stratégie, leurs réflexes et leur habileté, et non pas parce qu'ils ont une plus grosse épée.
Julianne Harty, responsable de la marque Blade & Soul chez NCSoft, l'a exprimé très clairement : « Toute activité sportive doit être facile à apprendre mais difficile à maîtriser, et vos performances en eSport ne doivent pas dépendre de l'équipement que vous utilisez. »
L'eSport MMORPG Blade & Soul adopte une approche assez inédite du combat. Contrairement à d'autres eSports MMORPG, le combat ne repose pas sur les caractéristiques ou le butin du personnage, mais plutôt sur les compétences et les réflexes du joueur, comme dans les jeux de combat en ligne. « Être compétitif [dans Blade & Soul] requiert des compétences et des connaissances, » ajoute la responsable. « Cela dépend uniquement du joueur et non de la classe ou de l'équipement du personnage. »
Cependant, cette solution ne résout toujours pas la question de la progression ou du « niveau » du personnage dans un eSport MMORPG. Plus le niveau d'un personnage est élevé, plus il possède de compétences. Cela donne aux joueurs vétérans un avantage énorme sur les nouveaux venus, tuant tout espoir qu'un jeu préserve une communauté compétitive grandissante.
D'un autre côté, on ne peut tout simplement pas envisager de prendre un personnage dans lequel les joueurs ont investi du temps (et souvent même de l'argent) et de réinitialiser ses caractéristiques à chaque fois qu'il joue une partie en PvP. Cela pourrait fonctionner avec les MOBA, où chaque personnage a des capacités par défaut, mais pas dans un MMORPG où les joueurs créent de toutes pièces leurs propres personnages personnalisés.
Le succès des jeux eSport dépasse celui des MMORPG
Jusqu'à présent, nous avons parlé du MMORPG et, bien qu'il s'agisse du sous-genre de MMO le plus courant, ce n'est pas le seul. Les MMO de stratégie, de tir et de survie sont suffisamment populaires pour mériter qu'on en parle. Pas étonnant que ces sous-genres aient plus de succès en tant qu'eSport MMO, principalement parce qu'ils sont finalement moins massifs.
World of Tanks a connu un certain succès en tant que jeu eSport depuis le début de la Wargaming League en 2013. Son spin-off, World of Warships, semble s'améliorer après un excellent début dans le jeu compétitif lors de la grande finale de la Wargaming League 2016 organisée à Varsovie.
Ark: Survival Evolved, un MMO de survie, vient de lancer un mode compétitif autonome appelé Survival of the Fittest. C'est une arène de survie multijoueur en ligne (MOSA), où les joueurs s'affrontent pour être le dernier survivant d'une île.
Si ces jeux connaissent un certain succès en tant qu'eSport MMO, ils sont tous deux relativement nouveaux dans ce secteur, et ne sont pas encore assez populaires pour avoir leur place dans les principales ligues eSport. Autre problème, ces deux jeux sacrifient les éléments qui font d'eux des MMO, principalement la partie « massive », afin d'attirer les joueurs d'eSport.
Grand et compétitif
Les eSports MMO peuvent-ils se faire une place dans le domaine des sports électroniques sans abandonner leurs racines ? Nous le pensons. RuneScape, un MMORPG fantasy, a mené une expérience intéressante sur les jeux d'eSport et de MMO. L'objectif était de trouver une solution pour qu'un MMO reste massif, tout en fonctionnant comme un eSport. Une des idées innovantes était ce que le chef du studio et vice-président du produit a appelé un « MMORPG en accéléré ».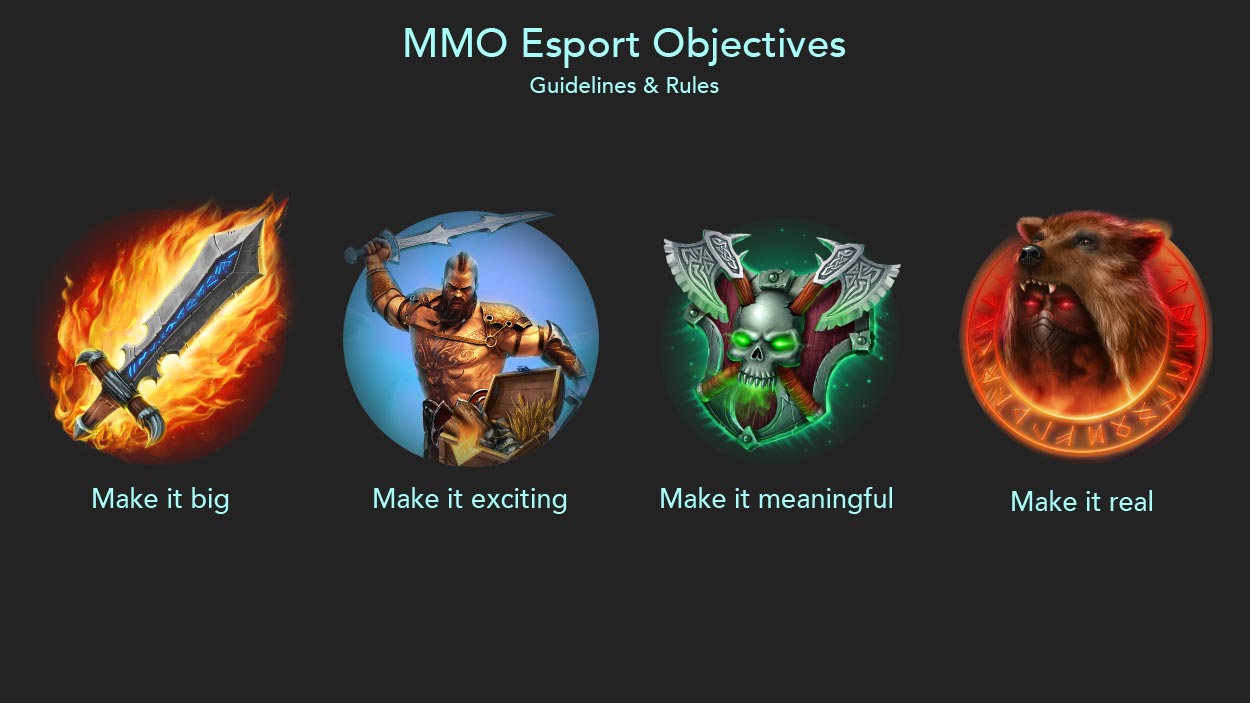 Imagine ceci : un tournoi d'eSport MMO compétitif de plusieurs jours, où des centaines, voire des milliers de joueurs, partent de zéro sur un nouveau serveur. Les niveaux de progression sont considérablement accélérés, de sorte que les joueurs font évoluer leurs personnages en quelques heures au lieu de quelques jours. L'objectif final est simple et très similaire à ce qui se voit dans les eSports MMO : survivre. C'est le concept familier de « Last Man Standing » (ultime survivant), mais à une échelle beaucoup plus grande.
L'idée d'avoir un si grand nombre de joueurs qui s'affrontent en même temps dans ces jeux électroniques garantit de l'action et du spectacle : de grandes batailles entre groupes de joueurs, des trahisons déchirantes et des épreuves finales à couper le souffle.
Certes, la « partie » sera un peu plus longue pour les habitués d'eSport, puisqu'elle durera plusieurs heures chaque jour, mais avec autant de joueurs actifs et autant d'activités, personne ne risque de s'ennuyer.
Les spectateurs pourront aussi plus facilement se rapprocher de leurs joueurs et personnages préférés et les encourager, puisqu'ils seront avec eux depuis le début de ce long voyage. Suivre toutes les épreuves, les victoires et les défaites d'un joueur de eSport MMO, c'est un peu comme suivre la carrière d'un athlète ou d'une équipe dans un sport classique.
L'avenir des eSports MMO et des sports électroniques
Les jeux en ligne massivement multijoueurs font déjà partie du monde des sports électroniques en tant que jeux vidéo compétitifs, même s'ils n'en représentent qu'une partie assez réduite pour l'instant.
Toutefois, ils ont beaucoup de potentiel et on s'attend à ce que de plus en plus de MMO se concentrent sur ce créneau lucratif de l'eSport dans un avenir proche.
Les MMO n'ont pas besoin de l'eSport gaming pour rester pertinents. Cependant, comme le free-to-play et le freemium deviennent les modèles de monétisation dominants pour la plupart de ces jeux compétitifs, les développeurs devraient naturellement se concentrer sur l'eSport qui est un outil marketing puissant.
Cela ne signifie pas pour autant que les MMO vont commencer à disparaître ou à renoncer à ce qui a fait leur succès. Pour commencer, il y a toujours un énorme public pour les MMO « classiques », qu'il s'agisse des RPG ou des autres sous-genres. En outre, il existe aussi des solutions créatives pour envisager une nouvelle approche des jeux vidéo compétitifs sans sacrifier les éléments plus traditionnels du MMO.
En simplifiant les combats, en permettant de créer plus facilement des personnages et en assurant une expérience massive du PvP au joueur d'eSport, les eSports MMO peuvent apporter leur propre touche personnelle au monde de l'eSport. Ils consolideront ainsi leur présence en tant que concurrents de poids dans le domaine des jeux vidéo compétitifs.