¿Pueden los juegos MMO convertirse en eSports?

Los eSports, o "deportes electrónicos", son competiciones organizadas y torneos de videojuegos multijugador. En otras palabras, es el nombre oficial del circuito profesional de videojuegos. Los jugadores profesionales (sí, existen) compiten unos contra otros en línea o cara a cara en pruebas de habilidad, reflejos y resistencia. Al igual que en el fútbol o el boxeo, individuos entrenados, o a veces equipos enteros, se enfrentan para ganar prestigio, reconocimiento mundial y grandes premios monetarios que alcanzan los millones de dólares. En vez de en un campo o en un ring, los jugadores compiten usando un "sistema electrónico", o videojuegos en términos simples.
Los juegos de eSports tienden a ser juegos multijugador en línea altamente competitivos, que son básicamente juegos que se centran alrededor de equipos de jugadores que luchan entre sí en línea en arenas cerradas. A principios del nuevo milenio, estos eran generalmente juegos de estrategia en tiempo real, pero desde 2010 los MOBA (Multiplayer Online Battle Arena) y los juegos de disparos en primera persona (FPS) son los géneros de eSport más populares. Sin embargo, en casi todos los juegos con una ventaja competitiva se pueden encontrar espectadores y un entorno profesional dedicado al juego. Los juegos de lucha, juegos de carreras e incluso juegos de cartas coleccionables son muy populares en el mundo de los eSports hoy en día. Si un juego es entretenido y emocionante de ver, seguro que puede tener éxito como eSport.
eSports: Antes y ahora
Aunque el juego competitivo hace años que existe, comenzando con el primer Campeonato de Space Invaders de 1980, los eSports como los conocemos hoy solo comenzó a evolucionar en la primera década del siglo XXI. Muchos señalan a StarCraft, un juego de estrategia en tiempo real muy popular lanzado en 1998, como el primer juego de eSport de verdad. En el 2000, la locura de StarCraft arrasó en Corea del Sur y surgió un enorme entorno de jugadores profesionales. Los jugadores pro (pro-gamers) se hicieron famosos y los torneos se televisaron en tres canales de televisión dedicados. El impacto del juego en el país fue tan grande, que si buscas en Google "deporte oficial de Corea del Sur", el primer resultado es StarCraft II (aunque en realidad es el taekwondo).
Desde entonces, la popularidad de los eSports ha crecido más allá de las fronteras de Corea del Sur y Asia y hoy son un deporte reconocido en toda Europa y América. Los torneos atraen a enormes multitudes que llenan estadios enteros y se transmiten en directo en internet a través de varios servicios de streaming en línea. De hecho, los eSports son la tendencia más de moda en videojuegos en este momento. En 2016, 324 millones de personas de todo el mundo miraron, comentaron o participaron en algún tipo de evento de eSports. Esto resultó en unos ingresos de aproximadamente 500 millones de dólares, principalmente de los derechos de los medios de comunicación, entradas, publicidad y patrocinios.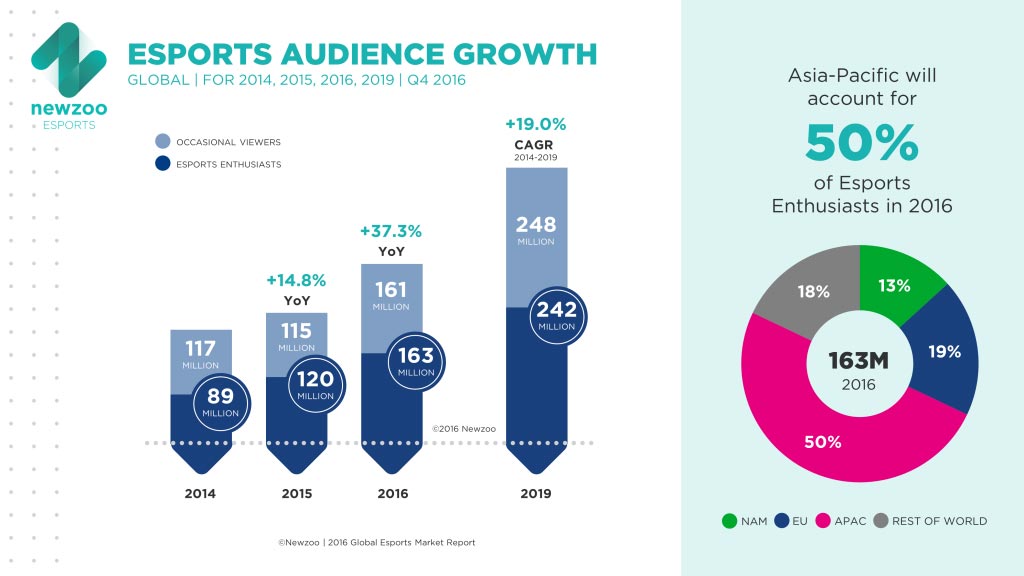 Todas las empresas de videojuegos buscan dar el siguiente "pelotazo" en eSports, lo cual no es de extrañar ya que Riot Games, el desarrollador del gran éxito MOBA y de eSports, League of Legends, ganó más de 1600 millones de dólares en el 2015 con solo ese juego free-to-play (gratuito). Y con más de 100 millones de jugadores activos cada mes no es de extrañar. Gran parte de esta popularidad se debe a que el juego es uno de los títulos de eSports más conocidos del mundo, con un sistema oficial de Liga y un Campeonato Mundial. Solo este año, el equipo que ganó el campeonato se llevó un premio de más de 2 millones de dólares.
Está claro que los eSports son muy importantes hoy en día y todos los juegos multijugador quieren un trozo del pastel. Pero hay un género importante que la locura de los eSport se ha saltado casi completamente: los juegos de multijugador masivo en línea.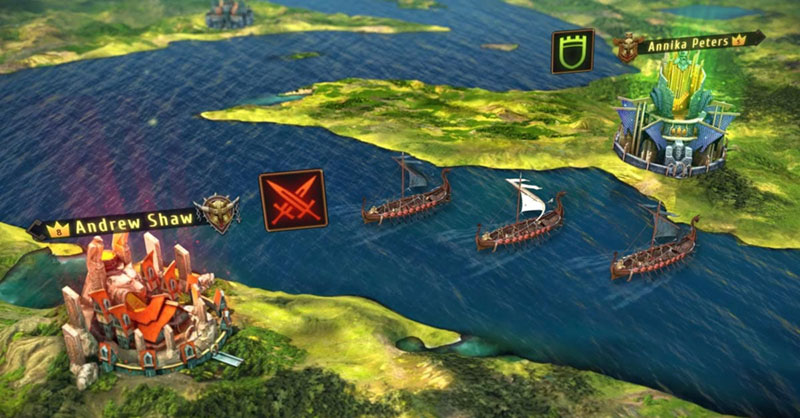 Al ser multijugador y competitivos, los MMO parecen ser los juegos perfectos de eSports, al menos en teoría. Entonces, ¿por qué no vemos a más de ellos en el mundo de los eSports? No es por falta de intentarlo.
World of Warcraft, sin duda el MMORPG más famoso del mundo, salió en 2004, pero no tuvo un modo de jugador contra jugador (PvP) hasta 2007, cuando Blizzard finalmente se dio cuenta del potencial que tenían los torneos para atraer a nuevas multitudes. Durante un tiempo WoW fue de hecho muy popular entre los espectadores y los competidores, pero no duró mucho. En 2010, Major League Gaming, la mayor autoridad de torneos de eSport, eliminó a World of Warcraft de su lista de juegos, culpando al problemático sistema que tenía el juego para verlo como espectador.
Aunque la gente todavía parece disfrutar viendo PvP de World of Warcraft. Solo tienes que preguntárselo a Jackson "Bajheera" Bliton, que ganó el premio Blizzard al mejor streamer PvP de World of Warcraft en 2014. Bliton tiene actualmente más de 300 000 seguidores y 20 millones de visitas en Twitch, un popular servicio de streaming en línea. Este número puede parecer muy grande, pero es solo una pequeña fracción de las cifras que tienen los mejores streamers de League of Legends. Por ejemplo, Michael "Imaqtpie" Santana, un ex jugador profesional de LoL y uno de los streamers más populares de Twitch, tiene actualmente más de 1,5 millones de seguidores y 180 millones de visitas.
Cabe señalar que League of Legends ni siquiera es el videojuego más visto en Twitch. Según un estudio de mercado de Newzoo, LoL está en tercer lugar, superado por Dota 2 (otro MOBA) en segundo lugar y Counter-Strike: Global Defense, un FPS competitivo, el primero. WoW ni siquiera llegó a entrar en el Top 10, ni tampoco ningún otro MMO. Bliton afirma que esta diferencia entre los juegos tradicionales de MMO y eSports existe por una razón principal: la gente no mira World of Warcraft porque esté interesada en las partidas. Sino que quieren ver cómo juegan los jugadores de alto nivel, para poder mejorar su propio juego.
El dilema PvP
Es difícil echarle la culpa a los espectadores por no mirar a alguien jugar a un MMORPG para divertirse. Los juegos MMORPG suelen ser más bien lentos y su experiencia básica no es algo muy emocionante para los espectadores. Es importante recordar que los eSports son ante todo deportes de espectadores; si los espectadores no disfrutan viendo el juego, entonces el juego no funcionará como juego de eSports y ya está.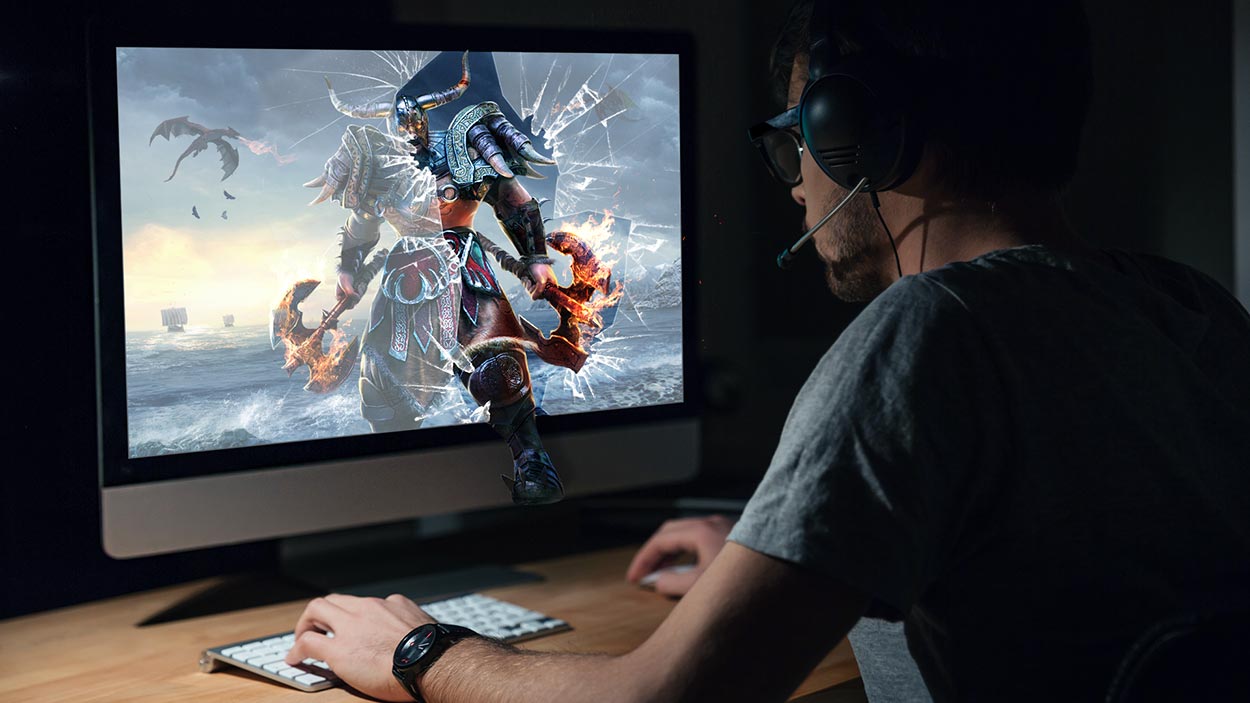 Una de las mejores maneras de atraer a los aficionados a los eSports es proporcionar partidas Jugador-contra-Jugador atractivas para los espectadores. Pero los MMO no siempre se diseñan teniendo en cuenta el juego competitivo y tienden a centrarse más en la exploración, las misiones y otras actividades más cooperativas. Estas actividades son de tipo jugador contra entorno (PvE), donde los jugadores luchan contra un enemigo controlado por el ordenador, o contra el juego en sí. Como el PvE no es tan competitivo como el PvP, eso representa un problema para los MMO que deseen posicionarse en el mundo de los eSports.
Incluso si los desarrolladores deciden centrarse más en el PvP para atraer a la multitud de los eSports, corren el riesgo de distanciarse de su base de jugadores. Los MMO viven y mueren de su contenido e incorporar cosas nuevas para que los jugadores las hagan y experimenten es clave para mantener una comunidad contenta y animada. El equilibrio entre mejorar el PvP e incorporar nuevo contenido PvE es difícil y la mayoría de los desarrolladores prefieren centrarse en esto último, especialmente cuando se trata de MMORPG.
¿Qué hacer con todo ese botín?
La falta de enfoque de PvP no es el único problema importante al que tienen que enfrentarse la mayoría de MMO. Si un MMORPG está centrado en una experiencia competitiva, todavía queda todo el tema del botín, el equipo y la progresión de los personajes. Reunir botín y experiencia para mejorar las habilidades y características de tu personaje es un elemento básico de todos los RPG, pero ser más fuerte solo por tener cierto objeto no funciona en los deportes. No es justo. En todos los buenos juegos de eSports, ser mejor que tus oponentes significa tener una mejor estrategia, reflejos y habilidades, no tener una espada más grande.
Julianne Harty, gerente de marca de Blade & Soul en NCSoft, lo dijo de forma muy acertada: "Cualquier actividad relacionada con el deporte debe ser fácil de aprender, pero difícil de dominar y tu rendimiento en el deporte no debe depender del equipo que utilices". Blade and Soul es bastante singular en la manera que aborda los combates. A diferencia de otros juegos de MMORPG, el combate no funciona a base de características o botín, sino a base de la habilidad y los reflejos del jugador, de forma similar a los juegos de lucha en línea. "Ser competitivo [en Blade & Soul] requiere habilidad y conocimientos", añade Harty. "Depende únicamente del jugador y no de la clase o el equipo elegidos para el personaje".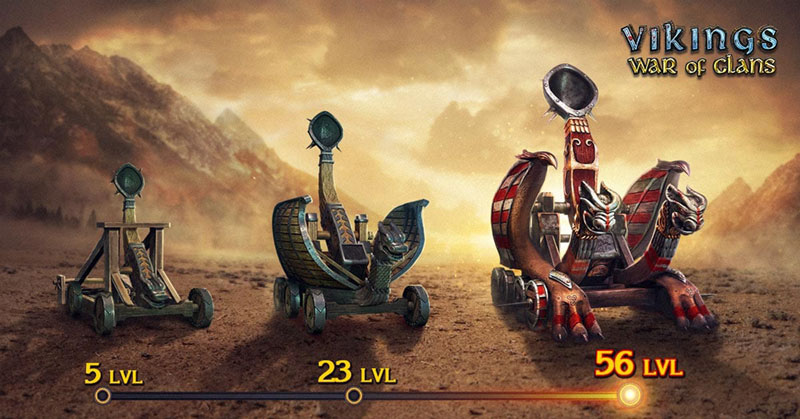 Sin embargo, esto todavía no resuelve la cuestión del progreso o el "nivel" de los personajes. Cuanto más alto sea el nivel del personaje, más habilidades tendrá. Esto da a jugadores veteranos una ventaja inmensa sobre cualquier recién llegado, acabando con cualquier esperanza que pueda tener un juego de mantener una comunidad competitiva que vaya creciendo. Por otro lado, no puedes limitarte a coger un personaje en el que los jugadores han invertido tiempo (y a menudo incluso dinero) y restablecer sus características cada vez que juega una partida PvP. Podría funcionar con los MOBA, donde cada uno de los personajes tiene capacidades predeterminadas, pero no en un MMORPG donde los jugadores crean sus propios personajes personalizados desde cero.
Éxito fuera de los MMORPG
Hasta ahora hemos hablado sobre el MMORPG y aunque es el subgénero más común de MMO, no es el único. Los MMO de estrategia, MMO de disparos y de supervivencia multijugador masivo en línea son lo bastante populares como para justificar una consideración. No es de sorprender que estos subgéneros tengan más éxito como juegos de eSports, principalmente porque son... Pues menos masivos.
World of Tanks ha estado disfrutando de cierto éxito como juego de eSports desde que empezó la Liga de Wargaming en 2013 y su último spin-off, World of Warships, parece estar mejorando después de un excelente debut como juego competitivo en la Gran final de la Liga Wargaming de 2016 en Varsovia. Ark: Survival Evolved, un MMO de supervivencia, acaba de lanzar un modo competitivo independiente denominado Survival of the Fittest (Supervivencia de los más aptos), una arena de supervivencia en línea multijugador (MOSA) donde los jugadores compiten para ser el último superviviente en una isla.
Si bien estos juegos tienen un mínimo de éxito, ambos son relativamente nuevos en el mundo de los eSports y todavía no son lo suficientemente populares como para jugar en las grandes ligas, por así decirlo. Otro problema es que ambos juegos sacrifican las mismas cosas que los convierten en un MMO, principalmente la parte "masiva", para atraer a los jugadores de eSports.
Grande y competitivo
¿Es posible para los juegos MMO introducirse en el mundo de los eSports sin abandonar sus raíces? Nosotros creemos que sí. RuneScape, un MMORPG de fantasía, llevó a cabo un experimento interesante con eSports y MMO. El objetivo era encontrar una manera para que un juego de MMO siguiera siendo masivo, a la vez que funcionase como eSport. Una de las ideas que surgieron fue lo que el director del estudio y vicepresidente de producto llamó "MMORPG de avance rápido".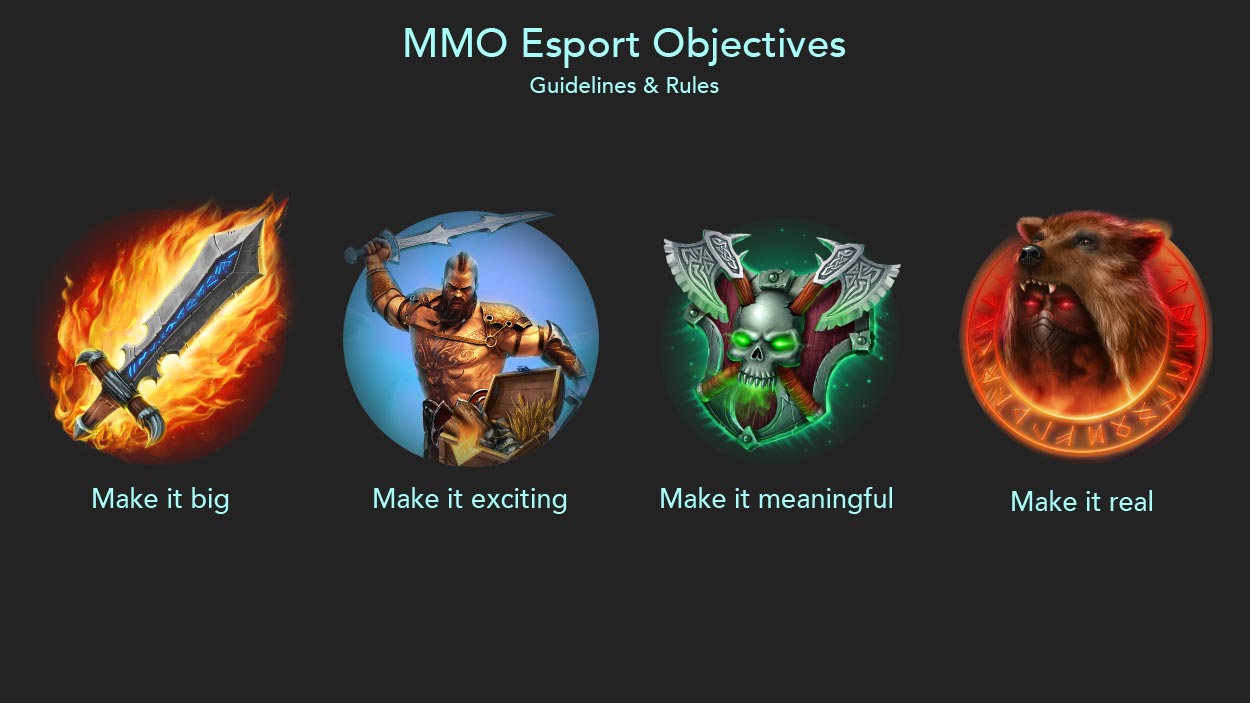 Hazte una imagen mental de esto: un torneo MMO de varios días, en el que cientos o miles de jugadores empiezan desde cero en un nuevo servidor. Los niveles de progreso se impulsan enormemente , por lo que los participantes pueden subir de nivel y desarrollar sus personajes en cuestión de horas en lugar de días. El objetivo final es simple y muy similar al que vemos en las partidas de MMO de eSport: sobrevivir. Este es el concepto familiar de "Last Man Standing" (último hombre en pie), solo que a una escala mucho mayor.
Tener tantos jugadores que compiten a la vez garantiza acción y espectáculo: grandes batallas entre grupos de jugadores, traiciones desgarradoras y enfrentamientos finales que te harán morderte las uñas. Es cierto que la "partida" será algo más larga de lo que la mayoría de los fans de eSports están acostumbrados, durando unas horas cada día, pero con tantos jugadores activos y tantas cosas diferentes sucediendo, nunca será aburrido. Los espectadores también encontrarán más fácil conectar con y animar a sus jugadores y personajes favoritos, ya que estarán con ellos desde el principio de este largo viaje. Estar allí para todas las pruebas, victorias y derrotas de un jugador MMO es similar a seguir la carrera de un atleta o un equipo deportivo.
El futuro de los MMO y los eSports
Los juegos de multijugador masivo en línea ya forman parte del mundo de los eSports, aunque en este momento son una parte bastante pequeña. Pero tienen mucho potencial y no nos sorprenderá si más y más MMO empiezan a centrarse en este nicho lucrativo en un futuro cercano. Los MMO no necesitan a los eSports para seguir siendo relevantes, pero ya que el free-to-play y el freemium se están convirtiendo en los modelos de pago dominantes para la mayoría de estos juegos, los desarrolladores se centrarán en los eSports como una poderosa herramienta de marketing.
Sin embargo, eso no significa que los MMO vayan a empezar a morir o a renunciar a lo que los hizo populares en primera instancia. Para empezar todavía hay un gran público para la "clásica" experiencia de MMO, ya sea RPG o de otra índole. Además, hay formas creativas de dar un nuevo giro al juego competitivo que no sea a costa de sacrificar los elementos más tradicionales de los MMO. Simplificando el combate, permitiendo crear personajes más flexibles y haciendo que las experiencias de PvP sigan siendo masivas, los MMO pueden dar su propio toque al mundo de los eSports y consolidar su presencia como un contendiente importante.
Raid: Shadow Legends
Colecciona 400+ Campeones y lucha por la gloria