È possibile che i giochi MMO diventino eSport?

Gli eSport, ovvero gli "sport elettronici", sono dei tornei e delle competizioni organizzate di videogiochi a partecipazione multipla. In altre parole, questo è il nome ufficiale assegnato al circuito professionistico delle competizioni di videogiochi. I giocatori professionisti (sì, proprio così) competono uno contro l'altro online, oppure faccia a faccia, in una prova di abilità, di riflessi e di resistenza. Esattamente come avviene nel calcio o nel pugilato, degli individui allenati, o talvolta degli interi team, si confrontano per guadagnare prestigio, riconoscimento planetario e grandi premi in denaro che possono raggiungere i milioni di dollari. Invece che su un campo o su un ring, i giocatori competono usando un "sistema elettronico" ovvero, in parole povere, dei videogiochi.
I giochi eSport tendono ad essere dei confronti tra partecipanti multipli online altamente competitivi, dimostrando fondamentalmente di essere dei giochi il cui fulcro è rappresentato da squadre di giocatori che combattono l'una contro l'altra online all'interno di arene ben delimitate. Nei primi anni 2000, solitamente questi erano dei giochi di strategia in tempo reale, ma dal 2010 il MOBA (Multiplayer Online Battle Arena) e lo sparatutto in prima persona rappresentano i generi di eSport più popolari. Tuttavia, quasi tutti i giochi in ambito competitivo non hanno difficoltà a trovare un proprio pubblico ed una scena professionistica dedicata. I giochi di combattimento, i giochi basati sulle corse e anche i giochi di carte collezionabili sono tutti molto popolari nella realtà degli eSport attuali. La regola è semplice - fino a quando un gioco è divertente e intenso da guardare, esso non avrà difficoltà a trovare successo tra i titoli di eSport più in voga.
eSport: Prima ed Ora
Mentre il gioco competitivo è in auge da molto tempo, partendo dal primo Campionato di Space Invaders del 1980, gli eSport come li conosciamo oggi hanno iniziato la loro evoluzione solo nel primo decennio del 21° secolo. Molti riconoscono in StarCraft, un gioco di strategia in tempo reale molto popolare uscito nel 1998, quale il primo vero titolo di eSpor. Nel 2000, la mania di StarCraft invase la Corea del Sud, e si venne così a consolidare un'enorme realtà di giocatori professionisti. I giocatori professionisti divennero celebrità dei media, ed i tornei furono teletrasmessi su tre canali televisivi appositamente dedicati. L'impatto del gioco sul paese fu talmente vasto che, se si ricerca su Google "sport ufficiale della Corea del Sud", il primo risultato che viene fuori è StarCraft II (anche se in realtà è il Taekwondo).
Da allora, la popolarità degli eSport è cresciuta oltre i confini della Corea del Sud e dell'Asia, e oggi questi rappresentano una realtà ben consolidata anche nell'intera Europa e nelle Americhe. I tornei attirano folle enormi che riempiono interi stadi e sono trasmessi in diretta su internet attraverso diversi servizi di streaming online di grande popolarità. A tutti gli effetti, gli eSport rappresentano la tendenza più in auge nel mondo dei videogiochi in questo momento. Nel 2016, 324 milioni di persone da tutto il mondo hanno guardato, parlato o partecipato ad un evento di eSport. Ciò ha comportato un fatturato che si aggira sui $500 milioni, in gran parte derivante dai diritti dei media, dai biglietti, dalla pubblicità e dalle sponsorizzazioni.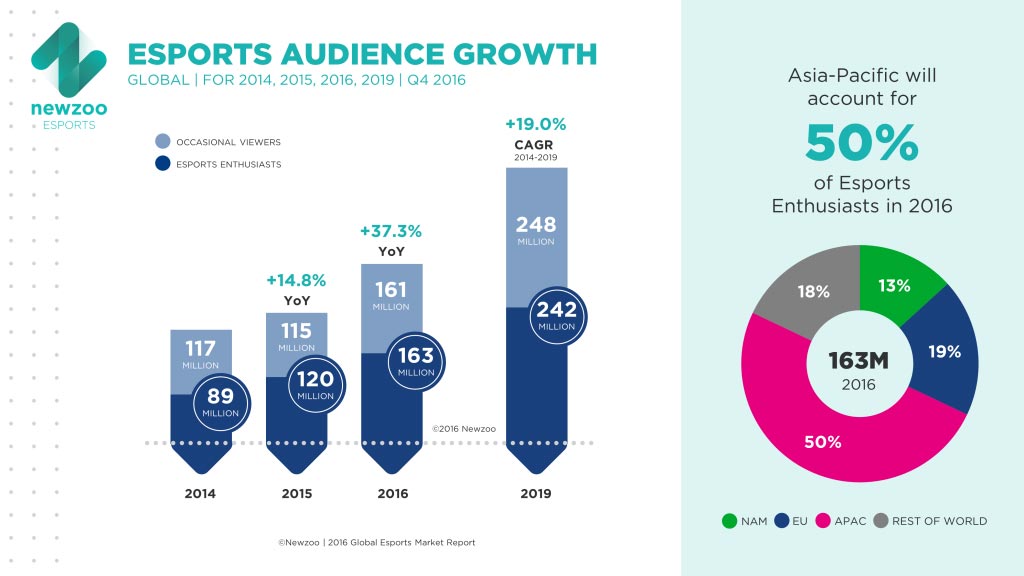 Ogni impresa di videogiochi aspira a creare la "prossima grande realtà" nel mondo degli eSport, e la ragione è di facile comprensione - Riot Games, lo sviluppatore del sensazionale eSports MOBA rispondente al nome di League of Legends, ha guadagnato più di $1,6 miliardi nel 2015 solo da questo titolo a partecipazione gratuita. Con oltre 100 milioni di giocatori attivi al mese, non c'è certo da meravigliarsene. Gran parte di questa popolarità è dovuta al fatto che il gioco è uno dei titoli di eSport più noti al mondo, dotato di un suo sistema competitivo strutturato su leghe ed un Campionato Mondiale. Solo quest'anno, la squadra che si è aggiudicata il campionato ha raggranellato un montepremi superiore a $2 milioni.
Non è assolutamente azzardato affermare che gli eSport siano un affare decisamente importante in questi giorni, e che ogni gioco a partecipazione multipla sul mercato desidera avere una fetta di questa ghiotta realtà. Tuttavia, vi è un genere di rilievo che la follia degli eSport ha saltato quasi interamente - i giochi a Partecipazione Multipla di Massa Online.
MMO e eSport: Un Connubio in Corso d'Opera
I giochi a Partecipazione Multipla di Massa Online, o MMO, sono giochi su larga scala in cui milioni di giocatori entrano in contatto per esplorare, combattere e socializzare tra loro in un vasto mondo digitale. Il più noto sotto-sottogenere degli MMO è il MMORPG (Giochi di Ruolo a Partecipazione Multipla di Massa Online), che è stato reso popolare da giochi come World of Warcraft e RuneScape nel primi anni 2000. Altri sotto-generi comprendono i MMORTS (strategici in tempo reale), i MMOFPS (sparatutto in prima persona), e anche i Giochi Sociali a Partecipazione Multipla di Massa Online, come il famigerato Second Life. Per mantenere le cose relativamente semplici, noi ci concentreremo sui MMORPG e, in seguito, prenderemo in esame qualche altro genere.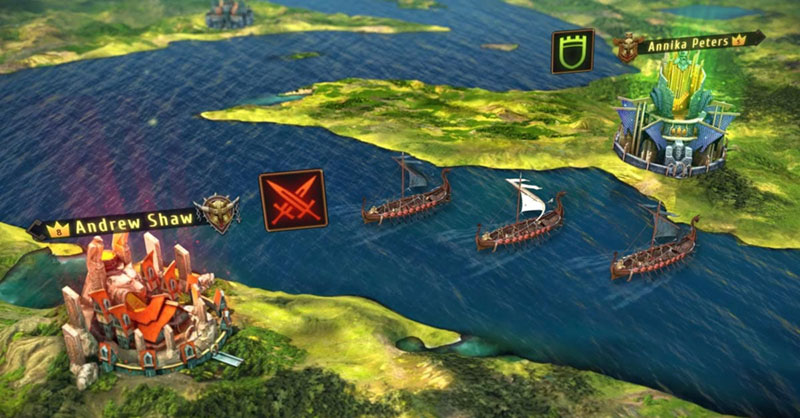 Essendo sia multigiocatore che competitivo, gli MMO sembrano essere perfetti titoli da eSport, almeno in teoria. E allora perché non se ne vedono di più nello scenario degli eSport? Beh, sicuramente non per mancanza di tentativi.
World of Warcraft, probabilmente il più famoso MMORPG al mondo, è uscito nel 2004, ma non era dotato di una modalità giocatore contro giocatore (PvP) fino al 2007, quando Blizzard finalmente si rese conto del potenziale che i tornei avevano nell'attrarre nuove folle. Per un certo periodo WoW risultò decisamente popolare sia tra gli spettatori che tra i concorrenti, ma non durò a lungo. Nel 2010, Major League Gaming, la più grande autorità nel campo dei tornei di eSport, prese la decisione di rimuovere World of Warcraft dalla sua fila, puntando il dito sul problematico software di spectating del gioco.
Tuttavia, la gente sembra ancora divertirsi nell'assistere ai PvP di World of Warcraft. Basta chiedere a Jackson "Bajheera" Bliton che, nel 2014, ha vinto il premio della Blizzard quale miglior World of Warcraft PvP Streamer. Bliton allo stato attuale può vantare più di 300.000 follower e 20 milioni di visualizzazioni su Twitch, un popolare servizio di streaming on-line. Queste cifre possono sembrare enormi, ma è solo una piccola frazione rispetto ai numeri che i più grandi streamer di League of Legends riescono a raggiungere. Ad esempio, Michael "Imaqtpie" Santana, ex giocatore professionista di LoL e uno degli streamer più popolari su Twitch, attualmente annovera oltre 1,5 milioni di follower e 180 milioni di visualizzazioni.
Occorre tener presente che League of Legends non è neppure il videogioco più seguito su Twitch. Secondo delle ricerche di mercato condotte da Newzoo, LoL viene al terzo posto, superato da Dota 2 (un altro MOBA) al secondo posto e Counter-Strike: Global Defense, un FPS competitivo, in prima posizione. WoW non è neppure riuscito ad entrare nella lista dei primi 10, né, a onor di cronaca, alcun altro MMO sul mercato. Bliton sostiene che questo divario tra tradizionali MMO ed i giochi eSport esiste per una ragione principale: la gente non guarda World of Warcraft perché è interessata agli scontri. Piuttosto, la curiosità sta nel vedere come giocano i grandi, nella strenua ricerca di imparare da loro e migliorare il proprio stile di gioco.
Il Dilemma dei PvP
Risulta difficile dare la colpa agli spettatori per il fatto che non rimangano incollati a guardare qualcuno partecipare ad un MMORPG solo per il gusto di farlo. I titoli MMORPG sono di solito piuttosto lenti, e per loro stessa natura non possono rappresentare un'esperienza visiva emozionante. È importante ricordare che gli eSport sono in primo luogo eventi sportivi; se agli spettatori non dovesse piacere assistere al gioco, allora il gioco non funzionerà come titolo di eSport, e chiuso il discorso.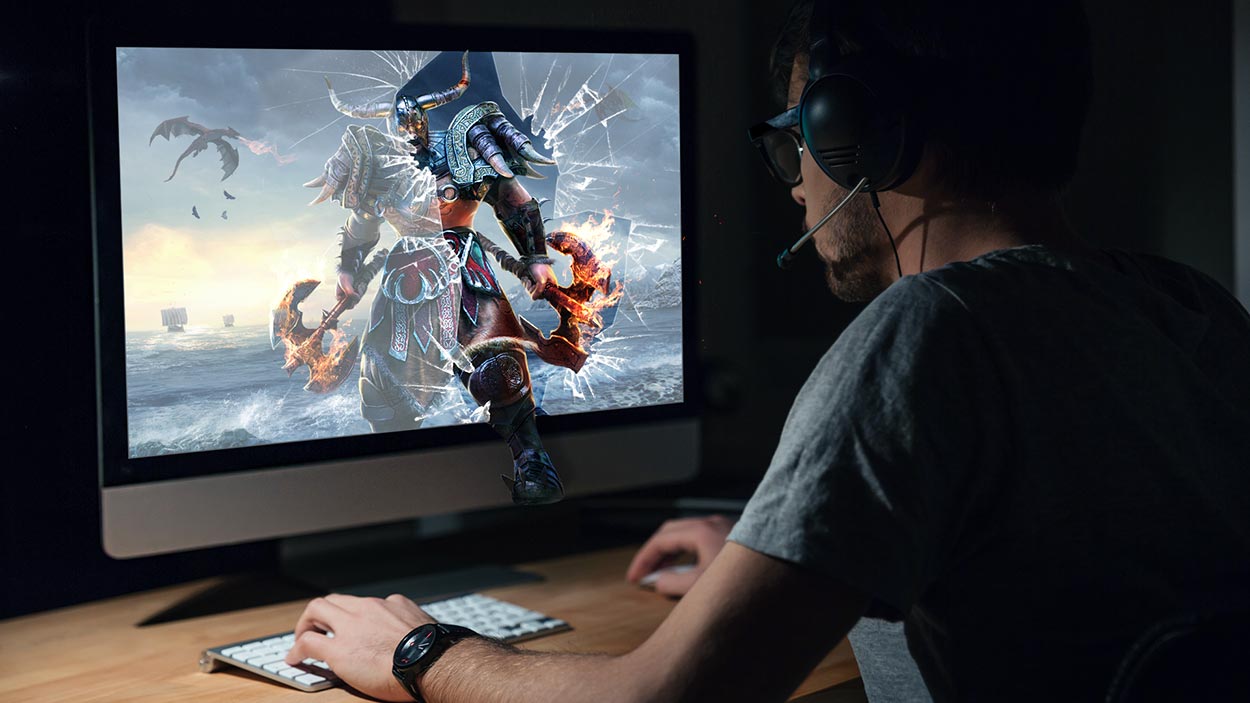 Uno dei modi migliori per attirare i fan di eSport è, ovviamente, quello di proporre dei coinvolgenti scontri Giocatore contro Giocatore cui poter assistere. Tuttavia, gli MMO non sono sempre progettati con in mente una componente di competizione; in effetti essi tendono primariamente a concentrarsi su esplorazione, missioni e attività più cooperative. Questi rientrano nella definizione di Giocatore contro Ambiente (PvE), ambito nel quale i giocatori combattono contro un nemico controllato dal computer, o contro il gioco stesso. Dal momento che il PvE non è neppure lontanamente competitivo come il PvP, ecco delineato in grossa parte il problema per gli MMO che desiderano fare il loro ingresso sulla scena degli eSport.
Seppure gli sviluppatori decidessero di concentrarsi maggiormente sui PvP per risultare più appetibili alla folla degli eSport, essi correrebbero il rischio di alienarsi il nucleo base dei loro stessi giocatori. Gli MMO vivono e muoiono sul loro contenuto, e l'aggiunta di nuovi elementi da proporre ai propri giocatori costituisce la chiave per il mantenimento di una comunità felice e vivace. L'equilibrio tra il miglioramento del PvP e l'aggiunta di nuovi contenuti PvE risulta difficile, e la maggior parte degli sviluppatori preferisce concentrarsi su questi ultimi, particolarmente quando hanno a che fare con gli MMORPG.
Cosa Fare Con Tutto Quel Bottino?
La mancanza di focalizzazione sui PvP non rappresenta l'unica questione importante con cui la maggior parte dei giochi MMO ha a che fare. Diciamo che un RPG a Partecipazione Multipla di Massa Online sia incentrato su un'esperienza competitiva - c'è ancora da affrontare la questione di bottino, equipaggiamento e progressione del personaggio permanente. La raccolta di tesori ed esperienza per migliorare le abilità e le caratteristiche del tuo personaggio è un elemento base in ogni RPG, ma l'essere più forte semplicemente come conseguenza del possesso di un oggetto ha poco senso nello sport. In poche parole - è sleale. In ogni buon titolo di eSport, essere migliore rispetto ai tuoi avversari significa avere una strategia, dei riflessi ed un'abilità superiore, non disporre di una spada più grande.
Julianne Harty, brand manager di Blade & Soul alla NCSoft, spiega la questione con estrema eloquenza: "qualsiasi attività legata allo sport deve essere facile da imparare ma difficile da padroneggiare, e la nostra competenza in questo sport non dovrebbe essere legata alla tipologia di equipaggiamento che si utilizza." Blade & Soul è alquanto originale nel modo in cui si approccia al combattimento. A differenza di altri giochi MMORPG, il combattimento non è incentrato su statistiche o bottino, quanto piuttosto su abilità e riflessi, in maniera simile ai giochi di combattimento online. "Essere competitivi [in Blade & Soul] richiede abilità e conoscenza", prosegue Harty. "Il tutto viene ad incentrarsi sui giocatori stessi piuttosto che sulla scelta della classe o dell'equipaggiamento del personaggio."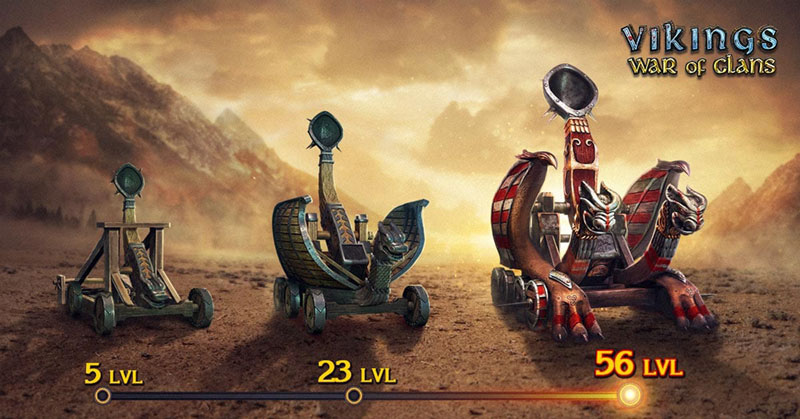 Tuttavia, questo ancora non risolve il problema della progressione del personaggio, ovvero il "livello del personaggio". Maggiore è il livello del personaggio, superiori saranno le capacità e le conoscenze di cui dispone. Ciò conferisce ai giocatori veterani un immenso vantaggio rispetto a qualsiasi nuovo arrivato, demolendo in modo efficace ogni velleità di un gioco di poter sostenere una comunità competitiva in crescita. D'altro canto, non è possibile semplicemente prendere un personaggio su cui sia stato investito del tempo (e spesso anche del denaro), e reimpostare le sue statistiche ogni volta che debba affrontare uno scontro PvP. Questo potrebbe funzionare con i MOBA più dinamici, in cui ciascuno delle decine di personaggi dispone di predeterminate capacità, ma non in un MMORPG dove i giocatori creano i propri personaggi personalizzati partendo da zero.
Successo Al Di Fuori Del Regno Degli MMORPG
Fino ad ora abbiamo soprattutto parlato degli MMORPG e, seppure questo rappresenti il più comune sottogenere degli MMO, non è certo l'unico. I giochi di strategia MMO, gli MMO sparatutto ed i titoli a Partecipazione Multipla di Massa Online stile Sopravvivenza sono sufficientemente popolari da giustificarne una debita considerazione. Non sorprende poi più di tanto il fatto che questi sottogeneri trovino maggior successo come titoli di eSport, soprattutto perché sono, beh... meno di massa.
World of Tanks sta godendo una certa dose di successo come titolo di eSport da quando la Wargaming League ha iniziato nel 2013, ed il suo ultimo spin-off, World of Warships, sembra avere risultati perfino migliori dopo un ottimo esordio come titolo competitivo in occasione del Wargaming League Grand Finals del 2016 a Varsavia. Ark: Survival Evolved, un gioco di sopravvivenza MMO, recentemente ha lanciato una modalità competitiva autonoma denominata Survival of the Fittest - un'Arena di Sopravvivenza Online A Partecipanti Multipli (MOSA) in cui i giocatori competono per rimanere l'ultimo superstite su un'isola.
Seppure questi giochi stiano riscuotendo un minimo successo, entrambi sono relativamente nuovi sulla scena degli eSport e, in poche parole, non sono ancora abbastanza popolari per competere nell'ambito dei grandi campionati. Un altro problema è che entrambi i giochi sacrificano gli aspetti più emblematici che li rende degli MMO, soprattutto la componente "di massa", proprio al fine di risultare allettanti per i giocatori di eSport.
Puntare In Alto, Essere Competitivi
E allora, possono i giochi MMO proiettarsi nella scena degli eSport senza per questo dover abbandonare le proprie radici? Noi pensiamo di sì. RuneScape, un MMORPG stile Fantasy, ha condotto un interessante esperimento coinvolgendo sia gli eSport che gli MMO. L'obiettivo era quello di individuare un modo per un gioco MMO di rimanere di massa, pur risultando assolutamente allettante come titolo di eSport. Una delle idee con cui sono venuti fuori è stata quella che l'Amministratore e Responsabile allo Sviluppo Phil Mansell definisce un "MMORPG a scorrimento veloce"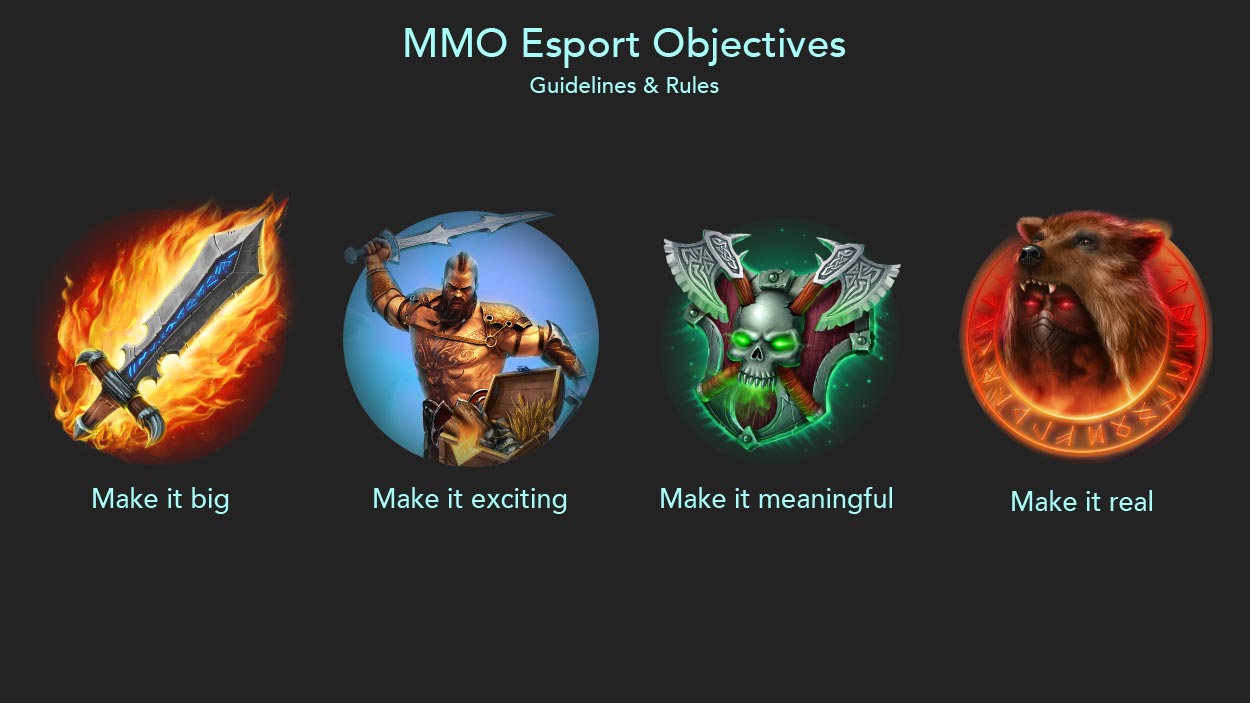 Proviamo ad immaginarci questa situazione: un torneo MMO che si estende su più giorni, in cui centinaia o migliaia di giocatori iniziano da zero su un nuovo server. I tassi di progressione vengono massicciamente potenziati, così che i partecipanti possano avanzare di livello e sviluppare i loro personaggi nel giro di alcune ore invece che di giorni. L'obiettivo finale è semplice, e molto simile a quello che vediamo negli scontri MMO di eSport oggigiorno: la sopravvivenza. Si tratta del concetto già conosciuto sul genere del Last Man Standing, solo su una scala molto più grande.
Avere così tanti giocatori in competizione tutti in una volta è la ricetta perfetta per azione e dramma: grandi battaglie tra gruppi di giocatori, tradimenti strazianti e rese dei conti finali al cardiopalma. È vero, il "match" sarà un po' più lungo di quello a cui i fan della maggior parte degli eSport sono abituati, avendo una durata di alcune ore al giorno, ma con così tanti giocatori attivi e così tante cose diverse in pentola, sarà ben difficile annoiarsi. Gli spettatori troveranno anche più facile potersi connettere e fare il tifo per i loro giocatori e personaggi preferiti, questo perché saranno sono con loro fin dall'inizio di questo lungo viaggio. Essere presenti in occasione di ogni prova, vittoria e sconfitta di un giocatore è un po' come seguire la carriera di un atleta o di una squadra sportiva.
Il Futuro degli MMO e degli eSport
I Giochi a Partecipazione Multipla di Massa Online sono già una parte della scena degli eSport, anche se in questo momento rappresentano solo una parte piuttosto piccola. C'è un sacco di potenziale in questo ambito, e non ci sarà da stupirsi se sempre più MMO inizieranno a puntare su questa redditizia nicchia in un prossimo futuro. Gli MMO non hanno bisogno degli eSport per rimanere in auge, ma con i modelli di pagamento a partecipazione gratuita e fremium che si stanno affermando nella maggior parte di questi giochi, gli sviluppatori tenderanno sempre più a puntare sugli eSport come un potente strumento di marketing.

Tuttavia, ciò non significa che gli MMO debbano iniziare ad estinguersi o ad allontanarsi da ciò che li ha resi popolari. Prima di tutto, c'è ancora un pubblico enorme fedele alla "classica" esperienza MMO, sia esso RPG o quant'altro. In secondo luogo, esistono modalità creative per garantire che una rinnovata attenzione nei confronti dei giochi competitivi non si evolva a spese dei più tradizionali elementi MMO. Semplificando i combattimenti, consentendo una costruzione più flessibile dei personaggi e mantenendo l'esperienza PvP incentrata su un pubblico di massa, gli MMO possono portare il loro elemento caratteristico nella scena degli eSport e consolidare così la loro presenza tra le realtà principali di oggi.
Raid: Shadow Legends
Raccogli 400+ Campioni & Battiti Per La Gloria