Como Battle Royale cambiará los juegos en línea

Hay un nuevo rey de los juegos en línea.
Counter-Strike, Dota 2 y League of Legends han hecho sitio a Battle Royale, un término ahora más popular en Google que "MMO".
La gente se está pasando al violento y explosivamente emocionante mundo de los juegos de Battle Royale. Pero, ¿por qué?
¿Qué hace que este nuevo género sea tan popular y cómo cambiará los juegos en línea?
¿Qué es Battle Royale?
Una Battle Royale es una pelea entre muchas personas diferentes hasta que solo queda un luchador en pie. Una especie de todos por libre.
No hay un grupo designado y los combatientes pueden usar todo lo que tengan disponible para lograr la victoria. Algo tipo los juegos del hambre.
El término Battle Royale se hizo popular en occidente con la publicación de una novela japonesa del mismo nombre, escrita por Koushun Takami en 1999.
La historia trata sobre un grupo de estudiantes que han sido secuestrados y transportados a una isla privada frente a la costa de Japón continental. Allí, cada estudiante debe sobrevivir hasta que sea el último que quede vivo.
La forma más conocida de la historia de Battle Royale es, sin embargo, la adaptación cinematográfica del 2000 dirigida por Kinji Fukasaku y protagonizada por el legendario Takeshi Kitano. La película sería la influencia directa de PlayerUnknown's Battlegrounds (PUBG) - el juego de Battle Royale más famoso de la actualidad.
Cómo funcionan los juegos de Battle Royale
Fue en 2012 cuando algunos modders introdujeron un concepto apropiado de Battle Royale en el fenomenal juego de Minecraft.
Los talentosos modders AntVenom y SkyDoesMinecraft establecieron las bases para el primer juego de Battle Royale oficial y exitoso.
A partir de ese momento, los modders de la comunidad ARMA empezaron a producir mods de Battle Royale de bastante éxito. Uno de estos modders de ARMA fue Brendan Greene, que usaba el apodo en línea de PlayerUnknown.
Greene se uniría al editor coreano Bluehole para desarrollar y lanzar PlayerUnknown's Battlegrounds, más comúnmente conocido por sus 3 millones de jugadores simultáneos como "PUBG".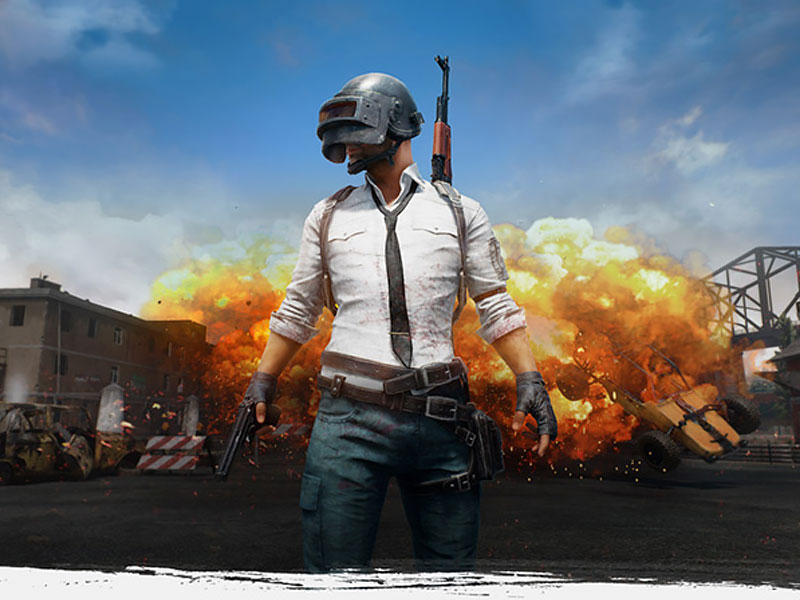 PlayerUnknown's Battlegrounds es la lente perfecta para examinar lo que hace un juego de Battle Royale.
Una ronda típica de PUBG comienza con alrededor de 100 jugadores lanzándose en paracaídas en una gran isla, que parece estar en algún lugar frente a la costa de Europa del Este.
Los jugadores pueden agruparse en equipos de 4 o 2, o elegir jugar a un Battle Royale puro del último hombre en pie, con solo un vencedor de entre los 100 jugadores.
Una vez en el suelo, los jugadores deben seguir buscando armas, armaduras y objetos de curación. También deben encontrar vehículos, no solo para ir de un lugar a otro, sino para mantenerse dentro de la zona segura.
La zona segura está contenida dentro de un gigantesco cono azul circular de plasma chisporroteante, que continúa encogiéndose a medida que pasa el tiempo y mueren más jugadores. A medida que el campo de batalla se reduce, los jugadores se acercan cada vez más hasta el final explosivo.
El último equipo, dúo o individuo que queda vivo gana.
Esta sencilla fórmula es la base de los juegos de Battle Royale: un gran grupo de jugadores iguales, un enorme mapa que se contrae lentamente con el tiempo y armas y municiones escasas.
La evolución de Battle Royale
El MOBA DotA 2 de Valve tuvo el récord anterior de la mayor cantidad de jugadores simultáneos con 1 291 328 en 2014. PlayerUnknown Battlegrounds logró superar esa cifra el 16 de septiembre, con una base de jugadores simultáneos de 1 348 374.
Desde entonces, el juego llegó a más de 3 millones de jugadores simultáneos en diciembre de 2017.
Naturalmente, cuando aparece un nuevo fenómeno de moda, los desarrolladores a menudo tratarán de emularlo y mejorarlo para que sea aún más popular.
PUBG ha revolucionado el mundo de los juegos en línea hasta el punto de que otros titanes de la industria de los juegos en línea han comenzado a emular su corriente y modificar sus próximos títulos en torno al concepto de Battle Royale.
Veamos las adaptaciones más exitosas de PUBG para ver cómo los juegos de Battle Royale llevan el género al próximo nivel.
Fortnite: Construyendo un mejor Battle Royale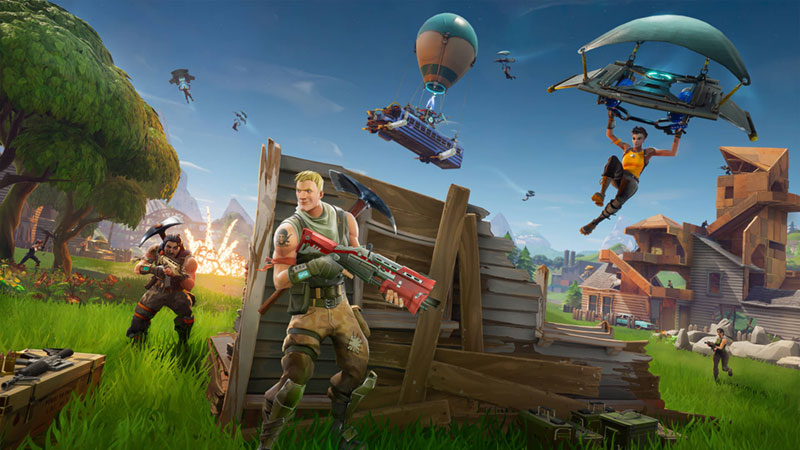 Fortnite ha sido desarrollado por Epic Games y People Can Fly, y fue lanzado poco después de PUBG, en julio de 2017.
A diferencia de PUBG, que en realidad no tiene una trama o ambientación real, Fortnite presenta un mundo en el que las tormentas apocalípticas han dejado solo un 2 % de la humanidad con vida. Los supervivientes ahora deben unirse y sobrevivir contra monstruos tipo zombi.
El título original fue relativamente exitoso, alcanzando el hito de 1 millón de jugadores aproximadamente un mes después de su lanzamiento. Sin embargo, fue el modo independiente Fortnite Battle Royale, lanzado en septiembre de 2017, lo que empujó a Fortnite a la cima con 10 millones de nuevos jugadores en solo dos semanas.
Aunque el modo emula muy claramente a PUBG, la incorporación del ingenioso sistema de creación y construcción de Fortnite introduce un giro inteligente y muy creativo en la fórmula tradicional de saqueo, supervivencia y lucha de Battle Royale.
¿Te acuerdas de la impresionante cifra récord de 3 millones de jugadores simultáneos que tiene PUBG? Pues, Fortnite recientemente batió ese récord con 3,4 millones de jugadores, por lo que es el juego más grande de Battle Royale hasta la fecha.
Paladins: siguiendo la moda
Antes del éxito monumental del género Battle Royale, los "Shooters de Héroes" eran la última tendencia en juegos en línea.
Juegos como Overwatch y Team Fortress 2 trajeron equipos de campeones especialistas para enfrentarse entre sí en rondas basadas en objetivos centradas en escenarios llenos de paquetes de salud y mejoras. Cada jugador tenía un rol y todos tenían que trabajar juntos de manera inteligente y estratégica para salir victoriosos.
Si bien estos juegos aún son muy populares, muchos desarrolladores y editores se han dado cuenta de que la mayor parte de la atención del consumidor se ha desplazado hacia la tendencia de Battle Royale. Como resultado, han comenzado a incorporar Battle Royale en sus modos de juego. Uno de esos juegos es Paladins: Champions of the Realm.
El desarrollador de Paladins, Hi-Rez Studios, anunció recientemente la última incorporación a su título gratuito: Paladins: Battlegrounds. Como su nombre sugiere, el juego tradicional de Paladins recibirá una transformación a Battle Royale.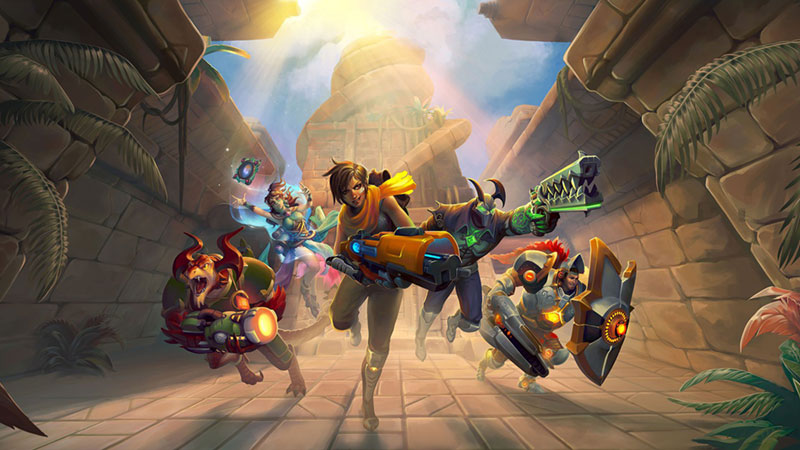 Por lo que se ha lanzado hasta ahora, el modo Battlegrounds parece tomar prestado mucho de PUBG. Hemos visto el saqueo de varios edificios, luchas por equipos raros lanzados en paquetes de provisiones desde dirigibles, y, cómo no, la zona segura que siempre se está reduciendo.
Como puedes ver, especialmente si has estado jugando a PUBG por un tiempo, esta nueva instalación ya suena como PUBG con un aspecto y personajes de Paladins. El nombre del modo, Battlegrounds, es también una referencia descarada del buque insignia Battle Royale.
Dicho esto, será increíble ver cómo diferentes Héroes se enfrentan entre sí en un combate abierto de supervivencia. Como Paladins es un Shooter de Héroes, cada Héroe tiene distintas habilidades y armas y por lo tanto, juega de forma diferente a los demás. Eso significa que los jugadores no comienzan en igualdad de condiciones, lo que altera la familiar fórmula de Battle Royale.
¿Se unirán los juegos MMO a la tendencia Battle Royale?
Por ahora, está claro que los juegos en línea están cambiando y evolucionando para seguir siendo relevantes en un mundo dominado por Battle Royale. Pero, ¿es eso también cierto para los juegos MMO?
Los analistas expertos en el mundo MMO coinciden principalmente en que a principios de 2017, el ingenio y la originalidad en el ámbito de los MMO parecían estar disminuyendo. Mientras que los titanes como Counter-Strike, Dota 2 y World of Warcraft continuaron produciendo contenido maravilloso, no se puede negar que muchas personas estaban empezando a sentir que las cosas se estaban volviendo un poco obsoletas.
En otras palabras: el mundo de los MMO y los juegos en línea ha llegado a un punto muerto creativo.
Pero ahora, gracias a las interesantes fusiones de mecánicas y estilos de juego provocados por juegos como PUBG y Fortnite, los juegos MMO y MMORPG están experimentando una curiosa fase de transición.
Los desarrolladores están mejorando sus títulos con el nuevo contenido de Battle Royale y siguen saliendo nuevos juegos con sistemas Battle Royale. Aunque muchos MMO populares parecen no verse afectados.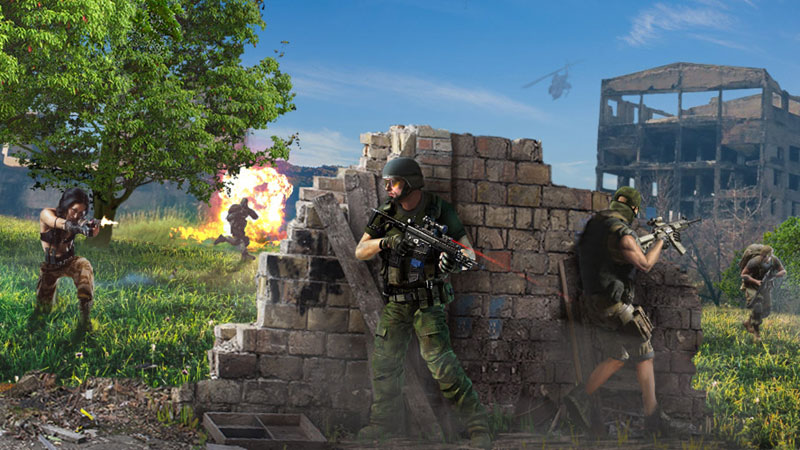 Pero cuando los jugadores exigen originalidad y nuevas emociones, estos juegos corren el riesgo de quedarse atrás. La fórmula de Battle Royale es tan fácil de implementar, y todavía hay tanto de este nuevo género por explorar, que los desarrolladores de MMO estarían desperdiciando un éxito casi seguro si eligen quedarse al margen.
¿Veremos al fin un MMO de Battle Royale de verdad? ¿Puede este subgénero llegar a funcionar como un MMO?
Es fácil imaginar a Counter-Strike introduciendo mapas más grandes con más jugadores para facilitar una "experiencia PUBG" adecuada. ¿Pero qué hay de juegos tipo World of Warcraft?
Muchos MMO ya tienen escenarios épicos de "Jugador contra Jugador" que podrían ser perfectos para el combate a mayor escala, pero todavía hay muchos problemas por superar. La mayoría de ellos son los mismos problemas que surgen cuando los juegos de MMO intentan convertirse en títulos de eSport.
Estadísticamente hablando, podemos decir muy fácilmente de lo que una abrumadora mayoría de jugadores disfrutan enormemente: ser el "último hombre en pie". Los desarrolladores deben prestar atención y hacer lo que puedan para asociar sus juegos con esta nueva tendencia si esperan formar parte de la nueva ola de juegos en línea de 2018.
Raid: Shadow Legends
Colecciona 400+ Campeones y lucha por la gloria