I 20 Raduni Più Epici di Fanatici della Tecnologia Cui Partecipare Almeno Una Volta Nella Vita

Per gli appassionati, i giocatori e coloro che amano autodefinirsi nerd, non c'è niente di meglio di un raduno.
I raduni ci consentono di incontrarci con fan del tutto simili a noi, con cui condividere gli stessi interessi e discutere di astruse teorie, speranze e sogni riguardanti i nostri franchising preferiti.
Potrebbe perfino capitare di incontrare grandi nomi e creatori dei più famosi prodotti ludici per appassionati.
Esistono dozzine di raduni in tutto il mondo, indirizzati a diversi gruppi di appassionati: i fan dei cosplay, i fanatici di videogiochi ed i patiti di fumetti. Di seguito, abbiamo preso in esame i 20 migliori raduni a cui varrebbe veramente la pena partecipare. Abbiamo accluso ogni informazioni necessaria per iniziare a pianificare il nostro prossimo viaggio.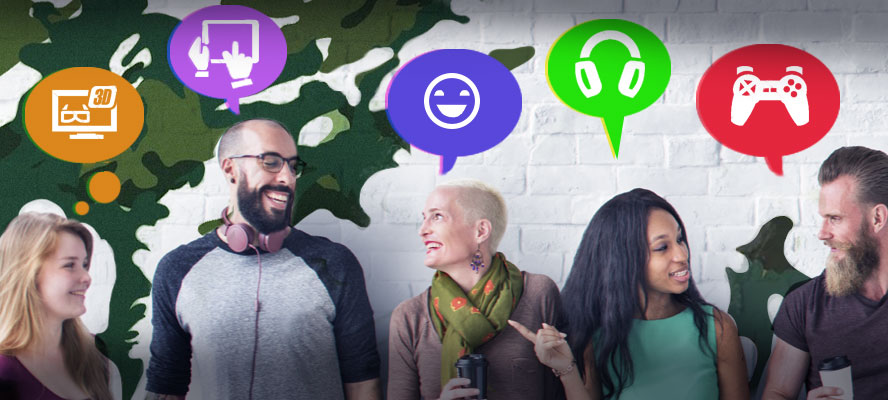 Gli 8 Migliori Raduni di Videogiochi
L'Electronic Entertainment Expo, meglio conosciuto con il nome E3, è probabilmente il più rinomato evento al mondo. Le tre grandi società di intrattenimento, Sony, Microsoft e Nintendo, approfittano tutte di questo raduno per rivelare le loro novità nel campo dei videogiochi e le nuove console, mentre anche editori famosi come Electronic Arts e Ubisoft ospitano i loro stessi eventi E3.
Originariamente concepito per offrire ai membri della stampa la possibilità di conoscere i nuovi giochi sul campo e ottenere materiale esclusivo per i loro articoli, dal 2017 l'evento è divenuto una realtà pubblica aperta a tutti.
Luogo: Los Angeles, California (USA)
Data: Ogni anno a Giugno
Prezzo del biglietto: 150$ (primi biglietti) / 250$
Motivo della sua popolarità: L'E3 è un evento che unisce il mondo dei videogiochi e degli appassionati con Hollywood, considerando che è risaputo quanto i maggiori nomi, non solo in campo ludico, ma addirittura a livello mondiale, amino partecipare a questo raduno. Inoltre, si tratta di una manifestazione caratterizzata da un'infinità di grandi annunci, per cui, pur non partecipandovi direttamente, è estremamente probabile seguirne lo svolgimento collegandosi online.
Gamescom, con sede in Germania, è una fiera per appassionati di videogiochi perfino più grande dell'Electronic Entertainment Expo. Questo raduno annuale è noto come il più grande evento per videogiochi dell'anno, attirando più di duecentocinquantamila partecipanti ad ogni edizione.
I giocatori di tutta l'Europa (e forse da ancora più lontano) si riuniscono qui per partecipare ai migliori giochi e discuterne masticando qualche deliziosa salsiccia grigliata.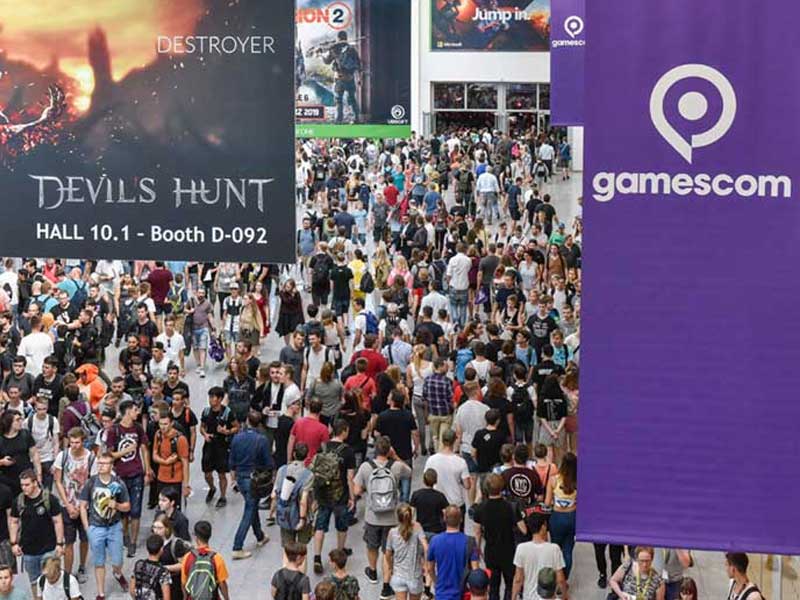 Luogo: Colonia, Germania
Data: Ogni anno in Agosto
Prezzo del biglietto: 12,50 - 16 Euro al giorno
Motivo della sua popolarità: Il Gamescom viene considerato più abbordabile e si concentra maggiormente sul mercato del PC. Il semplice fatto che sia stato concepito prettamente in un'ottica indirizzata al consumatore, rende questo evento una realtà di estremo successo popolare.
I cosiddetti eventi Penny Arcade Expo (PAX) sono una serie di convegni di videogiochi aventi sede in molteplici parti del mondo. Il PAX West si tiene negli Stati Uniti d'America ed è probabilmente la manifestazione più celebre tra tutti i vari PAX.
Dalla prima edizione del lontano 2004, i creatori (che sono oltretutto lo stesso team di creatori del fumetto online Penny Arcade) hanno impiegato più di un decennio per rendere questo evento una manifestazione divertente sia per gli amanti dei videogiochi che per gli appassionati del settore.
Luogo: Seattle, Washington (USA)
Data: Dalla fine d'Agosto ai primi di Settembre di ogni anno
Prezzo del biglietto: 50$ per il pass giornaliero
Motivo della sua popolarità: Il PAX West può vantare un numero enorme di grandi annunci in campo ludico (inclusi gli aggiornamenti dei videogiochi anticipati al Gamescom ed all'E3), interventi degli sviluppatori e tornei. Il direttore redazionale di Explosive Alan, Dan "Testa a Punta" Maher afferma che se ti "senti particolarmente stravagante", allora il PAX West è quello che fa per te.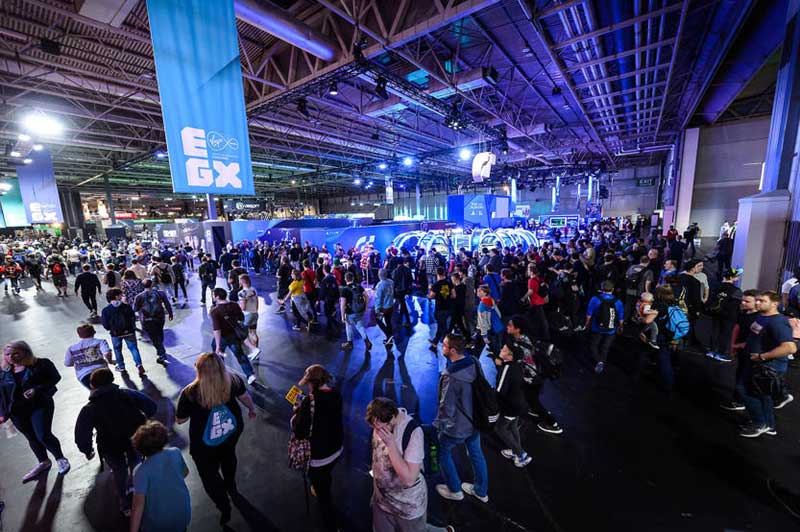 Conosciuto in passato come Eurogamer Expo, EGX è creato da Eurogamer, la pubblicazione europea online specializzata in videogiochi che si è occupata di raduni ludici per oltre un decennio.
Alla luce di un tale background, si potrebbe affermare che siano dotati di una più che sufficiente esperienza per capire cosa funzioni (e cosa invece no) quando si tratta di organizzare una grande festa videoludica.
Esiste anche EGX Rezzed, un raduno più focalizzato su videogiochi indipendenti, che ha luogo ogni anno a Londra, in Inghilterra.
Luogo: Birmingham, Inghilterra
Data: Ogni anno a Settembre
Prezzo del biglietto: 15£ - 70£
Motivo della sua popolarità: Dan Maher spiega che "se sei principalmente interessato a vedere quanto di meglio e di più innovativo sul mercato, [EGX offre anche] sessioni informative per sviluppatori, tornei di e-Sport, orientamenti professionali, videogiochi vecchio stile, cosplay e giochi da tavola." Questo lo rende un mix sostanzioso di grandi annunci e divertimento più incentrato sulla community.
Gli eventi ESL One sono una serie di competizioni di e-Sport che si svolgono in giro per il mondo. ESL One New York è un evento incentrato sul videogioco Counter-Strike: Global Offensive, mentre i partecipanti di ESL One Cologne si godranno lo spettacolo offerto dai giocatori di Dota 2.
Esistono eventi ESL One anche a Katowice, Genting, Birmingham e Belo Horizonte.
Luogo: Katowice (Polonia), New York (USA). Genting (Malaysia), Birmingham (Regno Unito), Belo Horizonte (Brasile), Colonia (Germania)
Data: Durante tutto l'anno
Prezzo del biglietto: 29$ - 169$
Motivo della sua popolarità: Adam Stevens, il proprietario di BC-GB Esports, descrive come "elettrica" l'atmosfera che si respira all'ESL One. Il fatto che questi eventi offrano la possibilità di godersi alcuni tra i più talentuosi giocatori di GS:GO e Dota 2, intenti a fare quello che sanno fare meglio, è senza dubbio un punto di forza di questa manifestazione.
DreamHack è un'altra serie di eventi incentrati sugli e-Sport. Vengono ospitati tornei per giochi come Hearthstone: Heroes of Warcraft, Dota 2, Counter-Strike: Global Offensive e StarCraft 2.
Ogni anno, più di 300.000 persone partecipano agli eventi DreamHack in tutto il mondo, e molti scelgono di sintonizzarsi con le dirette su piattaforme come Twitch e YouTube.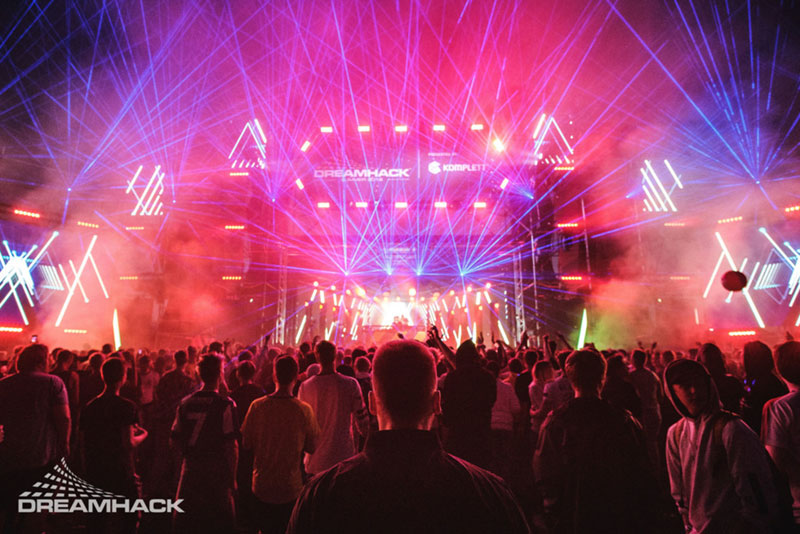 Luogo: Stati Uniti, Svezia, Spagna, Canada
Data: Durante tutto l'anno
Prezzo del biglietto: 30$ - 535$
Motivo della sua popolarità: Come ha affermato Adam Stevens, gli eventi di e-Sport possono rivelarsi delle esperienze elettrizzanti. Guardare la propria squadra del cuore assicurarsi una vittoria decisiva, oppure un concorrente sfavorito far fuori un giocatore tra i più popolari, può essere una sensazione decisamente inebriante. DreamHack permette ai fan di godersi lo spettacolo da distanza ravvicinata.
Insomnia Gaming Festival è nato come un torneo di videogiochi LAN per consentire ai giocatori di scontrarsi tra loro per conquistare le alte vette in classifica, ma ultimamente si è trasformato in un raduno di videogiochi stracolmo di fan del settore. Un evento enormemente popolare, il cui vanto è quello di essere il più grande festival di giochi del Regno Unito.
Luogo: Birmingham, Inghilterra
Data: Durante tutto l'anno
Prezzo del biglietto: I prezzi variano
Motivo della sua popolarità: Dan Maher spiega che Insomnia Gaming Festival offre una "vasta gamma di attività alternative per intrattenere i partecipanti, nonché "un'opportunità di stringere nuove amicizie, forgiare interessi e persino carriere."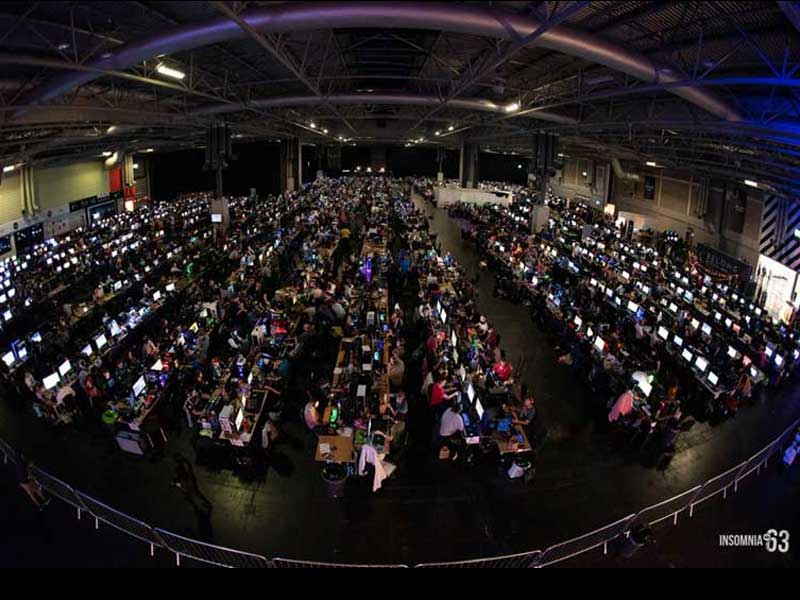 Seppure la Sony sia spesso propensa a fare dichiarazioni importanti in occasione dell'evento E3, per diversi anni ha organizzato il suo evento particolare dedicato ai giochi per PlayStation, chiamato PlayStation Experience. Tenendosi ogni fine anno, la Sony coglie l'occasione per fare dei sorprendenti annunci ed aggiornamenti su alcuni dei suoi più popolari franchising, incluso The Last of Us.
Luogo: Las Vegas, Nevada (USA)
Data: Ogni anno a Dicembre
Prezzo del biglietto: 65$ - 75$
Motivo della sua popolarità: PlayStation Experience offre tantissimo ai fan della PlayStation, incluse prove pratiche con gli ultimi e più conosciuti prodotti per la PlayStation, sessioni di interviste agli sviluppatori (e la possibilità di incontrarli), e tutti gli annunci che la Sony è solita fare ogni anno. Ma permette anche ai fan della console Sony di incontrarsi gli uni con gli altri e di entusiasmarsi con i loro giochi preferiti, personaggi del cuore, e tanto altro ancora.
I 6 Migliori Raduni Per Cosplay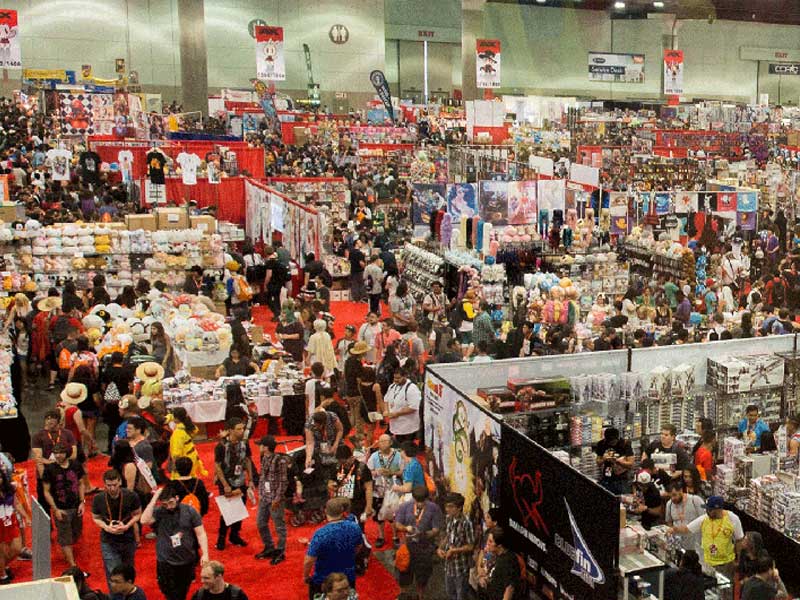 Anime Expo (conosciuto anche come AX) è considerato il più grande raduno anime del Nord America. Con i suoi quasi 100.000 entusiasti di anime che partecipano all'evento ogni anno, compresi cosplayer e fan occasionali, riteniamo che si sia meritato un tale record
Luogo: Los Angeles, California (USA)
Prezzo del biglietto: 35$ - 80$
Data: Ogni anno a Luglio
Motivo della sua popolarità: Alcuni potrebbero definire il mondo anime come una realtà di nicchia in conseguenza dell'utilizzo esclusivo della lingua giapponese, da cui è caratterizzato, che ne rende difficile la diffusione nei paesi occidentali Ma l'Anime Expo di LA contraddice questo presupposto, permettendo ai fan di anime di apprezzare insieme questa arte, seppure molti dei principali critici non riescano a comprenderne le ragioni.
Otakon è per la Costa Est degli Stati Uniti quello che Anime Expo è per la Costa Ovest. L'evento si tiene sin dal 1994 ed ha una durata di tre giorni, permettendo agli amanti di anime provenienti da tutto il mondo di condividere il loro apprezzamento per questa arte ed anche per la cultura popolare asiatica più in generale, compresi videogiochi, manga, musica e film.
Luogo: Washington, D.C. (USA)
Prezzo del biglietto: Soggetto a variazioni, circa 75$
Data: Ogni Anno a Agosto/Settembre
Motivo della sua popolarità: Otakon offre una vasta gamma di attività incentarte sull'anime, incluse le retrospettive di anime mandate in onda negli anni '80/'90, performance musicali di sigle e colonne sonore, eventi cosplay e spettacoli di danza.
Dal 1999, l'editore delle antologie Jump ha organizzato Jump Festa, una manifestazione che permette alle persone di festeggiare la loro passione per manga ed anime.
Sebbene l'evento sia conosciuto principalmente per i suoi annunci sul mondo anime, non disdegna anche di rappresentare prodotti del mondo videoludico e cinematografico.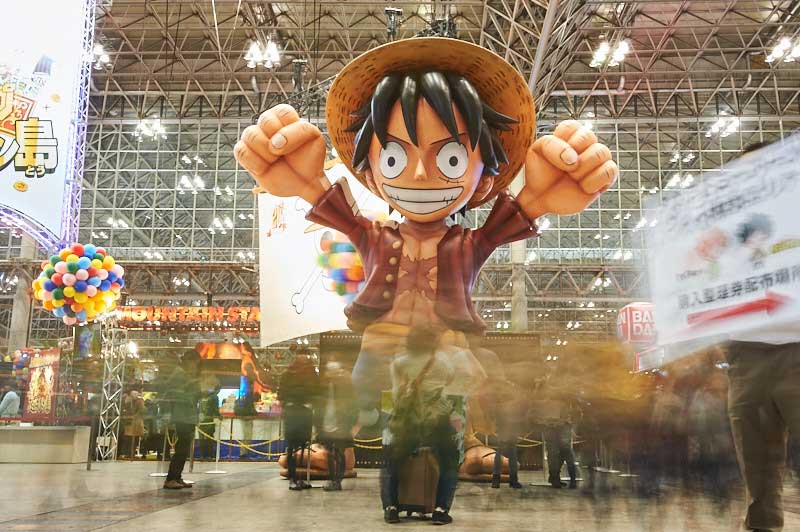 Luogo: Tokyo, Giappone
Prezzo del biglietto: Ingresso gratuito
Data: Terza settimana di Dicembre
Motivo della sua popolarità: Come già menzionato, Jump Festa è spesso sede di molteplici annunci di grande importanza nel mondo anime, incluse nuove uscite di serie famose come Tokyo Ghoul, One Piece, Dragon Ball, e My Hero academia.
Più grande ancora, però, è AnimeJapan che, al momento, costituisce il più grande evento dell'intero Giappone, sebbene sia stato creato soltanto nel 2014. È frutto della fusione tra Tokyo International Anime Fair e Anime Contents Expo, il che ha permesso ai due team di unire le loro menti per organizzare un evento anime annuale da togliere il fiato.
Luogo: Tokyo, Giappone
Prezzo del biglietto: 16$ - 500$
Data: Ogni anno a Marzo
Motivo della sua popolarità: AnimeJapan attrae alcune delle maggiori società dell'industria anime, comprese le società nazionali ed internazionali. Grazie alle esposizioni, agli spettacoli teatrali, alle aste ed agli eventi ospitati, questa manifestazione costituisce una realtà di intrattenimento principalmente gradita ai grandi fan di anime.
Sia la costa orientale che quella occidentale degli Stati Uniti possono vantare dei raduni di anime.
Ne consegue che anche il sud abbia più che diritto di ospitarne uno! A-Kon è il raduno anime più longevo del Nord America e può vantare un pubblico di oltre 30.000 persone ogni anno.
Luogo: Fort Worth, Texas (USA)
Prezzo del biglietto: 25$ - 55$
Data: Ogni anno, la prima settimana di Giugno
Motivo della sua popolarità: Il sud risulta spesso indietro in fatto di organizzazione di raduni del genere, per cui A-Kon spicca senza troppa fatica. I partecipanti apprezzano anche la possibilità di ammirare gli artisti emergenti in passerella, godere di eventi della community come serate trivia, gruppi di discussione, competizioni cosplay, karaoke e tanto altro ancora.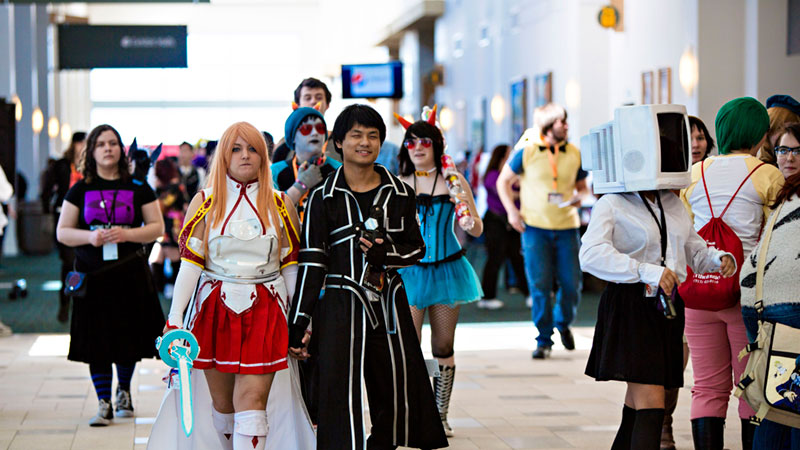 Non hai la possibilità di recarti in Giappone o negli Stati Uniti? Allora il Japan Expo, che si tiene in Europa ed è il più grande del suo genere al di fuori del Giappone, potrebbe fare al caso tuo.
A questo enorme evento, che ha una durata di quattro giorni, partecipano quasi duecentocinquantamila persone ogni anno.
Luogo: Parigi, Francia
Prezzo del biglietto: 14 Euro - 300 Euro
Data: Ogni anno a Luglio
Motivo della sua popolarità: I fan europei di anime, che non possono permettersi di andare negli Stati Uniti oppure in Giappone, si radunano annualmente al Japan Expo. Questo evento propone idoli della cultura giapponese, compresi artisti e sviluppatori di giochi, corsi per perfezionare le abilità nella creazione di anime, nonché eventi incentrati sui fan come i gruppi di discussione.
I 6 Migliori Raduni Sui Fumetti
Fondato nel 1970, il San Diego Comic-Con attrae più di 150.000 partecipanti ogni anno e rappresenta un enorme punto di riferimento del circuito promozionale ludico, fumettistico, cinematografico e televisivo.
Spesso, data la sua enorme popolarità, c'è un'infinita lista d'attesa per procurarsi i biglietti con cui accedere al SDCC.
Luogo: San Diego, California
Prezzo del biglietto: 42$ - 276$
Data: Ogni anno a Luglio
Motivo della sua popolarità: Ogni anno, i più importanti annunci hanno luogo in occasione del SDCC e vi si svolgono gruppi di discussione a cui partecipano le più grandi star del business. Per esempio, l'evento SDCC del 2018 includeva gruppi di discussione con il cast di Doctor Who, The Walking Dead, Star Trek: Discovery e moltissimi altri.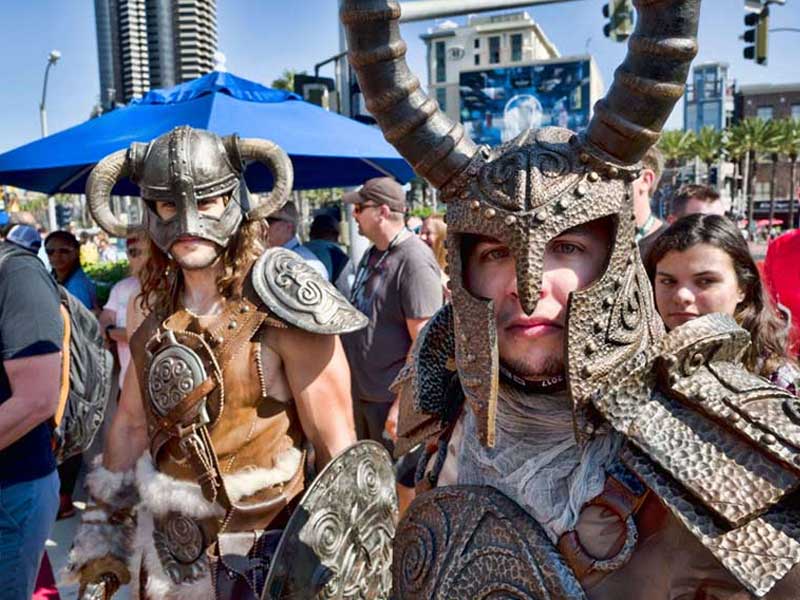 Comiket (oppure Comic Market) è una manifestazione "dōjinshi" (opere auto-pubblicate) che si tiene due volte all'anno in Giappone.
Nonostante l'evento sia partito alcuni anni or sono come uno sforzo di base per consentire la vendita dei prodotti, è ormai arrivato ad attirare oltre 500.000 persone ogni anno.
Luogo: Tokyo, Giappone
Prezzo del biglietto: 7$
Data: Agosto e Dicembre
Motivo della sua popolarità: Partecipare al Comiket rappresenta la possibilità di scoprire delle opere di artisti poco noti ancora non dotati di un seguito. Chi non vorrebbe saltare sul carro prima che il carro di quell'artista abbia iniziato a correre?
MCM Comic Con rappresenta la risposta inglese al SDCC. Si tiene due volte all'anno e si focalizza sul potente mix della cultura pop del Regno Unito con quella Giapponese, che ha trovato i suoi fan in Europa.
Luogo: Londra, Regno Unito
Data: Maggio e Ottobre
Prezzo del biglietto: 17£ - 150£
Motivo della sua popolarità: Dan Maher è stato ampiamente elogiato per questo evento poiché è riuscito a centrare ogni punto esatto tra i più ricercati dai fanatici del settore. Maher è un fan di raduni ibridi ed afferma che "può mettere la mano sul fuoco quando afferma che, se ti piacciono i videogiochi, probabilmente ti piaceranno anche i fumetti, gli anime, la fantascienza, i film, i cosplay e chi più ne ha più ne metta".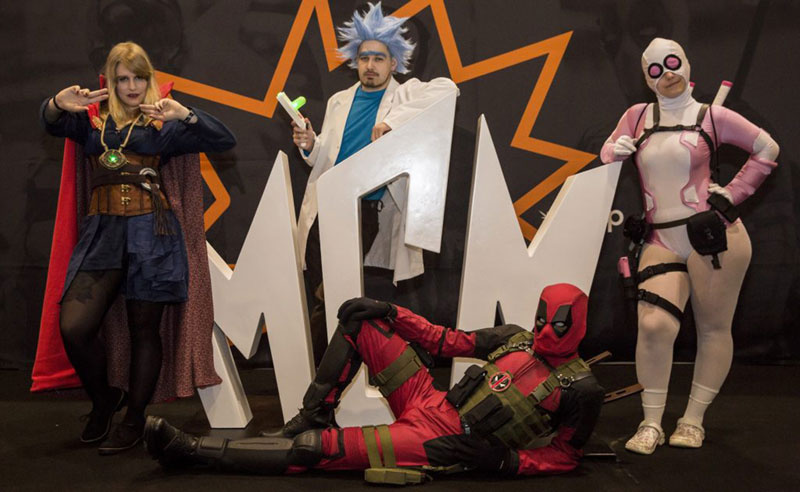 La prima edizione del New York Comic Con si è tenuta nel 2006 ed è considerato il più grande raduno di fumetti della costa orientale degli Stati Uniti.
Conta quasi 200.000 partecipanti ogni anno, radunando tantissime persone per parlare di argomenti fantascientifici e da fanatici del settore.
Luogo: New York, USA
Data: Ogni anno a Ottobre
Prezzo del biglietto: 12,50$ - 50$
Motivo della sua popolarità: Il NYCC coinvolge alcuni tra i più grandi nomi del settore. Nell'edizione del 2018, tra gli ospiti vi sono stati Teri Hatcher, che impersona Lois Lane, Neil DeGrasse Tyson, Danai Gurira di Black Panther and The Walking Dead, Jason Momoa di Aquaman e Gioco di Spade e molti altri ancora.
Non dobbiamo dimenticare che anche il nevoso nord annovera la sua personale manifestazione di fumetti sotto forma del Fan Expo Canada.
Con i suoi più di 130.000 partecipanti ogni anno, il Canada può ben dire di avere una dichiarata passione per i fumetti.
Luogo: Toronto, Canada
Data: Da Agosto a Settembre
Prezzo del biglietto: 25$ - 569$
Motivo della sua popolarità: Il Fan Expo è una tappa fondamentale in fatto di tour promozionali in terra canadese, il che significa che vi presenziano i nomi più in vista tra cui Jason Momoa, il mitico Michael J. Fox di Ritorno al futuro, e persino il cast di Xena: Principessa Guerriera.
Non esattamente un raduno di patiti del famoso Mago di Oz, Oz Comic-Con è in realtà la "principale" manifestazione di fumetti australiana. Gli amanti dei fumetti australiani possono parteciparvi per discutere di cosplay, fumetti, video ed anime. Oltretutto, l'evento ha luogo in diversi posti del paese, il che vuol dire che non si dovrà necessariamente viaggiare in luoghi eccessivamente lontani.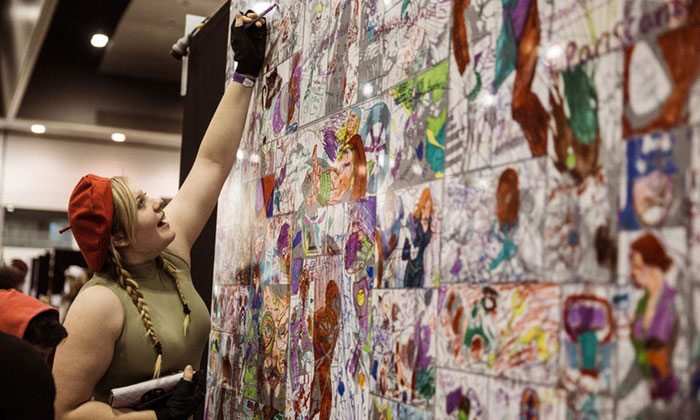 Luogo: Brisbane, Melbourne e Sydney
Data: Nel corso dell'anno (a seconda del luogo)
Prezzo del biglietto: 20$ - 65$
Motivo della sua popolarità: Nuovamente, si tratta di una tappa fondamentale per le grandi produzioni internazionali di fumetti (inclusi i film di successo basati sui fumetti e show televisivi). Ne consegue che, con estrema probabilità, vi parteciperanno nomi di spicco dello star business, attirando delle folle incredibili.
Seppur i raduni di fanatici sopra elencati siano tra i più famosi e rinomati, non si tratta degli unici eventi in grado di attirare folle oceaniche. Altri promettenti raduni includono Foddylympics, che è descritto da Dan Maher come un evento "anti e-sport" e presenta dei giochi a partecipazione multipla non convenzionali con "giocatori che combattono con controlli da incubo e hanno un rendimento particolarmente scarso" come Johan Sebastian e QWOP.
Nel frattempo, (Re)Generation Who è un raduno di dimensioni minori ma non meno divertente incentrato unicamente su Doctor Who. Ciò dimostra che, a prescindere da quanto specifici siano i nostri interessi in un determinato ambito, è estremamente probabile che esista una manifestazione là fuori che ci sta aspettando.
Raid: Shadow Legends
Raccogli 400+ Campioni & Battiti Per La Gloria