Le Top 7 des tendances du jeu vidéo en 2018 : Battle Royale, diversité et la fin des coffres à butin

L'industrie du jeu évolue et change constamment. Pourtant, à bien des égards, beaucoup de choses restent identiques.
Chaque année, de nouveaux développements, de nouvelles technologies et de nouvelles innovations frappent notre imagination. Les personnes influentes de l'industrie et les lanceurs de mode de la communauté donnent le ton lorsqu'il s'agit de briser les normes anciennes et d'annoncer de nouvelles idées.
Normalement, les changements surviennent lentement, au fil du temps, mais certaines années, nous constatons des glissements vers lesquels tend l'industrie.
Penser que 2018 est une de ces années est une question de perspective, mais, incontestablement, des changements excitants se profilent.
2018 : qu'en pensent les joueurs ?
Plarium, et pour cause, porte un vif intérêt aux perpétuelles évolutions qui modèlent ce marché. Nous suivons et étudions toujours de près les derniers développements affectant l'industrie du jeu.
L'année dernière, nous avons traité ce point en mettant l'accent sur les dernières tendances de 2017 et la façon dont elles ont modelé le monde du jeu.
En 2018, nous nous sommes de nouveau plongés dans ce sujet important et nous avons contacté un nombre important de stars du jeu sur YouTube pour leur demander quelles étaient, selon eux, les plus grosses tendances du jeu vidéo en 2018.
Trois de ces personnes influentes sont Orange Juice Gaming, Red Arcade et Prestigeiskey.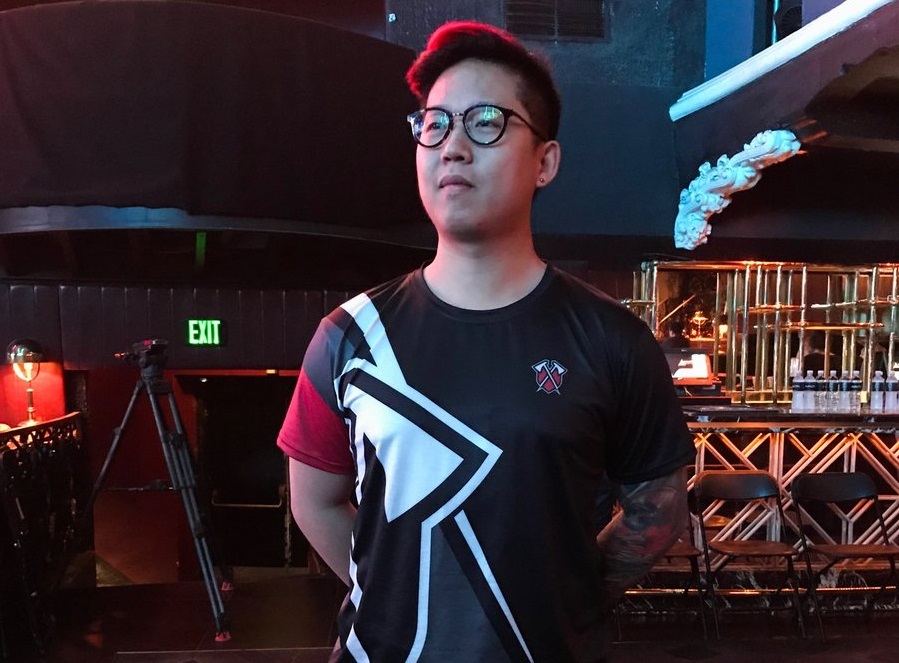 Orange Juice Gaming a déclaré ce qui suit :
« Pour 2018, le genre battle royale dominera l'industrie avant que l'enthousiasme ne commence à retomber. Fortnite est vraiment très en vogue et cela ne se calmera pas de sitôt cette année.
Je suis très excité par la Switch parce qu'ils ont des idées incroyables et innovantes. La sortie imminente du Nintendo Labo sera, selon moi, une manière économique d'inclure énormément d'accessoires dans les jeux. »
Red Arcade a également abordé l'enthousiasme entourant la Battle Royale :
« Je suis vraiment impatient de voir ce que les énormes titres, tels que Call of Duty, vont faire avec le mode battle royale s'ils décident de le mettre en place. Jusqu'à présent, les jeux de battle royale n'ont été réalisés que par des petites équipes, à ma connaissance, donc il sera intéressant de voir ce que les gros poissons peuvent proposer. »
Prestigeiskey, quant à lui, reste dans le même esprit, tout en mentionnant certains changements excitants chez Nintendo :
« La plus grosse tendance de 2018 sera les jeux de battle royale en raison de la pure pression de Fortnite. Ils ont fourni un produit solide et, bientôt, nous verrons beaucoup d'autres studios AAA proposer des jeux de battle royale.
Je suis très excité par l'E3 de cette année ! Nous obtiendrons de nouvelles informations à propos de Last of Us Part II et, bien entendu, encore plus d'avant-goûts de ce que Nintendo fera pour la Switch. J'espère qu'ils ajouteront des émulations de la GameBoy, plus un nouveau jeu Pokemon ! »
Même si tous trois avaient quelque chose de différent à dire sur le sujet, ils sont tous revenus sur les deux mêmes mots magnétiques qui secouent actuellement l'industrie : Battle Royale. C'est pourquoi ce genre prend la première place de notre top 7 des tendances de jeu pour 2018.
Battle Royale
Cette tendance remodèle à elle seule l'industrie du jeu.
Les jeux de battle royale sont, en 2018, dans toutes les bouches et les entreprises de jeu se ruent pour obtenir une part du gâteau Fortnite.
Fortnite, créé et développé par Epic Games, est sorti en accès anticipé sur PC l'année dernière. Mais, depuis, il a pris une ampleur énorme et cet élan ne semble pas se ralentir. Le 13 juin 2018, Epic Games a publié une déclaration affirmant que le nombre de joueurs avait atteint le chiffre vertigineux de 125 millions.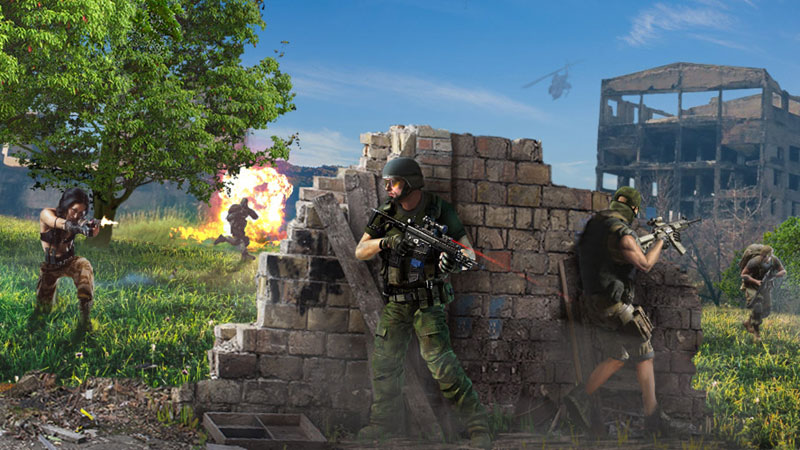 En outre, le jeu connait une telle réussite, principalement due à ses mécaniques de jeu uniques et à son style de battle royale, qu'Epic Games a déclaré avoir offert 100 000 000 $ de prix disponibles pour sa première année de compétition dans les tournois d'eSport.
Ce n'est donc pas une surprise qu'il ait été le sujet dominant de l'E3 2018. Diverses entreprises ont évoqué le genre et si elles avaient ou non prévu de l'inclure à leurs programmations actuelles de jeux, ou à tout jeu futur en cours de développement.
Activision, éditeur de la série à succès Call of Duty, a rapidement annoncé qu'il inclurait un mode battle royale dans la prochaine itération de la série : Call of Duty: Black Ops 4.
De plus, six minutes après le début de la couverture médiatique de l'E3, nous avons appris que Battlefield V, un jeu de tir se déroulant au cours de la Deuxième Guerre mondiale (et le plus gros concurrent de Call of Duty), comprendrait également une battle royale.
D'autres titres ont rapidement sauté sur la tendance de la battle royale et une pléthore d'annonces ont eu lieu au cours de l'E3 2018, avec des titres tels que Mavericks: Proving Grounds, Rapture Rejects et d'autres, traçant leur itinéraire vers la battle royale.
Personne ne peut nier que c'est la plus grosse tendance de 2018 pour les jeux vidéo, mais déclarer que c'est la seule serait irréfléchi. En effet, d'autres continuent à ébranler l'industrie.
La mort des coffres à butin
Pour certains, cette tendance était inévitable ; c'était écrit. D'autres ont été choqués et surpris par la nouvelle.
Les premiers signes indiquant que cette tendance prenait de l'essor était la controverse entourant Star Wars Battlefront 2, surgie suite à l'adoption des loot boxes (ou coffres à butin).
Les joueurs ont été scandalisés par la manière dont le système de « loot crate » affectait la progression. Bon nombre d'entre eux pensaient qu'il était impossible de réussir en jeu sans « faire chauffer la carte de crédit ». En conséquence, le jeu semblait s'articuler autour de l'achat de ces objets aléatoires en non pas autour des mécaniques de jeu.
Ceci a lancé un effet de domino dans toute l'industrie. Le tollé contre les développeurs prenant part à cette forme de transaction les a poussés à repenser les développements à venir et la manière dont ils prévoyaient de facturer les clients pour la création de contenu et la gestion en jeu.
De nouveau, des jeux tels que Fortnite sont le fer de lance à cet égard, prouvant que les développeurs peuvent réaliser d'énormes profits simplement en vendant, en jeu, plus de modèles de personnages et d'objets cosmétiques qui modifient l'apparence de tes personnages, mais qui ne donnent pas d'avantage intrinsèque sur les adversaires.
Fortnite, à lui seul, a déjà engrangé plus de 15 millions de dollars de revenus depuis sa sortie, prouvant que c'est un modèle commercial fiable et une tendance pérenne de l'industrie du jeu.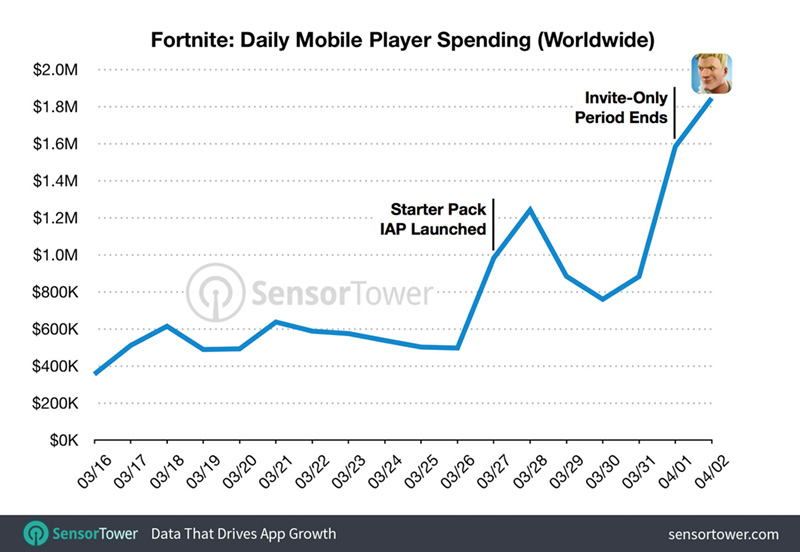 C'est également un changement imposé par de nombreuses entités gouvernementales. De plus en plus de pays commencent en effet à s'intéresser et à examiner de près l'industrie du jeu, cataloguant, ce faisant, les coffres à butin en tant que forme de jeu d'argent.
Diversité et intégration
Les développeurs et éditeurs de jeux vidéo continuent à toucher divers autres segments de la population, accueillant à bras ouverts de nouveaux clients et espérant attirer un public toujours plus large.
Cette tendance a causé l'apparition de plusieurs conflits au fil des ans, avec notamment l'émergence de la controverse du « Gamergate » qui a remodelé de nombreux aspects et tronçons du monde du jeu.
Le Gamergate a contraint plusieurs entreprises à repenser la manière dont elles fonctionnent alors qu'elles recevaient des pressions politiques et sociales, menaçant de causer du tort à leurs résultats nets ainsi qu'à leur image dans les relations publiques. Deux choses que jamais, au grand jamais, les entreprises ne veulent voir entachées.
Quel qu'ait été votre bord pendant ce débat animé, il est impossible de nier que l'industrie se dirige vers une approche plus focalisée « de diversité et d'intégration ».
Vous pouvez maintenant, par exemple, trouver des personnages ouvertement LGBT en vedette dans les jeux AAA, comme Overwatch's Tracer et Ellie de The Last of Us 2.
Mais ça ne s'arrête pas là. D'autres avancées technologiques et d'autres innovations ont été réalisées, comme par exemple la Manette Adaptative de la Xbox, créée et conçue pour les joueurs à mobilité réduite.
Autre concept innovant ayant commencé à être développé : les jeux qui se focalisent sur des problèmes plus « réels », par exemple la santé mentale.
Hellblade: Senua's Sacrifice est un de ces jeux ayant obtenu une superbe réussite, gagnant récemment cinq récompenses lors de la cérémonie des British Academy of Film and Television Arts (BAFTA), prouvant que les jeux n'ont plus à jouer la sécurité en suivant un chemin étroit et prédéfini.
Les eSports continuent à croître
Les eSports sont une tendance prenant rapidement de l'ampleur, tant chez les compétiteurs que chez les consommateurs.
C'est une tendance que j'observe depuis des années, en tant que fan et consommateur de ce contenu. Pour moi, c'était écrit. C'était un segment inexploité du marché qui allait bientôt exploser et, mazette, c'est arrivé.
Les revenus des eSports ont radicalement augmenté, passant d'une industrie récoltant 130 millions de dollars en 2012 à 655 millions de dollars en 2017. Ce qui est encore plus stupéfiant pour ceux qui n'ont pas vu le potentiel de cette industrie est la taille que ce phénomène devrait atteindre, avec une estimation prévoyant des revenus à hauteur de 906 millions de dollars à la fin de l'année 2018 et un chiffre renversant de 1,65 milliards de dollars à la fin 2021.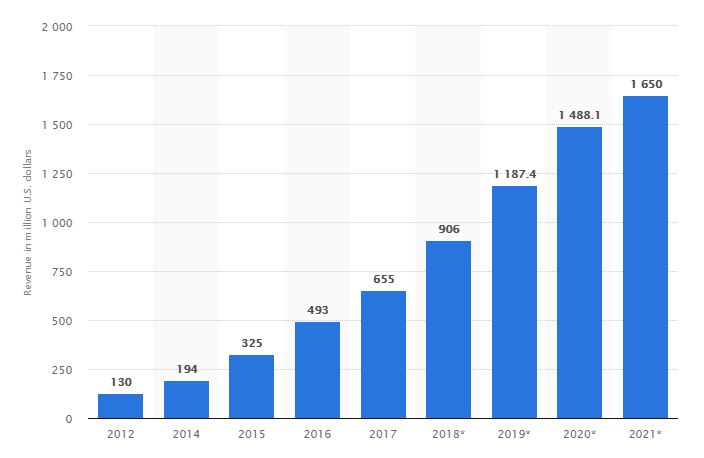 Ces gains en revenus sont étroitement liés aux études récentes suggérant que la génération Y aime regarder les eSports autant que les « vrais » sports.
Cette tendance pousse de plus en plus de segments de l'industrie du jeu vidéo à se demander s'ils devraient ou non prendre part aux eSports. Les développeurs de premier plan remettent les anciennes « normes » en cause et se demandent si les jeux tels que les MMO pourraient eux aussi devenir des eSports.
Je soupçonne fort que c'est une tendance qui ne fera que se renforcer au fil des ans, avec, au final, les eSports surpassant et dépassant l'industrie des sports « traditionnels » à mesure que les segments démographiques se déplacent.
Multiplateforme PC/mobile
Min-tendance bonus : nous constatons qu'en 2018, bon nombre de tendances du jeu vidéo bâtissent de solides fondations sur les réussites des années précédentes.
Une de ces tendances est le jeu pour mobile et le jeu multiplateforme, une innovation dont beaucoup, dans l'industrie du jeu, commencent à tirer profit.
Plus que jamais, les consommateurs veulent apporter leur technologie avec eux lorsqu'ils se déplacent à l'étranger ou lorsqu'ils quittent le confort de leurs foyers. Ils s'attendent à la même chose lorsqu'il est question de leurs jeux.
Les smartphones ont véritablement donné le ton de cette industrie. À mesure qu'ils se sont perfectionnés, la qualité de la jouabilité offerte a suivi le pas.
Les jeux qui autrefois étaient uniquement disponibles sur PC et sur les consoles de jeu, commencent à combler le fossé et se frayer un chemin sur la plateforme des mobiles.
Des jeux populaires tels que Fortnite (une fois de plus) et PUBG ont déjà conduit les joueurs sur mobile à jouer aux côtés de leurs pendants sur PC et console. The Elder Scrolls Blades, qui a récemment été annoncé au cours de l'E3 2018, est un autre exemple fascinant puisqu'il permet le jeu multiplateforme sur les appareils de réalité virtuelle mobiles, PC et consoles.
Des jeux tels que Elder Scrolls Blades prouvent le chemin parcouru par l'industrie du jeu vidéo et combien le marché du jeu pour mobile progresse à pas de géant au niveau de l'innovation, commençant à concurrencer, en qualité, la jouabilité sur PC et sur les plateformes traditionnelles.
AR contre VR
Ces dernières années, tout le monde pensait que la réalité virtuelle allait être la nouvelle chose à la mode. En 2018, il commence à être évident que la réalité augmentée est une technologie bien plus prometteuse et populaire.
Depuis quelques années, réalité augmentée et réalité virtuelle prennent de l'essor, la réalité virtuelle faisant fureur et étant annoncée comme la nouvelle vague de technologie qui va changer le monde. Ce pourrait être le cas, mais, malheureusement, nous n'y sommes pas encore.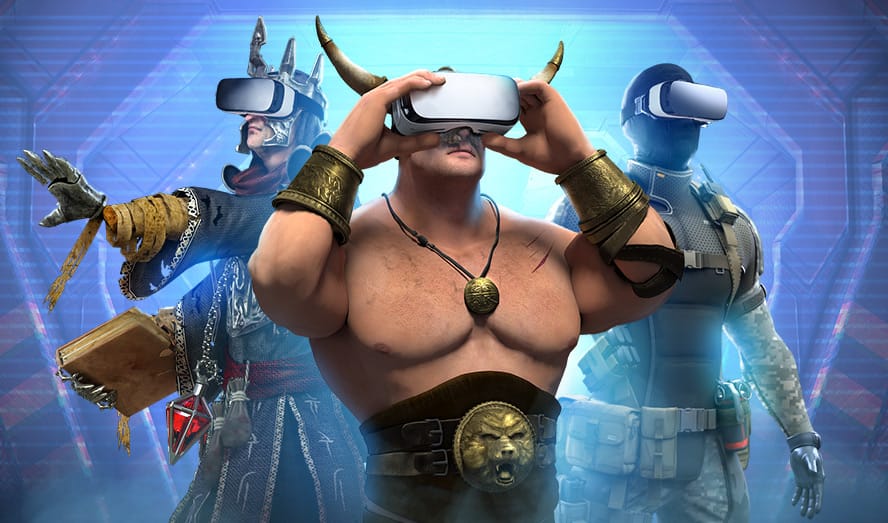 La réalité virtuelle a soulevé de nombreux problèmes qui ont ralenti sa croissance. Le plus notable étant la barrière à l'entrée. Les casques VR sont soit très chers, soit de très mauvaise qualité, ce qui est suffisant pour sérieusement rebuter et gâcher l'expérience.
La barrière à l'entrée de la réalité augmentée, une technologie qui superpose une image générée par ordinateur sur la manière dont l'utilisateur voit le monde réel, généralement depuis un smartphone ou un appareil similaire, est bien plus basse. Elle est donc plus facilement adoptée.
L'AR n'a pas besoin d'un appareil coûteux pour fonctionner. La plupart des gens en possèdent déjà un : le smartphone. Ils n'ont donc rien à dépenser de plus pour participer.
Pokemon Go est présenté comme un des jeux ayant véritablement poussé l'AR sur l'avant-scène de l'espace technologique, faisant fureur dans le monde entier avec des millions de joueurs participant à l'action en espérant les « attraper tous ».
Pokemon Go est le premier gros succès de l'AR, mais ce n'est certainement pas le dernier. En 2018 uniquement, une ribambelle de nouveaux jeux et applications AR vont débarquer sur le marché ; certains sont déjà disponibles.
Des jeux tels que The Machines, ARZombi, AR Dragon et ARise ne sont que quelques-uns des plus attendus.
La croissance de l'industrie du jeu en Chine
Même si, généralement, la culture occidentale ne l'aborde pas, dans l'ensemble, l'industrie du jeu chinoise est une tendance qu'il faut noter.
La Chine a surpassé toutes les autres nations en tant que principal générateur de revenus dans l'industrie du jeu. En 2017, à elle seule, la Chine a produit un quart de toutes les recettes internationales de jeu. Sans surprise, cela oblige les experts occidentaux de l'industrie à en prendre acte.
Tencent est désormais la plus grosse entreprise de jeu au monde avec un chiffre époustouflant de 12 701 000 000 $ de revenus.
C'est encore plus choquant lorsqu'on le compare à une entreprise plus traditionnelle de l'industrie du jeu vidéo, comme Nintendo, ayant des revenus à hauteur de 1 879 000 000 $.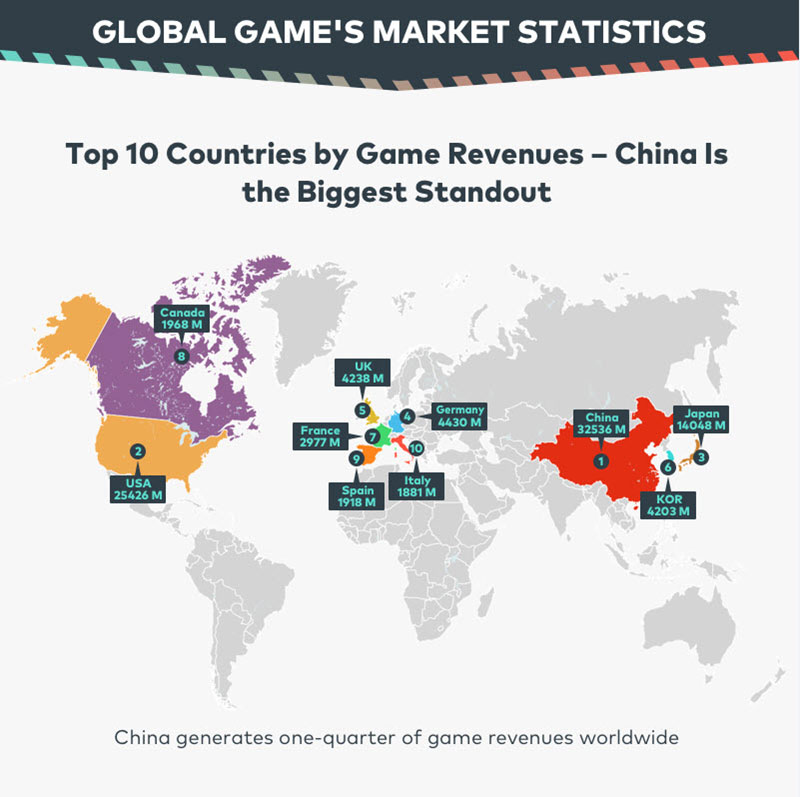 De nouveau, le principal mécène de cette croissance a été le marché pour mobile, que la Chine a étreint à bras ouverts. Les smartphones ont prospéré et se trouvent désormais dans les mains d'une énorme population dont un large pourcentage peut réaliser des microtransactions dans différents jeux.
Pour conclure
Il reste à voir laquelle de ces tendances marchera comme prévu et laquelle se tarira, mais pour le moment elles ont toutes, à divers degrés, un effet sur l'industrie du jeu vidéo.
Pour boucler la boucle, il est impossible de trop insister sur l'effet que Fortnite et son style de jeu en battle royale ont eu sur le marché.
Il n'est pas surprenant que tous les YouTubers que nous avons interrogés à propos de jeu en 2018 aient mentionné le jeu. Il a eu un impact vraiment énorme sur ces 7 plus grosses tendances du jeu vidéo en 2018.
Il sera intéressant de voir comment elles s'en sortent à mesure que nous avançons dans l'année et que nous nous dirigeons vers le prochain niveau de nos vies : 2019.
Raid: Shadow Legends
Récupère + de 400 Champions et décroche la gloire