Los juegos de cross-play deben convertirse en estándar de la industria

Imagina un mundo en el que no existen las rigurosas (y a menudo dañinas) fronteras entre los jugadores de todas las plataformas.
Este es el objetivo hacia el que trabajan algunos de los desarrolladores y productores de juegos de la actualidad.
Puede que a algunos este mundo ideal les parezca absurdo: con el intento de unir plataformas y multitudes tan diferentes se podría perjudicar a la comunidad de los videojuegos en general.
Pero estas opiniones quedan acalladas entre los gritos de la mayoría de los jugadores que demandan una experiencia de juego abierta y sin barreras artificiales.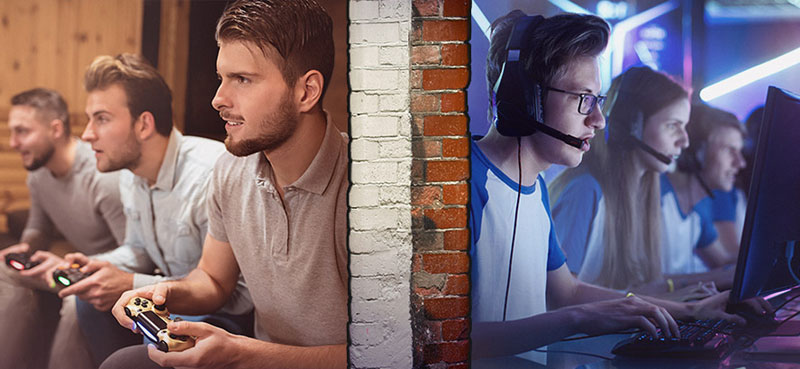 Existen pruebas palpables que indican que el desarrollo de la industria del juego iría en esta dirección, dado que los títulos de juego cruzado están alcanzando un nivel completamente nuevo tanto en consolas como en móviles.
¿Qué es el juego cruzado y por qué es importante?
En pocas palabras, los juegos de cross-play, o juego cruzado, son títulos que permiten a los jugadores jugar en diferentes plataformas o dispositivos al mismo tiempo.
Es, por ejemplo, un juego que permite a los jugadores de PC jugar en los mismos servidores de los jugadores de Xbox One, o que los jugadores de PlayStation 4 jueguen con los de PS Vita.
En muchos casos, los juegos multijugador multiplataforma permanecerán dentro del dominio de su respectivo editor. Por ejemplo, algunos juegos de la serie Monster Hunter eran juegos cross-play, pero únicamente entre las plataformas de Nintendo: 3DS, Wii U y Switch.
Todavía no existen muchos ejemplos de títulos multijugador de juego cruzado, pero su número está aumentando lentamente.
Es natural que las características del juego-cruzado estén en aumento, ya que los títulos AAA se publican en la mayoría de las principales plataformas desde hace muchos años. A medida que el hardware continúa mejorando, también lo hace la arquitectura de la consola, que cada vez se acerca mas a la del PC, reforzando con ello las conexiones entre todas las plataformas.
Como en la actualidad hay tantos jugadores que juegan a los mismos juegos, muchos creen que deberían poder ocupar las mismas redes en línea. En otras palabras: la gente debería tener la posibilidad de jugar a juegos en línea con sus amigos, independientemente de la plataforma.
¿Y por qué deberían poder hacerlo? Los lenguajes de scripting, las bibliotecas de software y los motores de juegos han alcanzado un nivel de desarrollo y sofisticación en el que los detalles específicos de la plataforma pueden ser contabilizados de manera efectiva y optimizados de forma adecuada.
Entonces, ¿qué impide que el juego cruzado se convierta en un estándar en la industria de los videojuegos?
Los obstáculos que se interponen en el desarrollo de los juegos multiplataforma
Una cultura de juego dividida
No es ningún secreto que existe mucha rivalidad entre las plataformas populares y sus fieles seguidores.
Términos como "raza superior del PC" y "populacho de la consola" (el primero es como muchos jugadores de PC se denominan a sí mismos, mientras que el último es un insulto degradante para aquellos que juegan en la consola) se emplean con frecuencia en foros y e hilos de Reddit. Resulta irónico puesto que estos términos son lo contrario a PC (Políticamente Correctos).
Obviamente, pocos jugadores de PC lo dicen con ánimo de herir y ofender, pero todavía hay quienes se niegan rotundamente a tener algo que ver con los jugadores de consola, creyendo que ellos y sus plataformas están por debajo de sus sistemas superiores.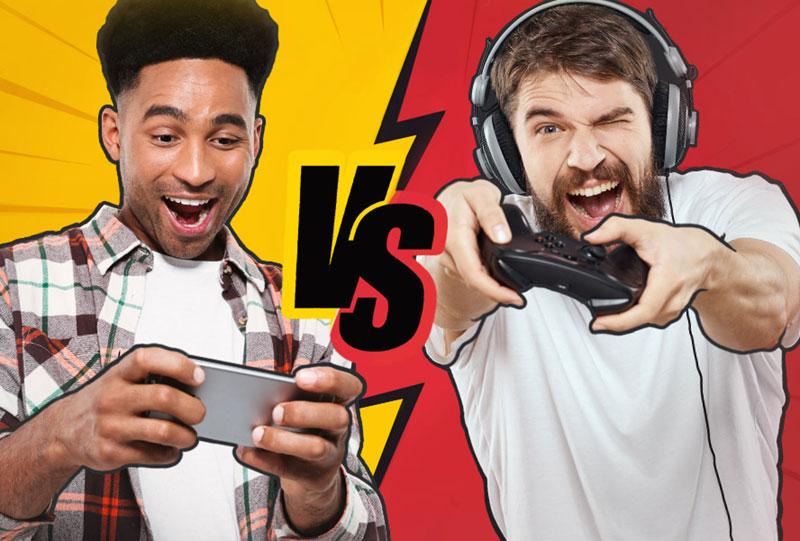 Y no son solo los fans del PC los que tienen esa opinión separatista. Muchos aficionados de la PlayStation y la Xbox también demuestran cierta falta de respeto hacia sus homólogos del PC. Son muchos los que piensan que los jugadores de PC son demasiado exagerados tanto con su actitud como con sus acciones.
Lo mismo se puede decir de lo "hardcore" que les parecen aquellos que juegan principalmente en dispositivos móviles. La frase "filthy casual" a menudo se emplea para referirse despectivamente a los jugadores en dispositivos móviles, haciendo referencia a que dominar la mayoría de los juegos móviles no requiere de habilidades especiales.
Tal división cultural puede obstaculizar la unión de los juegos multiplataforma. Hay quienes sencillamente no quieren abrir las fronteras entre sus dominios y compartir una partida con otros jugadores de otras plataformas que consideran inferiores.
Limitaciones técnicas
Se trata de una cuestión más práctica y no tiene nada que ver con los juegos ni con los jugadores.
No cabe duda de que existen muchas diferencias entre un combo de mouse y teclado y un mando, y en muchos casos, desde luego, no tiene sentido emparejar unos sistemas de control tan diferentes entre sí.
En el caso de los FPS, un ratón y un teclado proporcionan una ligera ventaja sobre un mando. El ratón ofrece un nivel mucho más alto de sensibilidad y precisión que un mando analógico, con lo que muchos jugadores de consola no podrían seguir el ritmo de los jugadores de PC.
Por supuesto, los defensores del juego cruzado desarrollan potenciadores de puntería para los FPS, pero esto tampoco parece resolver el problema. Al contrario, esta sería la base de las acusaciones de los jugadores indignados que aseguran que "te dispararon primero".
Por otra parte, existen limitaciones del servidor causadas por las capacidades de hardware, en las que la versión de PlayStation 4 de un juego, por ejemplo, restringe la cantidad de personas que pueden unirse a una partida en línea, haciendo imposible respaldar el juego cruzado.
Por último, los jugadores de consola no tendrán frecuencias de imagen tan altas o un rendimiento tan rápido en general como los ordenadores de más alta gama. Esto sin duda les da a los jugadores de PC una ventaja significativa puesto que sus juegos se ejecutan de forma más fluida y rápida.
El siguiente nivel de cooperación
A pesar de estas limitaciones, en las cuales trabajan sin descanso los defensores del juego cruzado, sigue existiendo mucha gente que aún desea desesperadamente jugar a sus juegos favoritos con sus amigos en todas las plataformas.
Hubo un tiempo en que la pantalla dividida era la herramienta preferida para juegos multijugador en consolas, antes de la llegada de las líneas de internet de alta velocidad. Aunque existen nuevos e increíbles niveles de juego en línea, demasiadas personas echan de menos la interacción física del pasado.
Poder jugar a algo como Sea of Thieves con un amigo o familiar en la misma habitación, mientras una persona juega en un PC y la otra en una Xbox One, reavivará este sentimiento de unidad.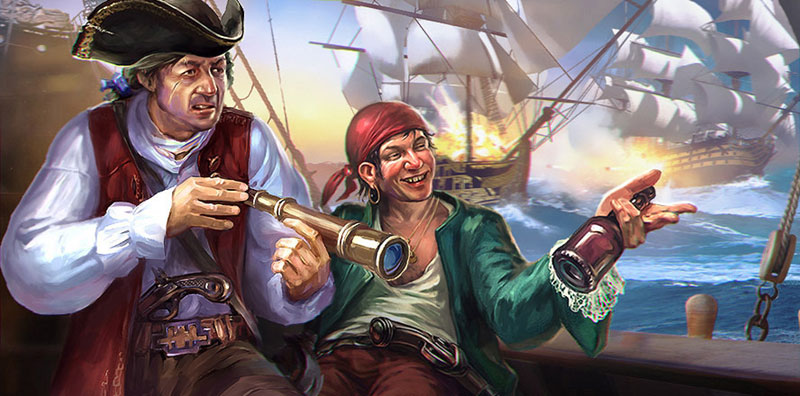 La gente quiere jugar junto a otras personas, y los elitistas que resisten son pocos y distantes entre sí, en comparación con la mayoría de los individuos amigables a los que les encantaría poner a prueba su temple contra los jugadores de otros medios.
Existen numerosos juegos cooperativos a los que muchos desearían poder jugar con otros, pero no les es posible debido a la falta de apoyo al juego cruzado. Cuando se trata de los mejores juegos en línea para jugar con amigos, es una lástima que las personas no puedan unirse debido a limitaciones técnicas.
Esta necesidad es lo que mucha gente cree que impulsará a los desarrolladores a superar los inconvenientes mencionados. Como las consolas se vuelven cada vez más potentes y los mandos más sofisticados, es probable que pronto veamos plataformas futuras, como Xbox Two y PlayStation 5, capaces de igualar el poder de los PC de alta gama.
Este equilibrio entre potencia y capacidad finalmente dará como resultado la nivelación del campo de juego que se necesita para llevar el juego cruzado a las masas. Cuando los jugadores de todas las plataformas puedan interactuar libremente entre sí, entonces quizás las fronteras entre el PC, la consola y los dispositivos móviles finalmente caigan.
Los juegos cruzados multijugador logran unir a las personas
Para deleite de innumerables personas en todo el mundo, Sea of Thieves es uno de los mejores ejemplos de nuevos juegos cruzados. En la legendaria epopeya de piratas de Rare pueden jugar simultáneamente usuarios de PC en Windows 10, Xbox One y Xbox One X.
A mediados de 2016, Ted Timmins, líder de diseño de PC de Rare, y Joe Neate, productor ejecutivo, anunciaron con entusiasmo en un vídeo sobre las características de Sea of Thieves que el cross-play sería una característica de su próximo MMO de aventuras.
Obviamente, desde entonces, tal promesa fue algo en lo que muchos jugadores se mostraron sinceramente interesados, con la esperanza de que el título ofrecería una experiencia estable y equilibrada de juego cruzado que revolucionaría esta funcionalidad innovadora.
De acuerdo con un artículo sobre cross-play en el sitio oficial Sea of Thieves, los desarrolladores se preguntaron "¿Por qué en tenemos que segregar a los jugadores?"
Se trata de una cuestión importante. No hay una razón real para dividir a la comunidad del juego, especialmente con la nueva iniciativa de Microsoft "Play Anywhere". Este paso verdaderamente maravilloso hacia la unificación de la comunidad de jugadores te permite jugar a todos los juegos compatibles de Xbox One en cualquier PC con Windows 10 (y viceversa).
Los jugadores han informado de que el juego cruzado experimentado en Sea of Thieves les hace sentir como si estuvieran jugando en el mismo dispositivo. Tal interacción sin fronteras ha derribado los muros entre la Xbox One y el PC, al menos durante el juego.
Los desarrolladores de juegos también han comprendido el poder del móvil en lo que se refiere al juego cruzado en línea. Solo hace falta echar un vistazo al enormemente popular juego de Epic Games, el Fortnite Battle Royale. Gran parte de su popularidad se puede atribuir a las versiones recientes del juego para iOS y Android que permiten el juego multiplataforma con PC y consolas.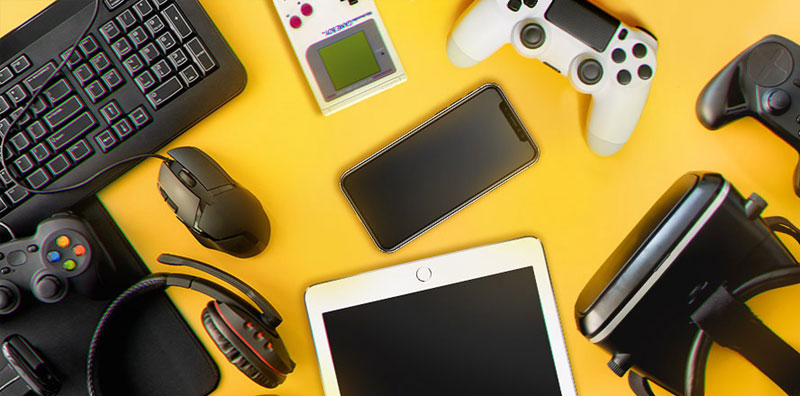 Desde el 12 de marzo, los jugadores de PS4 han podido jugar con los jugadores de Mac, iOS y PC. Los jugadores de Xbox One también pueden jugar con los jugadores de iOS, Mac y PC, pero por el momento, los jugadores de Xbox One y PS4 todavía no pueden luchar entre si.
Epic podría superar tales barreras entre el juego cruzado de PS4 y Xbox One si no fuera por las restricciones impuestas por la Ley de Metcalfe. Irónicamente, tener más usuarios conectados a las redes aumenta su valor, por lo que esas barreras superficiales lo único que logran es restringir todo el potencial de los juegos en línea en general.
Los desarrolladores se están esforzando enormemente para superar tales restricciones, proporcionando una experiencia de juego que trasciende casi todas las barreras del juego cruzado, y que permite una experiencia de juego unificada donde casi todo el mundo puede jugar.
Por qué Sony no admite el juego cruzado
Si bien Microsoft se mantiene firme en ayudar a que el juego cruzado se convierta en realidad en nuestra vida, su principal competidor en el mercado de consolas no parece estar tan entusiasmado con esta idea.
En pocas palabras, Sony cree que no se verá beneficiado con el juego cruzado. De hecho, un cambio tan radical podría resultar muy perjudicial económicamente para las grandes compañías que dependen de juegos exclusivos para vender las propias consolas. La PlayStation 4 disfruta mucho de su apasionada base de seguidores y ha utilizado sus populares títulos exclusivos para convertirse en la consola más importante de esta generación.
Este estatus permite a Sony reclutar a un sinnúmero de jugadores nuevos que estén interesados en unirse a la escena multijugador más popular entre las consolas. Resulta evidente que el enfoque del juego cruzado sacudiría seriamente la posición y el atractivo de la PS4.
Muchos consideran que esta resistencia va en contra del consumidor en diseño, y con la apasionada campaña por el juego cruzado que han lanzado empresas como Epic Games, las cuales están obteniendo un seguimiento masivo, no son pocos los que opinan que pronto hasta Sony "se rendirá" y unirá esfuerzos para lograr que los jugadores de todas las comunidades se unan.
Conclusión
Los juegos recientes han brindado una contribución inestimable al desarrollo y la progresión del juego cruzado. Sólo se necesitan unos pocos títulos que puedan unir correcta, segura y razonablemente múltiples plataformas para convencer a la industria del juego de que la funcionalidad del juego cruzado puede convertirse rápidamente en una empresa fiable, agradable y altamente rentable.
Hay mucho que ganar con la integración del cross-play, y muchas empresas líderes en la industria son ya conscientes de ello. Las limitaciones técnicas terminarán por superarse y se logrará un ámbito equilibrado y honesto de juego unificado mediante la cooperación.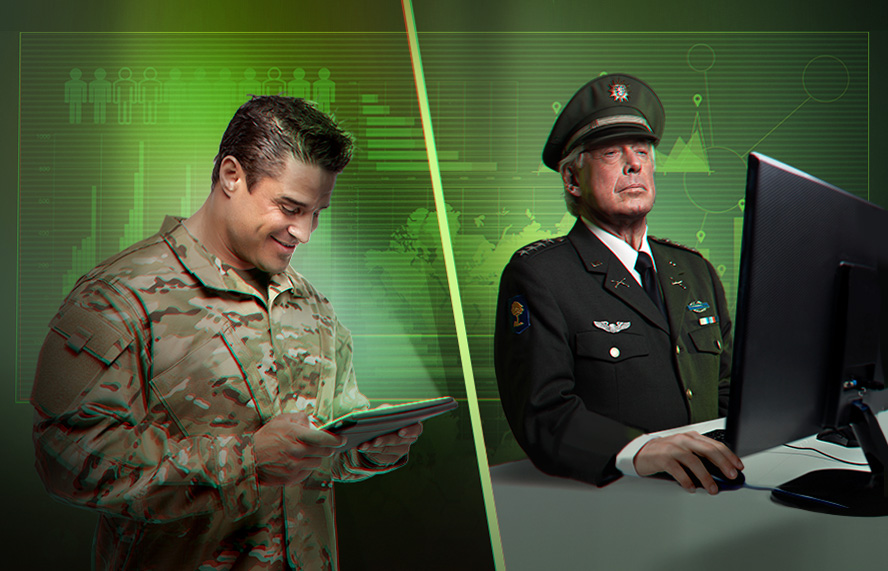 No se trata sólo de que los jugadores puedan jugar juntos en todas las plataformas; es un nuevo nivel de cooperación entre los gigantes de la industria del juego. Por primera vez, todas las mentes más brillantes y talentosas en el desarrollo y la dirección de los juegos trabajarán juntas.
Si Microsoft mantiene su entusiasmo y Sony se une a la marcha del progreso, sin duda veremos un renacimiento del juego en el que las divisiones técnicas y culturales y las limitaciones entre las plataformas comienzan a difuminarse.
Veremos un estándar de juego que no imaginábamos que fuera posible, donde unos medios ingeniosamente completos para la experiencia multijugador se han renovado a niveles increíbles. Pensar en ello resulta enormemente inspirador, así que solo nos queda esperar y ver cómo funcionará este sector de los juegos en el futuro.
Raid: Shadow Legends
Colecciona 400+ Campeones y lucha por la gloria