Worauf wir hinaus wollen: Keine Liste der besten MMORPG 2022 wäre komplett, ohne World of Warcraft zu nennen.
Damals hat das Spiel das Genre weitreichend beeinflusst und viel zugänglicher auch für Casual Gamer gemacht - ohne aber an Tiefe und Taktik zu verlieren.
Ursprünglich als Nachfolger der Warcraft RTS Serie gedacht, steuerte Blizzard die IP nach dem Launch von Warcraft 2 im Jahr 2002 in eine ganz neue Richtung und World of Warcraft wurde schnell zum globalen Phänomen.
Mit Erweiterungen wie Wrath of the Lich King (2008), zementierte Blizzard das Game als Platzhirsch des Genres.
Heute ist WoW vielleicht nicht mehr ganz so populär wie noch vor zehn Jahren. Aber wenn du zu den Leuten gehörst, die sich fragen: Was ist ein RPG Game?, dann ist ist World of Warcraft ein super Einstieg für dich.
Du siehst: Wenn du ein MMORPG 2022 PC spielen willst, dann bist du beim Branchen-Primus genau richtig.
MMORPG 2022 Nummer 2: Final Fantasy 14
Release Date: 2010 und 2013
Preis: Free to Play bis Level 60. 20 Euro für die Starter Edition, 60 Euro für die Complete Edition. Monatlich 15 Euro Abo-Gebühren.
Entwickler: Square Enix
Welche Liste von MMORPG 2022 wäre komplett, ohne Final Fantasy zu nennen?
Mit Final Fantasy 14 wagte Entwickler Square Enix sich im Jahr 2010 ins Reich der MMORPGs vor.
Und das zunächst wenig erfolgreich: Das Base-Spiel war limitiert, wies eine schlechte Performance auf und ignorierte viele Lektionen, die Entwickler davor eigentlich schon lange gelernt hatten.
Der Release war ein solch kompletter Fehlschlag, dass Square Enix den Titel vom Netz nahm.
Nachdem Final Fantasy 14 zunächst wieder offline war, ging das Team zurück ans Zeichenbrett und überarbeitete das Game grundlegend.
Das Ergebnis war Final Fantasy 14: A Realm Reborn, das 2013 an den Start ging und nicht nur ein gutes MMO war, sondern sogar Gamer weltweit begeisterte.
Du suchst nach New MMORPG 2022? Schau dir Final Fantasy 14 an!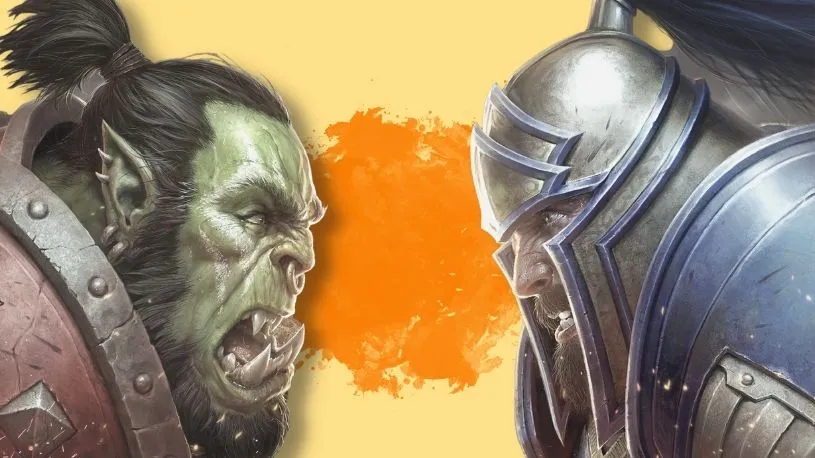 Im Game kannst du dir dein bevorzugtes Final Fantasy Volk aussuchen, dir einen personalisierten Avatar erstellen und die Welt der bekannten Serie unsicher machen.
Ob Weißer Magier, Rot-Magier oder Dragoon - für jeden Fan ist die passende Spielfigur dabei. Square Enix schaffte es, das Spiel nach dem Re-Launch stetig zu verbessern und so eine immer größere Zahl an Gamern vor den Bildschirm zu fesseln.
Wenn du nach MMORPG 2022 PC Games suchst, bist du bei FF14 genau richtig! Auch beim Stichwort beste Story Spiele kann Final Fantasy auftrumpfen: Der Titel wartet mit einem starken Story-Fokus auf, die packende Hauptgeschichte wird mit jeder Erweiterung weiter gesponnen.
Mit dem Release von Endwalker hat FF14 World of Warcraft als das beliebteste MMORPG 2022 beerbt.
MMORPG 2022 Nummer 3: Old School RuneScape
Release Date: 2013
Preis: Kostenlos
Entwickler: Jagex
Gutes MMORPG 2022 PC gefällig? Bei RuneScape sammelst du Ausrüstung, kämpfst gegen Monster, kaufst in Shops ein und kannst in eine geniale Spielwelt eintauchen. Das Spiel ist für alle Gamer geeignet.
Um die Jahrtausendwende herum konnten nur wenige Computer komplexe Spiele und Grafiken darstellen.
Die Lösung für dieses Problem kam in Form von Web Games, die simpel genug waren, um auf beinahe jeder Maschine zu laufen.
Manche, so wie das originale RuneScape, ließen Spieler sogar richtige MMO Spiele direkt im Browser spielen!
Zu Beginn war RuneScape noch ziemlich limitiert, doch diese Begrenzungen wurden mit jedem Update weiter behoben.
Nach einer Vielzahl an Fixes befürchteten manche Spieler aber, dass RuneScape seinen Charme einbüßen konnte.
Daraufhin veröffentlichte der Entwickler die "Old School" Version des Titels. Diese behielt den alten Look des Original-Spiels, paarte sie aber mit besserer Performance und einigen Quality of Life Verbesserungen. Auf einer MMORPG 2022 Liste darf das Game auf keinen Fall fehlen.
MMORPG 2022 Nummer 4: New World
Release Date: September 2021
Preis: 30 Euro, kein Abo nötig
Entwickler: Amazon Games Orange County
Das nächste MMORPG 2022: New World kam erst Ende letzten Jahres auf den Markt und gehört daher zur Gruppe neue MMORPG 2022.
New World spielt auf einer fiktiven Insel mitten im Atlantik und zielt auf einen äußerst realistischen Look: Du fühlst dich wie ein echter Entdecker, setzt erstmals Fuß in unerforschte Territorien und musst dich mit einer Reihe von Gefahren auseinander setzen. New World gehört definitiv zu den größten Hits der letzten Monate.
Im Laufe des Spiels musst du gegen reale und mystische Tiere und Bestien kämpfen, dein Level erhöhen und deine Ausrüstung upgraden.
Aber auch der Survival Aspekt kommt nicht zu kurz: Baue dir einen Unterschlupf und mach dir die Natur zum Untertanen! Und vielleicht entdeckst du sogar einige Dinge, die gar nicht so natürlich sind…
Jeder Spieler ist dabei in einem Kampf von drei mächtigen Fraktionen gefangen, welche die Vorherrschaft über die Insel erlangen möchten.
New World überzeugt dabei vor allem durch seinen Fokus auf die Community. Selbst wenn du dich nicht um das Wohl deiner Fraktion sorgst, ist der Gemeinschafts-Aspekt trotzdem belohnend.
Wenn du Spiele für Langeweile suchst, könnte New World dir sehr gelegen kommen.
MMORPG 2022 Nummer 5: Guild Wars 2
Release Date: 2012
Preis: Gratis (beim Basis Spiel), 30 Euro für neuere Expansions. Keine Abo-Gebühren
Entwickler: ArenaNet
Das erste Guild Wars war damals eine Revolution für das Genre: Es war in Sachen Gameplay viel aktiver als andere Spiele am PC und ging auch ganz neue Wege in Bereichen wie den verfügbaren Klassen.
2012 integrierte Entwickler ArenaNet die guten Aspekte des ersten Teils in den Nachfolger Guild Wars 2 und kombinierte diese mit einer breiten Auswahl weiterer Stärken, sodass GW2 auf jeden Fall ein Anwärter auf den Titel Best MMORGP 2022 ist.
Das Game spielt im Land Tyria und beschreibt die Rückkehr der fünf Elder Dragons, einer furchterregenden Drachen-Art, die das Land bereits oft in tiefe Katastrophen gestürzt hat.
Um diese Bedrohung zu besiegen, müssen die verschiedenen Völker und Gilden von Tyria sich zusammen tun und gemeinsam um ihr Überleben kämpfen. Schaffst du es, die Elder Drachen zu besiegen?
Guild Wars 2 gehört auch deswegen zu den erwähnenswerten MMORPG 2022, weil es eine lebendige Geschichte erzählt.
Im Lauf der Zeit kamen viele wichtige Story-Elemente hinzu und einige Plot-Twists hatten sogar schon sichtbare Auswirkungen auf die Spielwelt: Manchmal kommen neue Gebiete dazu, ein anderes Mal werden Areale der Spielwelt aber auch nach heftigen Kämpfen zerstört.
Da Guild Wars 2 kein monatliches Abo benötigt, gehört es im Bereich MMORPG Mittelalter und Fantasy zu den am leichtesten zugänglichen Games. Wenn du nach den best MMORPG 2022 suchst, solltest du deinen Blick mal auf diesen Titel richten!
MMORPG 2022 Nummer 6: Starbase
Release Date: Juli 2021
Preis: ca. 25 Euro, kein Abo nötig
Entwickler: Frozenbyte
2021 wurde Starbase endlich als Early Access für Gamer verfügbar und konnte sich schnell als einer der Toptreffer beim Thema neue MMORPG 2022 etablieren.
Denn obwohl der offizielle Launch des Spiels noch bevorsteht, fesselt Starbase schon jetzt eine große Zahl an Fans vor die Bildschirme.
Was Starbase so besonders macht? Es ist eines der ersten MMORPG 2022, die es erfolgreich geschafft haben, den Weltraum als Spielwiese attraktiv zu machen.
Zwar ist das Weltall für MMOs eigentlich eine natürliche Umgebung. Doch bislang scheiterten viele Versuche eines Sci-Fi Vertreters des Genres kläglich, so wie etwa Star Citizen.
Starbase geht aber neue Wege: Du spielst einen humanoiden Roboter als deinen Player Character.
Alleine oder gemeinsam mit Freunden sammelst du Materialien, fertigst Waffen und Raumschiffe und verfolgst dein Ziel, dir eine echte Home-Base zu errichten und dauerhaft deine Zelte aufzuschlagen.
Da es bei Starbase sowohl Kämpfe, als auch Weltraumflüge, Mining und eine unvorstellbar große Spielwelt gibt, kannst du es getrost als einen der besten Vertreter der MMORPG 2022 sehen. Und das, obwohl das Game noch in der Early Access Phase ist!
Der Gamer Sprache mächtig sein solltest du aber schon, um Starbase aktuell zu zocken. Immerhin tummeln sich in der Early Access Version allem die Hardcore Gamer auf den Servern! Das sollte sich aber schon bald ändern.
Release Date: 2014
Preis: Free to Play über 23 Bereiche. 40 Euro für die neueren Erweiterungen. Dazu 15 Euro Abo-Preis pro Monat
Entwickler: ZeniMax Online Studios
The Elder Scrolls gehört ohne Zweifel zu den bekanntesten Gaming-Serien weltweit.
Morrowind, Oblivion und Skyrim waren allesamt durchschlagende Erfolge und mit TES: Online hat Entwickler ZeniMax eine zweite Zeitrechnung im Reich Tamriel anbrechen lassen.
The Elder Scrolls Online nimmt das moderne Gameplay-Gerüst von Skyrim und bastelt daraus eines der besten MMORPG 2022. Wenn du dich schon einmal gefragt hast, "wie wird man Spieletester?", dann hast du das vielleicht getan, weil du Games wie Skyrim und Oblivion testen wolltest.
Auf typische Elder Scrolls Art fängst du das Spiel als Gefangener an, erstellst deinen Charakter und wählst dein Volk: Willst du ein robuster Nord sein? Ein brutaler Drachenritter der Orks? Oder lieber ein leise schleichender Khajit? TES Online gibt Spielern von Anfang an sehr viele Freiheiten.
Warum das Game zu den besten MMORPG 2022 gehört?
Vielleicht deswegen, weil es beim World Building ungeschlagen ist und dir eine gewaltige Spielwelt bietet, welche die Welten fast aller bisher erschienene Elder Scrolls Games bis ins Detail nachbildet. Oder weil es ein geniales Kampfsystem hat. Oder weil Geschichte und Lore von Elder Scrolls weltweit bekannt sind. Es gibt viele Gründe!
Auch bei den New MMORPG 2022 gehört The Elder Scrolls Online zu den besten Vertretern. Denn auch für die nahe Zukunft sind noch mehrere Erweiterungen geplant.
Spätestens wenn Teil Sechs der Serie in einigen Jahren für PC und Konsole erscheint, wird es mit Sicherheit auch für TES Online wieder einen neuen Schub an Content und Aufmerksamkeit geben.
Wenn du ein MMORPG 2022 mit hoher Qualität suchst, dann gib TES Online unbedingt eine Chance!
MMORPG 2022 Nummer 8: Eve Online
Release Date: 2003
Preis Kostenlose
Entwickler: CCP Games
Eve Online gehört zu den älteren Spielen in unserer Auswahl, sollte aber im Rahmen von MMORPG 2022 Titeln unbedingt erwähnt werden.
Denn Eve hat sich in der Community einen fast schon legendären Status erarbeitet - und das vollkommen zurecht!
21.000 Jahre in der Zukunft lebt die Menschheit im Universum EO und hat ihre Wurzeln auf der Erde schon lange vergessen.
In mehr als 5.000 Sternsystemen tragen viele verschiedene Stämme ihre Kämpfe aus, die scheinbar niemals enden wollen.
Der Gameplay Loop von Eve Online macht es zu einem der spannendsten MMORPG 2022: Du steuerst dein Raumschiff und musst dafür sorgen, dass dein finanzieller Status sich verbessert.
Damit zählt Eve Online auch teilweise zu den Strategie Spiele PC Games, die es sich anzuschauen lohnt. Denn zu Beginn ist dein Raumschiff noch klein, du musst also expandieren.
Es gibt viele Player-Fraktionen im Spiel, die sich alle gegenseitig bekämpfen.
Auch wenn du Spiele für den Mac suchst, bist du bei Eve Online richtig, denn der Titel ist auch für Apples bekanntes Betriebssystem verfügbar und kann Plattform-übergreifend gespielt werden.
Ein besonderer Reiz bei Eve Online liegt darin, dass die In-Game Währung einen realen Gegenwert hat: Im berühmten Massaker bei M2-XFE etwa wurden unvorstellbare 378.012 US-Dollar zu Weltraumschrott verramscht! Für Hardcore Gamer definitiv ein gutes MMORPG 2022!
MMORPG 2022 Nummer 9: Star Wars: The Old Republic
Release Date: 2011
Preis: Free to Play bis Level 60. 15 Euro monatlicher Abo-Preis
Entwickler: BioWare Austin
Wenn du nach New MMORPG 2022 suchst, ist Star Wars: The Old Republic natürlich nicht der erste Treffer. Aber Mann, hat es das Spiel auch zehn Jahre nach seinem Release noch in sich!
Nachdem Star Wars Galaxies 2003 zunächst enttäuscht hatte, waren die Gamer skeptisch was The Old Republic anging.
Doch als der Titel 2011 erschien, wurde schnell klar, dass es sich hier um eines der besten Online Games überhaupt handelt - und auch beim Thema MMORPG 2022 ist SW: TOR vorne mit dabei!
Du schlüpfst in die Rolle eines Jedi, Troopers, Kopfgeldjägers, Schmugglers oder von vielen weiteren Figuren und machst dann das Star Wars Universum unsicher.
In typischer BioWare-Fashion kommen dazu noch moralische Entscheidungen und geniales Gameplay.
Durch die packende Spielwelt, die genialen Charakter, die grandiose Musik und natürlich das unvergleichliche Star Wars Feeling kommen auch heute bei Gamern noch Glücksgefühle auf, wenn sie sich in die Welt von TOR begeben.
Und das Beste: Das Game wurde im Laufe der Zeit immer wieder angepasst, wodurch es auch mehr als zehn Jahre nach seinem Erscheinen noch topmodern wirkt und auch mit neuen Vertretern des Genres ohne Probleme mithalten kann. Lass dir das als Fan von MMORPGs nicht entgehen!
Doch nicht nur beim Thema Gameplay und Spielwelt, auch im Bereich der Erweiterungen und des DLCs ging TOR nach seinem Erscheinen neue Wege.
Damals fragten vielen Spieler sich noch: Was ist DLC eigentlich? Durch das Game erfuhren sie es. Ein Jahrzehnt später hat das Spiel seine Langlebigkeit unter Beweis gestellt - definitiv eines der packendsten MMORPG 2022, das du nicht verpassen solltest.
MMORPG 2022 Nummer 10: Swords of Legends Online
Release Date: Juli 2021
Preis: 40 Euro. Keine Abo-Gebühren
Entwickler: Aurogon
Für den westlichen Markt sah es so aus, als würde Swords of Legends Online aus dem Nichts kommen.
Doch tatsächlich basiert der Titel auf einer im Jahr 2014 in China erschienenen Fernsehserie namens Swords of Legends und diese wiederum basiert auf einem schon 2010 erschienenen chinesischen Videospiel namens GuJian.
Soviel zur Historie, aber wieso gehört Swords of Legends Online zu den MMORPG 2022, die du gespielt haben solltest? Ganz einfach: Das Game entführt dich in die Welt der Tang Dynastie und folgt der Geschichte von sagenumwobenen Schwertern, die versiegelt und versteckt wurden, um unschuldige Leben zu schützen.
Für dich als Spieler bedeutet das, dass du Waffen sammeln, weitläufige Landschaften erkunden und das Böse besiegen musst.
Ein weiterer Grund, warum Swords of Legends Online unter den MMORPG 2022 erwähnt werden muss, ist die Abwechslung beim Gameplay: SOLO ist ein schnelles, Action-basiertes Spiel und viel mehr als andere MMOs auf gute Reflexe ausgelegt.
Außerdem erhältst du hier ein sehr solides Wohnsystem: Du kannst deine Basis also im Detail ausschmücken und selbst gestalten.
Das versuchen zwar auch andere Spiele wie etwa Final Fantasy 14, doch bei SOLO ist der Aspekt am besten gelungen, da hier jeder Spieler sein eigenes Zuhause erhält.
Einziger Wermutstropfen des Games: Die Übersetzung ist manchmal nicht so ganz gelungen, wobei aber der Original-Dub auf chinesisch teilweise Abhilfe schafft.
Mit den hier vorgestellten MMORPG 2022 Games kommen Spieler jeder Art auf ihre Kosten.
Wenn du nach einem Top MMO suchst und dich am besten für hunderte von Stunden in einer genialen Spielwelt verlieren willst, dann bist du bei den hier vorgestellten Games genau an der richtigen Adresse!
Melde dich an, erstelle deinen ganz individuellen Charakter und genieße die Welt der besten MMORPG 2022!