Prime 7 Tendenze nei Videogiochi del 2018: Battle Royale, Diversità e la Fine delle Loot Box

L'industria dei videogiochi è in continua evoluzione e trasformazione. E tuttavia, sotto molti aspetti, resta comunque uguale a sé stessa.
Ogni anno, vediamo nuovi sviluppi, nuove tecnologie ed innovazioni che catturano la nostra immaginazione. Gli influencer dell'industria e i trend setter delle comunità guidano la carica mandando in frantumi le vecchie norme e dando spazio a quelle nuove.
Di norma, i cambiamenti tendono a prendere forma con una certa lentezza, tuttavia, esistono anni in cui l'evoluzione appare talmente rapida da consentirci di intuire i cambi di direzione dell'industria ludica.
Se il 2018 sarà o no uno di questi anni è una questione di prospettiva ma, indubbiamente, stanno per verificarsi dei cambiamenti epocali.
Qual è l'Opinione dei Giocatori sul 2018
Plarium, per ovvie ragioni, segue con vivo interesse le tendenze in continua evoluzione in grado di plasmare questo mercato. Seguiamo sempre da vicino e ci proponiamo di studiare gli ultimi sviluppi che hanno interessato il settore dei giochi.
L'anno scorso, ci siamo soffermati su questo punto evidenziando le ultime tendenze del 2017 e il modo in cui stavano plasmando il mondo del gioco.
Nel 2018, abbiamo scelto di approfondire ancora una volta questo importante argomento mettendoci in contatto con numerose star di YouTube nel settore dei videogiochi. La domanda che abbiamo posto loro è quali ritengono esattamente essere le principali tendenze per i videogiochi nel 2018.
Tre di questi influencer sono Orange Juice Gaming, Red Arcade e Prestigeiskey.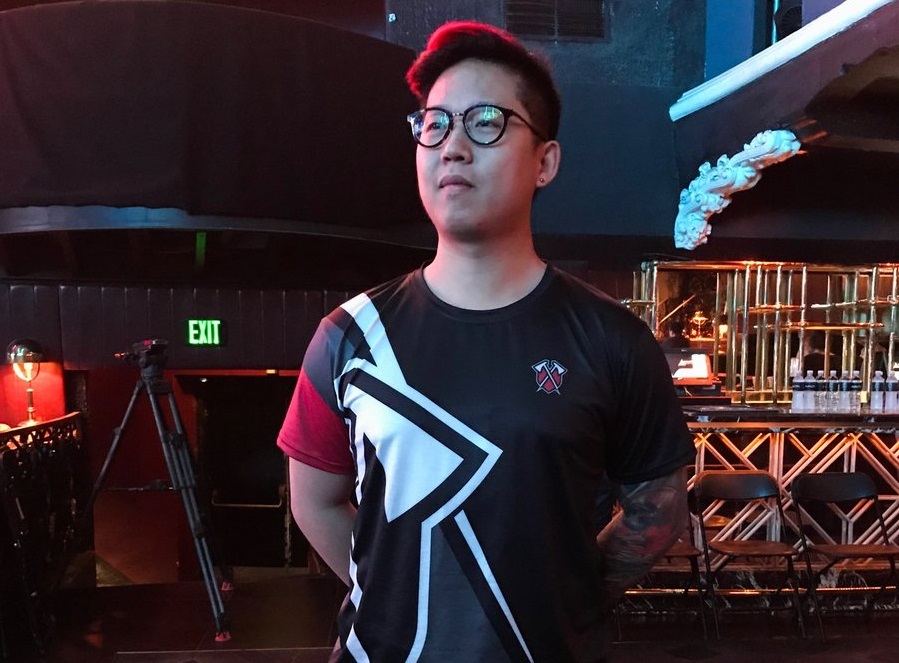 Orange Juice Gaming ha affermato quanto segue:
"Nel 2018 i generi battle royale domineranno il settore prima che l'entusiasmo inizi a placarsi. Fortnite è di grande tendenza e non dovrebbe rischiare il declino nel breve termine quest'anno.
Sono oltremodo entusiasta dello Switch perché introduce idee incredibilmente innovative. Con la prossima uscita di Nintendo Labo ritengo che si prospetti per noi un modo decisamente economico per includere un'infinità di accessori per i giochi."
Red Arcade, a sua volta, ha posto l'accento sul particolare entusiasmo nei confronti di Battle Royale:
"Sono particolararmente eccitato di scoprire quali possano essere i risultati di questi grandi titoli, come Call of Duty, nel caso implementino la modalità battle royale. Finora, per quel che ne so, i giochi in stile battle royale sono stati realizzati solo da piccoli team, quindi sarà interessante vedere quali benefici riusciranno a proporre le grandi case."
Nel frattempo, Prestigeiskey sullo stesso tono del collega, ha preso in esame anche alcune eccitanti novità introdotte da Nintendo:
"La più grande tendenza del 2018 sarà costituita dai giochi in stile battle royale come conseguenza dell'assoluta potenza di Fortnite. Il prodotto che è stato messo in commercio è assolutamente solido e sono convinto che presto vedremo molti altri studi AAA interessati a proporre giochi in stile battle royale.
Sono molto eccitato per l'E3 quest'anno! Riusciremo a carpire maggiori informazioni su Last of Us Part II e, naturalmente, ancora più anticipazioni su ciò che Nintendo intende introdurre per lo Switch. Spero che aggiungano qualche emulazione di gameboy, oltre a un nuovo gioco pokemon!"
Seppure ognuno abbia toccato tasti diversi sull'argomento, sono comunque tornati tutti alle stesse due magnetiche parole che stanno attualmente scuotendo il settore: Battle Royale. Ecco perché è proprio questa la prima delle nostre top 7 tendenze nel mondo dei videogiochi per il 2018.
Battle Royale
Questa particolare tendenza sta contribuendo alla ridefinizione dell'industria dei videogiochi.
I gioci Battle royale nel 2018 rappresentano l'argomento più scottante e le case produttrici si stanno affrettando per riuscire ad accaparrarsi un pezzo della torta Fortnite.
Fortnite, creato e sviluppato da Epic Games, è stato lanciato lo scorso anno per l'accesso anticipato su PC. Tuttavia, da allora ha guadagnato un'immensa popolarità e il suo successo non mostra segni di rallentamento. Il 13 giugno di quest'anno, Epic Games ha rilasciato una dichiarazione in cui afferma che il numero di giocatori ha già raggiunto l'impressionante cifra di 125 milioni.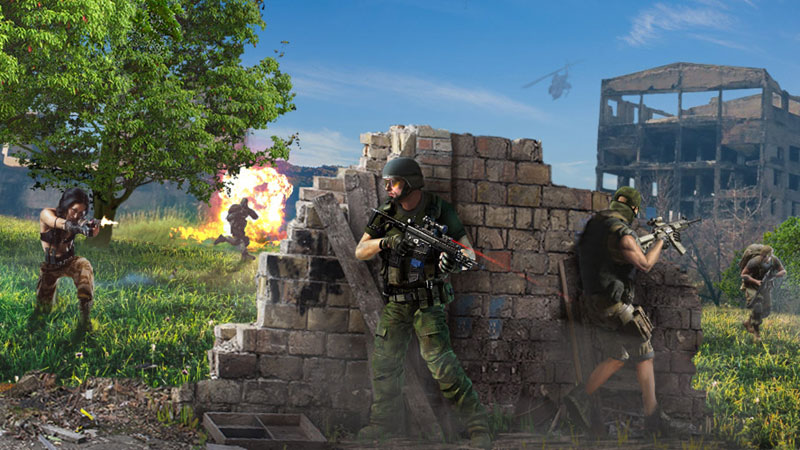 Oltre a questo, il gioco gode di un successo talmente enorme, principalmente grazie alla sua esclusiva esperienza di gioco ed al suo stile battle royale, che Epic Games ha dichiarato di voler mettere in palio 100.000.000$ in premi in occasione del suo primo anno di competizione nei tornei in stile e-sport.
Non sorprende quindi che questo sia stato il tema dominante dell'E3 del 2018. Varie case produttrici hanno discusso sul genere e sulla loro effettiva intenzione di includerlo nella loro attuale proposta di giochi, o di eventuali giochi futuri ancora in fase di sviluppo.
Activision, editore della serie di enorme successo Call of Duty, ha immediatamente dichiarato che avrebbero incluso una modalità battle royale nel prossimo lancio della serie: Call of Duty: Black Ops 4.
Inoltre, ad appena sei minuti dalla copertura mediatica di E3 ci è stato riferito che Battlefield V, uno sparatutto ambientato nella II Guerra Mondiale (ed il più grande antagonista di Call of Duty) avrebbe incluso anche una versione di battle royale.
Nel corso dell'E3 del 2018, altri titoli di rilevanza simile non hanno esitato ad aderire al trend battle royale, tra essi: Mavericks: Proving Grounds, Rapture Rejects e altri ancora, tutti inclini a tracciare il loro corso in stile battle royale.
Non si può negare che questa sia la tendenza nel mondo dei videogiochi in assoluto più rilevante del 2018, ma affermare che sia l'unica sarebbe poco lungimirante, poiché ve ne sono altre che continuano a dominare il settore.
La Fine delle Loot Box
Per alcuni, questa tendenza era inevitabile ed i segnali erano più che evidenti. Per altri, è stato uno shock ed una vera e propria sorpresa.
I primi segnali di questa tendenza in ascesa sono stati le polemiche scoppiate a seguito dell'adozione della loot box da parte di Star Wars Battlefront 2.
L'indignazione dei giocatori aveva origine dall'influenza del sistema di "loot crate" sui progressi del gioco. Molti ritenevano che fosse impossibile raggiungere il successo nel gioco senza "tirar fuori la propria carta di credito". Il tutto faceva apparire il gioco più basato sull''acquisto di questi oggetti casuali che sull'aspetto ludico vero e proprio.
Questa situazione ha così dato il via ad un effetto a cascata in tutto il settore. La reazione negativa nei confronti degli sviluppatori responsabili di una tale transazione ha contribuito a spingere questi ultimi a riconsiderare i futuri sviluppi e le modalità di addebito di contenuti e gestione del gioco nei confronti degli utenti.
Ancora una volta, giochi come Fortnite stanno guidando la carica in questo senso, dimostrando la possibilità di conseguire enormi profitti semplicemente vendendo più modelli di personaggi e articoli cosmetici nell'ambito del gioco al fine di modificare l'aspetto dei personaggi stessi, senza per questo concedere un implicito vantaggio rispetto agli avversari.
Dal suo lancio, Fortnite può vantare da solo un fatturato ben superiore a 15$ milioni, dimostrandosi un vero modello di business praticabile ed una tendenza nel settore dei videogiochi dal lungo futuro.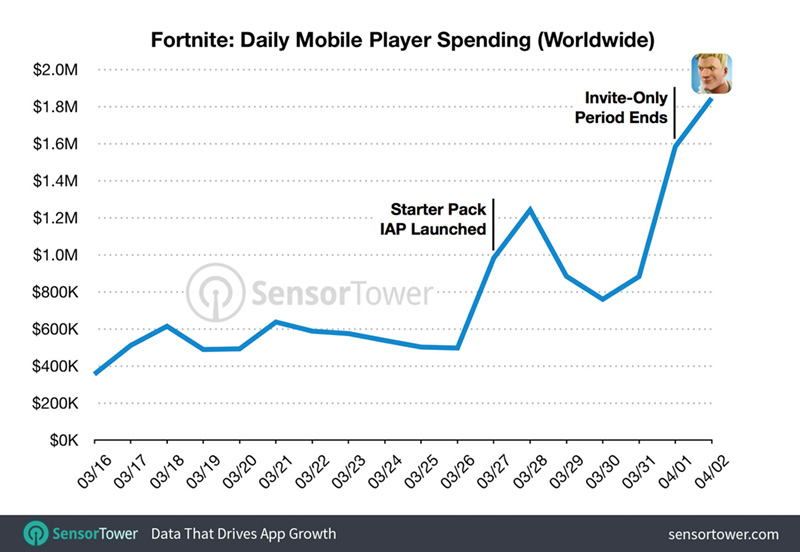 Inoltre, si è trattato di un cambiamento imposto da molteplici entità governative, poiché sempre più paesi stanno iniziando a fare chiarezza ed esaminare l'industria del gioco e, in tale processo, ad etichettare le loot box come vere e proprie forma di gioco d'azzardo.
Diversità e Inclusione
Gli sviluppatori e gli editori di videogiochi continuano ad estendere il loro raggio d'azione a vari altri segmenti della popolazione, accogliendo a braccia aperte nuovi consumatori e sperando di attrarre un pubblico sempre più vasto.
Questa tendenza ha causato vari conflitti nel corso degli anni, come abbiamo visto con l'avvento della polemica cosiddetta "Gamergate", contribuito a rimodellare molti aspetti e segmenti del mondo del gioco.
Gamergate ha costretto molte aziende a riconsiderare il modo di operare, come conseguenza delle pressioni politiche e sociali applicate, minacciando di danneggiarne profitti ed immagine pubblica. Due aspetti che nessuna azienda vorrebbe rischiare di vedere danneggiati.
A prescindere da quale parte tu abbia tifato durante questo acceso dibattito, non si può negare che il settore stia puntando verso un approccio più mirato di "diversità e inclusione".
Ad esempio, ora è possibile trovare personaggi apertamente LGBT protagonisti di giochi AAA, come ad esempio Overwatch's Tracer e The Last of Us 2's Ellie.
Ma non finisce qui. Sono stati conseguiti altri progressi nel campo della tecnologia e dell'innovazione, come l'Adaptive Controller di Xbox, che è stato creato e progettato per i giocatori con mobilità ridotta.
Un altro concetto innovativo che ha iniziato ad essere sviluppato è quello dei giochi concentrati su questioni decisamente più "reali", come la disabilità mentale.
Hellblade: Senua's Sacrifice è tra quei giochi che hanno riscosso un grande successo, vincendo recentemente ben cinque riconoscimenti durante le premiazioni della British Academy of Film and Television Arts (BAFTA), a dimostrazione che i giochi non hanno più bisogno di rimanere per forza in un ristretto ambito predefinito.
L'e-Sport Continua a Crescere
Una tendenza che sta rapidamente guadagnando terreno è l'e-Sport, sia nell'ambito della concorrenza che degli utenti.
Si tratta di una tendenza che avevo anticipato da anni e, in quanto personale fan e consumatore di questi contenuti, avevo ben capito come stavano le cose: si trattava di un segmento non sfruttato del mercato che sarebbe presto arrivato a crescere di dimensione e, lasciatemelo dire, caspita se è cresciuto.
Il fatturato nel mondo degli e-Sport è aumentato drasticamente dal 2012, passando da un'industria da 130$ milioni a 655$ milioni nel 2017. Quello che è ancora più sorprendente per coloro che non riescono ad intuire le potenzialità di questo settore, sono le previsioni di ulteriore crescita di questo fenomeno, con stime che prevedono il suo fatturato a 906$ milioni entro la fine del 2018 e a 1,65$ miliardi entro la fine del 2021.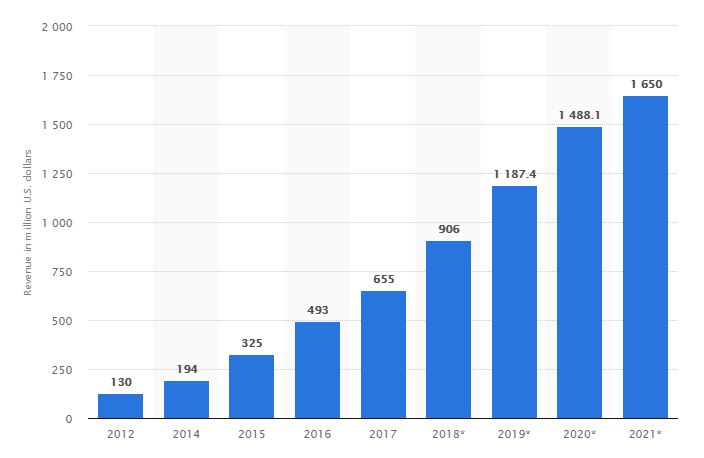 Tali incrementi di fatturato sono strettamente correlati ai recenti studi che hanno rilevato la grande propensione dei millennials a guardare gli e-Sport esattamente quanto gradiscono guardare gli sport "reali".
Questa tendenza sta portando sempre più segmenti dell'industria dei videogiochi a chiedersi se debbano o meno partecipare ad un e-Sport tutto loro. I principali sviluppatori mettono in discussione le vecchie "regole" e si chiedono se giochi come gli MMO possano essere anche un e-Sport.
Ho il forte sospetto che questa tendenza continuerà a rafforzarsi con il passare degli anni finché, a seguito delle mutazioni demografiche, gli e-Sport finiranno col sorpassare l'industria sportiva "tradizionale".
Multipiattaforma PC/Mobile
Come mini-trend bonus, vediamo che molte delle tendenze dei videogiochi nel 2018 dispongono di solide fondamenta basate sui successi degli anni precedenti.
Uno di questi è la partecipazione su dispositivo mobile e su multipiattaforma, un'innovazione che in molti nell'industria ludica stanno iniziando a sfruttare.
Ora più che mai, gli utenti vogliono che la loro tecnologia li segua quando viaggiano all'estero e lasciano le comodità della propria casa. Si aspettano lo stesso quando si tratta dei loro giochi.
Gli smartphone hanno decisamente guidato la carica in questo settore. Man mano che diventano sempre più avanzati, lo diventa anche la qualità dei giochi che possono offrire.
I giochi che erano una volta disponibili solo su PC e su console di gioco, ora stanno iniziando a superare il limite facendosi strada nel mondo delle piattaforme mobili.
Un gioco popolare come Fortnite (eccolo che ritorna) e PUBG già consente ai giocatori su dispositivi mobili di partecipare assieme alle loro controparti su PC e console. The Elder Scrolls Blades, che è stato recentemente annunciato nel corso dell'E3 del 2018, è un altro intrigante esempio perché consente la riproduzione incrociata tra dispositivi VR su dispositivi mobili, PC e console.
Dei prodotti come Elder Scrolls Blades mettono in evidenza quanto lontano l'industria del gioco per dispositivi mobili sia arrivata e mostra come il mercato del gioco mobile stia facendo passi da gigante nell'innovazione, iniziando a rivaleggiare con il tradizionale gameplay su PC e console in termini di qualità.
AR oltre la VR
Negli anni passati, tutti pensavano che la realtà virtuale sarebbe stata il prossimo passo. Nel 2018 sta iniziando a sembrare ovvio che la Realtà Aumentata (AR) sia una tecnologia molto più promettente e di grande popolarità.
Negli ultimi due anni abbiamo assistito all'ascesa di AR e VR, con la realtà virtuale prospettata e annunciata come la tecnologia del nuovo corso che avrebbe cambiato il mondo. Questo potrebbe anche rispondere al vero anche se, purtroppo, non ci siamo ancora arrivati.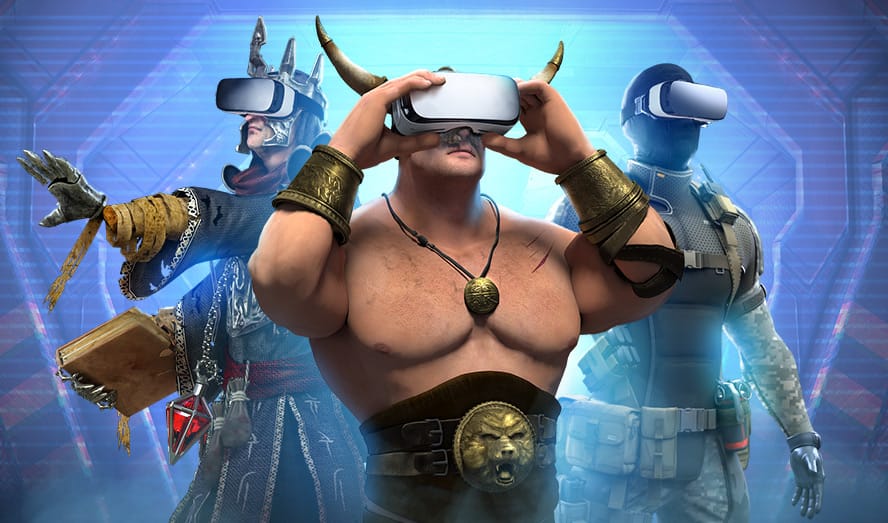 Sono sorti svariati problemi intorno alla VR, rallentandone la crescita. La questione di maggior ostacolo è rappresentata dalla barriera all'ingresso. Le cuffie VR sono molto costose o di qualità molto bassa, un aspetto più che sufficiente per scoraggiare e allontanare in modo serio dall'esperienza vera e propria.
La Realtà Aumentata, una tecnologia che sovrappone un'immagine generata da un computer a ciò che un utente vede del mondo reale, in genere attraverso uno smartphone o un altro dispositivo simile, ha una barriera di ingresso molto più ridotta e viene quindi adottata più facilmente.
Sebbene l'AR richieda un dispositivo costoso per funzionare, si tratta comunque di congegni che la maggior parte delle persone già possiede: uno smartphone. Quindi, la sua attuazione non costa loro nulla oltre a partecipare.
Pokemon Go è indicato come un gioco che ha portato l'AR in prima linea nello spazio tecnologico, conquistando d'impeto il mondo mentre milioni di persone si sono lanciate in azione, nella speranza di "catturarli tutti".
Pokemon Go potrebbe essere stato il primo grande successo di AR, ma non sarà certo l'ultimo che vediamo. Solo nel 2018 è previsto il lancio di una miriade di nuovi giochi e app di AR destinati ad invadere i mercati, alcuni dei quali addirittura già disponibili.
Giochi come The Machines, ARZombi, AR Dragon e ARise sono solo alcuni dei più attesi.
L'Ascesa dell'Industria del Gioco in Cina
Sebbene non sia un tipico argomento di discussione nella cultura occidentale, nel complesso, l'industria del gioco cinese è una tendenza degna della massima attenzione.
La Cina ha superato qualsiasi altro paese al mondo come principale generatore di profitto nel settore dei videogiochi. Nel 2017, la sola Cina ha prodotto un quarto del profitto proveniente dal gioco in tutto il mondo. Prevedibilmente, questo sta costringendo altri esperti del settore in Occidente a prendere atto.
Tencent è ora la più grande società di sviluppo di videogiochi al mondo con un incredibile fatturato di 12.701.000.000$.
Questo è ancora più sorprendente quando lo si confronta con una società più tradizionale nel settore dei videogiochi, come Nintendo, con un fatturato di 1.879.000.000$.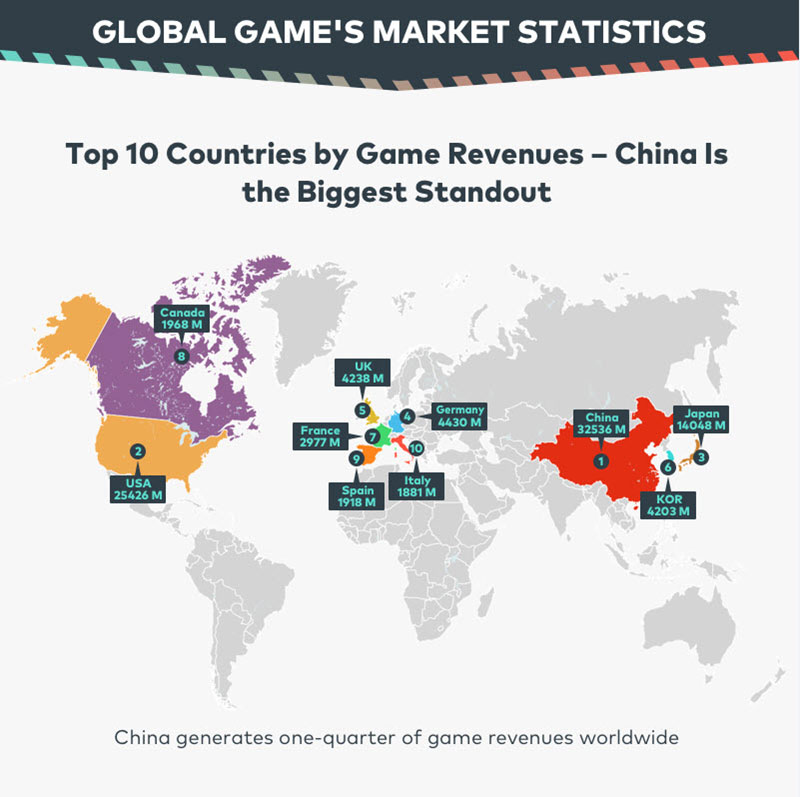 Ancora una volta, il principale benefattore di questa crescita è stato il mercato dei dispositivi mobili, che la Cina ha apertamente abbracciato. Gli smartphone hanno invaso il mercato ed ora sono nelle mani di una popolazione enorme, una grande percentuale della quale dispone della capacità di effettuare micro-transazioni in vari giochi.
Conclusione
Quali di queste tendenze si riveleranno di successo e quali invece saranno solo un fuoco di paglia è difficile a dirsi, ma per ora tutte hanno un loro specifico effetto sull'industria dei videogiochi a vari livelli.
Tornando al punto di partenza, non potremo mai sottolineare abbastanza l'effetto che Fortnite e il suo gioco in stile battle royale hanno avuto sul mercato.
Non c'è da meravigliarsi se tutti gli utenti di YouTube da noi intervistati sui giochi nel 2018 abbiano menzionato il gioco. L'impatto di questo titolo sulle prime 7 tendenze nel mondo dei videogiochi del 2018 è stato devastante.
Sarà interessante vedere quale sarà il destino di tutti questi aspetti mentre ci apprestiamo ad attraversare la seconda metà dell'anno e scoprire cosa ci aspetta per il prossimo anno - il 2019.
Raid: Shadow Legends
Raccogli 400+ Campioni & Battiti Per La Gloria