Les MMO pour mobiles sont l'avenir du jeu

L'industrie du smartphone est l'une des plus dynamiques au monde. En quelques années, elle a décuplé de volume et a réussi à atteindre des marchés souvent abandonnés par d'autres produits technologiques. Sur les cinq continents, le taux de pénétration du mobile dépasse désormais celui des ordinateurs et des autres outils de communication classiques. Du coup, les concepteurs des meilleurs MMORPG sur mobile et MMO sur mobile sont extrêmement intéressés.


SUR PC ET MOBILE
Les smartphones sont pour la plupart des appareils relativement performants qui ont un accès presque permanent à Internet. Ce n'est donc pas une surprise que l'industrie du jeu massivement multijoueurs ait décidé de s'y rattacher. Les smartphones ont le potentiel de rendre tout le monde joueur d'un MMO sur mobile. Et, suite au succès fulgurant de quelques MMO mobile, on comprend sans peine l'attrait de la plateforme.
Les contraintes matérielles
Bien qu'il soit un outil de conversion potentiel massif, le mobile n'est pas pour autant le support idéal pour jouer aux meilleurs MMO sur mobile, même si, en 2019, selon une enquête de vie-publique.fr, pour la première fois en France, les détenteurs de smartphone (77 % des Français) sont plus nombreux que les détenteurs d'ordinateur (76 %).
Malgré les performances phénoménales des derniers modèles parus, la plupart des personnes n'ont pas accès aux smartphones haut de gamme. Une étude d'Appleinsider révèle que, dans le même temps, le classement des meilleures ventes de 2019 n'intègre aucun autre smartphone haut de gamme que ceux d'Apple. De plus, le marché a souffert de la pandémie en 2020.
Les développeurs doivent donc prendre en compte les performances des mobiles sur les trois dernières générations (au moins), pour proposer des MMO sur mobile, ou MMORPG sur mobiles, qui fonctionnent.
L'autre contrainte touche à la qualité de la connexion Internet. Bien qu'ils soient désormais capables de profiter du Wi-Fi, les smartphones sont le plus souvent connectés via réseau cellulaire. Des réseaux cellulaires qui ne sont pas en mesure de garantir une latence de connexion faible de façon constante. Un véritable souci lorsqu'il est question des jeux pour mobile.
Ces contraintes rendent donc impossible la création de certains types de MMO sur mobile. D'une part, les jeux qui nécessitent de grandes ressources graphiques ou une puissance de calcul colossale ne pourront pas être adaptés au mobile (et c'est le cas pour la plupart des meilleurs MMO sur mobile). D'autre part, la qualité peu fiable des connexions sur mobile rend des jeux qui dépendent de temps de réaction minimes risqués. Les MOBA et la plupart des MMORPG sont d'office peu compatibles avec les smartphones. C'est ce qui explique le succès grandissant des jeux MMORTS et jeux de cartes massivement multijoueurs sur ce genre de plateformes.
Deux genres qui réussissent
Clash of Clans, Clash Royale, HearthStone ou autres… Il suffit de jeter un coup d'œil aux meilleurs MMO sur mobile et MMORPG sur mobile pour se rendre à l'évidence. Un genre règne en maître sur les jeux massivement multijoueurs pour mobile : le jeu de stratégie. Même si l'on peut créer deux sous-catégories (jeux de cartes et jeux de gestion), il s'agit toujours de jeux de stratégie en temps-réel.
Lorsqu'on analyse les limites du mobile, on se rend compte que c'est le genre qui exploite parfaitement les avantages du smartphone, tout en réduisant ses inconvénients. Il permet aux joueurs d'avoir rapidement accès à leur compte, où qu'ils soient. Les joueurs seront donc en mesure de réaliser des ajustements rapides dans leurs MMO sur mobile ou MMORPG sur mobile, de lancer des constructions ou de lancer des attaques.
Dans le même temps, la présentation graphique et le moteur du jeu n'exigent pas de ressources dédiées. Presque tous les smartphones seront donc en mesure de garantir une performance de jeu presque identique.
Quelles perspectives pour le mobile ?
Cependant, si l'on doit faire une analyse du marché MMO sur mobile, on doit s'interroger sur ce qu'il est – ou sera bientôt – en mesure de faire, et non uniquement sur ce qu'il fait déjà. Le mobile, comme medium de continuité
Certains titres de jeu AAA utilisent déjà le mobile comme un outil complémentaire. Ils permettent aux joueurs d'avoir accès à leur inventaire, d'échanger des objets et des ressources sans avoir à lancer le jeu sur leurs consoles.
D'autres jeux font en sorte de permettre aux membres d'un groupe de rejoindre une partie avec une interface simplifiée. Un concept introduit par des jeux tels que The Division : un joueur qui n'est pas en mesure de se connecter sur sa console peut utiliser l'application mobile pour contrôler un drone dans le jeu et porter assistance à son équipe avec des soins ou des données sur la position des adversaires. Cet exemple est particulièrement éloquent, vu qu'il s'agit d'une application réelle dans un des meilleurs MMORPG pour mobile.
Réalité virtuelle et augmentée
Une autre des perspectives d'avenir est la réalité augmentée. Deux jeux (Ingress et Pokemon GO) ont déjà montré les applications réelles d'une telle technologie. Plutôt que de créer des mondes virtuels dans lesquels des millions de joueurs pourraient être présents en même temps, ces jeux introduisent les mécaniques du MMO à la vie courante. Tout comme si l'on ajoutait une couche supplémentaire à la réalité de tous les jours.
Cependant, il n'est pas exclu que de telles applications soient supplantées par l'évolution fulgurante de la technologie de réalité virtuelle. On pourrait, dans un futur assez proche, découvrir des jeux qui font le pont entre réalité augmentée, réalité virtuelle et MMO.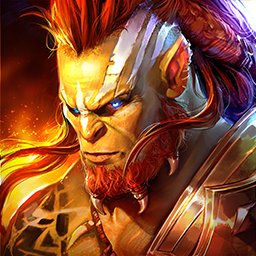 Raid: Shadow Legends
Récupère + de 400 Champions et décroche la gloire