La véritable différence entre MMO et MMORPG

Quelle est la différence entre un MMO et un MMORPG ?
Est-ce la même chose ? Comment les différencier ? À quel genre est-ce que je joue en ce moment et que faire avec les Grenades propulsées par des roquettes ?
Je parie que tu t'es posé au moins une de ces questions à un moment ou un autre. Sinon, tu ne serais pas là.
De manière surprenante, les réponses à toutes ces questions sont plutôt simples :
Un jeu MMORPG est un type de jeu MMO.
Mais pour vraiment comprendre cette réponse, il faut tout d'abord savoir ce que sont les jeux MMO.
Qu'est-ce qu'un MMO ? Qu'est-ce qu'un MMORPG ?
Commençons par les bases : que signifie MMO ? Un jeu MMO est un jeu Massively Multiplayer Online, soit jeu en ligne massivement multijoueurs.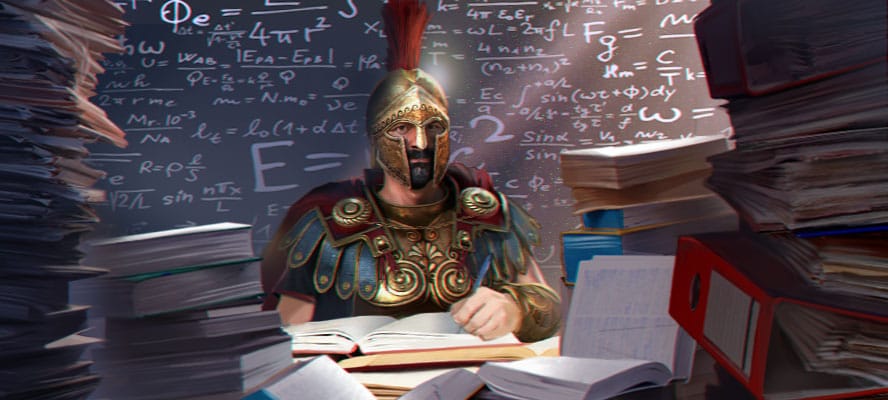 Pour dire les choses simplement, un MMO est un jeu multijoueurs en ligne auquel de nombreuses personnes peuvent jouer simultanément. Tu ne joues pas en chœur avec, ou contre, une poignée de joueurs, mais contre des milliers, parfois même des millions.
MMORPG signifie Massively Multiplayer Online Role-Playing Game, soit jeu de rôle en ligne massivement multijoueurs. Une autre définition officieuse est « Many Men Online Role-Playing as Girls », soit beaucoup d'hommes jouant une fille en ligne (c'est amusant parce que c'est vrai).
Certains pourraient dire que les MMORPG sont faciles à reconnaître en raison de leurs mondes de fantasy, mais ce n'est pas vrai du tout. Même si la majorité des RPG se déroule dans le royaume des elfes, des orcs et des dragons, beaucoup choisissent d'explorer d'autres mondes, par exemple des planètes éloignées ou des déserts post-apocalyptiques.
Les observateurs attentifs ont remarqué que les deux types de jeu possèdent des définitions très similaires, mais pas tout à fait semblables. Ceci nous conduit à la principale différence entre les MMO et les MMORPG.
Quelle est la différence entre un MMO et un MMORPG ?
Lorsque quelqu'un demande le genre d'un jeu, il fait souvent référence à son genre ou à son sous-genre. Un jeu « est » un jeu de tir à la première personne, un jeu de survie ou un jeu de rôle. La même chose s'applique aux MMO.
Aucun jeu n'est simplement un jeu MMO. C'est comme dire d'un jeu qu'il est « multijoueurs ». C'est bien beau, mais ça ne dit rien à propos du jeu en lui-même, à part le fait que tu peux y jouer avec (ou contre) d'autres personnes. Le jeu doit appartenir à un genre spécifique.
Les jeux de rôle en ligne massivement multijoueurs, ou MMORPG, sont des jeux MMO appartenant au genre RPG (Role-playing game, pour jeu de rôle).
Ce sont des jeux de rôle auxquels bon nombre de joueurs peuvent jouer simultanément.
La différence entre MMO et MMORPG est que tous les MMORPG sont des MMO, mais que tous les MMO ne sont pas des MMORPG.
Un MMORPG est, par définition, un jeu de rôle, alors qu'un MMO peut être un titre d'action en Battle Royale, un jeu de stratégie en temps réel, voire un nouveau type d'expérience interactive indescriptible.
La distinction est subtile, mais importante. Il pourrait être un peu embarrassant de parler du nouveau MMORPG auquel tu joues à tes amis gamers, uniquement pour découvrir que tu joues, en fait, à un titre de stratégie multijoueurs pur et dur avec un système approfondi de personnalisation et aucun élément RPG, quel qu'il soit.
Je sais que cela peut sembler un peu trivial, mais crois-moi : les gamers sont très sensibles à ce genre d'erreurs.
Comment reconnaître un MMORPG
Décomposons le genre MMORPG jusqu'à ses principaux éléments : le MMO et le RPG. Nous avons déjà expliqué ce qu'est un MMO, donc évoquons ce qui constitue un bon jeu de rôle.
Les jeux vidéo RPG, souvent appelés CRPG (Computer Role-Playing Games, soit jeux de rôle sur ordinateur), empruntent beaucoup à leurs ancêtres sur table. Ils possèdent, par exemple, le même niveau de personnalisation des personnages. Les joueurs peuvent créer et personnaliser leurs personnages, représentés par un avatar numérique et leur donner un nom avec le générateur de nom pour JDR Ils peuvent contrôler à peu près tout, de l'apparence à la race et au sexe, en passant par la profession et les compétences. À mesure que le jeu progresse, les joueurs reçoivent l'opportunité d'améliorer et de faire évoluer leur aventurier, le rendant de plus en plus unique et puissant.
Les RPG les plus modernes donnent au joueur le contrôle non seulement du personnage, mais également du monde qu'il habite. Les actions des joueurs ont un impact direct sur la manière dont l'histoire progresse et dont le monde change autour d'eux. Cela arrive simplement en faisant avancer l'intrigue et en dévoilant l'histoire, mais les choix des joueurs peuvent également avoir une influence.
Les meilleurs RPG permettent aux joueurs de régler leurs problèmes et d'avancer dans l'intrigue de différentes manières, afin de respecter chaque style de jeu. Prenons, en guise d'exemple rudimentaire, la manière dont tu passes un garde défendant une porte. Le joueur peut décider de distraire le garde à l'aide de magie, de mentir en prétendant être quelqu'un de célèbre ou de tirer son épée pour attaquer. Après coup, chacun de ces choix entraînerait des conséquences différentes. Peut-être, plus tard, rencontreras-tu le garde trompé, désormais privé de travail et mendiant dans les rues.
Bien entendu, beaucoup d'autres éléments sont nécessaires pour créer un RPG, mais tous les traiter prendrait un long moment. L'idée principale à ne jamais oublier lorsqu'il est question de jeux de rôle est le « pouvoir ». Plus le joueur a d'impact sur le monde de jeu et les personnages, mieux c'est.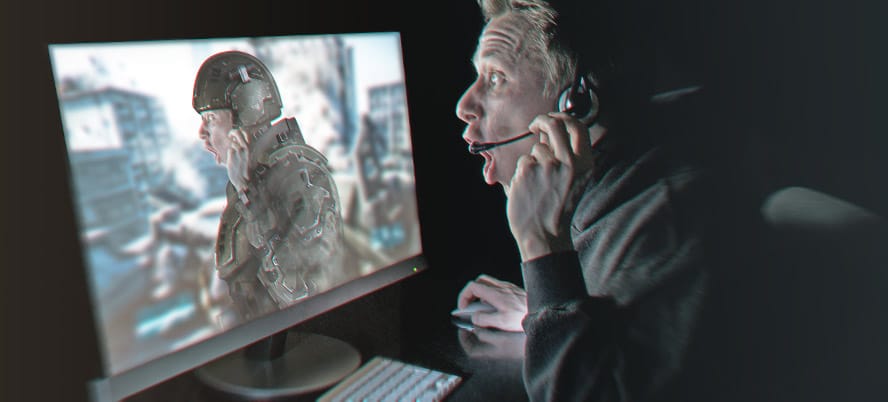 Arrive ensuite l'aspect technique : les quêtes, les points d'expérience, le butin, les compétences et le combat. Chacun d'eux est intimement lié aux mécaniques de base de la personnalisation du personnage, au pouvoir du joueur et à un récit riche.
Prends tout ceci, place-le dans un environnement où des dizaines, sinon des centaines, de joueurs interagissent simultanément et te voilà avec un MMORPG.
De bons exemples de jeux MMORPG populaires sont World of Warcraft, Guild Wars 2, The Elder Scrolls Online, Star Wars: The Old Republic et EVE Online.
Avec un peu de chance, tu peux maintenant différencier MMO et MMORPG, et tu sais comment reconnaître un MMORPG lorsque tu y joues.
Oh, et une autre chose à ne pas oublier : la plupart des MMORPG n'impliquent généralement pas de Grenades propulsées par des roquettes. Sauf, bien entendu, si tu joues à une dystopie futuriste où la magie a été remplacée par de puissants explosifs, ce qui est plus ou moins la même chose, mais en bien plus cool.
Raid: Shadow Legends
Récupère + de 400 Champions et décroche la gloire