Festeggiamo il terzo anniversario di RAID: Shadow Legends in stile!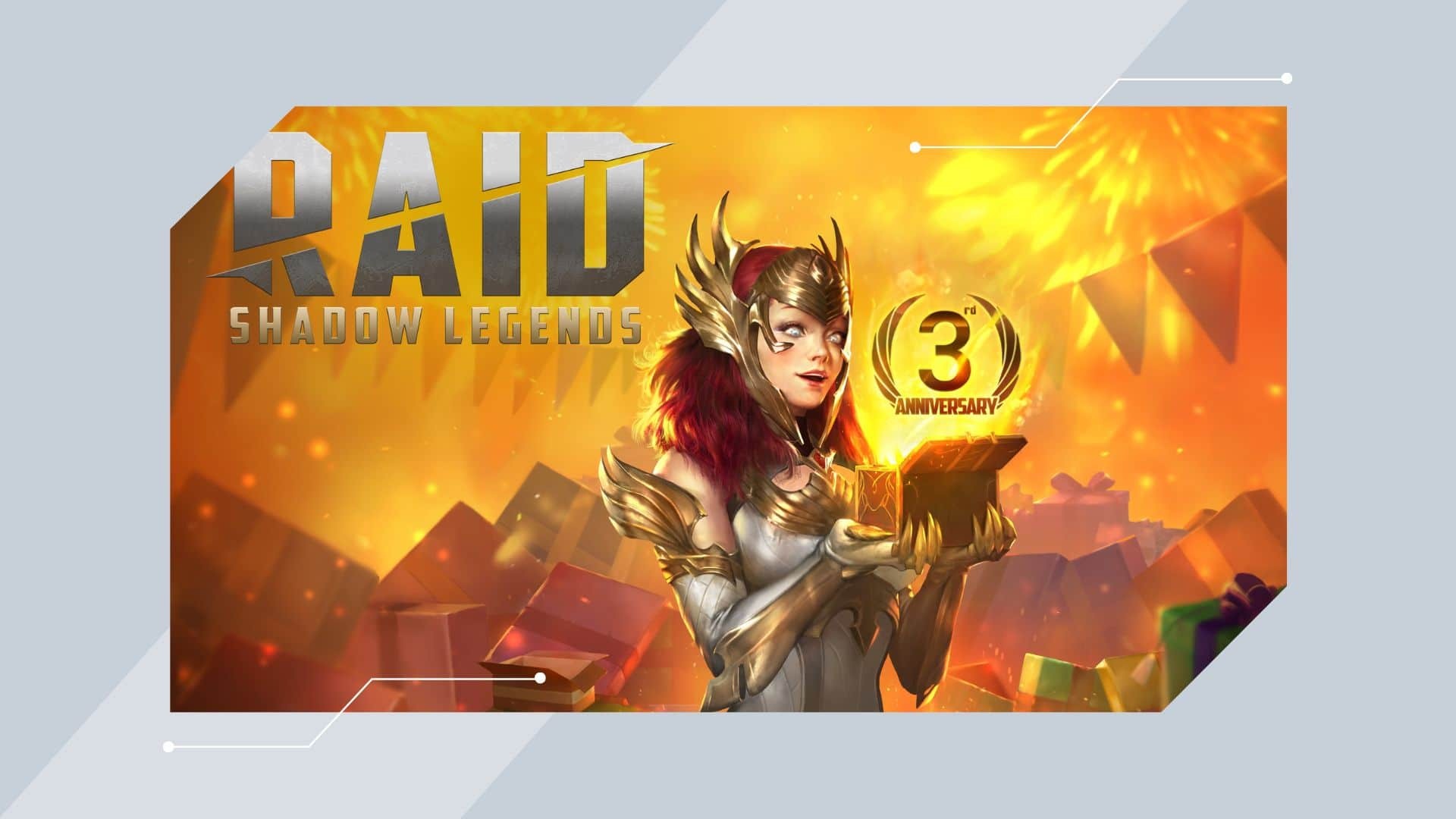 RAID: Shadow Legends compie tre anni e per festeggiare l'evento abbiamo deciso di mettere in palio una serie di premi straordinari, tra cui video personalizzati e personaggi gratuiti!

Stentiamo ancora a credere che questo epico gacha game freemium di genere fantasy sia già al suo terzo "compleanno". Come i più esperti sapranno, l'universo di Shadow Legends si è sviluppato in modo significativo dal suo release mondiale nel 2019 a oggi.
Ma, bando alle ciance, è tempo di festeggiare! Naturalmente siete tutti invitati alla festa.
Tuttavia è bene che impariate a conoscere tutte le sfumature dei giochi RPG, altrimenti vi perderete il bello. Senza dilungarci oltre, ecco qualche info in più sull'evento.
Qual è la data in cui cade il terzo anniversario di RAID: Shadow Legends?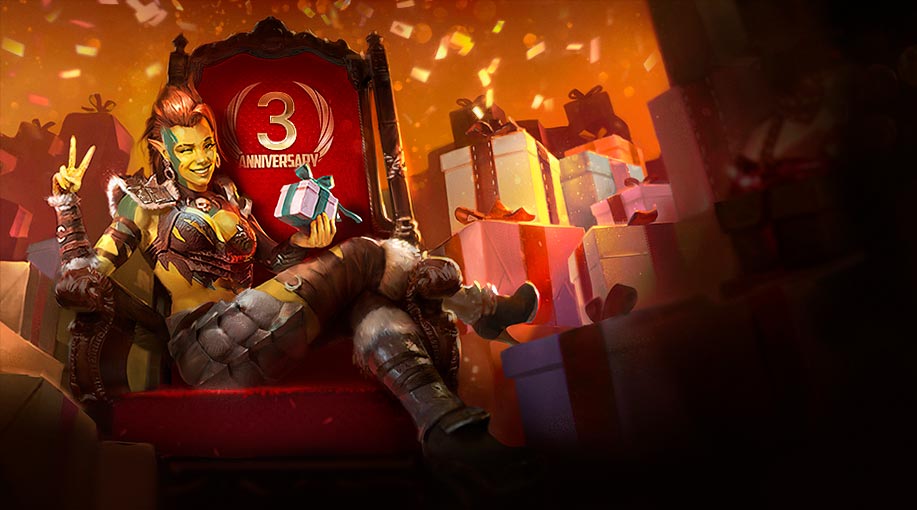 RAID: Shadow Legends è uscito nel marzo 2019. A tre anni da quella data abbiamo deciso di fissare l'inizio dei festeggiamenti di RAID: Shadow Legends verso metà aprile.
Quanto dureranno i festeggiamenti per RAID: Shadow Legends?
I festeggiamenti per il terzo anniversario di RAID: Shadow Legends dureranno per un intero mese. Per tutta la sua durata i nuovi e i vecchi giocatori saranno coccolati da una serie di iniziative, tra cui l'upgrade dei bonus.
Qual è il tema dell'anniversario di RAID: Shadow Legends?
The augurs were hard at work debating omens and scrying the future, yet those efforts have not been in vain. Behold! All that awaits Teleria in the coming days is in this prophecy. Prepare yourself - the challenges are many, and the rewards are great. pic.twitter.com/Z1iv1M6yuB

— RAID: Shadow Legends (@RaidRPG) April 14, 2022
"Si è dibattuto in lungo e in largo su questo argomento, ma vi assicuriamo che gli sforzi non sono stati vani. Occhio! Ciò che vi attenderà su Teleria nei prossimi giorni è un mistero tutto da scoprire. Preparatevi alle sfide e ai premi, saranno entrambi in grandi quantità e di un certo valore."
Il tema per l'anniversario di RAID: Shadow Legends è Arbiter, una campionessa dalla valutazione complessiva di 4,5. È una dea della guerra, da arena e da fazione, disponibile solo dopo aver completato le quest delle missioni.
Con un book value pari a 10 e un book priority A3 e A4, Arbiter è un personaggio potente e veloce che riesce a ristabilire la salute di una squadra e potenziare altri personaggi.
Se siete interessati ad averla nel vostro team e volete celebrarla in tutta la sua gloria, non perdetevi il nostro evento.
Quali vantaggi avrete durante l'anniversario di RAID: Shadow Legends?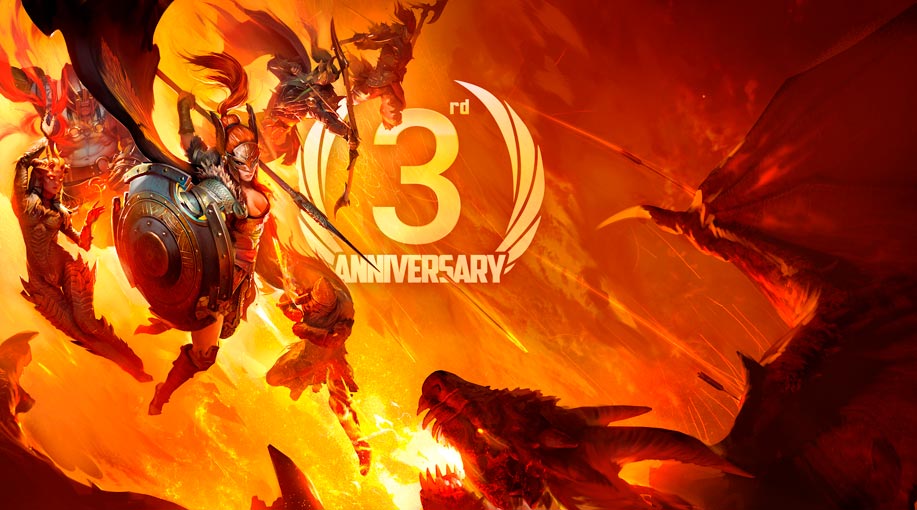 Ecco quali sono i vantaggi indiscutibili a cui potrete accedere durante l'evento:
Un campione (epico) gratis
Tutti i nuovi giocatori possono ottenere Talia gratis!
Se creerete il vostro primo account durante i festeggiamenti del terzo anniversario, otterrete un codice promo per sbloccare Talia, il che vi darà la possibilità di iniziare la vostra esperienza di gioco con un campione di rarità epica.
Video Idomoo personali per il terzo anniversario di RAID: Shadow Legends
Giocate durante l'evento e otterrete un video personalizzato dei vostri progressi!
Questi video Idomoo di alta qualità sono presentati da Arbiter e mostrano i vostri progressi più recenti al gioco.
Premi e bonus speciali per i giocatori di RAID
Oltre ai video personalizzati e ai personaggi gratuiti per i nuovi iscritti, riserveremo ai giocatori tante altre sorprese!
Durante lo svolgimento dell'evento potrete vincere molti altri premi e upgrade speciali, bonus che finora non sono ancora stati svelati.
Festeggiate il terzo anniversario di RAID: Shadow Legends con Plarium
Quanto vi abbiamo anticipato è tutto ciò che vi è dato sapere sul terzo anniversario di RAID: Shadow Legends al momento.
Se, dunque, volete ottenere il massimo da questo gioco rappresentativo tra tutti i giochi per PC e giochi per cellulare, assicuratevi di non perdervi i festeggiamenti!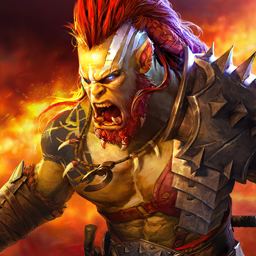 RAID: Shadow Legends
Raccogli 800+ Campioni & Battiti Per La Gloria