Nouvelles technologies : comment les intégrer au smartphone pour le transformer en téléphone gamer ?

Si tu fais partie de ces personnes adeptes du téléphone gaming, tu t'es déjà probablement demandé quelles innovations technologiques auront bientôt le plus d'impact sur les jeux conçus pour les téléphones.
Cet impact ne se fera pas seulement sentir sur les jeux. Les smartphones eux aussi devront améliorer leurs performances et leurs capacités pour s'adapter à cette tendance et offrir la même expérience utilisateur que leurs grands frères, le PC et la console de jeu.
Tu te demandes sans doute également quand ton mobile deviendra un véritable téléphone gamer. Avec l'intégration de nouvelles technologies, comme la réalité virtuelle et augmentée, la création de processeurs ultra-rapides et toujours plus compacts et le développement d'écrans holographiques, nous allons découvrir des choses vraiment étonnantes.
Tu te souviens d'Iron Man et de ses écrans d'ordinateur holographiques ? Nous nous rapprochons chaque jour de cette réalité, et ça donne le vertige. Pas vrai ?
Dans cet article, tu apprendras comment les nouvelles technologies vont complètement changer notre expérience actuelle du téléphone gaming. Elles transformeront cet outil de notre vie quotidienne en un véritable téléphone portable gamer.
Réalité augmentée et réalité virtuelle : les nouvelles expériences offertes par les téléphones gamer
Ni la réalité augmentée ni la réalité virtuelle ne sont des nouveautés dans l'univers des smartphones. Plusieurs années ont passé depuis l'engouement suscité par Pokémon Go et, déjà à l'époque, la RV (réalité virtuelle) et la RA (réalité augmentée) étaient des technologies assez connues et plébiscitées.
À l'époque, Yohei Ishii, PDG de Turbo Studios, avait déclaré : « C'est le début d'un changement majeur dans le domaine des jeux, et plus particulièrement du téléphone gaming. Cela montre clairement que les téléphones portables trouvent leur propre voie. »
Les données sur les retombées économiques des jeux pour portables sont de plus en plus positives. Les chiffres en millions de dollars ne cessent d'augmenter, et ce n'est pas étonnant : les joueurs qui s'adonnent au smartphone gaming sont déjà plus nombreux que ceux qui jouent sur des PC ou des consoles classiques.
La RV et la RA connaissent un succès croissant à mesure que la technologie progresse. En fait, on peut déjà trouver des équipements pour profiter de la RV et de la RA dans pratiquement tous les magasins spécialisés. Citons par exemple le Samsung Gear VR, le Google Cardboard au prix incroyablement abordable et l'Oculus Rift haut de gamme. Tous s'associent à des smartphones pour les transformer en téléphones gamer et t'immerger dans le monde virtuel.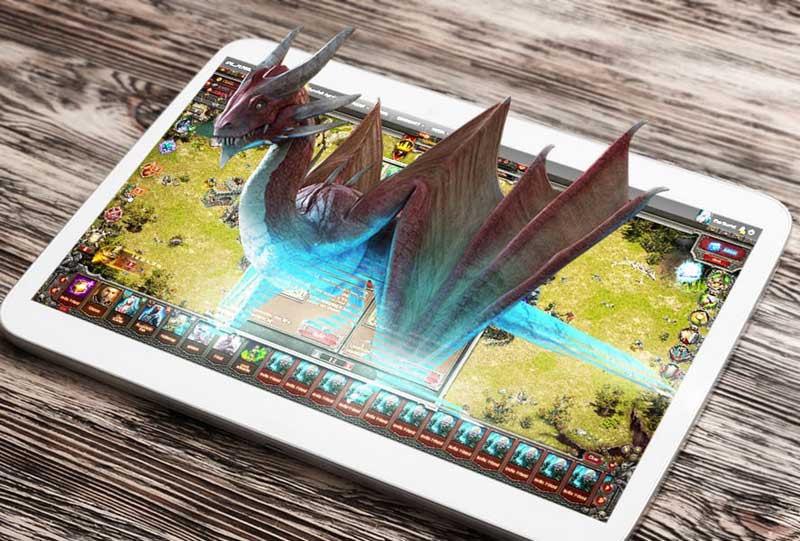 Par ailleurs, grâce au développement de processeurs de plus en plus compacts et performants, le téléphone gamer offre une expérience aussi complète que n'importe quelle console. Associée à des contrôleurs comme le Gear VR, qui permet de lancer physiquement des objets et d'interagir avec le monde virtuel, le téléphone gamer n'a rien à envier à un PC.
Il reste certains aspects à peaufiner, comme le nombre d'images par seconde ou les bugs des manettes. Mais la technologie progressera et se perfectionnera avec le succès grandissant de la RV, afin de transformer facilement un portable en véritable téléphone gamer.
Et aux détracteurs de la RV, qui voient d'un mauvais œil le fait d'être immergé dans son propre monde, seul et sans réelle interaction humaine, les développeurs ont trouvé la parade parfaite : les jeux multijoueurs en RV.
Toutefois, si tu fais partie de ceux qui aiment encore la RV traditionnelle, tu ne peux pas négliger la contribution d'Avegant au téléphone gaming. L'Avegant Glyph offre une expérience de visualisation virtuelle qui transmet la vidéo directement à tes rétines.
En effet, la « technologie brevetée d'imagerie rétinienne d'Avegant imite la vue naturelle par la projection de LED sur des millions de miroirs microscopiques ». Cette technologie est celle qui projette des images virtuelles avec la plus grande fidélité.
Bien sûr, chaque technologie a ses inconvénients et, dans ce cas, il faudrait examiner comment le téléphone gamer affectera la vue et l'interaction sociale des joueurs. Des études sont déjà en cours sur le rôle des smartphones dans la réduction de nos capacités d'attention, et paradoxalement, de nos compétences sociales… mais c'est un sujet qui mériterait un article à part entière.
Toutefois, la réalité virtuelle n'est qu'une des possibilités offertes par ces nouvelles technologies pour le smartphone gaming. La réalité augmentée concentre les véritables innovations à venir, et ces innovations n'affecteront pas seulement le monde du téléphone gaming. Lorsque Pokémon Go est sorti, les nombreuses inquiétudes relatives aux jeux en RV se sont transférées sur la réalité augmentée (RA). Après tout, si nous pouvons transformer le monde réel en terrain de jeu, pourquoi nous limiter à un monde virtuel ?
Dans les jeux de RA, tu réagis aux événements du monde qui t'entoure. Imagine qu'avec ton seul téléphone gamer, tu pourrais jouer à un Skyrim dans le monde réel, où les joueurs peuvent voyager dans le monde entier, par exemple dans des villes, des jungles ou des grottes, ou participer à un MMORPG en réalité augmentée.
Toutes ces possibilités ne tiennent peut-être pour l'instant que de la fiction, et ne se concrétiseront hypothétiquement jamais, mais quelques tentatives ont déjà eu lieu. Par exemple, Fragments de Microsoft est un jeu d'enquête criminelle qui te fait jouer au détective dans ta propre maison grâce à un téléphone gamer.
Ces perspectives sont très excitantes pour l'avenir du smartphone gaming, mais la réalité augmentée, mixte et virtuelle ne représentent que quelques-unes des possibilités offertes par les jeux mobiles. Les dernières innovations en matière de processeurs ouvrent des horizons encore plus intéressants pour ton téléphone portable gamer.
Du portable au grand écran : le grand saut
Ces derniers temps, le progrès le plus important et le plus pratique dans le domaine du téléphone gaming a été le passage du petit écran de ton smartphone gamer à un écran plus grand.
Pourquoi ? Car aujourd'hui, il y a plus de gens qui possèdent un smartphone que de gens qui disposent d'un accès Internet à haut débit à domicile. En d'autres termes, le téléphone portable gamer a pris la place de l'ordinateur.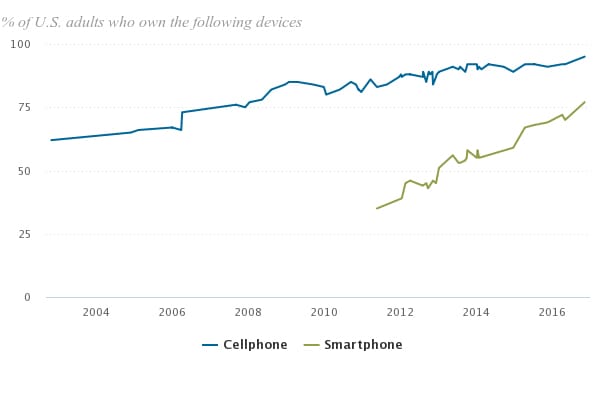 Après tout, la tendance naturelle veut que la technologie devienne plus petite, plus rapide et plus efficace avec le temps. Nous pouvons déjà effectuer la plupart des tâches professionnelles depuis un portable et nous jouons beaucoup avec cet appareil, qui devient progressivement un smartphone gamer. La seule pièce manquante du puzzle est donc de pouvoir projeter facilement l'écran d'un portable sur un téléviseur ou un moniteur.
Avec la Nintendo Switch, on a vu comment on peut structurer un téléphone portable gamer. Il pourrait y avoir une base sur laquelle brancher ton téléphone, avec un ventilateur supplémentaire pour le refroidir et un système de rechargement permettant de jouer longtemps. De plus, il suffirait de le débrancher pour emporter tes jeux partout.
On pourrait également ajouter à la base un clavier et une souris en Bluetooth pour les jeux sur PC. Il s'agirait donc d'un hybride téléphone gamer-PC-TV. Impressionnant, non ?
Il reste du chemin à parcourir pour atteindre cette pleine puissance mobile. Cependant, il existe déjà de nombreux téléphones portables dotés de processeurs suffisamment puissants pour faire tourner un PC sous Windows 10. Des jeux populaires moins exigeants comme League of Legends et Call of Duty ont déjà des versions mobiles, et même World of Warcraft en a sorti une.
En fait, Nizar Romdan, directeur des écosystèmes chez ARM (la société responsable de l'architecture des puces de la plupart des appareils portables), a noté que « les tablettes et les smartphones haut de gamme auront des graphismes équivalents à ceux des consoles populaires ».
Une autre avancée dans cette direction serait le téléphone portable gamer PGS (Portable Gaming System). Bien qu'à première vue, il ne soit pas très puissant, il nous donne une bonne idée de ce que pourrait être l'avenir du téléphone gaming : des manettes intégrées, des doubles écrans et un maximum de fun.
Mais cette approche n'est certainement pas la solution ultime aux smartphones gaming. Avec Gamevice, on peut greffer des manettes à n'importe quel smartphone, et le transformer instantanément en véritable téléphone gamer.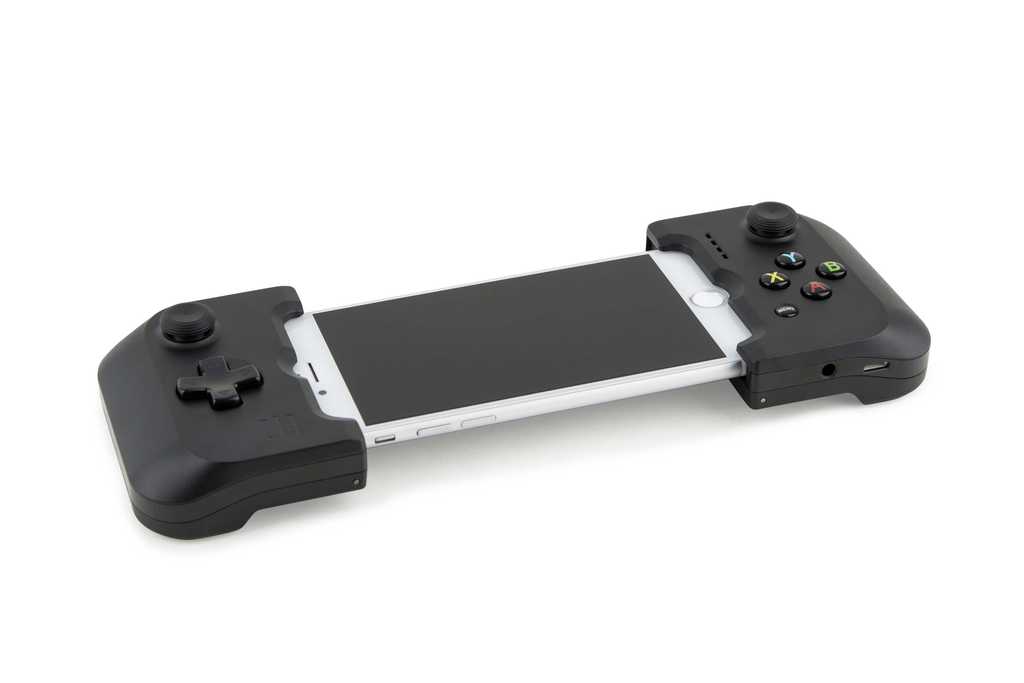 « Gamevice s'est imposé comme la principale solution de manettes de jeu. En plus de conclure de nouveaux partenariats, nous avons élargi notre gamme de produits, qui fonctionneront avec plus d'un milliard d'appareils », a déclaré l'entreprise dans un communiqué.
Son inspiration ? La console Nintendo Switch. « La Switch a prouvé que les consommateurs recherchent un appareil portable et mobile », a déclaré le président de la société, Philip Hyun, à PocketGamer.biz. « Le fait que Nintendo s'efforcera également de fournir de meilleurs contenus pour ce type de plateformes est un véritable tremplin pour nous. »
Maintenant, assez parlé des avancées pratiques, penchons-nous sur ce que nous promet la science-fiction !
Un aperçu de ce que l'avenir nous réserve : les premiers smartphones gamer holographiques
Tu connais déjà la RV et la RA, et tu sais maintenant comment transformer ton smartphone en un téléphone portable gamer ou un nouveau PC. Mais à quand les vrais effets spéciaux du futur, comme l'écran holographique de Tony Stark mentionné au début de cet article ?
Ne t'inquiète pas : les téléphones holographiques existent déjà bel et bien. En fait, c'est le cas depuis un moment. Cependant, tu sais probablement qu'ils n'ont pas rencontré le succès escompté.
La résolution du téléphone holographique n'était que de 160×104, bien loin des capacités impressionnantes de la 4K aujourd'hui, ce qui explique sans doute son échec retentissant sur le marché.
N'oublions cependant pas que la première console, la Magnavox Odyssey, avait une résolution de 160×200. La première version d'une nouvelle technologie n'est jamais à la hauteur. L'avantage, c'est qu'il existe désormais un mètre étalon auxquelles comparer ce type de téléphones. Avec le temps, la densité et la qualité des pixels augmenteront, et cette technologie deviendra courante dans les nouveaux téléphones gamer. Et en plus, tu pourras jouer à Angry Birds. Ce qui est quand même un avantage de taille.
Nous sommes encore loin de pouvoir profiter d'un téléphone gamer holographique complet. Le rêve de tout joueur deviendra-t-il un jour réalité ? Malheureusement, il ne semble pas que les hologrammes aboutis fassent partie de l'avenir proche du monde des jeux vidéo ou du téléphone gaming. Du moins, pas sans lunettes de réalité virtuelle ou augmentée.
Les obstacles actuels aux téléphones gaming et aux smartphones gamer
Les jeux mobiles ont beaucoup évolué depuis la sortie de la version mobile de Pong, mais il leur reste encore beaucoup de chemin à parcourir. Il existe d'énormes obstacles qui empêchent pour l'instant de disposer d'un véritable téléphone gamer abouti.
Le refroidissement est l'un de ces obstacles. Plus un petit appareil est puissant, plus il chauffe. Et compte tenu de l'espace insuffisant sur un téléphone pour installer un ventilateur d'une puissance adéquate, il reste à trouver de nouvelles solutions de refroidissement qui permettront d'augmenter la puissance des téléphones portables gamer.
D'autre part, il y a le problème de la batterie. Si on peut jouer à un jeu très gourmand en batterie pendant une heure ou deux, l'expérience n'est plus vraiment mobile passée ce délai. En fait, l'une des applications les plus utiles des nanotechnologies est la recharge rapide, qui permettrait de contourner cet obstacle qui se pose au téléphone gaming.
Romdan a déclaré ceci à Casual Connect Europe au sujet de ces défis :
« Nous pensons que la RV mobile est le cas d'utilisation qui pourrait libérer le potentiel du smartphone gaming pour les joueurs invétérés. Pour une fois, les portables sont à égalité avec les PC et les consoles en termes d'expérience [en ce qui concerne le facteur de forme de la RV]. »
« La puissance de traitement ne sera pas la même. L'autonomie de la batterie est un problème, mais c'est la même expérience utilisateur, et cela pourrait être une véritable révolution pour le smartphone gaming. »
Ce sont là les seuls obstacles vraiment importants. Bien sûr, il y a aussi la puissance de traitement qu'a évoquée Romdan, mais elle continuera à s'améliorer avec l'évolution de la technologie. Tu te souviens de la loi de Moore ? Selon cette loi, la puissance de la technologie double tous les deux ans, et Intel tient à ce que ce postulat reste valable.
Le futur du téléphone gaming et des téléphones gamer
La réalité augmentée et la réalité virtuelle existent depuis un certain temps, mais elles s'améliorent et deviennent de plus en plus pratiques chaque jour. Tout indique qu'elles deviendront bientôt un élément indispensable de la technologie utilisée dans les foyers, probablement aux côtés de dispositifs comme Google Voice ou Amazon Echo et d'une certaine forme d'intelligence artificielle (IA).
Avec les progrès de la technologie, les smartphones se connecteront à de grands écrans et deviendront des consoles d'une puissance similaire à celle des ordinateurs portables actuels. Tu pourras les utiliser pour jouer aux jeux les plus populaires et les moins exigeants.
Dans un avenir pas si lointain, l'utilisation et la popularité des hologrammes commenceront à prendre de l'ampleur et tous tes fantasmes d'Iron Man deviendront réalité. Et quand ce moment arrivera, les jeux deviendront vraiment plus intéressants.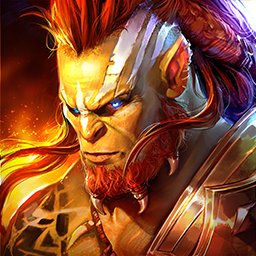 Raid: Shadow Legends
Récupère + de 400 Champions et décroche la gloire