Quel impact la nouvelle technologie des smartphones aura-t-elle sur les jeux pour mobile ?

Si tu es joueur sur mobile, tu te demandes probablement quelles innovations de la technologie pour téléphone mobile auront l'impact le plus important sur le jeu pour mobile.
Avec les nouvelles technologies géniales telles que les réalités virtuelle et augmentée, les petits processeurs hyper-rapides et même les affichages holographiques, des trucs de malade sont sur le point de débarquer.
Te souviens-tu d'Iron Man et de ses écrans d'ordinateur holographiques ? Nous nous rapprochons chaque jour de cette réalité. Ça semble génial, n'est-ce pas ?
Examinons comment la nouvelle technologie des smartphones affectera les jeux sur mobile !
Réalité augmentée et réalité virtuelle dans les jeux pour mobile
Bien entendu, les réalités augmentée et virtuelle ne sont pas une nouveauté sur les smartphones. Pokémon Go a déjà plus d'un an et les gens parlaient de RV et de RA des années avant ça.
En fait, Yohei Ishii, PDG de Turbo Studios, a déclaré que « c'est le début d'un énorme changement de l'espace de jeu, particulièrement pour les mobiles. C'est une véritable indication que le mobile trouve sa propre voie ».
Les experts affirment que le jeu pour mobile terminera l'année avec 35 milliards de dollars de recettes, une augmentation de 20 % par rapport à 2015. Et désormais, plus de gens jouent sur mobile que sur PC et console.
La RV et la RA commencent à devenir plus importantes à mesure que ces technologies évoluent. Pour nous immerger dans un monde virtuel, il est désormais possible d'associer nos téléphones au Samsung Gear VR, à la Google Cardboard et son prix incroyablement accessible, et à l'Oculus Rift haut de gamme.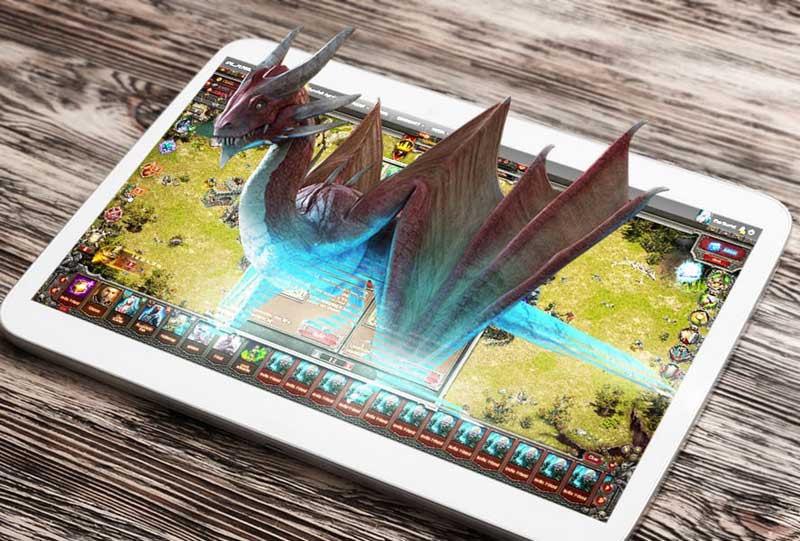 Dans les téléphones les plus récents, les processeurs Snapdragon 835 sont 35 % plus petits et utilisent 25 % moins de puissance que leurs précédents modèles. En les associant au contrôleur Gear VR, qui permet, physiquement, de lancer des objets et d'interagir avec le monde virtuel, les choses commencent à devenir vraiment sympa.
Il reste quelques incidents de parcours, par exemple le ralentissement de la fréquence d'images et le contrôleur qui bogue, mais ils seront corrigés à mesure que la RV touche le grand public.
Mais peu importe combien la RV progresse, il reste le problème d'immersion dans son propre monde, seul et sans véritable interaction humaine. Et bien ne t'inquiète pas : il existe désormais des jeux de RV multijoueurs également.
Mais si tu penses que la RV traditionnelle est cool, attends de voir ce que prépare Avegant...
Pénètre dans Avegant Glyph, une expérience de vision virtuelle qui, en fait, projette la vidéo directement sur tes rétines.
Exactement : la « Technologie d'imagerie rétinienne brevetée » d'Avegant « imite la vision naturelle à l'aide d'une projection LED sur des millions de miroirs microscopiques ». Nous sommes extrêmement proches de véritablement voir quelque chose sans, en fait, le voir réellement.
Bien entendu, mon souci avec cette technologie tourne autour des problèmes qu'elle pourrait causer à notre vision et à la manière dont elle aura un impact sur l'interaction sociale des gens. Il a déjà été avancé que les smartphones réduisent notre capacité de concentration et, paradoxalement, fait que nous sommes moins sociaux... Mais ce sera le sujet d'un autre article.
La réalité virtuelle n'est toutefois qu'un potentiel. Les véritables innovations sont le fait de la réalité augmentée, qui aura un impact bien plus grand sur les jeux pour mobile. Lorsque Pokémon Go est sorti, une grande partie des inquiétudes et de la polarisation sont passées de la réalité virtuelle à augmentée. Après tout, si nous pouvons transformer le monde en un terrain de jeu, pourquoi nous enfermer dans un monde virtuel ?
Dans les jeux de RA, tu réagis à des événements ayant lieu dans le monde autour de toi. Mon imagination rêve d'un monde de jeu Skyrim, où les gens pourraient voyager vers des endroits du monde réel, par exemple des villes, des jungles ou des grottes, et jouer un rôle dans un MMORPG de réalité augmentée.
Peut-être en sommes-nous très loin, peut-être même que ceci n'existera jamais, mais certains font des tentatives, comme le Fragments de Microsoft, un jeu d'enquête criminelle auquel tu peux jouer depuis chez toi.
Tout ceci est très excitant. Mais les réalités augmentée, mélangée et virtuelle ne sont que des potentialités pour les jeux sur mobile. Les innovations les plus récentes de la puissance de traitement ont ouvert des possibilités bien plus pratiques pour tes besoins de jeux sur smartphone.
De l'écran de mobile au grand écran
Les avancées les plus pratiques dans les jeux pour mobile vont être le passage de ton petit téléphone à un écran plus grand.
Pourquoi ? Parce qu'en janvier de cette année, 77 % des gens possèdent un smartphone. Le nombre de gens possédant un smartphone est plus important que le nombre de gens ayant l'Internet à grande vitesse chez eux. En d'autres termes, certaines preuves poussent à penser qu'à l'avenir, ton téléphone sera ton seul ordinateur.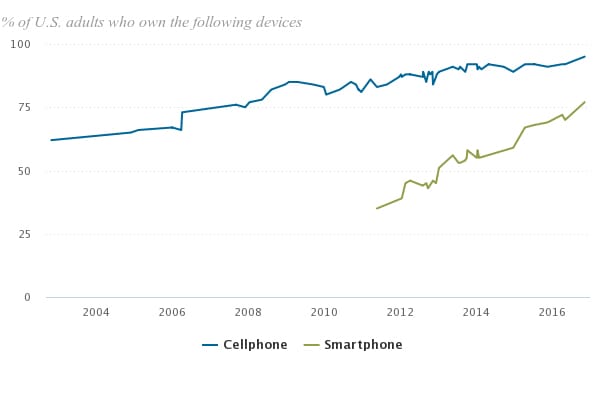 C'est plausible. Après tout, nous voyons une tendance de la technologie à devenir toujours plus petite, plus rapide et plus efficace. Lorsque nous aurons atteint un point où la majorité du travail quotidien et des tâches de jeu pourront être réalisés depuis ton téléphone, la seule autre pièce du puzzle sera de facilement connecter ton téléphone à une télévision ou à un moniteur d'ordinateur.
Nous sommes déjà en mesure de partager l'écran de notre téléphone sur la télévision. Avec la Nintendo Switch, nous avons vu comment pourrait fonctionner un téléphone mobile/console de jeu. Il pourrait y avoir une base sur laquelle tu peux brancher ton téléphone avec un ventilateur supplémentaire permettant de le rafraîchir et des capacités de charge pour que tu puisses jouer pendant de longues heures. Ensuite, il te suffirait de le débrancher pour emmener tes jeux avec toi lorsque tu te déplaces.
De plus, le dock te permettrait également de te connecter à un clavier Bluetooth et à une souris pour le jeu PC. Ce serait un hybride mobile, console, PC et télévision. Ça semble génial, non ?
Nous sommes encore loin de cette super-machine mobile et complète, mais le Snapdragon 835 des derniers téléphones de Samsung est, en réalité, suffisamment puissant pour faire tourner un PC Windows 10. Des jeux populaires pas trop exigeants tels que League of Legends, Call of Duty et même World of Warcraft pourraient bientôt entrer à portée des mobiles.
En fait, Nizar Romdan, directeur des écosystèmes d'ARM (la société responsable de l'architecture des puces de la plupart des appareils mobiles) a déclaré que « les tablettes et les smartphones haut de gamme auront des visuels d'un niveau équivalent à ceux des consoles de jeu populaires ».
Oh, et il y a également la console téléphone/mobile PGS (Portable Gaming System, pour système de jeu portable) qui vient d'entrer en pré-commande.
Il semblerait que l'appareil ne soit pas aussi puissant que nécessaire. Cependant, cela donne une bonne idée de ce pourrait être l'avenir des jeux pour mobile : des contrôleurs intégrés, un double écran et beaucoup de plaisir.
Mais ça ne sera pas forcément le fin du fin des jeux sur smartphone. Tu peux brancher des contrôleurs sur n'importe quel téléphone grâce au Gamevice.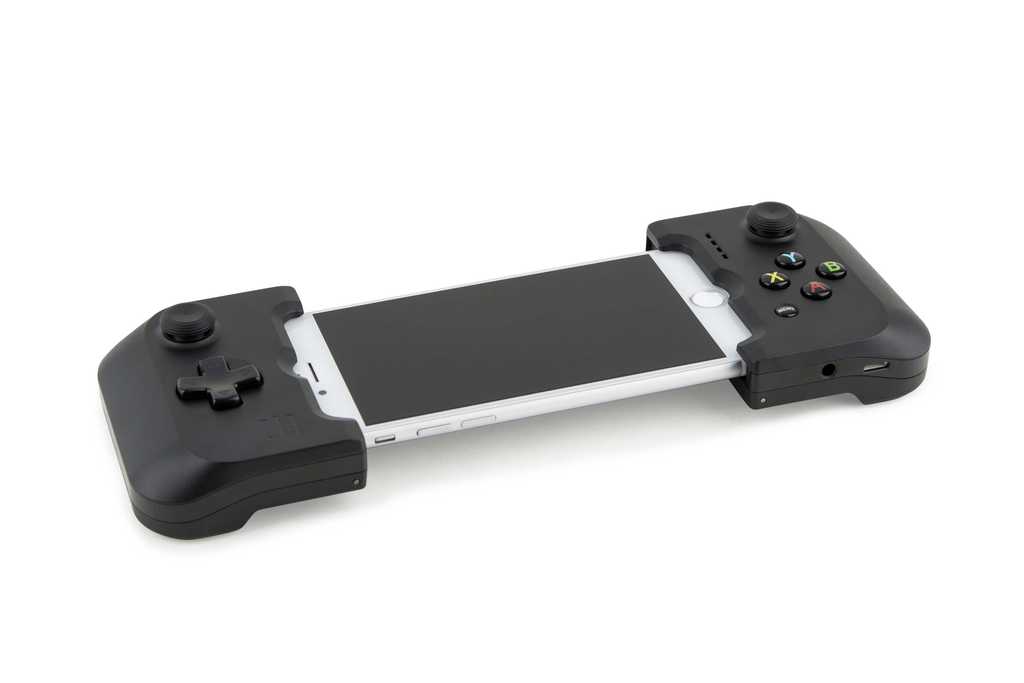 « Gamevice s'est positionné en tant que leader des manettes de jeu grâce à des partenariats excitants à venir ainsi qu'à une ligne de produits plus étoffée qui fonctionnera avec plus d'un milliard d'appareils », a annoncé l'entreprise dans un communiqué.
Ils ont tiré leur inspiration de la Nintendo Switch. « La Switch a prouvé que les consommateurs veulent un format portable et mobile », a déclaré à PocketGamer.biz le PDG de l'entreprise, Philip Hyun. « Nous serons aidés par le fait que Nintendo va également faire de son mieux pour offrir un meilleur contenu sur ce type de plateforme ».
Mais en voilà assez à propos des avancées pratiques : parlons science-fiction !
Les premiers téléphones holographiques
Tu connais la RV et la RA. Tu sais comment faire de ton téléphone ta nouvelle console ou ton nouveau PC. Mais qu'en est-il des trucs vraiment géniaux : cet affichage holographique à la Tony Stark mentionné au début de l'article ?
Ça arrive. Je ne sais pas quand, je ne sais pas comment, mais cela existera, d'une manière ou d'une autre. Comment est-ce que je le sais ?
Parce que les téléphones holographiques sont déjà là. Ils existent depuis plus d'un an maintenant.
Je sais ce que tu penses : ça n'est pas impressionnant du tout et tu as raison. La résolution du téléphone holographique est d'à peine 160 x 104 pixels, bien loin des 4k époustouflants d'aujourd'hui. C'est, en fait, ce qui empêche ce téléphone de sortir et d'être proposé au grand public.
Mais n'oublions pas que la première console, la Magnavox Odyssey, proposait une résolution d'écran de 160 × 200 pixels. La première sortie d'une nouvelle technologie est toujours insuffisante. Nous avons simplement de meilleures choses auxquelles comparer ce téléphone. Mais avec suffisamment de temps, la qualité des pixels augmentera et cette technologie deviendra banale. Et tout de même : tu peux jouer à Angry Birds. Ça vaut quelque chose, non ?
Mais l'holographique est très différent des véritables hologrammes. Est-ce que ce dont rêve tout joueur sera bientôt réel ?
La chose la plus proche est l'HYDROGEN ONE Media Machine, qui est en précommande... et ressemble à une plaisanterie. Ils ont une image et ne donnent pratiquement aucun détail. Je ne pense malheureusement pas que nous verrons bientôt des hologrammes en règle dans le monde du jeu. Au moins pas sans avoir à utiliser ces lunettes de réalité mélangée dont nous avons parlé.
Revenons à la réalité : si les téléphones deviennent tellement puissants, qu'est-ce qui les retient ?
Les obstacles actuels des jeux pour mobile
Le jeu pour mobile a beaucoup avancé depuis Pong pour ton téléphone. Mais il reste un long chemin à parcourir. Il y a, en particulier, quelques gros obstacles qui constituent un frein.
Un de ces obstacles est le refroidissement. Plus tu places de puissance dans un petit appareil, plus il chauffe. Et il n'y a simplement pas suffisamment de place dans un petit téléphone pour placer un ventilateur suffisamment puissant. Nous devrons explorer de nouvelles options de refroidissement pour continuer à augmenter la puissance.
En dehors de ça, il y a la puissance de la batterie. Bien entendu, tu peux jouer à un jeu exigeant pendant une heure ou deux, mais, au final, ça n'est pas véritablement mobile. Toutefois, une des applications les plus pratiques de la nanotechnologie développée en ce moment est le chargement éclair.
C'est génial, jette un œil :
En ce qui concerne les obstacles, Romdan, de Casual Connect Europe a ceci à déclarer :
« Nous pensons que la RV pour mobile est le cas d'utilisation qui pourrait débloquer le potentiel des mobiles pour les hyperjoueurs (hardcore gamers). Pour une fois, les appareils mobiles sont à hauteur des PC et des consoles en termes d'expérience [lorsqu'il est question du format RV] ».
« Nous n'avons pas la même puissance de traitement. Et la durée de vie de la batterie est un problème. Mais c'est la même expérience utilisateur. Ceci pourrait changer la donne du jeu sur mobile ».
Ce sont vraiment les seuls obstacles majeurs. Bien entendu, il y a également, comme l'a dit Romdan, la puissance de traitement ; mais ceci s'améliorera naturellement à mesure que la technologie se développe. Te souviens-tu de la Loi de Moore ? Tous les deux ans, les capacités technologiques doublent. Intel insiste sur le fait que ça reste vrai.
L'avenir des jeux pour mobile
Les réalités augmentée et virtuelle sont là. Elles s'améliorent et deviennent chaque jour plus pratiques. Je suppose qu'elles feront bientôt partie des foyers américains moyens, probablement aux côtés de technologies telles que Google Voice et Amazon Echo et d'un type d'IA domestique.
À mesure que la technologie progresse, nous verrons des smartphones qui pourront se connecter à de gros écrans et être transformés en consoles, avec une puissance similaire à celle de nos ordinateurs portables d'aujourd'hui : capables de jouer à certains des jeux les plus populaires et les moins exigeants.
Dans un avenir lointain (mais pas si lointain), nous commencerons à voir apparaître des innovations liées aux hologrammes et notre fantasme d'Iron Man deviendra réalité. C'est à ce moment-là que le jeu deviendra vraiment intéressant.
Oh, as-tu entendu la nouvelle ? Nintendo prépare un jeu Legend of Zelda pour smartphone. Ouais, nous aussi, nous sommes très excités.
Raid: Shadow Legends
Récupère + de 400 Champions et décroche la gloire