¿Cómo se integrarán las nuevas tecnologías en nuestro teléfono para convertirlo en un móvil-consola?

Si eres de las personas que juegan en el móvil, probablemente te estés preguntando cuáles son las innovaciones en tecnología en el campo de la telefonía móvil que tendrán el mayor impacto en los juegos diseñados para móviles.
Este impacto no solo se notará en los juegos, sino que los smartphones también tendrán que mejorar su rendimiento y capacidad para adaptarse a esta tendencia y poder ofrecer la misma experiencia de usuario que sus hermanos mayores, el PC y la videoconsola. Seguro que también te preguntas cuándo será tu smartphone un auténtico móvil-videoconsola.
Con la integración de nuevas tecnologías como la realidad virtual y la aumentada, la creación de procesadores ultrarrápidos y cada vez más compactos y el desarrollo incluso de pantallas holográficas, no cabe duda de que se empezarán a ver cosas realmente sorprendentes.
¿Te acuerdas de Iron Man y sus pantallas de ordenador holográficas? Cada día estamos más cerca de esa realidad. Pensarlo da vértigo, ¿verdad?
En este artículo conocerás cómo las nuevas tecnologías cambiarán por completo nuestra experiencia actual con los juegos para móviles y convertirán esta herramienta de nuestro día a día en un auténtico móvil-consola.
Realidad aumentada y realidad virtual: nuevas experiencias en el móvil-videoconsola
Es cierto: ni la realidad aumentada y ni la virtual son una novedad en los teléfonos inteligentes. Han pasado varios años desde la locura que desató el Pokémon Go y ya entonces la RV (Realidad Virtual) y la RA (Realidad Aumentada) eran tecnologías bastante conocidas y populares.
En aquel momento, Yohei Ishii, CEO de Turbo Studios, afirmó: "Este es el comienzo de un cambio masivo en el espacio de los juegos y específicamente en los móviles. Esta es una indicación real de que los móviles están empezando a emprender su propio camino".
Los datos de los beneficios económicos que reciben los juegos para móviles son cada vez más positivos. Las millonarias cifras siguen aumentando año tras año, y no es de extrañar: ya hay más personas que juegan en un móvil-consola que en PC y videoconsolas.
La RV y la RA son progresivamente más populares a medida que la tecnología avanza. De hecho, ya es posible encontrar herramientas para poder disfrutar de la RV y la RA prácticamente en cualquier tienda de tecnología. Algunos ejemplos son el Samsung Gear VR, el increíblemente asequible Google Cardboard y el Oculus Rift de gama alta, los cuales se pueden emparejar con teléfonos para convertirlos en un móvil-consola y sumergirse de lleno en el mundo virtual.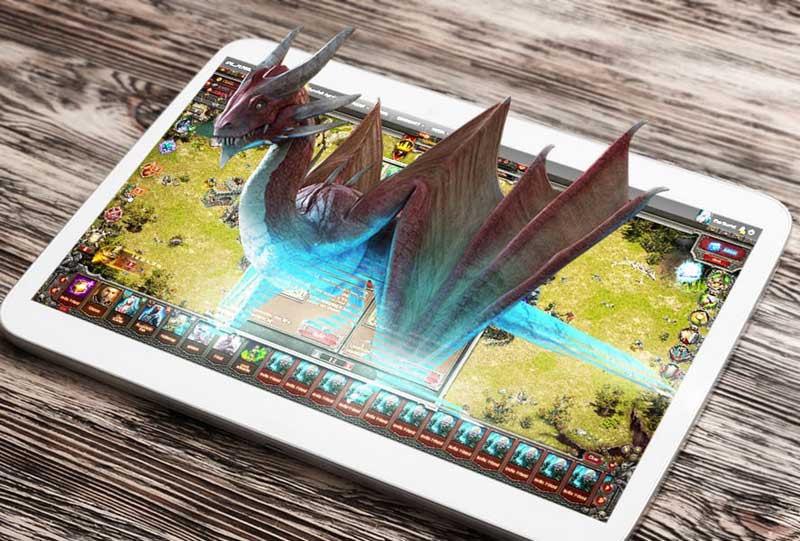 Gracias también al desarrollo de procesadores cada vez más compactos y con un mayor rendimiento, el teléfono móvil-videoconsola es capaz de ofrecer una experiencia tan completa como cualquier consola. Si los combinamos con controladores como el Gear VR, que permite lanzar objetos físicamente e interactuar con el mundo virtual, el móvil-consola no tiene nada que envidiar a un PC.
Si bien aún es necesario pulir ciertos aspectos, como los frames por segundo y errores del controlador, no hay duda de que a medida que se vaya popularizando y extendiendo más el uso de la RV, la tecnología avanzará y se perfeccionará, con lo que será posible convertir fácilmente un móvil en videoconsola.
Y ante los detractores de la RV, que señalan el problema de estar inmerso en tu propio mundo, solo y sin una verdadera interacción humana, los desarrolladores han respondido con la solución perfecta: juegos de RV multijugador.
Sin embargo, si eres de los que siguen amando la RV tradicional, no puedes pasar por alto la aportación de Avegant para el móvil-consola: el Avegant Glyph, una experiencia de visualización virtual que retransmite el vídeo directamente a tus retinas.
Así es, la "tecnología patentada de imagen retinal de Avegant imita la vista natural a través de la proyección de LED en millones de espejos microscópicos". Es lo más parecido a ver algo a lo que se puede llegar sin verlo de verdad.
Por supuesto, toda tecnología tiene sus desventajas, y en este caso es necesario plantearse cómo afectará el móvil-consola a la vista y a la interacción social de los jugadores. Ya se estudia cómo los teléfonos inteligentes reducen la capacidad de atención y, paradójicamente, reducen las habilidades sociales… pero este es un tema que merece un artículo propio.
No obstante, la realidad virtual es solo una de las posibilidades de estas nuevas tecnologías para el móvil-consola. Las innovaciones reales están llegando con la realidad aumentada, lo que afectará no solo a los juegos para móviles. Cuando salió Pokémon Go, muchas de las preocupaciones relacionadas con los videojuegos pasaron de la realidad virtual a la aumentada. Después de todo, si podemos convertir el mundo real en un patio de recreo, ¿por qué limitarse a estar en uno virtual?
En los juegos de RA reaccionas a los acontecimientos del mundo que te rodea. Piénsalo: tan solo con tu móvil-videoconsola podrías jugar a un Skyrim en el mundo real, donde la gente puede viajar a lugares de todo el planeta, como ciudades, selvas o cuevas, o participar en un MMORPG de realidad aumentada.
Puede que todas estas posibilidades aún sean meras imaginaciones y que no lleguen a materializarse nunca, pero ya hemos visto algunos intentos. Por ejemplo, Fragments, de Microsoft, es un juego de resolución de crímenes de investigación que te permite jugar a ser detective en tu propia casa gracias al móvil-consola.
Todas estas perspectivas plantean un futuro muy emocionante para los videojuegos, pero la realidad aumentada, mixta y virtual son solo algunas de las posibilidades para los juegos para móviles. Las últimas innovaciones en los procesadores abren, además, otras posibilidades mucho más prácticas para tu móvil-consola.
El salto desde el móvil a la gran pantalla
El salto más importante y práctico en los juegos para móviles en los últimos tiempos ha sido proyectar la pequeña pantalla de tu móvil-consola a una pantalla más grande.
¿Por qué? Porque en la actualidad la cantidad de personas que tiene smartphone supera a la cuenta con internet de alta velocidad en casa. En otras palabras, el teléfono móvil-consola ha ocupado el puesto del ordenador.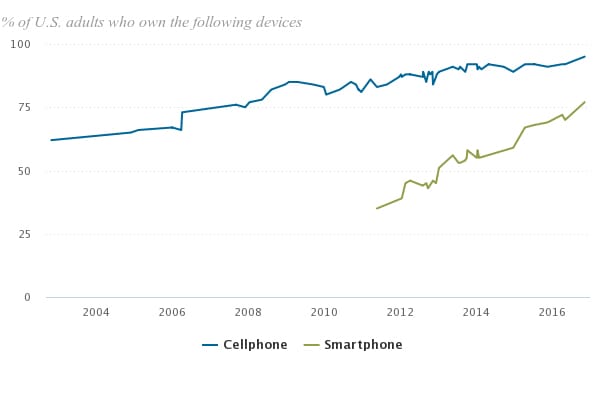 Después de todo, la tendencia natural es que la tecnología sea cada vez más pequeña, rápida y eficiente. Dado que la mayoría de las tareas de trabajo se pueden realizar ya desde el móvil y que jugamos ampliamente con este dispositivo, que se está convirtiendo progresivamente en un móvil-videoconsola, la única pieza que falta del rompecabezas es poder replicar la pantalla fácilmente a un televisor o un monitor.
Con Nintendo Switch hemos visto cómo podría funcionar un teléfono móvil-consola. Podría haber una base a la que conectar tu teléfono con un ventilador adicional para mantenerlo frío y con capacidad de carga para poder funcionar durante mucho tiempo. Además, puedes retirarlo y llevarte tus juegos donde quiera que vayas.
Además, la base podría permitirte conectar un teclado y un ratón bluetooth para juegos de PC. Sería como un híbrido móvil-consola-PC-TV. Suena impresionante, ¿no?
Aunque queda cierto recorrido para lograr esta potencia móvil completa, ya son muchos los teléfonos móviles cuyos procesadores son suficientemente potentes como para ejecutar un PC con Windows 10. Juegos populares menos exigentes, como League of Legends o Call of Duty ya cuentan con versiones para móvil, e incluso World of Warcraft prepara pronto una versión para smartphones.
De hecho, Nizar Romdan, director de ecosistemas de ARM (la empresa responsable de la arquitectura de chips de la mayoría de dispositivos móviles), señaló que "las tabletas de gama alta y smartphones tendrán gráficos a la par con las consolas populares".
Otro avance en este sentido sería el teléfono consola PGS (Portable Gaming System). Aunque a primera vista no cuenta con la potencia suficiente, nos da una buena idea de lo que podría ser el futuro de los juegos para móviles: controladores integrados, pantallas dobles y mucha diversión.
Pero esta no tiene por qué ser la respuesta definitiva a los juegos para teléfonos inteligentes. Con Gamevice puedes conectar mandos a cualquier teléfono, y convertir instantáneamente tu smartphone en un auténtico móvil-videoconsola.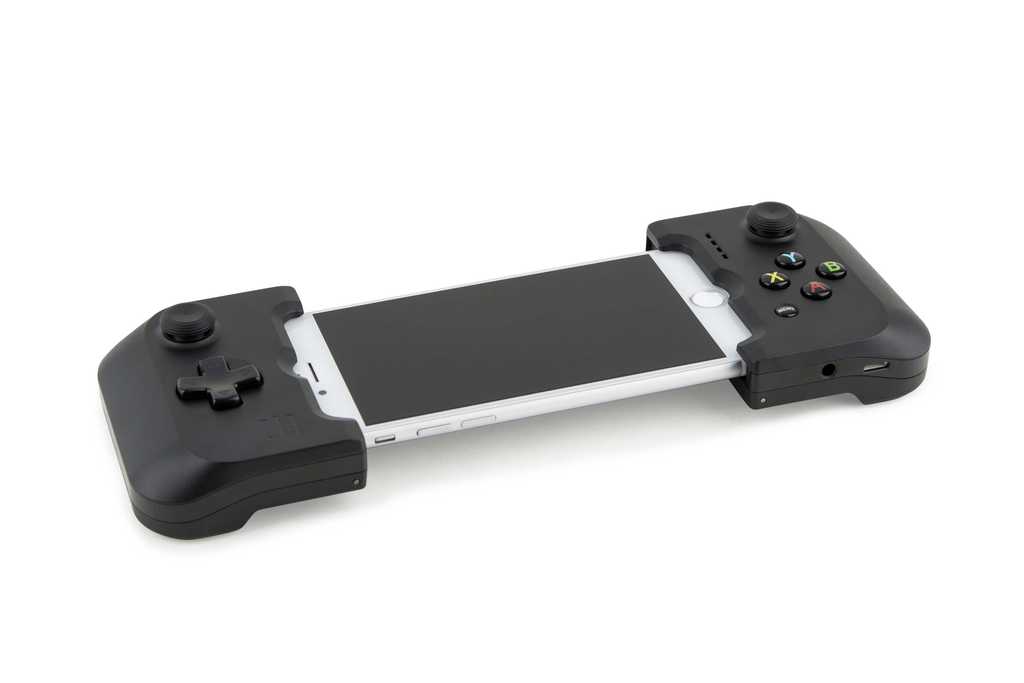 "Gamevice se ha posicionado como la solución líder de mandos, además de contar con próximas colaboraciones junto con una línea de productos ampliada que trabajará con más de mil millones de dispositivos", afirmó la compañía en un comunicado.
¿Su inspiración? La consola Nintendo Switch. "La Switch ha demostrado que los consumidores buscan un dispositivo que sea portátil y móvil", dijo el presidente de la empresa, Philip Hyun, a PocketGamer.biz. "Nos ayuda el hecho de que Nintendo también se esforzará por ofrecer un mejor contenido para este tipo de plataformas".
Pero ya basta de hablar de los avances prácticos; ¡Hablemos de la ciencia ficción!
Un adelanto de lo que traerá el futuro: los primeros teléfonos holográficos
Ya conoces la RV y la RA, y sabes cómo convertir tu teléfono móvil en tu nuevo móvil-consola o PC. Pero, ¿para cuándo los verdaderos efectos especiales del futuro, como esa pantalla holográfica de Tony Stark que se mencionaba al principio del artículo?
No desesperes: los teléfonos holográficos ya están aquí. De hecho, hace tiempo que llegaron. Sin embargo, probablemente sabrás que tampoco tardaron mucho tiempo en marcharse.
La resolución del teléfono holográfico era de unos míseros 160 × 104 píxeles, muy lejos de los impresionantes 4K actuales; sin duda, el motivo de su estrepitoso fracaso en la comercialización.
Sin embargo, no hay que olvidar que la primera consola, la Magnavox Odyssey, tenía una resolución de pantalla de 160×200 píxeles. La primera versión de la nueva tecnología siempre se queda corta, y ahora existen grandes cosas a las que comparar este teléfono. Con suficiente tiempo, la densidad y calidad de píxeles aumentará y esta tecnología se convertirá en algo común entre los móviles-videoconsola. Y además, puedes jugar a Angry Birds. Una ventaja aplastante.
Aún estamos lejos de conseguir disfrutar de hologramas completos. ¿Se hará realidad algún día el sueño de todo jugador? Por desgracia, no parece que los hologramas completos vayan a ser parte de un futuro cercano en el mundo de los videojuegos ni del móvil-consola. Al menos, no sin gafas de realidad virtual o aumentada.
Los obstáculos actuales frente al móvil-consola y los juegos para móvil
Los juegos móviles han recorrido un largo camino desde que se lanzó la versión de Pong para móvil, pero aún les queda mucho por hacer. Hay algunos obstáculos enormes que dificultan que podamos tener un auténtico móvil-videoconsola con todas las prestaciones.
Uno de estos obstáculos es la refrigeración. Cuanta más potencia tiene un dispositivo pequeño, más se calienta. Y dado el insuficiente espacio con el que cuenta un teléfono para poner un ventilador lo suficientemente potente, es necesario seguir explorando opciones de refrigeración para poder aumentar la potencia.
Por otra parte, tenemos el problema de la batería. Se puede jugar a un juego muy exigente durante una hora o dos, pero entonces no es realmente móvil. De hecho, unas de las aplicaciones más prácticas de la nanotecnología es la carga rápida, que solucionaría este obstáculo en el móvil-videoconsola.
En relación a estos problemas, Romdan aseguró en Casual Connect Europe esto:
"Nuestra opinión es que la RV móvil es el caso de uso que podría desbloquear el potencial del móvil para los jugadores hardcore. Por una vez, los dispositivos móviles están a la par con los PC y las consolas en términos de experiencia [cuando se trata del factor de forma de RV]".
"No tendremos la misma potencia de procesamiento, y la duración de la batería es un problema, pero es la misma experiencia de usuario. Eso podría suponer una auténtica revolución para los juegos para móviles".
Esos son realmente los únicos obstáculos importantes. Por supuesto, también está la potencia de procesamiento que comentó Romdan, pero eso seguirá mejorando a medida que mejore la tecnología. ¿Recuerdas la ley de Moore? Según esta ley, la potencia de la tecnología se duplica cada dos años. Intel insiste en que esta premisa sigue siendo válida.
El futuro de los juegos para móviles y el móvil-videoconsola
La realidad aumentada y la realidad virtual llevan tiempo aquí, pero cada día que pasa se vuelven mejores y más prácticas. Todo indica que pronto se convertirán en una parte indispensable de la tecnología que se aplica en los hogares, probablemente junto a dispositivos como Google Voice o Amazon Echo y algún tipo de Inteligencia Artificial (IA).
Con el avance de la tecnología los smartphones tendrán la capacidad de conectarse a pantallas grandes y convertirse en consolas con potencia similar a los portátiles actuales, en los que se podrá jugar incluso a los juegos más populares y menos exigentes.
En un futuro no tan lejano se empezará a extender el uso y la popularidad de los hologramas y todas tus fantasías de Iron Man se harán realidad. Y será entonces, cuando llegue ese momento, cuando los juegos se volverán realmente interesantes.
Raid: Shadow Legends
Colecciona 400+ Campeones y lucha por la gloria