Cómo las nuevas tecnologías de smartphones afectarán a los juegos para móviles

Si juegas en tu móvil, probablemente te estés preguntando: ¿qué nuevas innovaciones en tecnología de telefonía móvil tendrán el mayor impacto en los juegos para móviles?
Con nuevas tecnologías como la realidad virtual y la aumentada, los procesadores ultra rápidos y súper pequeños, e incluso las pantallas holográficas, hay algunas cosas súper chulas en camino.
¿Te acuerdas de Iron Man y sus pantallas de ordenador holográficas? Cada día estamos más cerca de esa realidad. Mola mucho, ¿verdad?
Echemos un vistazo a cómo las nuevas tecnologías de smartphones afectarán a los juegos para móviles.
Realidad aumentada y virtual en juegos para móviles
Por supuesto, ni la realidad aumentada y ni la virtual en los teléfonos inteligentes son nada nuevo. Pokémon Go ya tiene más de un año y la gente ya hablaba de RV (Realidad Virtual) y RA (Realidad Aumentada) varios años antes de eso.
De hecho, Yohei Ishii, CEO de Turbo Studios, dijo que "Este es el comienzo de un cambio masivo en el espacio de los juegos y específicamente en los móviles. Esta es una indicación real de que los móviles están empezando a emprender su propio camino".
Los expertos dicen que los juegos para móviles terminarán el año con unos ingresos de más de 35 000 millones de dólares, un 20 % más que en 2015. Y ahora ya hay más gente que juega a juegos en su móvil que en PC y consolas.
Ahora, la RV y la RA están empezando a ser más prominentes a medida que la tecnología avanza. Ya tenemos el Samsung Gear VR, el increíblemente asequible Google Cardboard y el Oculus Rift de gama alta para emparejar con nuestros teléfonos y perdernos en un mundo virtual.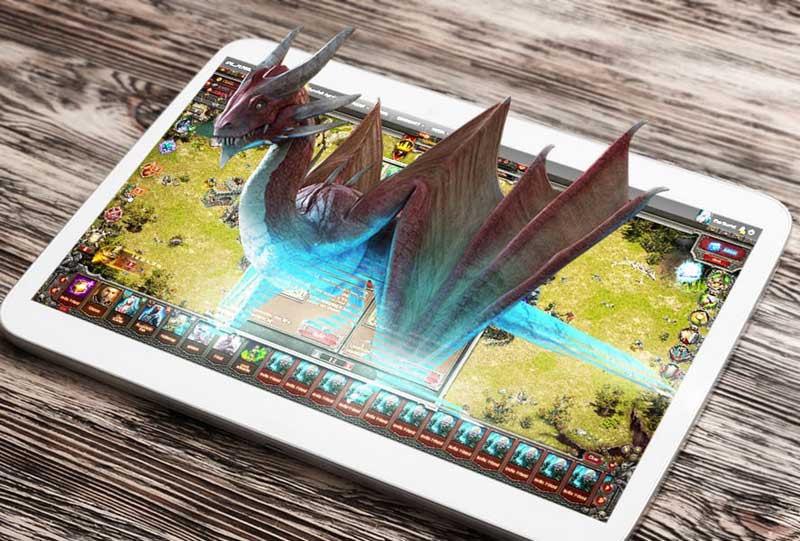 Los procesadores Snapdragon 835 de los últimos teléfonos son un 35 % más pequeños y usan un 25 % menos de energía que los diseños anteriores. Si los combinamos con el controlador Gear VR, que te permite lanzar objetos físicamente e interactuar con el mundo virtual, las cosas empiezan a pintar muy bien.
Todavía se tienen que arreglar algunos detalles, como los frames por segundo y errores del controlador, pero seguro que todo esto se arreglará a medida que la RV se vuelva más común.
Pero no importa lo buena que sea la RV, siempre está el problema de estar inmerso en tu propio mundo, solo y sin una verdadera interacción humana. Pues no te preocupes, ya que ahora también hay juegos de RV multijugador.
Pero si crees que la RV tradicional es genial, espera a ver lo que Avegant se trae entre manos...
Presentamos el Avegant Glyph, una experiencia de visualización virtual que de hecho transmite el vídeo directamente a tus retinas.
Así es, la "tecnología patentada de imagen retinal de Avegant imita la vista natural a través de la proyección de LED en millones de espejos microscópicos". Es lo más parecido a ver algo a lo que se puede llegar sin verlo de verdad.
Por supuesto, mi preocupación con toda esta tecnología es cómo afectará a tu vista y a la interacción social de la gente. Ya se ha dicho que los teléfonos inteligentes reducen nuestra atención y nos hacen paradójicamente menos sociales... pero eso es algo para otro artículo.
Pero, la realidad virtual es solo una de las posibilidades. Las innovaciones reales están llegando en realidad aumentada, lo que afectará a mucho más que a los juegos para móviles. Cuando salió Pokémon Go, muchas de las preocupaciones y concentraciones pasaron de la realidad virtual a la aumentada. Después de todo, si podemos convertir el mundo real en un patio de recreo, ¿por qué encerrarnos en uno virtual?
En los juegos de RA, reaccionas a los acontecimientos del mundo real que te rodea. Mi imaginación concibe un Skyrim en el mundo real, donde la gente puede viajar a lugares en el mundo real, como ciudades, selvas o cuevas, y jugar en un MMORPG de realidad aumentada.
Puede que eso esté muy lejos, es posible que no llegue a pasar nunca, pero tenemos muchos intentos tempranos, como Fragments, de Microsoft, un juego de resolución de crímenes de investigación al que puedes jugar en tu propia casa.
Todo esto es muy emocionante. Pero la realidad aumentada, mixta y virtual son solo una de las posibilidades para los juegos para móviles. Las últimas innovaciones en la potencia de procesamiento han abierto algunas posibilidades mucho más prácticas para tus necesidades lúdicas en el móvil.
De la pantalla móvil a la gran pantalla
El mayor salto práctico en los juegos para móviles va a ser proyectar la pequeña pantalla de tu teléfono a una más grande.
¿Por qué? Porque el 77 % de la gente tiene un smartphone a fecha de enero de este año. Hay más gente con un smartphone que con internet de alta velocidad en casa. En otras palabras, hay pruebas de que en el futuro tu teléfono será tu único ordenador.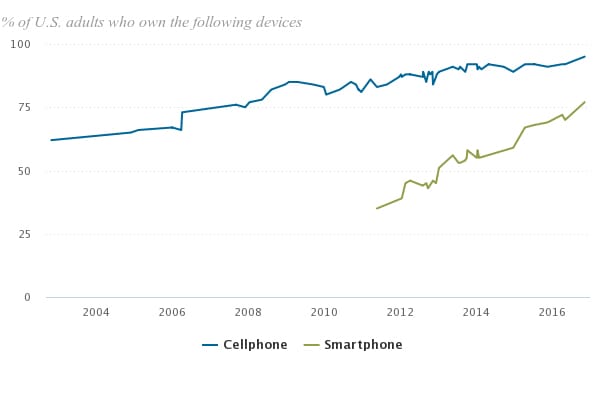 Es posible. Después de todo, estamos viendo una tendencia en la que la tecnología cada vez se hace más pequeña, rápida y eficiente. En cuanto lleguemos a un punto en el que la mayoría de las tareas de trabajo y juegos se puedan hacer desde tu teléfono, la única otra pieza del rompecabezas será hacer que los teléfonos se conecten fácilmente a un televisor o un monitor.
Ya se puede compartir la pantalla desde el teléfono a la TV. Con Nintendo Switch, hemos visto cómo podría funcionar un teléfono/consola de juegos. Podría haber una base a la que conectar tu teléfono con un ventilador adicional para mantenerlo frío y con capacidad de carga para poder funcionar durante mucho tiempo. Además, puedes retirarlo y llevarte tus juegos donde quiera que vayas.
Además, la base podría permitirte conectar un teclado y un ratón bluetooth para juegos de PC. Sería como un híbrido móvil, consola, PC, TV. Suena impresionante, ¿no?
Aunque todavía estamos lejos de esta potencia móvil completa, el Snapdragon 835 de los últimos teléfonos de Samsung es de hecho lo suficientemente potente como para ejecutar un PC con Windows 10. Juegos populares menos exigentes, como League of Legends, Call of Duty e incluso World of Warcraft, pronto estarán al alcance de los móviles.
De hecho, Nizar Romdan, director de ecosistemas de ARM (la compañía responsable de la arquitectura de chips de la mayoría de dispositivos móviles), dijo que "las tabletas de gama alta y smartphones tendrán gráficos a la par con las consolas de juegos populares".
Ah, y luego está el teléfono/consola de juegos PGS (Portable Gaming System) que desde hace poco ya está disponible para pedidos anticipados.
A primera vista, no tiene la potencia suficiente. Aunque nos da una buena idea de lo que podría ser el futuro de los juegos para móviles: controladores integrados, pantallas dobles y mucha diversión.
Pero puede que no tenga que ser la respuesta definitiva a los juegos para teléfonos inteligentes. Puedes conectar mandos a cualquier teléfono con Gamevice.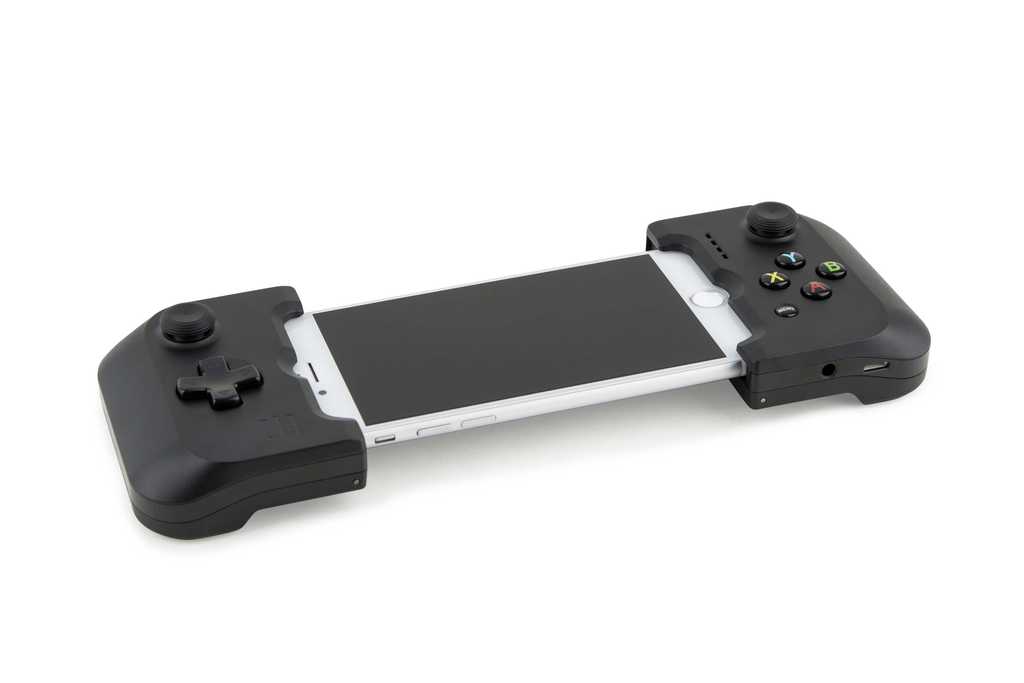 "Gamevice se ha posicionado como la solución líder de mandos, además de contar con próximas alianzas junto con una línea de productos ampliada que trabajará con más de mil millones de dispositivos", dijo la compañía en un comunicado.
De hecho, se inspiraron en la Nintendo Switch. "La Switch ha demostrado que los consumidores quieren un factor de forma que sea portátil y móvil", dijo el presidente de la empresa, Philip Hyun, a PocketGamer.biz. "Nos ayuda el hecho de que Nintendo también presionará para traer un mejor contenido a este tipo de plataformas".
Pero ya basta de hablar de los avances prácticos; ¡Hablemos de la ciencia ficción!
Los primeros teléfonos holográficos
Conoces la RV y la RA Sabes cómo hacer para que tu teléfono sea tu nueva consola o PC. Pero, ¿qué pasa con las cosas geniales de verdad, como esa pantalla holográfica de Tony Stark que mencioné al principio del artículo?
Están llegando. No sé cuándo, ni cómo, pero llegarán de una forma u otra. ¿Cómo lo sé?
Pues porque los teléfonos holográficos ya están aquí. Hace un año que llegaron.
Sé lo que estás pensando, no es nada impresionante y tienes razón. La resolución del teléfono holográfico es de unos míseros 160 × 104 píxeles, muy lejos de la impresionante 4k actual. Esto es en efecto lo que impide que el teléfono se comercialice.
Aunque no podemos olvidar que la primera consola, la Magnavox Odyssey, tenía una resolución de pantalla de 160×200 píxeles. La primera versión de la nueva tecnología siempre se queda corta, ahora tenemos muchas cosas mejores a las que comparar este teléfono. Con suficiente tiempo, la densidad y calidad de píxeles aumentará y esta tecnología se convertirá en algo común. Y además, puedes jugar a Angry Birds. Eso tiene que contar para algo, ¿no?
Pero holográfico queda muy lejos de hologramas completos. ¿Se hará realidad algún día el sueño de cualquier jugador?
Lo más parecido que tenemos es HYDROGEN ONE Media Machine, que está disponible para pedidos anticipados... y tiene pinta de ser un timo. Tienen una sola foto y prácticamente no dan ningún detalle. Por desgracia, no creo que vayamos a ver hologramas completos en un futuro cercano en el mundo de los videojuegos. Al menos no sin esas gafas de realidad virtual o aumentada de las que hemos hablado.
Volvamos a la realidad: si los teléfonos son tan potentes, ¿qué los retiene?
Los obstáculos actuales de los juegos para móviles
Los juegos móviles han recorrido un largo camino desde que se lanzó la versión de Pong para móvil. Pero todavía les queda un largo camino por recorrer. Hay algunos obstáculos enormes que dificultan el avance.
Uno de estos obstáculos es la refrigeración. Cuanta más potencia tiene un dispositivo pequeño, más se calienta. Y no hay suficiente espacio en un teléfono pequeño para poner un ventilador lo suficientemente potente. Necesitaremos explorar otras opciones de enfriamiento para seguir aumentando la potencia.
Aparte de eso, tenemos el problema de la batería. Por supuesto que puedes jugar a un juego muy exigente durante una hora o dos, pero entonces no es realmente móvil. Sin embargo, una de las aplicaciones más prácticas de la nanotecnología que se está desarrollando en este momento es la carga rápida.
Esto es impresionante, echa un vistazo:
En cuanto a los obstáculos, Romdan en Casual Connect Europe tiene esto que decir:
"Nuestra opinión es que la RV móvil es el caso de uso que podría desbloquear el potencial del móvil para los jugadores hardcore. Por una vez, los dispositivos móviles están a la par con los PC y las consolas en términos de experiencia [cuando se trata del factor de forma de RV]".
"No tendremos la misma potencia de procesamiento. Y la duración de la batería es un problema. Pero es la misma experiencia de usuario. Eso podría suponer una auténtica revolución para los juegos para móviles".
Esos son realmente los únicos obstáculos importantes. Por supuesto, también está la potencia de procesamiento que comentó Romdan, pero eso seguirá mejorando a medida que mejore la tecnología. ¿Recuerdas la ley de Moore? Cada dos años se dobla el potencial de la tecnología. Intel insiste en que aún sigue siendo válida.
El futuro de los juegos para móviles
La realidad aumentada y la realidad virtual ya están aquí. Se están volviendo mejores y más prácticas con cada día que pasa. Sospecho que pronto se convertirán en una parte habitual del hogar americano, probablemente junto a tecnologías como Google Voice o Amazon Echo y algún tipo de IA de la casa.
A medida que avance la tecnología, veremos teléfonos inteligentes con la capacidad de conectarse a pantallas grandes y convertirse en consolas con potencia similar a los portátiles de hoy en día, que son capaces de soportar algunos de los juegos más populares y menos exigentes.
En un futuro lejano (pero no tan lejano) empezaremos a ver innovaciones en lo que respecta a los hologramas y nuestras fantasías de Iron Man se harán realidad. En ese momento los juegos se harán interesantes de verdad.
Ah, ¿te has enterado de que Nintendo está haciendo un juego de la Leyenda de Zelda para móviles? Sí, nosotros también estamos emocionados.
Raid: Shadow Legends
Colecciona 400+ Campeones y lucha por la gloria