Tendenze Nei Videogiochi Online Nel 2017 E Oltre

L'industria dei videogiochi si sta ampliando ogni anno che passa. Lo scorso anno, il 2016, l'industria ha totalizzato un ricavo senza precedenti di ben 91 miliardi di dollari. Le previsioni per quest'anno sono perfino più ottimistiche - si parla addirittura di 108,9 miliardi di dollari di fatturato. Perbacco...
Ma che cos'è che consente di raggiungere delle entrate così colossali? La semplice risposta è composta da due sole parole - Videogiochi Mobile.
Le Tendenze Più Popolari Nel Mondo Dei Videogiochi nel 2017
I videogiochi per dispositivi mobili allo stato attuale rappresentano il segmento più vasto dell'intero fatturato di questo settore. Entro la fine del 2017, ci si aspetta che abbiano generato ben 46 miliardi di dollari, una cifra che rappresenta il 42% del mercato globale dell'intera produzione di giochi. Solo per avere un confronto, i giochi per console si attestano al 31%, ed i giochi per PC solo al 27%.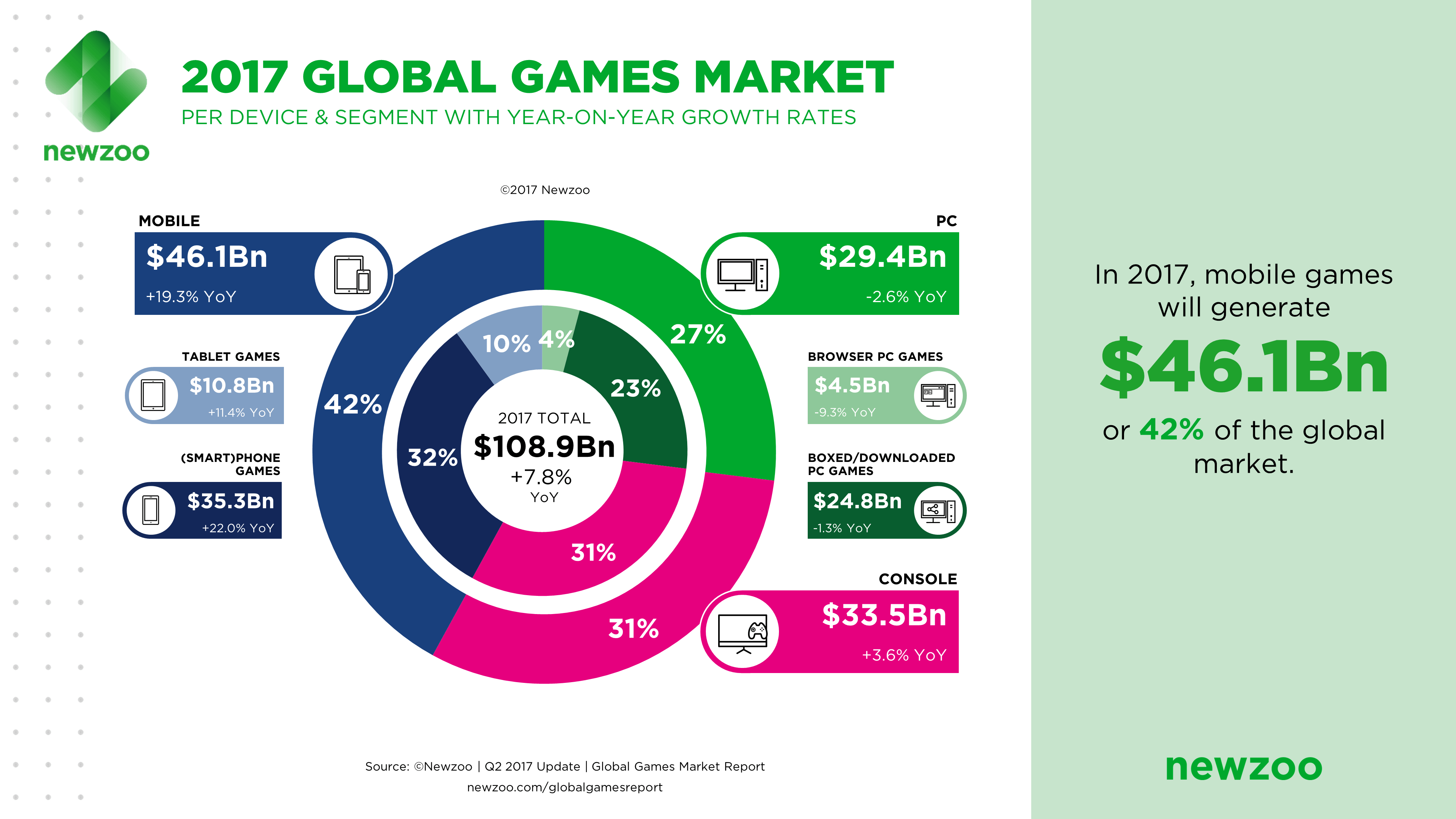 A onor del vero, i giochi per mobile non rappresentano l'unica tendenza in ascesa dell'intera industria. La Realtà Virtuale è indubbiamente un'altra fonte di reddito oltremodo promettente, tanto che gli analisti prevedono una crescita del 104% dal 2016 al 2017. In effetti, entro l'anno 2020, ci si aspetta che il fatturato annuo globale nell'ambito dei prodotti a Realtà Virtuale raggiunga i 28 miliardi di dollari, una cifra addirittura di 6 volte superiore rispetto alle attese per quest'anno. Nella realtà delle cose, solamente 4,5 miliardi di dollari arriveranno effettivamente dai giochi a RV, ma sarà pur sempre superiore di ben 20 volte la cifra spesa dai giocatori entro la fine del 2016.
La Realtà Virtuale sta decisamente acquisendo sempre più popolarità, ed io ritengo che, anche in questo caso, se ne possa attribuire il merito all'evoluzione dei mobile. I dispositivi mobili e gli smartphone stano acquisendo sempre più potenza, generazione dopo generazione. Giù supportano giochi a Realtà Virtuale ed a Realtà Avanzata e, man mano che la loro tecnologia progredisce, non potremo che beneficiare di esperienze sempre più abbordabili, divertenti ed esclusive. Usare il telefono assieme a cuffie wireless per RV è molto più pratico e semplice di quanto non lo sia usare i più costosi PC e console. È più facile, non implica l'utilizzo di noiosi cavi ed è accessibile a chiunque disponga di uno smartphone.
Non sto dicendo che la RV sia esclusivamente dominio dei dispositivi mobili, però credo fermamente che l'ascesa nella sua popolarità possa essere attribuita al grande successo del settore dei videogiochi per mobile, piuttosto che all'acquisto di costosi PSVR o HTC Vive da parte dei giocatori più accaniti.
Se vogliamo parlare del contributo apportato dalla massa "più accanita" alla crescente ascesa dell'industria dei videogiochi, prendiamo in considerazione due specifici segmenti: quello degli sport elettronici e quello dei videogiochi online.
Parlando di videogiochi, gli sport elettronici rappresentano uno dei mercati a più veloce ascesa , secondo solo a quello della Realtà Virtuale. Tra il 2016 ed il 2017, gli sport elettronici hanno fatto un balzo in avanti di un notevole 26%. Ovvio, le cifre in sé stesse sono ancora relativamente basse, con 892 milioni di dollari nel 2016 e previsioni per 1,1 miliardi di dollari per il 2017. Quello però che risulta più impressionante è la portata della scena raggiunta dagli e-sport. Dai super competitivi giochi per console, ai giochi di carte collezionabili ed agli MMO gratuiti, quasi ogni genere di videogioco sta cercando di dominare sulla scena degli e-sport, con vari livelli di successo.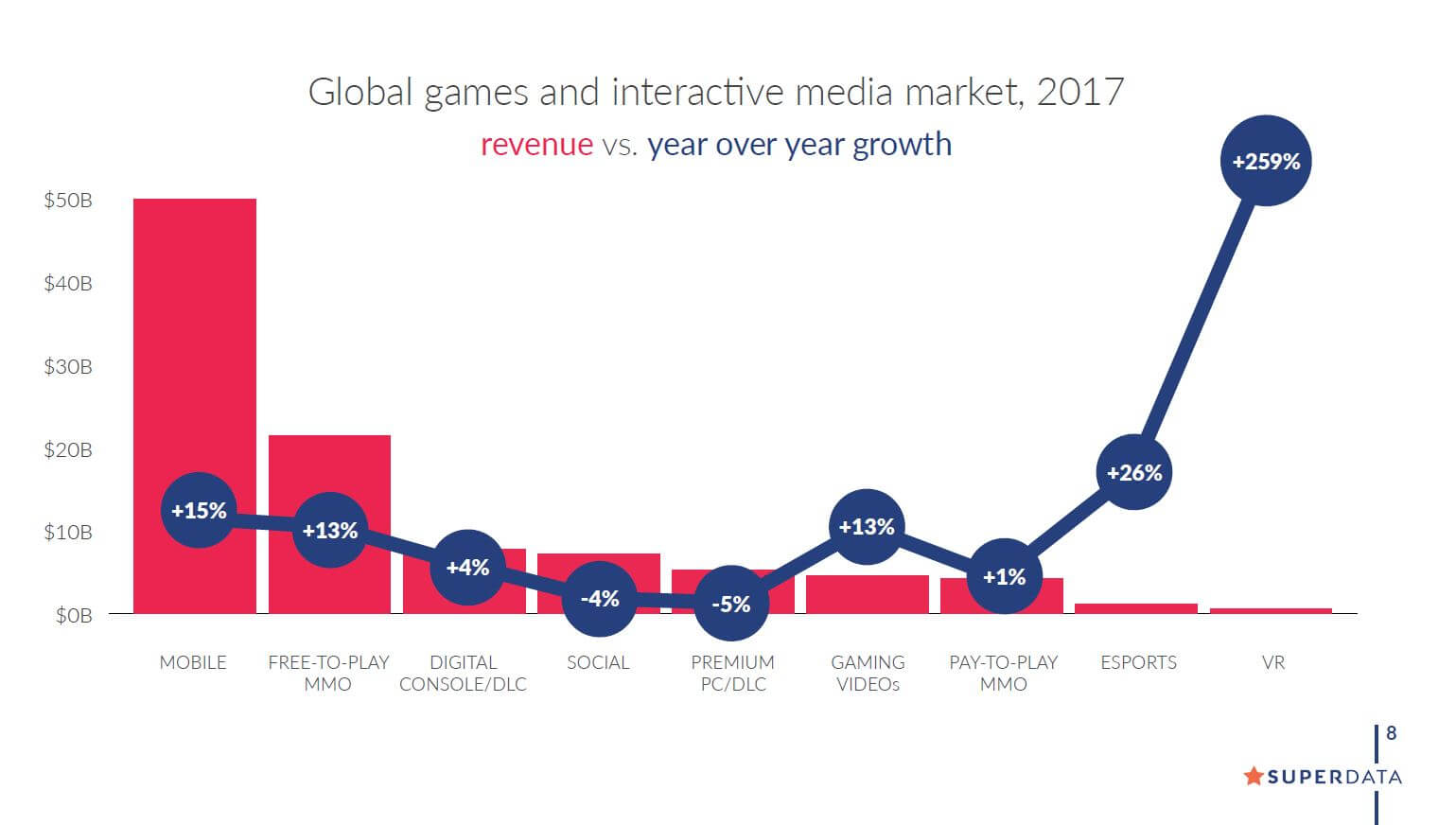 Allo stato attuale, mobile, RV ed e-sport rappresentano le tendenze più in voga. Ma la spina dorsale dell'industria sono, e sempre saranno, i giochi. E questo è appunto l'argomento su cui voglio concentrarmi - i giochi. Più nello specifico, i videogiochi online.
Giochi Online Più Popolari del 2017
Partecipare ai giochi online non è mai stato così di tendenza. Nel 2017, in tutto il mondo si contano ben 575 milioni di persone intente a partecipare ai videogiochi online, e questo escludendo i giochi per browser a partecipazione gratuita. Si tratta di un incremento del 3% rispetto al 2016, e le previsioni parlano di una costante ascesa fino al raggiungimento dei 645 milioni di giocatori per l'anno 2021. Inoltre, una rapida occhiata alla pagina delle statistiche offerta da Steam ci rivela che i primi 5 giochi sulla piattaforma sono tutti dei videogiochi online. Senza menzionare i giochi che non si trovano su Steam, come Overwatch e Hearthstone che già da soli annoverano qualcosa come 100 milioni di giocatori tra tutte le piattaforme.
Dunque, la gente partecipa un sacco ai videogiochi online; tuttavia, la domanda più interessante è: a cosa stanno giocando, nello specifico? I generi e sottogeneri da elencare sono infiniti, quindi ci conviene guardare alla tipologia di giochi a cui la gente tende a partecipare, sia online che offline.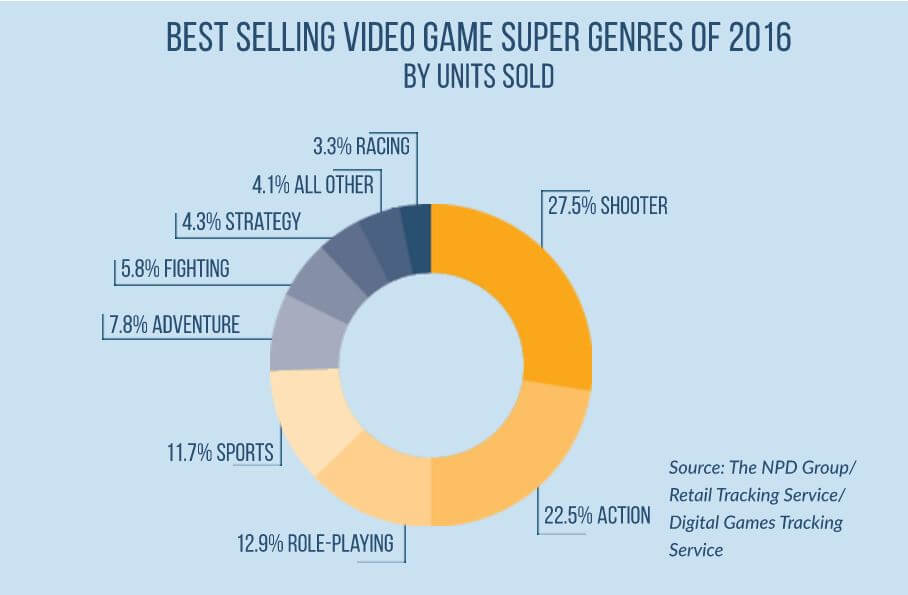 Parrebbe proprio che i giochi d'azione, sparatutto e di ruolo siano pressoché dominanti sia sul mercato dei PC che in quello delle console. Se diamo un'occhiata ai generi di giochi per mobile più popolari, l'analisi nel dettaglio risulta decisamente diversa, con i giochi a puzzle, strategici e a scommesse che si contendono i primi posti.
Con tale informazione ben chiara, ora soffermiamoci sui 5 generi più popolari di videogiochi online:
MOBA
Giochi di Ruolo, o MMORPG
Sparatutto
Strategia
Giochi d'Azzardo
MOBA
I MOBA, ovvero i giochi basati su una Arena di Battaglia a Giocatore Multiplo Online, sono un genere da considerarsi relativamente nuovo. Fecero il loro ingresso prepotentemente nel mondo dei videogiochi con grandi titoli come League of Legends, Dota 2 e Heroes of the Storm. Alcuni ritengono addirittura che questo genere sia responsabile dell'ascesa degli e-sport così come li conosciamo oggi.
Seppure sia difficile determinare esattamente quale MOBA abbia riscosso maggior successo in senso lato, possiamo facilmente risalire a quale sia il più popolare dell'anno 2017. Sulla base dei numeri dei visitatori online e del numero di giocatori attivi, League of Legends è di gran lunga il vincitore, perfino 8 anni dopo la data del suo lancio iniziale. Lo scorso anno, di questi tempi, la società di sviluppo Riot Games affermò che LoL aveva 100 milioni di giocatori attivi ogni singolo mese. Solo per fare un confronto, Dota 2, il più grande concorrente di LoL, ha riferito qualcosa come 13 milioni di giocatori individuali mensili LoL è fino ad ora anche il gioco PC più giocato dell'anno, e il gioco più visionato su Twitch.
La prova più indiscutibile che il genere MOBA sia tuttora il re indiscusso dei videogiochi online è, come sempre, il flusso di denaro. Non solo LoL sta producendo il fatturato più cospicuo di ogni altro titolo MOBA dell'anno, ma può vantare anche il più alto incasso di tutti i giochi per PC del 2017. Tutto questo è stupefacente, tanto per usare un eufemismo.
Sui dispositivi mobili, la situazione è pressoché identica. Honor of Kings, conosciuto col nome di Arena of Valor sul mercato occidentale, è il gioco per mobile più popolare del 2017, ed è basato su un'arena da combattimento 5 contro 5. Il gioco ha raccolto qualcosa come 55 milioni di partecipanti attivi sin dal suo primo lancio nel 2015, ed ha generato 435 milioni di dollari di fatturato ogni singolo mese. È talmente popolare in Cina che il più grande quotidiano lo ha definito un "veleno" ed una "droga". Se ne deduce che la gente parrebbe decisamente gradirlo.
Tuttavia, esiste un altro tipo di gioco che minaccia la posizione di dominio del genere MOBA sulla scenda dei videogiochi online: si tratta del famoso sparatutto.
Gli Sparatutto
I MOBA sono tuttora considerati il genere più popolare nell'ambito del gioco online, ma gli Sparatutto stanno guadagnando terreno. Molto rapidamente.
Giochi popolari come Overwatch, Counter-strike: Global Offensive e GTA Online obbligano i migliori MOBA a sudarsi fino all'ultimo centesimo. A riprova di questo, CS:GO è allo stato attuale il gioco di e-sport più popolare su Twitch, avendo messo fine alla sequenza infinita di successi di League of Legends. Con il recente lancio di Destiny 2, gli sparatutto hanno acquisito più popolarità che mai; molto presto potrebbero prendere il posto dei MOBA come genere di gioco online più popolare.
Non esiste miglior esempio di questo prossimo ribaltamento di posizione del quotatissimo PlayerUnknown's Battlegrounds, un prodotto multigiocatore online della Bluehole Studio. Ad oggi, PUBG è il gioco con maggiore partecipazione su Steam. Circa 1 milione di persone partecipano a questo gioco ogni giorno, e la cosa buffa è che non è neppure ancora stato lanciato - o, quantomeno, non in modo ufficiale.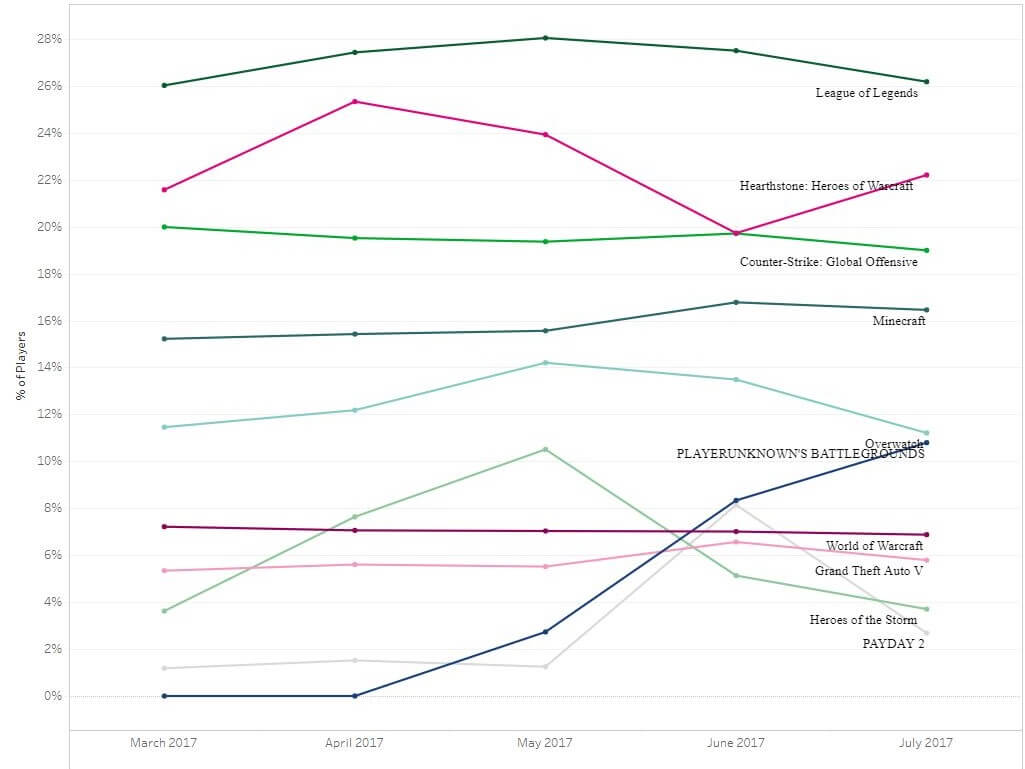 Sulla base di uno studio condotto da Newzoo, PlayerUnknown's Battlegrounds è il 6° gioco più popolare su PC in questo preciso periodo. Nel Maggio 2017, solo il 2,73% di giocatori su PC partecipava al gioco; a Luglio, il numero è decollato, raggiungendo il 10,81%. Sul mercato giapponese ha raggiunto la posizione numero 1, la numero 3 in Cina, e la numero 4 negli Stati Uniti. Con numeri di questo tipo, non credo vi siano dubbi che si stia apprestando a conquistare i primi posti in tutto il mondo.
MMO e MMORPG
I Giochi a Multigiocatore di Massa, soprattutto i Giochi di Ruolo a Multigiocatore di Massa Online, rappresentano ancora una pietra miliare dei videogiochi online.
Come uno dei grafici sopra mostra chiaramente, si stima che i giochi MMO gratuiti producano quest'anno un fatturato approssimativo di 20 miliardi di dollari, che supera addirittura del 13% l'incasso del 2016. Anche gli MMO a pagamento si stanno comportando bene, con circa 5 miliardi di dollari - un aumento dell'1% rispetto allo scorso anno.
I più popolari MMORPG del 2017 non sorprenderanno nessuno di coloro che ha partecipato attivamente a questo genere di gioco negli ultimi anni. World of Warcraft mantiene ancora la posizione di dominio, con Guild Wars 2, The Elder Scrolls Online e Final Fantasy XIV che seguono a ruota.
Tuttavia, risulta difficile determinare se il genere stia avendo successo oppure no. La maggior parte degli MMORPG rifiuta di pubblicare il numero di giocatori attivi, preferendo piuttosto mostrare il numero complessivo di iscritti (che non tende a decrescere nei giochi a partecipazione gratuita). Se dai un'occhiata ai numeri, potrai notare una minima ma costante discesa nella popolarità dei giochi più in voga; però, ogniqualvolta dei nuovi contenuti di rilievo vengono lanciati, quei numeri tendono nuovamente a risalire. Possiamo affermare con una certa sicurezza che i MMORPG non spariranno certo dal mercato nel breve termine, anche se è ovvio che non godano più della popolarità di un tempo.
Il più grande ostacolo, che impedisce a questo genere di giochi di riacquisire i lustri del passato, è senz'altro quello degli e-sport. Sono in molti a credere che gli MMO non siano concepiti per gli e-sport, seppure si può dire che questo non risponda esattamente al vero.
Giochi di Strategia Online
I giochi di strategia sono sempre stati una sorta di mercato di nicchia, riuscendo a mantenere una resa ben solida sin dalla metà degli anni '90. Negli anni più recenti, il genere ha goduto di un nuovo balzo nella popolarità grazie al ritorno dei classici StarCraft e XCOM, ma anche per un gran numero di nuovi giochi basati sulla costruzione delle città e la simulazione spaziale.
Tuttavia, questa nuova "età dell'oro" degli strategici viene principalmente sentita nel mercato dei dispositivi mobili. Su PC e console, i giochi di strategia vengono spesso ignorati dalla massa degli utenti. Solamente il 4,3% dei giochi più venduti nel 2016 erano degli strategici. Sui mobile, tuttavia, la strategia online sta letteralmente esplodendo, con i suoi titoli sempre più presenti nelle prime posizioni degli elenchi generali dei più popolari e migliori giochi per dispositivi mobili.
Prodotti come Clash of Clans, Game of War e Vikings: War of Clans hanno acquisito un'incredibile popolarità, superando perfino un gran numero di grandi giochi casual o puzzle sulla piattaforma. La ragione potrebbe essere riconducibile all'ascesa del modello imprenditoriale basato sulla partecipazione gratuita, o "freemium" che dir si voglia, che si è dimostrato ottimale nell'ambito dei giochi incentrati sul concetto di risorse e tempo.
Qualunque sia la ragione, sembrerebbe proprio che il genere strategico in tempo reale stia lentamente trasferendosi sui dispositivi mobili, mentre i generi come il MOBA stanno prendendo piede su PC e console.
Gioco d'Azzardo Online
Seppure il mercato del gioco d'azzardo online non sia tecnicamente parte dell'industria dei videogiochi, esso è indubbiamente parte del mercato del gioco online. E anche un parte molto sostanziosa di esso, soprattutto su mobile. Passando in rassegna le cifre, non è poi così complicato comprendere il motivo.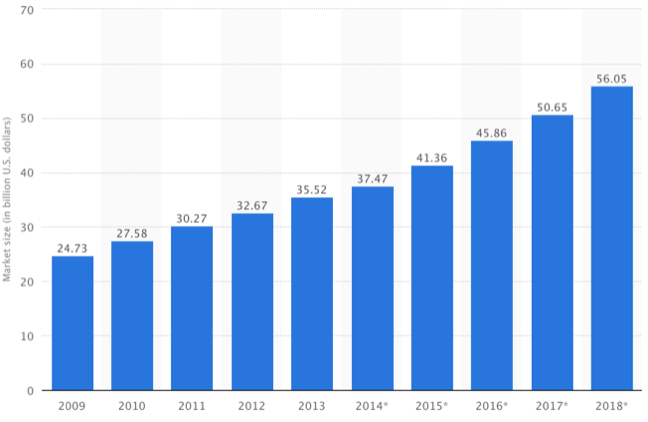 Nel 2016, il fatturato del gioco d'azzardo online era di 45,86 miliardi di dollari, e nel 2017 è previsto che raggiunga i 50,68 miliardi di dollari. Se poi ci inoltriamo ancora più in là nel futuro, parliamo di qualcosa come 66,59 miliardi di dollari entro il 2020, e di 96,89 miliardi di dollari per la fine del 2024. Sono delle cifre sconcertanti. Solo un appunto: i giochi per mobile produrranno circa 46 miliardi di dollari entro la fine dell'anno, e questa è la fetta di mercato più redditizia dell'industria dei videogiochi.
Quindi, mentre certi puristi del gioco possano scegliere di ignorarlo, i pionieri di questo campo hanno già dimostrato che il gioco d'azzardo online può vantare la medesima popolarità della maggior parte degli altri generi di giochi, e talvolta perfino superarli.
Il Futuro dei Giochi Online
E quindi, cosa riserverà il futuro al mondo del gioco online?
Man mano che i dispositivi mobili continuano a diventare sempre più potenti, finiranno con rimpiazzare definitivamente i PC e le console di gioco? Io riservo qualche dubbio in proposito, seppure il successo di Nintendo Switch, un ibrido tra la classica console casalinga ed il dispositivo di gioco portatile, potrebbe costituire un segnale ben preciso di che cosa andrà a succedere. Cerchiamo però di concentrarci su ciò che siamo in grado di affermare con maggior certezza.
La Realtà Virtuale e Aumentata è in rapida ascesa, e grazie al prezzo in diminuzione ed alla sempre maggior comodità delle cuffie, inizieremo a intravedere nuove esperienze in grado di attrarre un pubblico sempre più vasto. Parte di questo pubblico potrebbe essere formato dai cosiddetti giocatori d'azzardo online casuali. Piuttosto che riservare un volo per Las Vegas, i giocatori potrebbero infilarsi un bel paio di cuffie da RV per addentrarsi in un casinò virtuale.
E infine, il gioco terminerà la sua evoluzione in un vero e proprio sport da intrattenimento. Con il numero di persone intente a guardare i vari tornei ed eventi di gioco in continua ascesa anno dopo anno, il divario tra sport "reali" e sport virtuali sta facendosi sempre più ridotto. Non siamo poi così lontani dal giorno in cui la Coppa del Mondo della FIFA avrà luogo in rete invece che in campo.
E queste non sono che alcune delle possibilità. Dovremo solo aspettare di vedere quali saranno le richieste dell'utenza e che cosa finiranno col tirar fuori dal cappello gli sviluppatori dei giochi.
Raid: Shadow Legends
Raccogli 400+ Campioni & Battiti Per La Gloria