Come la nuova tecnologia Smartphone influenza sui videogiochi mobili

Nel caso tu sia un amante dei videogiochi per dispositivi mobili, con molta probabilità ti starai chiedendo quali possano essere le innovazioni col maggior impatto sui giochi per mobile.
Grazie a strepitose tecnologie come la realtà virtuale e aumentata, microprocessori dotati di velocità pazzesca e perfino display olografici, non potremo che aspettarci novità a dir poco stupefacenti.
Ricordi Iron Man e le sue proiezioni olografiche? Ogni giorno che passa ci stiamo avvicinando sempre più a quel tipo realtà. Una prospettiva niente male, non trovi?
Ora diamo un'occhiata a come la nuova tecnologia per smartphone potrà influire sui videogiochi per dispositivi mobili!
Realtà Aumentata e Virtuale Nei Videogiochi per Mobile
Ovviamente, la realtà aumentata e quella virtuale non possono certo essere considerate un elemento di novità nel mondo degli smartphone. Quando venne lanciato Pokémon Go, oltre un anno fa, in giro già si discuteva di Realtà Virtuale e Aumentata da parecchi anni.
A riprova di ciò, Yohei Ishii, Amministratore Delegato di Turbo Studios, ebbe ad affermare che "Questo rappresenta l'inizio di un imponente cambiamento nell'ambito dei videogiochi e, più specificamente, nel mondo dei dispositivi mobili. Si tratta di una chiara indicazione che il mondo mobile sta acquisendo un'identità tutta sua".
Gli esperti sostengono che i videogiochi per mobile termineranno l'anno con un ricavo di 35 miliardi di dollari, pari ad un aumento del 20% rispetto al 2015. E teniamo presente che adesso ci sono più persone intente a giocare sui mobile di quante ve ne siano su PC e console.
Oramai, la Realtà Virtuale e quella Aumentata stanno cominciando ad acquisire sempre maggior importanza di pari passo all'evoluzione della tecnologia. Adesso il Samsung Gear VR, il convenientissimo Google Cardboard e il più sofisticato Oculus Rift ci permettono di ottenere il perfetto abbinamento con i nostri telefoni per lanciarci a capofitto nel fantastico mondo virtuale.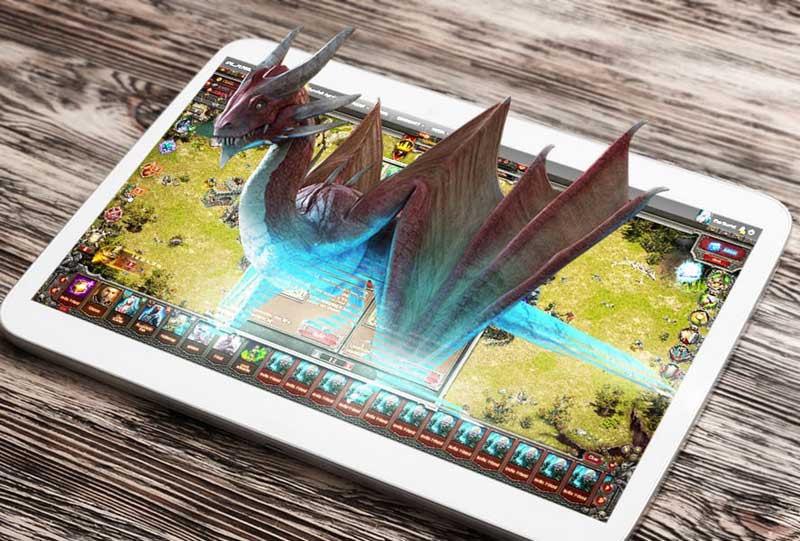 I processori Snapdragon 835 dei telefoni più recenti sono il 35% più piccoli e utilizzano il 25% di potenza in meno rispetto alle unità precedenti. Combinati col controller del Samsung Gear VR, in grado di permetterti fisicamente il lancio di oggetti e l'interazione col mondo virtuale, inutile dire che le cose iniziano letteralmente a farsi pazzesche.
Ci troviamo ancora di fronte ad inconvenienti riconducibili a veri e propri sbalzi visivi, tipo ritardi di fotogrammi e imperfezioni del controller, ma sono comunque aspetti che saranno presto sottoposti a correzione man mano che la Realtà Virtuale prenderà piede.
Tuttavia, a prescindere da quanto la Realtà Virtuale possa raggiungere la perfezione, il problema rimarrà comunque incentrato sul fatto che ci troviamo immersi in un mondo tutto nostro, soli e privi di qualsiasi interazione umana. Ad ogni modo, nessun timore - ora esistono anche videogiochi a partecipazione multipla in Realtà Virtuale.
Tuttavia, se ritieni allettante il mondo della Realtà Virtuale, aspetta di vedere cosa stanno bollendo in pentola quelli della Avegant.
Entra nel mondo di Avegant Glyph, un'esperienza visiva virtuale che letteralmente proietta il video direttamente sulle tue retine.
Proprio così - la "Tecnologia di Imaging Retinica Brevettata" della Avegant "imita in tutto e per tutto la vista naturale tramite la proiezione a LED su milioni di microscopici specchi". Diciamo che rappresenta il limite estremo di percezione visiva di un oggetto senza, come dire, in effetti vederlo.
Ovvio che la mia preoccupazione in attinenza a tutta questa tecnologia è incentrata sulle sue possibili conseguenze sulla nostra vista e sulle nostre interazioni sociali. Già è stato ampiamente discusso in merito al deficit di attenzione causato dal massiccio utilizzo degli smartphone e ad al loro paradossale contributo alla nostra progressiva desocializzazione... ma di questo parleremo in un altro articolo.
Va comunque detto che la realtà virtuale costituisce solo una delle potenzialità. Le vere innovazioni, quelle che avranno un impatto ben più profondo rispetto al mondo dei videogiochi per mobile, si stanno prospettando nel campo della realtà aumentata. Quando Pokémon Go fece il suo ingresso sul mercato, molte perplessità e attenzioni si spostarono inesorabilmente dalla realtà virtuale a quella aumentata. In fin dei conti, se è possibile trasformare il mondo reale in un parco giochi, perché dunque isolarci in uno virtuale?
Nei videogiochi a Realtà Aumentata, chi partecipa reagisce ad eventi appartenenti al mondo reale che lo circonda. La mia immaginazione vola immediatamente ad uno Skyrim nel mondo reale, in cui chi partecipa ha la capacità di viaggiare in ambientazioni appartenenti alla realtà - come città, giungle o grotte - ed è parte integrante di un MMORPG a realtà aumentata.
Forse siamo ancora molto lontani - ci sono discrete possibilità che tutto questo non si verifichi mai - tuttavia ci troviamo di fronte a dei primi timidi tentativi, come Fragments della Microsoft, un gioco a tema investigativo a cui è possibile partecipare direttamente da casa.
Tutto questo è decisamente eccitante. Tuttavia, le realtà aumentata, mista e virtuale rappresentano solo una delle potenzialità per i videogiochi mobile. Le ultimissime innovazioni quanto a potenza di elaborazione hanno aperto delle possibilità di valenza molto più pratica per le necessità ludiche dei nostri smartphone.
Dallo Schermo Mobile al Grande Schermo
I più grandi progressi pratici nel campo dei videogiochi mobile porteranno il tuo piccolo telefono su uno schermo più grande.
Per quale ragione? Perché, al gennaio di quest'anno, il 77% delle persone possiede uno smartphone. Un numero maggiore di persone possiede uno smartphone rispetto a coloro che dispongono di internet ad alta velocità presso le proprie case. In altri termini, esistono prove concrete che nel prossimo futuro il nostro telefono diventi l'unico computer in nostro possesso.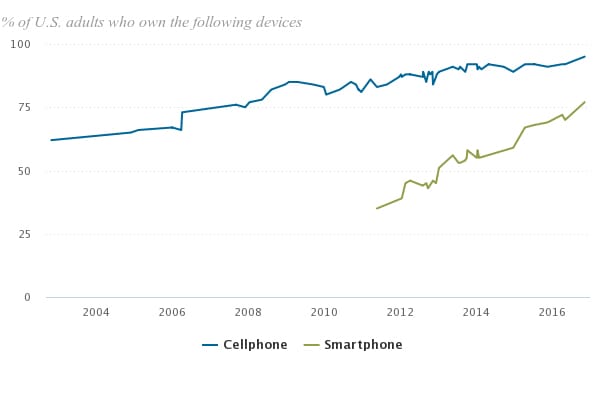 Una prospettiva del tutto plausibile. Dopo tutto, ciascuno di noi è testimone della consolidata tendenza della tecnologia verso alternative di dimensioni sempre più ridotte, più veloci e dotate di maggiore efficienza. Una volta raggiunto il traguardo in cui la maggior parte delle attività e delle mansioni ludiche più comuni possano essere eseguite dal telefono, l'unico elemento residuo del puzzle consisterà nel rendere sempre più semplice collegare il telefono a una TV o ad un monitor.
Siamo già in grado di disporre una condivisione dello schermo dal telefono alla TV. Con il Nintendo Switch abbiamo avuto modo di vedere quali possano essere le modalità di funzionamento di una console telefono/gioco per mobile. Si potrebbe prevedere una base in cui collegare il nostro telefono, in cui sia allestito un ventilatore aggiuntivo per mantenerlo fresco e dotata di capacità di caricamento così da consentirci lunghe ore di autonomia. A quel punto, sarà sufficiente estrarre l'apparecchio telefonico per avere tutti i nostri giochi a disposizione, ovunque lo si desideri.
Inoltre, la base potrebbe anche consentirci di connettere una tastiera ed un mouse bluetooth per giocare su PC. Sarebbe una sorta di ibrido mobile, console, PC e TV. Niente male davvero, non ti pare?
Seppure siamo ancora piuttosto lontani dal realizzare una tale centrale operativa così completa per mobile, lo Snapdragon 835 installato negli ultimi telefoni Samsung è in realtà abbastanza potente da gestire un PC Windows 10. Determinati giochi popolari meno esigenti, come League of Legends, Call of Duty, e perfino World of Warcraft, potrebbero presto rientrare nel campo d'azione del mondo mobile.
In effetti, lo stesso Nizar Romdan, Direttore dell'Ecosistema Aziendale di ARM (la società responsabile dell'architettura dei circuiti integrati per la maggior parte dei dispositivi mobili), ha recentemente affermato che "i tablet e gli smartphone di fascia alta saranno dotati di qualità d'immagine assolutamente in linea con le console di gioco più popolari".
Oh, e poi esiste la console telefono/mobile PGS (Sistema di Gioco Portatile) recentemente posta in fase di prenotazione.
A giudicare dalle apparenze, questo gingillo non dovrebbe risultare così potente come dovrebbe essere. Va però detto che questo ci offre un'idea di come in effetti si presenterà il futuro dei videogiochi mobile - controller incorporati, schermi doppi e un bel po' di divertimento.
Oltretutto questo potrebbe non costituire il traguardo finale cui ambire nel campo dei videogiochi su smartphone. Sarà possibile disporre di controller collegabili a qualsiasi dispositivo telefonico attraverso il Gamevice.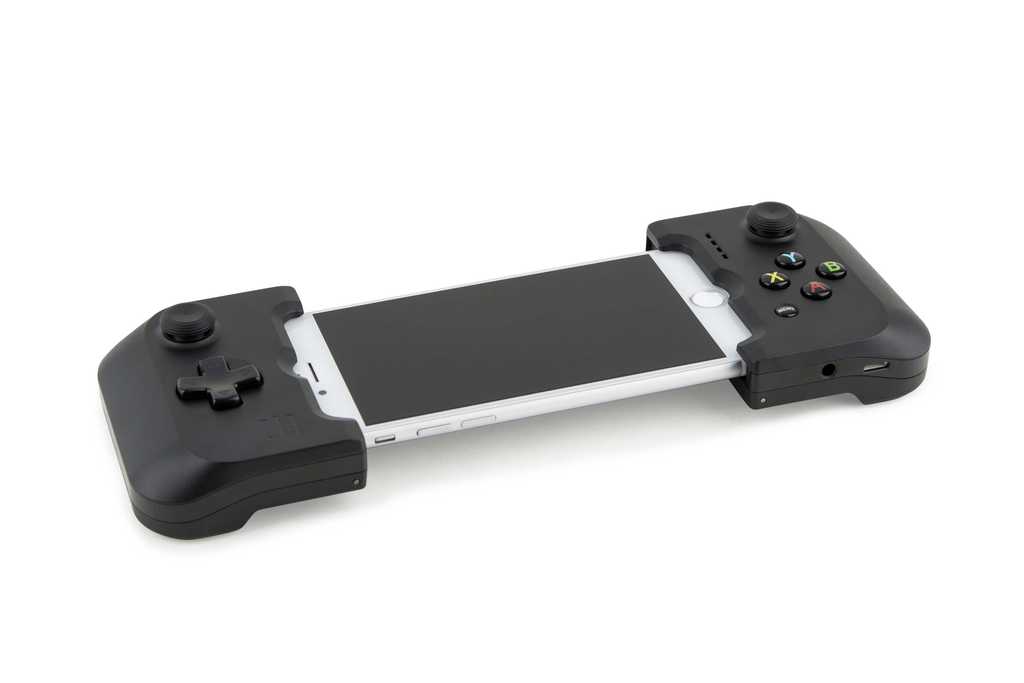 In un comunicato stampa, l'azienda produttrice ha affermato che "il Gamevice si è posizionato tra le prime opzioni gamepad e può vantare allettanti future partnership, nonché una vasta linea di prodotti, in grado di funzionare con oltre 1 miliardo di dispositivi".
In effetti gli ideatori hanno tratto ispirazione da Nintendo Switch. "Lo Switch ha provato che i consumatori desiderano un fattore di forma che risulti portatile e mobile," ha dichiarato a PocketGamer.biz l'amministratore delegato dell'azienda, Philip Hyun. "Ci aiuta il fatto che Nintendo si prodigherà per apportare contenuti sempre migliori a questa tipologia di piattaforma".
Ma adesso basta analizzare i progressi pratici; entriamo un po' nel merito del fantascientifico!
I Primi Telefoni Olografici
Abbiamo analizzato i fattori connessi alla Realtà Virtuale ed a quella Aumentata. Non ci sono più segreti in merito alla possibilità di trasformare il nostro telefono nella nuova console o PC. Ma che ne dici ora di passare ad un argomento veramente da sballo - quel famoso display olografico stile Tony Stark a cui ho fatto riferimento all'inizio di questo articolo.
Ecco, proprio quello: sta per arrivare. Non so di preciso quando, non so neppure come, ma sarà comunque qui, in un modo o nell'altro. Come faccio a saperlo?
Perché i telefoni olografici sono già qui tra noi. Lo sono già da oltre un anno ormai.
Credo di sapere a cosa stai pensando - tutto ciò riduce l'eccitamento iniziale, e non certo posso biasimarti. La risoluzione del telefono olografico si riduce ad un misero 160×104 pixel, enormemente diverso dagli incredibili 4k di oggigiorno. E, in effetti, è proprio questo che impedisce al telefono di essere lanciato sul mercato.
Devi però tener sempre presente che la prima console, la Magnavox Odyssey, disponeva di una risoluzione dello schermo pari a 160×200 pixel. Il primo lancio delle nuove tecnologie si rivela sempre e comunque carente, proprio per il fatto che disponiamo già di dispositivi enormemente superiori a cui confrontare questo telefono. Concedendogli il tempo necessario, la qualità in termini di pixel tenderà a progredire e questa tecnologia entrerà nell'uso comune. E poi, dai, puoi partecipare a Angry Birds. È pur sempre qualcosa, non ti pare?
Pur tuttavia la tecnologia olografica è di gran lunga diversa dal concetto degli ologrammi a tutto tondo. Mi chiedi se ritengo che i sogni di ogni giocatore possano divenire realtà in un tempo non troppo lontano?
Diciamo che il dispositivo di cui disponiamo più vicino a questo concetto è rappresentato dall' HYDROGEN ONE Media Machine, che si trova in fase di prenotazione… e ha tutte le sembianze di un vero e proprio scherzo. Tutto ciò che ci viene mostrato è una foto e praticamente nessuna informazione di approfondimento. Purtroppo, non credo che nel prossimo futuro avremo modo di vedere ologrammi a tutto tondo nel mondo dei videogiochi. O perlomeno, non senza quegli occhiali a realtà mista di cui abbiamo parlato poc'anzi.
Facciamo un attimo un passo indietro e poniamoci una domanda: se i telefoni stanno acquisendo così tanta potenza, cos'è che ne trattiene la completa evoluzione?
Gli Attuali Ostacoli Nel Mondo dei Videogiochi Per Dispositivi Mobili
Dal preistorico Pong, i videogiochi per dispositivi mobili hanno fatto dei progressi enormi a vantaggio del telefono. Ma hanno ancora un bel po' di strada da percorrere. Vi sono alcuni ostacoli piuttosto consistenti che, in maniera particolare, tendono a rallentare le cose.
Uno degli ostacoli in questione sta nel riuscire a mantenere il dispositivo freddo. Inutile dirti che più potenza poni in un piccolo dispositivo più questo tende ad assumere calore. Per la stessa ragione, le sue minime dimensioni non consentono di alloggiarvi un ventilatore di potenza sufficiente a risolvere il problema. Sarà perciò opportuno esplorare altre opzioni di raffreddamento se vorremo proseguire questa corsa verso una potenza sempre maggiore.
A parte questo, abbiamo anche la questione della capacità della batteria. Certo, già adesso è possibile partecipare ad un gioco molto impegnativo per un'ora o due, ma a quel punto non si tratta di un mobile puro. Ad ogni modo, teniamo presente che una delle applicazioni più pratiche della nanotecnologia in fase di sviluppo al momento è proprio quella del caricamento flash.
Un'innovazione strepitosa che ti invito ad approfondire:
Per quel concerne gli ostacoli, Nizar Romdan della Casual Connect Europe ha affermato:
"Il nostro punto di vista è che la Realtà Virtuale per mobile rappresenti il caso d'uso che potrebbe consentirci di sbloccare le potenzialità dei dispositivi mobili a favore dei giocatori hardcore. Per una volta, i dispositivi mobili si trovano alla pari con PC e console in termini di esperienza [quando si prende in esame il fattore di forma della Realtà Virtuale]."
"Non avremo il medesimo processing. La durata della batteria rappresenta un problema. Però ci troviamo di fronte alla stessa identica esperienza d'uso. La qual cosa potrebbe costituire un elemento di svolta per i videogiochi per mobile".
Questi sono in assoluto gli unici ostacoli di maggior rilievo. Ovvio che, come accennato dallo stesso Romdam, c'è anche la questione della potenza di processing. Quella però sarà una questione che tenderà a migliorare in modo naturale con i progressi della tecnologia. Ricordi cosa dice la Legge di Moore? Ogni due anni le potenzialità della tecnologia tendono a raddoppiare. Intel insiste che questo corrisponde ancora al vero.
Il Futuro dei Videogiochi per Dispositivi Mobili
La Realtà Aumentata e quella Virtuale sono già tra noi. Ogni singolo giorno stanno migliorando e aumentando di praticità. Ho la sensazione che presto diventeranno una componente del tutto comune della famiglia media americana, probabilmente fianco a fianco con tecnologie come Google Voice o Amazon Echo, e una qualche sorta di Intelligenza Artificiale domotica.
Man mano che la tecnologia avanza, avremo modo di vedere gli smartphone ideati per collegarsi a grandi schermi ed essere trasformati in console con potenza del tutto simile ai computer portatili di oggi - in grado di farci partecipare ad alcuni dei giochi più popolari e meno esigenti.
Più in là nel tempo (ma non così lontano) inizieremo a vedere delle innovazioni nel campo degli ologrammi e le nostre fantasie stile Iron Man diverranno pura realtà. A quel punto il mondo dei videogiochi diverrà decisamente interessante.
Oh - e hai avuto modo di sentire che Nintendo sta producendo il gioco Legend of Zelda per smartphone? Sì, anche noi non stiamo più nella pelle.
Raid: Shadow Legends
Raccogli 400+ Campioni & Battiti Per La Gloria