Les tendances du jeu en ligne 2017 et au-delà

Année après année, l'industrie du jeu vidéo ne cesse de grandir. L'année dernière, en 2016, l'industrie a engrangé un revenu record de 91 milliards de dollars. Les prédictions pour cette année sont encore plus optimistes : 108,9 milliards de dollars de revenus. Saperlipopette...
Mais quelle est la cause de cette augmentation des revenus ? La réponse facile tient en trois mots : jeux pour mobile.
Les tendances les plus populaires de 2017 pour les jeux vidéo
Les jeux pour mobile représentent le segment le plus important des revenus de l'industrie. À la fin de 2017, ils devraient atteindre 46 G$, ce qui constitue 42 % du marché global pour les produits du jeu. En comparaison, les jeux pour console représentent 31 % et les jeux pour PC seulement 27 %.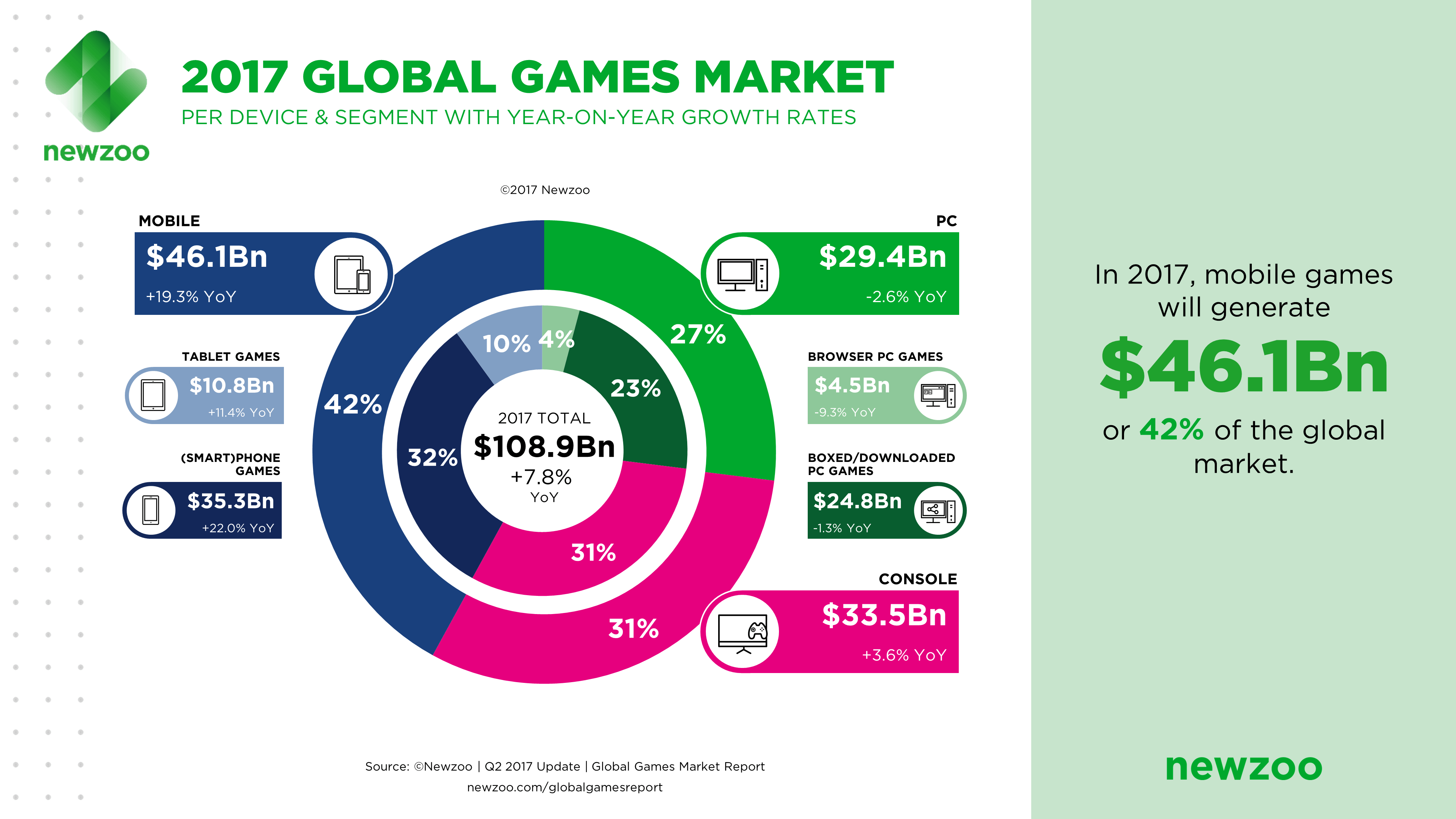 Mais les jeux pour mobile ne sont pas la seule tendance à la hausse dans l'industrie. La réalité virtuelle est une autre source de revenus prometteuse. Les analystes prédisent une croissance de 104 % entre 2016 et 2017. En fait, d'ici à 2020, les revenus mondiaux annuels pour la RV devraient atteindre 28 G$, soit 6 fois plus que ce qui est attendu pour cette année. Certes, seulement 4,5 G$ proviendront des jeux de RV eux-mêmes, mais c'est tout de même 20 fois plus que ce que les joueurs dépensaient à la fin de 2016.
La popularité de la RV grandit, mais je pense que cela s'applique également aux mobiles. Génération après génération, les appareils mobiles et les smartphones deviennent de plus en plus puissants. Ils prennent déjà en charge les jeux de réalité virtuelle et de réalité augmentée et, à mesure que leurs technologies s'améliorent, les expériences deviendront plus abordables, plus amusantes et toujours plus uniques. Utiliser son téléphone avec un casque de RV sans fil est bien plus simple et bien plus confortable qu'utiliser ceux pour PC et pour console, bien plus chers. Ces casques coûtent moins cher, n'ont pas de câbles en pagaïe et sont accessibles à quiconque possède un smartphone.
Je ne dis pas que la RV est le domaine exclusif des appareils pour mobile, mais je pense que sa popularité toujours en hausse peut être attribuée au développement des jeux pour mobile plus qu'aux hardcore gamers qui achètent les coûteux PSVR ou HTC Vive.
En ce qui concerne la contribution de la foule « hardcore » à la réussite grandissante de l'industrie des jeux vidéo, nous pouvons examiner deux segments : les e-sports et le jeu en ligne.
Lorsqu'il est question de jeux vidéo, les e-sports sont un des marchés qui grandit le plus vite, juste derrière la RV. Entre 2016 et 2017, les revenus des e-sports ont grimpé en flèche de 26 %. Soit, les chiffres eux-mêmes restent plutôt bas, avec 892 M$ en 2016 et une estimation de 1,1 G$ en 2017. Le plus impressionnant est l'amplitude de la scène des e-sports. Des jeux pour console extrêmement compétitifs aux jeux de cartes à collectionner et aux MMO free-to-play, presque chaque genre du jeu vidéo essaie de dominer la scène des e-sports, avec des niveaux de réussite variables.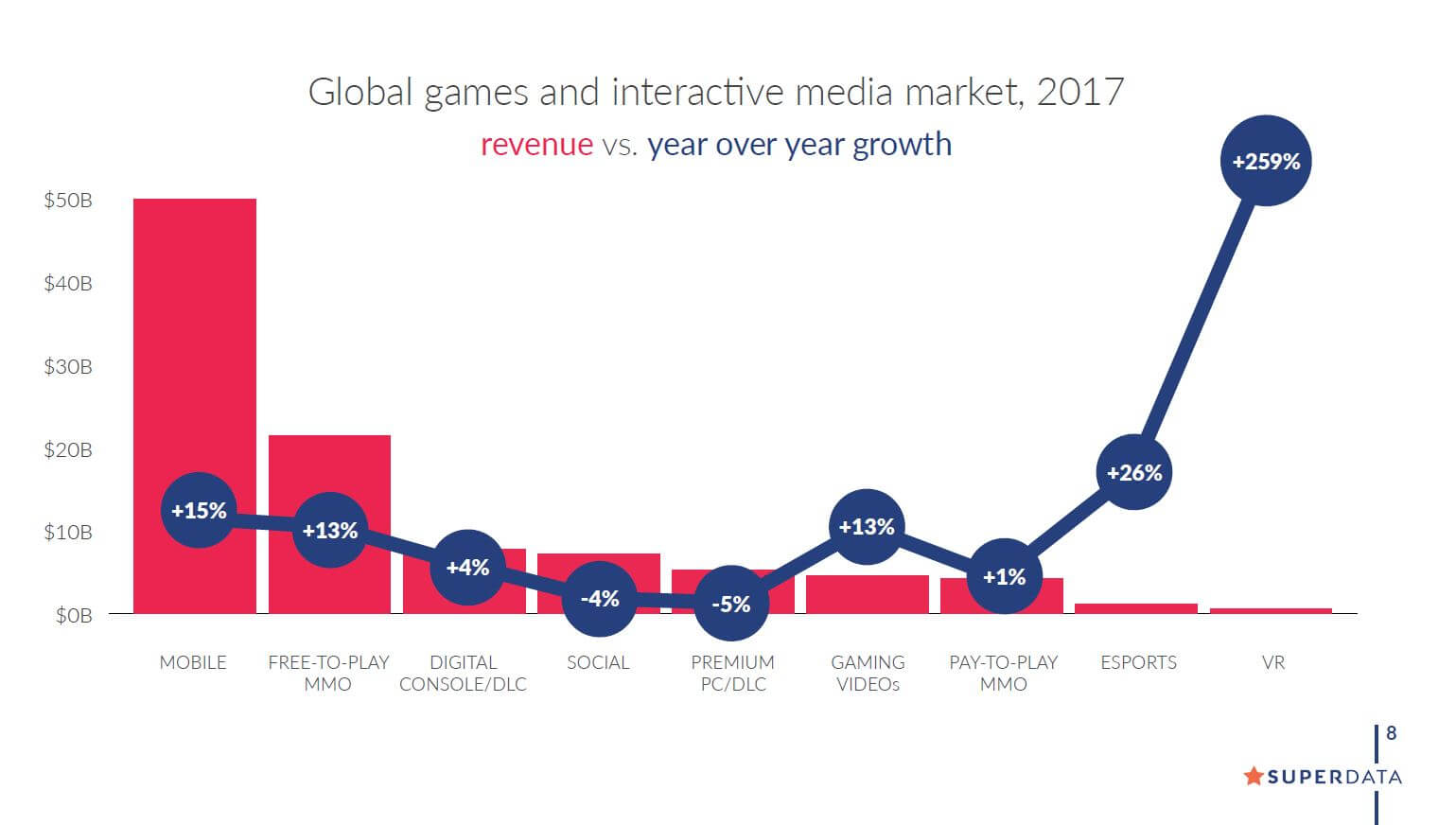 Mobile, RV et e-sports sont les tendances les plus chaudes du moment. Mais l'ossature de l'industrie est, et restera, les jeux. C'est donc ce sur quoi je veux me focaliser : les jeux. Et, plus particulièrement, les jeux en ligne.
Les jeux en ligne les plus populaires de 2017
Jouer aux jeux en ligne n'a jamais été plus populaire. En 2017, 575 millions de personnes jouent à des jeux en ligne partout dans le monde ; et ce sans compter les jeux pour navigateur free-to-play. C'est une augmentation de 3 % par rapport à 2016 et ce chiffre devrait continuer à grimper régulièrement pour atteindre 645 millions de joueurs d'ici à 2021. De plus, un examen rapide de la page des statistiques officielles de Steam révèle que le top 5 des jeux de la plateforme sont des jeux en ligne. Sans parler des jeux qui ne se trouvent pas sur Steam, comme Overwatch et Hearthstone, et qui comptent, à eux deux, environ 100 millions de joueurs sur l'ensemble des plateformes.
Les gens jouent donc beaucoup aux jeux en ligne, mais la question plus intéressante reste « à quoi jouent-ils exactement ? » Il existe trop de genres et de sous-genres pour les énumérer, donc examinons à quels genres de jeux les gens jouent, à la fois hors-ligne et en ligne.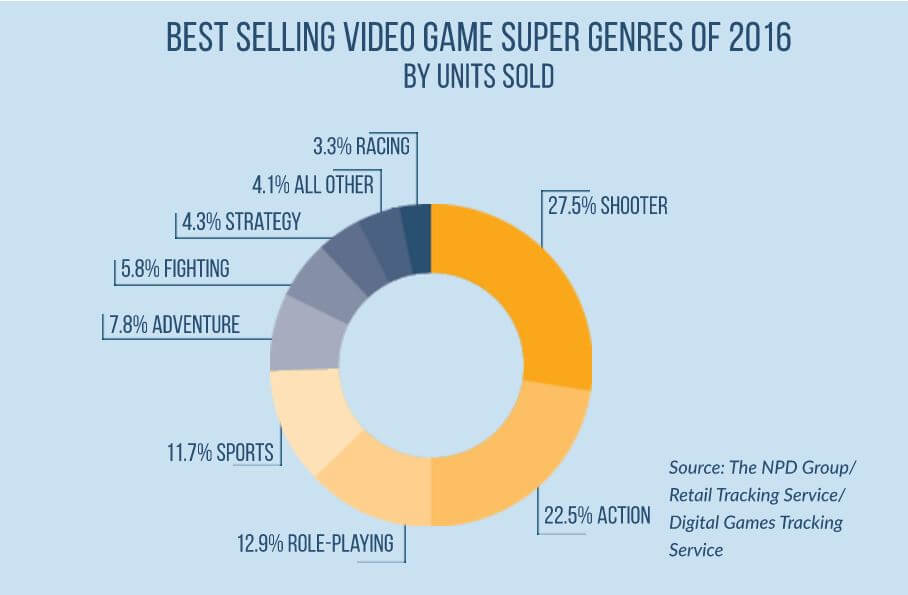 Il semble que les jeux d'action, de tir et de rôle dominent les marchés du PC et des consoles. Si nous examinons le genre populaire des jeux pour mobile, la répartition est totalement différente, avec les puzzles, la stratégie et les jeux d'argent aux premières places.
Avec ces renseignements à l'esprit, concentrons-nous sur 5 des genres les plus populaires des jeux en ligne :
MOBA (arène de bataille en ligne multi-joueurs)
Jeux de rôle ou MMORPG
Jeux de tir
Jeux de stratégie
Jeux d'argent
MOBA
Le MOBA, ou Multiplayer Online Battle Arena pour arène de bataille en ligne multi-joueurs, est un genre relativement nouveau. Il a fait fureur dans le monde des jeux grâce aux titres que sont League of Legends, Dota 2 et Heroes of the Storm. Certains affirment également que ce genre est responsable de l'avènement des e-sports tels que nous les connaissons aujourd'hui.
S'il est difficile de déterminer quel est le MOBA ayant le mieux réussi, nous pouvons facilement voir lequel est le plus populaire en 2017. D'après les chiffres de l'audience en ligne et du nombre de joueurs actifs, LoL est, de loin, le vainqueur, même 8 ans après sa date de parution. À cette époque l'an dernier, le développeur Riot Games a déclaré que LoL comptait 100 millions de joueurs actifs chaque mois. À titre de comparaison, Dota 2, le plus gros concurrent du jeu, a rapporté 13 millions de joueurs uniques par mois. LoL est également, jusqu'à présent, le jeu le plus joué sur PC pour l'année et il est le jeu le plus regardé sur Twitch.
La preuve la plus probante que le genre MOBA reste le roi incontesté du jeu en ligne est, comme toujours, l'argent. Non seulement LoL produit cette année plus de revenus que n'importe quel autre titre de MOBA, mais c'est le jeu pour PC ayant rapporté le plus d'argent en 2017. C'est pour le moins impressionnant.
Sur mobile, la situation est presque identique. Honor of Kings, connu sous le nom d'Arena of Valor en occident, est le plus gros jeu pour mobile de 2017 et c'est une arène de bataille 5 contre 5. Le jeu a réuni 55 millions de joueurs actifs depuis sa sortie en 2015 et il génère 435 millions de dollars de revenus chaque mois. Il est si populaire en Chine que, pour le journal le plus important du pays, c'est un « poison » et une « drogue ». Donc les gens semblent vraiment l'adorer.
Mais un autre type de jeu menace le règne du genre MOBA sur la scène des jeux en ligne : les jeux de tir.
Jeux de tir
Le MOBA est toujours vu comme le genre le plus populaire du jeu en ligne, mais les jeux de tir se rapprochent. Rapidement.
Les jeux populaires tels que Overwatch, Counter-strike: Global Offensive et GTA Online donnent du fil à retordre aux meilleurs MOBA. En fait, CS:GO est désormais le jeu e-sport le plus populaire sur Twitch, mettant fin à la série de League of Legends. Avec la récente sortie de Destiny 2, les jeux de tir sont plus populaires que jamais ; ils pourraient bientôt surpasser le MOBA en tant que genre de jeu en ligne le plus populaire.
Aucun autre jeu n'offre un meilleur exemple de ce virage à venir que PlayerUnknown's Battlegrounds, un jeu uniquement multi-joueurs de Bluehole Studio. En ce moment, PUBG est le jeu le plus joué sur Steam. Près d'un million de gens jouent à ce jeu chaque jour et, chose amusante, pour le moment, il n'est pas encore sorti : pas officiellement en tout cas.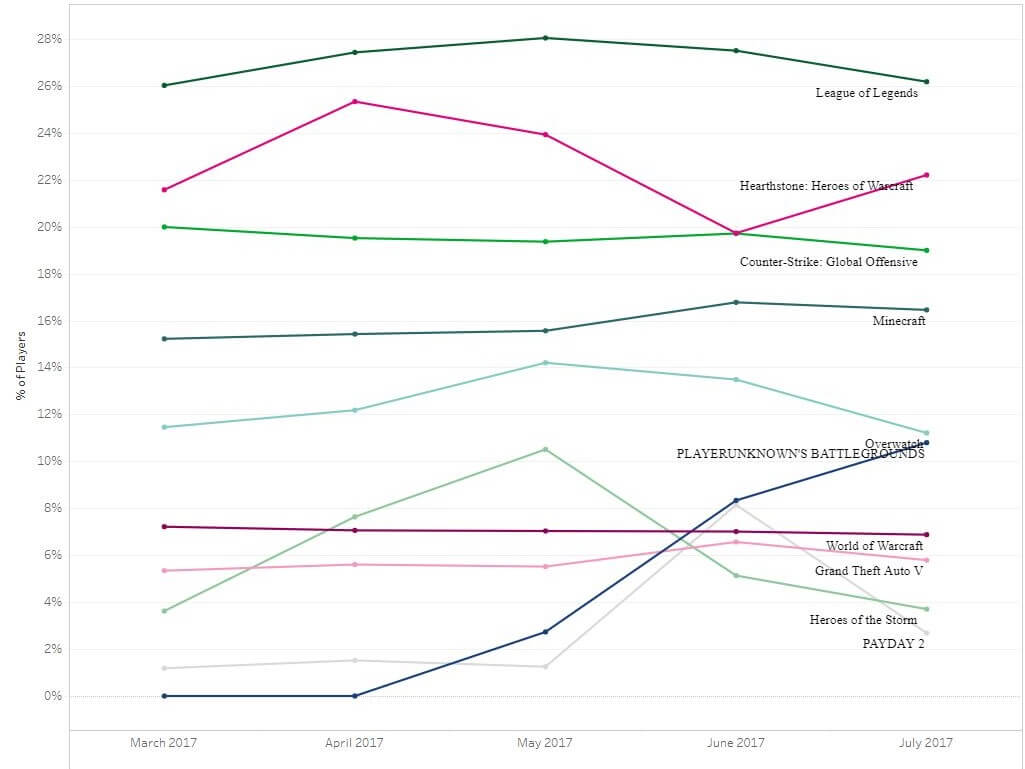 D'après une étude de Newzoo, PlayerUnknown's Battlegrounds est le 6e jeu le plus populaire sur PC en ce moment. En mai 2017, seuls 2,73 % des joueurs sur PC avaient joué au jeu ; en juillet, le chiffre avait bondi jusqu'à 10,81 %. Il est actuellement numéro 1 sur le marché japonais, numéro 3 en Chine et numéro 4 aux États-Unis. Avec de tels chiffres, il est en passe de conquérir les premières places aux quatre coins du monde.
MMO et MMORPG
Les jeux en ligne massivement multi-joueurs (Massive Multiplayer Online), particulièrement les jeux de rôle en ligne massivement multi-joueurs (Massive Multiplayer Online Role-playing), restent des incontournables du jeu en ligne.
Comme le montre un des tableaux ci-dessus, les jeux MMO free-to-play devraient rapporter autour de 20 milliards de dollars de revenus cette année, soit 13 % de plus qu'en 2016. Les MMO pay-to-play restent en bonne santé, avec autour de 5 milliards de dollars, ce qui constitue une augmentation d'environ 1 % par rapport à l'an dernier.
Les MMORPG les plus populaires de 2017 ne seront pas une surprise pour les gens ayant joué à ce genre de jeux au cours des dernières années. World of Warcraft reste à la première place, avec Guild Wars 2, The Elder Scrolls Online et Final Fantasy XIV suivant la marche.
Il est toutefois difficile de déterminer si le genre s'en sort bien ou non. La plupart des MMORPG refusent de publier le nombre de joueurs actifs, préférant publier le nombre total d'inscrits (qui n'a pas tendance à baisser dans les jeux F2P). Si nous examinons les chiffres, nous pouvons constater un léger déclin régulier dans la popularité des jeux phares, mais dès que du contenu important est publié, les chiffres repartent à la hausse. Nous pouvons dire avec certitude que les MMORPG ne disparaîtront pas de sitôt du paysage, mais il ne semblent plus être aussi populaires qu'ils l'ont un jour été.
Le plus gros obstacle du genre sur le chemin de la popularité grand public est assurément les e-sports. Beaucoup pensent que les MMO ne sont tout simplement pas faits pour les e-sports, même si ce n'est pas vraiment le cas.
Jeux de stratégie en ligne
Les jeux de stratégie ont toujours été une niche du marché, mais une niche ayant connu de bons résultats réguliers depuis le milieu des années 1990. Ces dernières années, le genre a connu une nouvelle hausse de popularité grâce au retour des classiques StarCraft et XCOM et d'un tas de nouveaux jeux de construction de ville et de simulations spatiales.
Mais ce nouvel « âge d'or » de la stratégie se ressent principalement sur le marché pour mobile. Sur PC et consoles, les jeux de stratégie sont souvent ignorés par le grand public. Seuls 4,3 % des jeux les plus vendus en 2016 étaient des jeux de stratégie. Sur mobile, en revanche, la stratégie en ligne est florissante, avec des titres s'emparant constamment des premières places des titres les plus populaires dans les listes des jeux pour mobile rapportant le plus.
Des jeux tels que Clash of Clans, Game of War et Vikings: War of Clans sont incroyablement populaires, encore plus que bon nombre des gros jeux sociaux ou des jeux de puzzles de la plateforme. Ce pourrait être grâce à l'avènement des modèles commerciaux free-to-play ou « freemium » qui fonctionnent si bien pour les jeux basés sur les ressources et le temps.
En tous les cas, il semble que le genre de la stratégie en temps réel se déplace lentement sur mobile, alors que les genres tels que le MOBA s'emparent des PC et des consoles.
Jeux d'argent en ligne
Même si, techniquement, le marché des jeux d'argent ne fait pas partie de l'industrie des jeux vidéo, il fait assurément partie du marché des jeux en ligne. Et, particulièrement sur mobile, une très grosse partie. En parcourant les chiffres, c'est l'évidence même.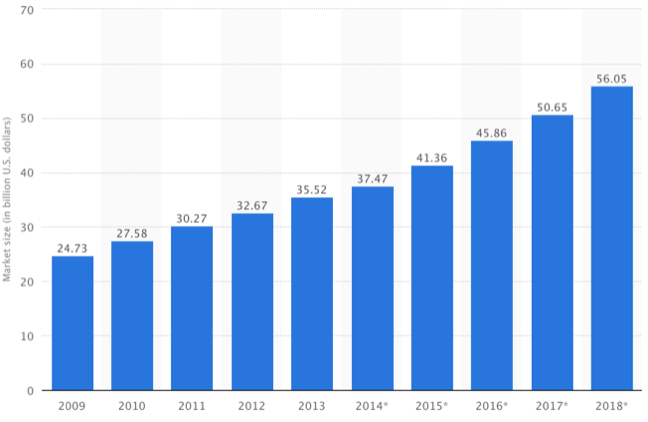 En 2016, les revenus du marché des jeux d'argent en ligne étaient de 45,86 milliards de dollars et, en 2017, on prévoit qu'il atteindra 50,68 milliards de dollars. Si nous regardons plus loin à l'avenir, nous parlons de 66,59 milliards de dollars en 2020 et de 96,89 milliards à la fin de 2024. Ces chiffres sont vertigineux. Pour rappel, les jeux pour mobile rapporteront autour de 46 milliards de dollars à la fin de l'année et ils sont le segment le plus lucratif de l'industrie des jeux vidéo.
Donc, si certains puristes du jeu choisissent de les ignorer, les pionniers de ce domaine ont déjà prouvé que le jeu d'argent en ligne peut être aussi populaire, et parfois même bien plus, que la plupart des autres genres de jeux.
L'avenir du jeu en ligne
Que l'avenir réserve-t-il au jeu en ligne ?
À mesure que les appareils mobiles continuent à gagner en puissance, remplaceront-ils totalement les PC et les consoles de jeu ? J'en doute, même si le succès de la Nintendo Switch, hybride entre une console domestique et un appareil de jeu portable, pourrait être un avant-goût de ce qui pourrait arriver. Mais contentons-nous de certitudes.
La réalité virtuelle et la réalité augmentée prennent de l'ampleur et, à mesure que les casques deviennent moins coûteux et plus confortables, nous commencerons à voir apparaître de nouvelles expériences qui attireront des publics plus larges. Un de ces publics pourrait être le joueur d'argent en ligne occasionnel. Au lieu de réserver un séjour à Las Vegas, les joueurs pourraient enfiler un casque de RV et pénétrer dans un casino virtuel.
Et, enfin, le jeu terminera son évolution vers un sport de spectacle légitime. Avec, chaque année, toujours plus de personnes regardant les tournois de jeu et les événements en ligne, le fossé entre sports « réels » et sports virtuels se réduit. Nous ne sommes pas loin du jour où les Coupes du Monde de la FIFA auront lieu en ligne et non plus sur un terrain.
Ce sont juste quelques possibilités. Nous devrons attendre et voir ce que les consommateurs de jeux demandent et ce que les développeurs de jeux vont inventer.
Raid: Shadow Legends
Récupère + de 400 Champions et décroche la gloire