Les jeux MMO bénéficient-ils des franchises existantes?

On a tous déjà découvert des MMOs qui s'inspirent largement de films, de livres, de mangas ou des jeux-vidéo préexistants.
En fait, il y a de fortes chances que vous en ayez croisés plus d'un pendant vos péripéties sur internet. Seulement voilà, beaucoup de ces jeux sont aujourd'hui des vestiges de ce qu'ils furent par le passé. Et encore plus nombreux sont ceux qui n'ont jamais accompli leur potentiel et qui ont fermé boutique. Pourtant, on aurait tendance à penser que jouer sur les sentiments des fans convaincus d'une franchise comme One Piece, Harry Potter ou Game of Thrones serait la garantie d'avoir une base de joueurs active très nombreuse.
Mais, la réalité est toute autre…
Comme l'explique Jeff Strain (co-fondateur de ArenaNet), les franchises préexistantes et les MMOs ne font pas nécessairement bon ménage.
Une déclaration qui se fonde sur son analyse personnelle, mais qui fait écho à la réalité du milieu. En effet, après le fiasco de jeux comme Matrix ou FF XIV, on est en droit de s'interroger sur l'utilité véritable des franchises et du « fan-service » dans l'univers très changeant des jeux en ligne massivement multijoueur.
Pourquoi est-ce un concept si attrayant?
Il y a des tonnes de jeux en ligne massivement multijoueur qui trouvent leurs inspirations dans des films, des séries, des livres, des bandes dessinées ou même d'autres jeux-vidéo.
Ce phénomène n'est pas uniquement symptomatique d'un manque d'originalité pathologique des studios de développement ou des éditeurs.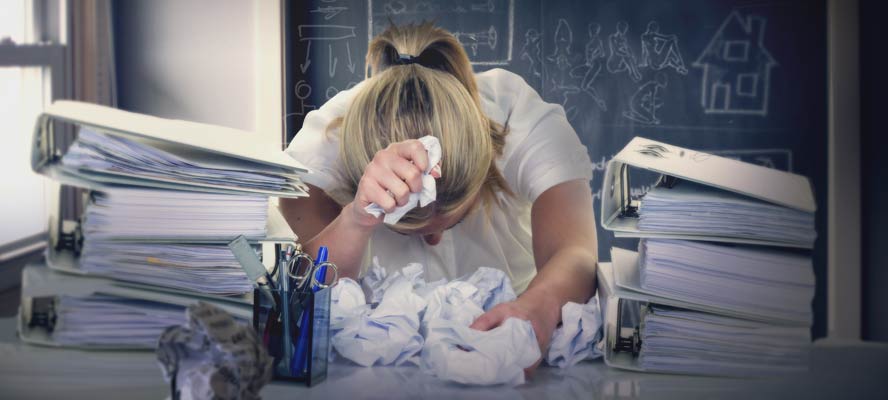 Il faut rechercher plus loin les causes du phénomène. Pour commencer, intéressons-nous au « cas d'école » qu'est World of Warcraft.
Nous sommes alors en 1994 et « Warcraft : Orcs & Humans » vient d'arriver sur le marché.
Le jeu du studio Blizzard est très bien accueilli par les magazines de presse spécialisée dès l'année suivante. La version MacOS qui fait également office de suite sera d'ailleurs récompensée par lors du CES (Consumer Electronics Show) de 1995 et sera également récompensé par l'Académie des Arts Interactifs et des Sciences.
Bien que le jeu ait grandement contribué à la popularisation des RTS, avec d'autres titres comme « Command & Conquer », personne n'y voit réellement le futur du jeu-vidéo. Et pour cause, des jeux plus populaires comme Doom II, UFO Unknown ou System Shock parviennent à faire plus de ventes globales. Rien que pour Doom II, on estime que les ventes avant 1999 atteignant les 1,8 millions de copies.
D'ailleurs, le marché vidéo-ludique est encore dominé par des noms comme NIntendo, et la Playstation de Sony vient à peine d'être lancée sur le marché nippon.
Au cours des dix années qui suivent, des expansions et de nouveaux titres de la franchise Warcraft sont mis sur le marché.
En 2002 par exemple, « Warcraft III : Reign of Chaos » est publié. Le jeu rencontre encore une fois un franc succès, mais il n'est pas pour autant susceptible de prendre le dessus sur la concurrence dans son propre genre, ou de renverser l'équilibre des forces du moment.
En 2005, Blizzard annonce le lancement de World of Warcraft. Loin d'être le premier jeu-vidéo massivement multijoueur, son succès ne pouvait pas être garanti par l'unique sentiment de « nouveauté » qu'il apportait aux joueurs. Pourtant, en l'espace de quelques années, World of Warcraft passe du statut de jeu-vidéo à celui de phénomène planétaire.
En 2010, on compte 12 millions d'utilisateurs actifs avec l'expansion Cataclysm.
Pour les analystes et tous les acteurs du milieu, la question se pose alors de savoir qu'est-ce qui explique ce succès. Et une réponse semble mettre tout le monde d'accord. Contrairement à d'autres MMOs de l'époque, WoW disposait déjà d'une audience très grande. Et la transition vers un support en ligne s'est faite de façon tout à fait fluide.
WoW n'est pas le seul exemple de ce phénomène, mais on ne niera pas que c'est l'exemple le plus parlant. Depuis, cette conjonction de critères est devenue le « Saint Graal » du développement des MMOs.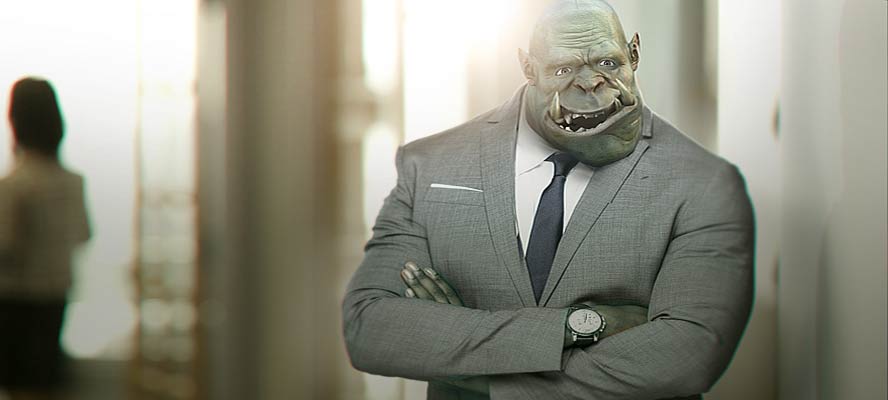 Réussir à proposer à une audience bien développée, une expérience vidéo-ludique parfaitement adaptée qui vienne enrichir leur passion pour une franchise qu'ils apprécient déjà. Un Saint Graal qui est la garantie d'un succès instantané et durable.
Le modèle-type de la franchise digne d'un MMO
Forcément, la question se pose de savoir ce qui rend une franchise exploitable. Quels sont – toutes catégories confondues – les éléments structurels, narratifs ou de toute autre nature qui rendent la transmigration vers le monde des jeux massivement multijoueur intéressante aux yeux des développeurs ?
Est-ce la trame narrative ? L'univers au sein duquel cette trame prend place ? Des personnages captivants ou même des adversaires au potentiels encore inexploités ?
Au nombre des critères qui gouvernent l'éligibilité d'une franchise à l'adaptation MMO, nous pourrons en retenir quatre principaux :
L'audience
La nature du récit
La nature du problème
Le type de résolution adopté.
L'audience
De toute évidence, pour qu'on envisage de transformer une franchise en MMO, il faut qu'elle séduise. Et rien ne permet mieux de jauger le niveau de séduction d'une franchise que la taille de son audience.
Il faut donc que le film, le livre ou le jeu-vidéo qu'on envisage de convertir en MMO ait vendu plusieurs centaines d'exemplaires. C'est ce qu'on qualifierait sans ambages d'un grand succès. Plusieurs centaines et non pas quelques dizaines de millions d'exemplaires, parce que cette démographie doit prendre ne compte la proportion de joueurs dans une population plus large.
Si on prend l'exemple de Star Wars qui réunit continuellement des millions de spectateurs en salle et encore plus sur divers autres supports, on n'a aucune peine à s'imaginer qu'une bonne proportion de cet effectif sera composée des 52% de gameurs français. Un éditeur peut donc s'investir dans une telle franchise, en ayant la certitude que des millions de personnes s'y intéresseront.
Un récit « vivant »
Ce concept est plutôt simple à comprendre. Il faut que le récit soit plus caractérisé par des actions, des péripéties ou des périples, que par des tribulations ou des exploits de nature purement intellectuelle.
De ce point de vue, les récits fantastiques épiques comme le Seigneur des Anneaux (qui a d'ailleurs été adapté en MMO), ou des récits de super-héros. Les mangas japonais et les « shônen » en particulier entrent parfaitement dans ce cadre.
Pourtant, des franchises littéraires ou cinématographiques qui jouissent d'une popularité phénoménale, ne sont pas toujours des « récits vivants ».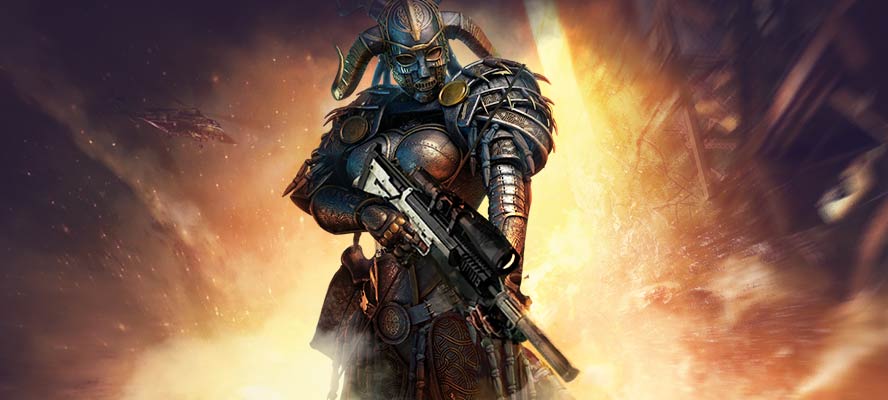 On peut prendre l'exemple de Sherlock Holmes, sous ses différentes adaptations. Bien qu'il y ait quelques séquences d'action, le récit gravite autour de l'intellect fabuleux des personnages. Il n'y a pas là de quoi en faire un MMO.
Une problématique d'envergure colossale
Autre critère majeur, l'envergure du problème posé. Même si le récit est saturé d'action et que son univers invite à l'exploration, il ne deviendra pas intéressant, à moins de proposer des enjeux de taille. On donnera plus l'accent à des films, des livres ou des dessins animés où le protagoniste doit faire face à des obstacles virtuellement insurmontables.
Plutôt que de se concentrer sur un effort de croissance personnel comme dans « Limitless » ou « Karate Kid », où l'échec du héros n'a pas de réelle conséquence pour le reste du monde, on préférera des films comme « Avatar » où les enjeux sont littéralement planétaires. Il faut qu'une fois le MMO créé, que les joueurs puissent se sentir impliqués dans une lutte qui va au-delà de leurs problèmes personnels.
Même lorsque c'est sous des formats MOBA, l'idée d'enjeux plus importants est toujours présente dans le récit présenté aux joueurs.
Une résolution qui laisse la porte ouverte
Ce point est certainement l'un des plus délicats. Et même s'il est important, il n'est pas tout à fait indispensable à l'adaptation d'un MMO en franchise.
Les contes de fée illustrent parfaitement ce principe. Lorsqu'on prend un récit comme Blanche-Neige ou Rapunzel, le problème auquel font face les protagonistes sont définitivement résolus lorsque l'histoire touche à sa fin. Certes, il y a des façons assez simples de relancer le récit, mais très souvent, cela implique d'introduire des adversaires tout à fait nouveaux. Au contraire, dans un récit comme Harry Potter, la menace à laquelle le protagoniste fait face est maîtrisée, mais il n'est pas exclu que de nouveaux adversaires fassent surface. L'univers même du récit est propice à la naissance de nouveaux antagonistes et de nouvelles menaces.
C'est ce genre d'univers et de récits à « fins ouvertes » qui conviennent le mieux à des adaptations en MMOs. Ainsi, les joueurs peuvent conserver un lien entre les personnages auxquels ils se sont attachés, et les avatars par lesquels ils existent dans ces mondes virtuels.
Du contenu accessible à tous. Enfin, il faut que la franchise propose un contenu adapté à tout le monde, sans aucune discrimination d'aucune sorte. C'est là que des franchises comme 50 Nuances de Grey ou Alien n'auront certainement pas droit à la métamorphose MMO avant très longtemps. Ces deux franchises sont considérées comme étant trop perturbantes ou choquante pour beaucoup de personnes.
Quand les MMOs imitent le cinéma
Au nombre des franchises transformées en MMO, une place à part doit être faite à certains grands succès du cinéma.
Il ne serait d'ailleurs pas envisageable de procéder à une telle analyse sans évoquer des titres comme Star Wars, Matrix ou encore Star Trek. Même si ces films sont devenus des classiques presque universellement adoubés par la critique, les MMOs qui en sont nés ont connus un accueil nettement plus mitigé.
The Matrix Online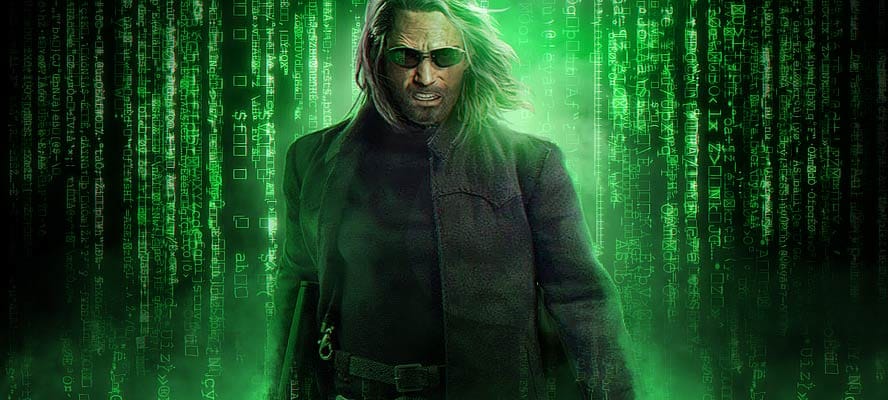 The Matrix Online (ou MxO) a été développé par des studios de développement tels que Monolith et publié en 2005 par Warner Bros Interactive Entertainment.
Le jeu était un projet d'une ambition phénoménale. Et à juste titre, tous les moyens y ont été mis pour en faire un succès. Non seulement l'univers proposé aux joueurs bénéficiait déjà d'une très popularité, mais en plus, il y avait tout une infrastructure de poids pour soutenir tous les besoins des joueurs et résoudre même les problèmes les plus anodins.
Au nombre des atouts dont disposait le jeu : une équipe dédiée aux interactions avec les joueurs. Ayant adopté un modèle sandbox où les joueurs sont libres de leurs actions et de leur conduite, il avait été donné à une équipe dédiée, la tâche d'animer les personnages principaux comme Morpheus. Les joueurs pouvaient interagir directement avec eux et recevoir de indices ou des avertissements pour évoluer. Malgré tous ces atouts, malgré l'un des récits les plus intrigants de l'histoire des MMOs modernes, MxO a fermé juste 4 années après son lancement.
Le problème de MxO se trouve en partie dans sa nature même.
Le jeu place les joueurs dans la suite logique des événements qui interviennent après le dernier volume de la saga Matrix. Les développeurs ont investi une main d'œuvre colossale afin de proposer non pas des NPC (Personnages Non Joueurs) mais des figures du jeu pleinement actives. Et pour leur donner de la substance, il fallait continuellement renouveler des trames et des récits. Une tâche colossale qui rendait presque impossible toute répétition. Ainsi, plutôt que de permettre aux joueurs de franchir certains paliers à tour de rôle (vaincre un boss, franchir un donjon, etc.), les « quêtes » de MxO se composaient d'événements uniques qui impliquaient directement tous les joueurs, sans discrimination aucune.
Et même si le concept est intéressant, il rend presque impossible la tâche aux équipes créatrices, qui se doivent de pondre du nouveau contenu continuellement, sans jamais quitter de vue les codes et les paradigmes de l'univers de la Matrix. Cela dit, le jeu aura marqué les esprits pendant sa courte existence. Pour preuve, certains tentent encore de le faire survivre.
Star Trek Online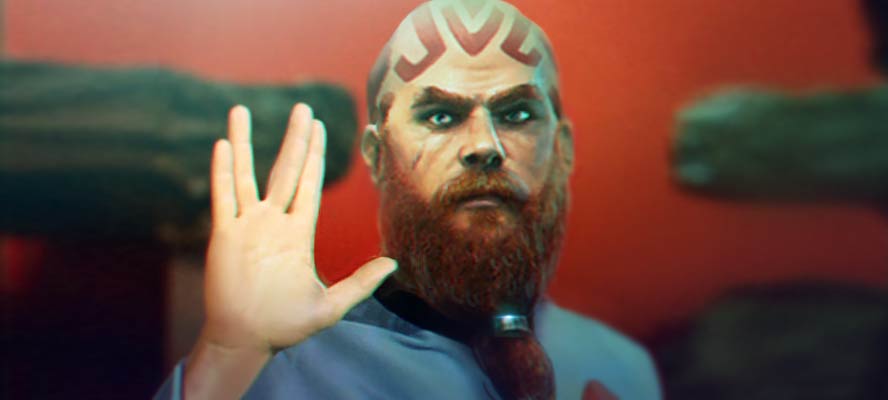 Le jeu est sorti en 2010 afin de surfer autant que possible sur l'intérêt grandissant pour cette franchise. Développé et publié par Cryptic Studios, le jeu promettait d'être une très bonne reddition de l'univers englobant, immersif et infini de Star Trek. Dans les faits, il semblerait que les ambitions des développeurs étaient au-delà de leurs attentes.
D'une part, le jeu propose un ensemble de mission répétitive. Les planètes sur lesquels les joueurs peuvent se poser ne sont pas réellement explorables, et les séquences dans l'espace et en TPS ne parviennent pas à garantir une véritable immersion. Mais, au-delà de ces handicaps, le jeu est certainement l'un des plus beaux du point de vue des graphismes.
Encore une fois, le rapport du jeu avec la franchise préexistante a permis d'attiser l'intérêt des joueurs. En effet, dès 2013, le projet comptait déjà 2 millions d'utilisateurs actifs avec un pic de 4.000 joueurs actifs en même temps. Mais lorsque les joueurs ont réalisé qu'il y avait une disparité réelle entre l'image qu'ils se faisaient du jeu et le contenu proposé, la fréquentation a chuté. Aujourd'hui, les pics de STO gravitent autour de 1.900 joueurs actifs en même temps.
Les MMOs de Star Wars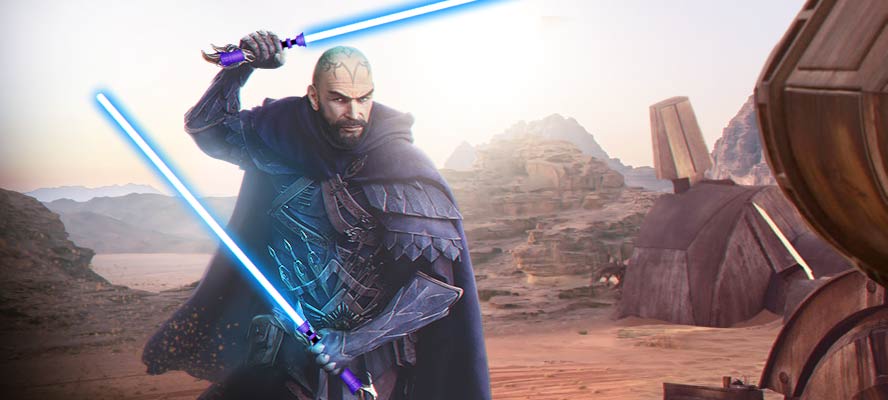 Quand il est question de Star Wars, l'adaptation en MMO à laquelle on pense immédiatement est SWTOR (Star Wars : The Old Republic). Mais il y en a eu d'autres, moins populaires dont Star Wars Galaxies et Clone Wars Adventures. Contrairement à Matrix qui met en scène des personnages déjà connus dans la franchise, Star Wars adopte une approche semblable à celle de Star Trek. Mais là où ce dernier se différencie, c'est au niveau de la substance même des univers dont ils sont inspirés. Bien que Star Trek ait un univers riche et dynamique, le choix d'un jeu en mode « sandbox » a nuit à l'immersion du projet.
A l'opposé, Star Wars propose une expérience plus axée sur le « theme park ». Tout le monde semble être du même avis : SWTOR a un récit très immersif et engageant. Pourtant, aucun des personnages auxquels on s'habitue dans les films n'est réellement présent. A la limite, certains puristes des livres et des bandes dessinées de la franchise pourront reconnaître des noms et des événements qui sont présentés 4.000 ans avant les événements des films.
On en arrive au nœud du problème. Décider de fonder un MMO sur une franchise préexistante, c'est prendre le risque de se heurter aux aspirations et aux attentes d'une audience déjà conquise. Une audience qui s'imagine déjà comment les événements devraient se dérouler ensuite, et comment le gameplay devrait être mis en place. Il va de soi, qu'il est impossible de satisfaire toutes ces attentes, et par conséquent, les développeurs prennent le risque d'aliéner d'entrée de jeu toute une frange de leur audience. La formule à adopter, c'est de se fonder sur l'univers du film, du livre ou du manga, sans avoir la prétention de dicter l'avenir des personnages, des lieux ou des événements auxquels les fans se sont déjà attachés.
Et il en va de même pour des MMOs inspirés de jeux déjà existants. Lorsqu'il y a une continuité dans le développement, comme ce fût le cas avec Elder Scrolls et Elder Scrolls Online, les joueurs ont plutôt tendance à accepter les changements et les nouvelles avenues à explorer. Mais, même dans de tels cas de figure, une mauvaise implémentation des idées peut conduire à des résultats désastreux. On ne manquera pas d'évoquer le très bref Final Fantasy XIV de Square Enix.
Le cas de FFXIV est même devenu un cas d'école de l'engagement des joueurs dans l'industrie des jeux en ligne massivement multijoueur. En effet, après le flop de la première itération, Square Enix a procédé à un véritable examen de conscience. L'éditeur a évalué la performance du jeu vis-à-vis des objectifs qu'ils s'étaient fixés et des résultats obtenus.
L'éditeur japonais a rapidement identifié le nœud de la problématique en définissant des priorités réalistes. Alors que le premier FFXIV mettait plus l'accent sur les effets graphiques plutôt que sur les mécaniques de gameplay, le nouveau « FFXIV A Realm Reborn » s'est attelé à mettre le joueur au cœur des priorités.
Cette nouvelle version de Final Fantasy en ligne a rencontré un franc succès auprès des joueurs. En acceptant de rompre avec les codes de la franchise en ligne et en peaufinant le gameplay du MMO, Square Enix a réussi à remonter la pente et à récupérer tout le labeur et les ressources investies dans la version antérieure.
Les limites du projet : une transformation décevante ?
Développer un MMO sur la base d'une franchise existante est bel et bien la formule efficace à 100% pour attirer une audience engagée. Mais on aurait tort de penser que c'est un raccourci ou une astuce à toute épreuve pour garantir le succès du jeu en ligne massivement multijoueur. Et pour cause, les équipes créatrices devront travailler à plein régime et en permanence pour satisfaire les aspirations irrationnelles des fans. Et si d'aventure les développeurs décident d'opter pour un monde « sandbox », il faudrait s'assurer que la trame narrative et l'univers de la franchise se prêtent à de telles adaptations.
Et comme on a pu le constater, aucune franchise ne fait exception à la règle. Non pas les livres, ni les bandes dessinées et manga, encore moins les films et surtout pas les jeux-vidéo déjà établis. Le choix d'une telle démarche est donc un risque important que les éditeurs et développeurs doivent étudier lourdement.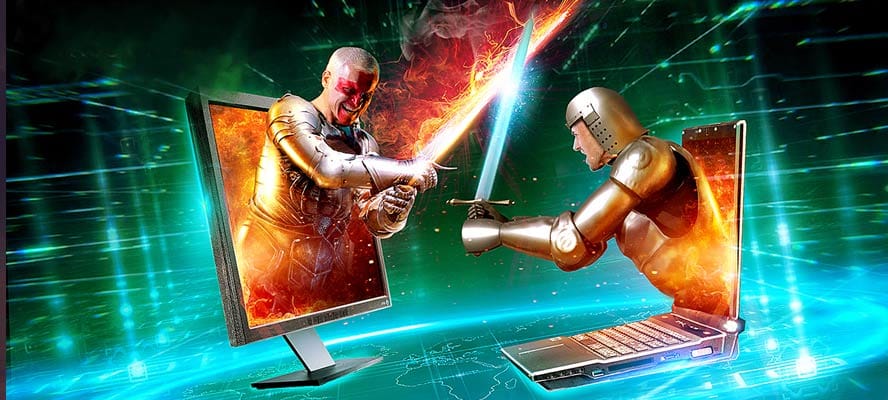 Un autre problème qui se pose lorsqu'un studio de développement s'intéresse à une franchise préexistante, c'est la question des droits intellectuels. Dans le cas de MMOs créés de rien, les studios de développement ou les éditeurs conservent une liberté de création sans limite vis-à-vis de leur jeu. S'il s'agit plutôt d'une adaptation, les droits dérivés ne reviendront pas nécessairement aux développeurs, mais peut-être à l'auteur ou à l'éditeur de la franchise. C'est ce qui explique que de nombreux films ou manga qui pourraient être d'excellents MMOs – même en « sandbox » – ne verront certainement pas le jour de sitôt. On pense par exemple à des succès garantis comme « Harry Potter ».
Tout ceci ne revient pas à dire que c'est une tendance qui devrait être oubliée. Bien au contraire ! Les MMOs inspirés de franchises n'ont peut-être pas d'avantages majeurs vis-à-vis des autres jeux en ligne, mais ils promettent presque unanimement des trames et des récits uniques en leur genre. Ce qui fait leur attrait, c'est une immersion pluridimensionnelle qui va au-delà de l'expérience vidéoludique. La tendance n'est pas vouée à disparaître, mais tant que les ressources appropriées ne seront pas allouées à la réussite de tels initiatives, il est peut-être préférable qu'ils restent à l'étape de projets.
Raid: Shadow Legends
Récupère + de 400 Champions et décroche la gloire