¿Por qué jugamos a juegos de construir ciudades?

La psicología oculta tras los juegos para crear ciudades
Los juegos de construcción de ciudades te dan el poder de un dios, pero ¿es esa la única razón por la que son tan populares? Sin duda, tener el control de un pequeño mundo es una sensación fantástica pero, ¿es suficiente para mantenerte atrapado en el juego?
Al igual que muchos otros géneros, los juegos de construir ciudades y los simuladores de imperios son un reflejo de la vida real y requieren que adoptes una mentalidad determinada si quieres tener éxito.
La creación de una curiosa sinergia entre nuestro mundo y el mundo virtual es parte del atractivo de este género y una de las razones que enganchan al jugador. Proyectar nuestras propias experiencias y habilidades en un mundo virtual, lo cual nos permite aprender más sobre el mundo real durante el proceso, es parte de la experiencia de los juegos de estrategia.
En este artículo descubrirás cuál es la psicología que hace que los juegos para construir ciudades sean tan atractivos y explorarás en mayor profundidad los motivos por los que jugamos.
Antes de adentrarte en los factores psicológicos y en cómo la mentalidad correcta puede ayudarte a tener éxito en este subgénero de juegos de estrategia, es necesario que viajes en el tiempo a un mundo anterior de texto y comandos.
Los orígenes de los juegos para construir ciudades
Antes de que los juegos de construir ciudades y de creación de imperios se convirtieran en algo enormemente elaborado y gráficamente complejo como Cities: Skylines o la serie Civilization, crear tu propio pequeño mundo era cuestión de diseñarlo en forma de texto.
Aunque muchos consideran el lanzamiento de SimCity como el primero de los juegos de crear ciudades, el género realmente comenzó con el lanzamiento por parte de Doug Dyment en 1968 de The Sumer Game (también conocido como Hamurabi).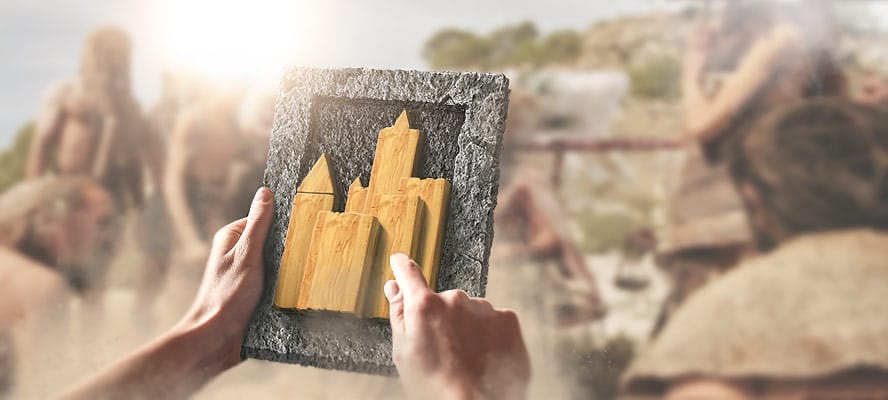 The Sumer Game era un juego de texto en el que el objetivo era ampliar tu economía y construir una ciudad próspera. El juego trajo consigo una oleada de juegos de estrategia y simuladores de imperios.
Después de The Sumer Game llegaron Santa Paravia y Fiumaccio en 1978, antes de que Utopía introdujera la idea de construir en tiempo real y los gráficos en 1982. Utopía acabó engendrando SimCity en 1989 y, a partir de ahí, el resto es historia.
En ese momento, SimCity era el juego de construcción de ciudades definitivo y ofrecía a los jugadores la oportunidad de jugar como planificador, ciudadano y, al final, dios con su propio pequeño mundo. Esta capacidad de crear y destruir mundos con solo pulsar un botón era prácticamente el poder más ansiado y los jugadores se morían de ganas de más.
En la actualidad, los juegos para construir ciudades han evolucionado en numerosas variantes. Desde parques temáticos y vidas alternativas, hasta nuestra selección de juegos de guerra, ahora puedes jugar a ser dios en una gran cantidad de entornos diferentes.
Este poder omnisciente es claramente un factor importante en la psicología de los juegos para crear ciudades, pero no es la única razón por la que los jugadores se enfundan su armadura virtual y construyen un reino que valga la pena defender.
La psicología de los juegos de creación de imperios
Como seres humanos, nos impulsa el deseo de controlar ciertos aspectos de nuestras vidas. De hecho, nos estresamos y angustiamos siempre que sentimos que no tenemos control sobre algún aspecto importante de nuestra existencia. Sin embargo, cuando jugamos a las simulaciones de construcción de ciudades e imperios, tenemos control sobre todo, desde la distribución de los bienes hasta cómo la gente interactúa con el tiempo.
Además de leer mapas, tienes que construir cuarteles, administrar los asuntos del consejo, y asegurar la buena salud de tus ciudadanos y del ejército dispuesto a defenderlos. Básicamente, eres responsable de todos los aspectos de la vida cotidiana en tu reino. Eso requiere una mente organizada y analítica.
Sí, puedes hacer las cosas a lo loco y empezar a construir cientos de cuarteles y talleres para crear un arsenal épico de armas, pero ¿qué sucederá cuando tus aliados se rebelen porque no tienes un consejo que se encargue de resolver las cosas?
No hay duda de que nos encanta poder jugar a ser dios, pero los juegos para crear ciudades e imperios también sirven como un campo de pruebas para las teorías de la vida real y, además, como una herramienta de aprendizaje.

Tal como explicó Kurt D. Squire en su artículo de 2003 sobre videojuegos y educación, los juegos de construir ciudades "colocan a los estudiantes en una posición única para entender la dinámica de un sistema". Dar sentido al mundo que les rodea, crear patrones y también establecer alguna forma de control sobre nuestro entorno son instintos humanos básicos y los motivos principales por los que este tipo de juegos atraen a un público amplio y variado.
Aunque es posible que no te parezca que estés aprendiendo nada al jugar, puedes aprender muchas cosas de los juegos de imperios de este tipo. Ponerte a construir un arsenal enorme puede parecer una buena idea, pero rápidamente aprenderás que la moderación es la clave: igual que en la vida real. Este momento de comprensión es el verdadero impulso de motivación que hay detrás de los juegos para crear ciudades y es algo que podemos utilizar a nuestro favor al trazar una estrategia.
Inspírate en la vida real para guiar tu estrategia
Si aceptamos que los juegos de imperios y de estrategia pueden enseñarnos cosas sobre la vida y el mundo que nos rodea, entonces es obvio que deberíamos poder emplear estos conocimientos sobre la vida para mejorar nuestro juego.
La paciencia es una virtud
Quizás el error más grande que cometen los jugadores al empezar a construir su reino es tratar de hacer demasiadas cosas muy pronto. En la vida real no te pones a hacer algo con prisas y esperas que salga todo bien. La paciencia es una gran virtud tanto en la vida como en el juego y conviene empezar con pequeñas acciones con el objetivo de hacer crecer tu imperio con el tiempo.
No trates de construir una infraestructura sin el poder de la gente. Del mismo modo, no dejes de construir si tu población se está expandiendo rápidamente. Sin prisa pero sin pausa: esa es la mejor forma de llegar lejos.
Nunca dejes de mejorar
No puedes dejar de entrenar a tus tropas. A pesar de que te parezca que tienes un ejército de asesinos, el tiempo no espera a nadie y lo que antaño funcionaba podría no funcionar en el futuro. Al igual que no puedes permanecer siempre quieto en la vida, en este tipo de juegos de construir ciudades no puedes permitirte el lujo de dormirte en los laureles. Como ejemplo, piensa lo que les ocurre a los grandes boxeadores que vuelven a intentar competir después de haberse retirado.

A pesar de haber sido campeones del mundo en el pasado, un largo descanso, la falta de entrenamiento y no estar al día significa que a menudo no consiguen ganar. ¿Significa eso que no eran tan buenos antes? En absoluto, pero el juego cambia y los que no cambian con él no pueden seguir compitiendo.
Si quieres ganar, necesitas entrenar y mejorar continuamente. Lo mismo ocurre en los juegos para construir ciudades; los imperios están en continuo movimiento y desarrollo, y si te quedas atrás, pronto no podrás alcanzarlos.
La cooperación es fundamental
Las conexiones y amistades son esenciales en la vida y eso no es diferente en los juegos para construir ciudades. Una de las primeras cosas que haces cuando empiezas a jugar suele ser unirte a una orden. Básicamente, el término MMORTS ya da una pista. Debido a que estás rodeado de otros jugadores, tienes que confiar en ellos mientras juegas y recurrir a ellos cuando los necesites.
Las relaciones forjadas en el chat te ayudarán a construir un ejército más fuerte. Aprende a comunicarte y a compartir fortalezas y recursos, y te convertirás en una parte clave de un imperio aún mayor.
Puede que la vida no sea un juego, pero sin duda puede ayudar a convertirte en mejor jugador.
Los juegos de crear ciudades te ofrecen el increíble poder de jugar a ser dios. Pero no dejes que el poder se te suba a la cabeza, ¡o la perderás muy pronto!
Raid: Shadow Legends
Colecciona 400+ Campeones y lucha por la gloria