¿Se benefician los juegos de películas en formato MMO del éxito de franquicias existentes?

Casi todo el mundo se ha topado con juegos MMO sobre películas, libros, mangas o videojuegos. Es probable que incluso hayas encontrado alguno por casualidad cuando navegabas por Internet.

En la actualidad, muchos de estos juegos sobre películas no son más que simples vestigios de lo que antaño fueron e incluso hay muchos que no alcanzaron su máximo potencial antes de desaparecer. Es lógico pensar que la adaptación de una franquicia de tanto éxito como son, por ejemplo, One Piece, Harry Potter o Juego de Tronos debería garantizar la producción de juegos de películas con una gran base de jugadores activos y, por ende, un éxito prácticamente inmediato.
Desafortunadamente, la realidad de los juegos de películas y libros es muy diferente. Jeff Strain, el cofundador de ArenaNet, explica que las franquicias existentes y los MMO no tienen porqué encajar bien. Esta afirmación no se basa solo en su análisis personal sino que hace eco de la realidad: los juegos de películas no siempre funcionan.
Tras los decepcionantes fracasos de juegos de películas como Matrix Online o FFXIV, es normal cuestionar si las franquicias y el fan-service son útiles en el universo constantemente cambiante de los juegos multijugador masivo en línea.
¿;Por qué es tan atractivo el concepto de juegos de películas y libros?
Existe una enorme cantidad de juegos multijugador masivo en línea inspirados en películas, series, libros, cómics, e incluso otros videojuegos.
Esta tendencia de desarrollo de juegos de películas deja al descubierto la falta patológica de originalidad de los estudios de desarrollo y los productores, aunque existen más motivos que podrían explicar este fenómeno.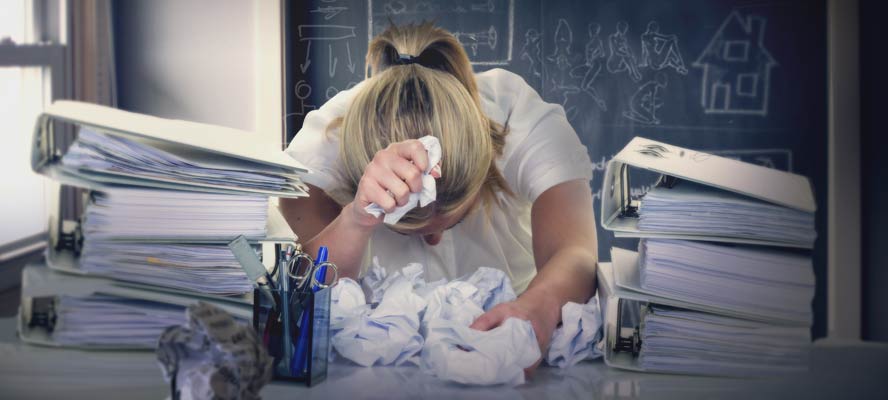 Se puede empezar a analizar todos estos aspectos explorando un caso de un juego adaptado desde un libro, World of Warcraft.
Estamos en el año 1984 y Warcraft: Orcs & Humans acaba de salir al mercado. Al año siguiente, la prensa especializada recibe buenas críticas del juego de Blizzard. La versión para MacOS será incluso galardonada con premios en el CES 1995 (Consumer Electronics Show) y en la Academia de Artes y Ciencias Interactivas.
A pesar de que el juego contribuyó en gran medida a la popularización de RTS, del mismo modo que otros títulos como Command & Conquer, nadie realmente lo consideró un precursor de los videojuegos que llegaron más adelante.
Sin embargo, solo hace falta consultar algunos estudios y libros sobre videojuegos para darse cuenta de la verdadera importancia que tuvo en el desarrollo del género de los juegos sobre películas y libros y de la industria de los videojuegos en general. El motivo era simple, y es que otros juegos más populares como Doom II, UFO Unknown, y System Shock obtuvieron mejores cifras de ventas globales. Un solo título como Doom II había vendido 1,8 millones de copias para 1999.
En aquellos tiempos, el mercado de los videojuegos seguía dominado por nombres como Nintendo, y la PlayStation de Sony acababa de salir al mercado japonés.
A lo largo de los 10 años siguientes, se lanzaron algunas expansiones y títulos nuevos de la franquicia de Warcraft al mercado. Por ejemplo, en 2002 salió Warcraft III: Reign of Chaos. De nuevo, el juego tuvo un gran éxito, pero no logró hacerse con el podio ni siquiera ante la competencia de su propio género. Como resultado, Warcraft no logra cambiar el equilibrio real de poder.
En 2005, Blizzard anuncia el lanzamiento de World of Warcraft. Lejos de ser el primer juego en línea multijugador masivo, su éxito no se podía atribuir al hecho de dar a los jugadores la impresión de ser algo novedoso. A pesar de ello, en solo unos pocos años World of Warcraft pasó de ser simplemente un videojuego a convertirse en un fenómeno mundial.
En 2010, el juego alcanzó 12 millones de usuarios activos para la expansión de Cataclysm.
Los analistas y los jugadores se preguntaban qué lo había llevado a alcanzar un éxito tan arrollador. A diferencia de otros MMO de la época, WoW ya contaba con una base de jugadores muy extensa, de modo que la transición hacia una plataforma en la red fue sobre ruedas.
WoW no es el único ejemplo que se puede encontrar de tal fenómeno, pero sí su mayor exponente. Desde entonces, WoW se ha convertido en el "Santo Grial" del desarrollo de los MMO.
Para tener éxito ante un público bien establecido, un videojuego necesita aprovechar al máximo la pasión que ya tiene ese público por una franquicia. Hacerlo garantiza un éxito instantáneo y duradero para los juegos sobre películas, libros, cómics, etc.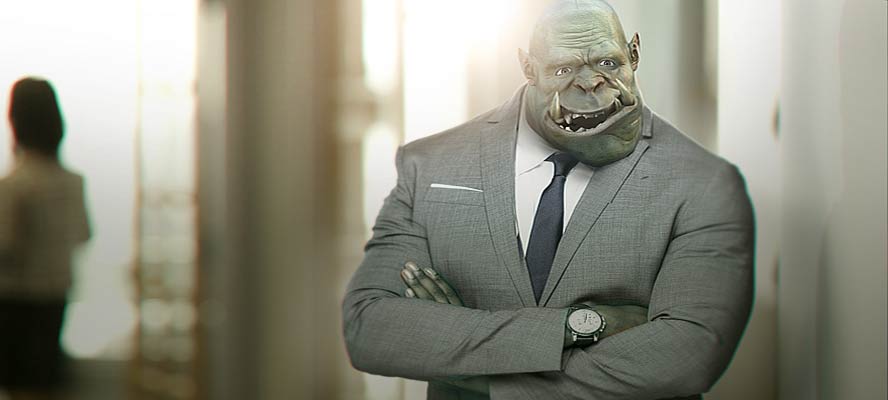 El formato estándar de MMO adaptado de una franquicia
Inevitablemente, todo el mundo quiere saber cuáles son los ingredientes que logran que una franquicia sea rentable. Para identificar los puntos fuertes que podrían señalar franquicias ideales para juegos de películas, libros o cómics de éxito es imperativo plantearse una serie de cuestiones:
¿;Cuáles son los elementos estructurales y narrativos que las caracterizan? ¿;Qué hace que la transferencia a juegos multijugador masivo en línea sea interesante para los desarrolladores? ¿;Es la historia? ¿;El universo en el que se sitúa dicha historia? ¿;El hecho de incluir personajes fascinantes u oponentes con capacidades sin explotar?
Entre todos los factores que indican las posibilidades de una franquicia para convertirse en un MMO, destacan las siguientes cuatro:
El público
La historia
El dilema
La solución
El público
Obviamente, para que alguien se plantee convertir una franquicia en un MMO, esta franquicia ya tiene que ser atractiva. Y no hay mejor forma de medir el éxito de una franquicia que a través de su público.
La película, el libro o el videojuego que se convertirá en un MMO debe haber vendido varios cientos de millones de copias; estas cifras son características de los productos que se consideran de "gran éxito". Cientos de millones de copias, y no decenas de millones, porque la demografía necesita tener en cuenta la comunidad de jugadores que encontraremos dentro de esta población mayor.
La capacidad de la franquicia de Star Wars para atraer regularmente a millones de miembros del público a los cines es un buen ejemplo de esto.
Debido a su género de ciencia-ficción y la base de seguidores predominantemente masculinos, es probable que una buena parte de los fans de Star Wars sean jugadores. Como resultado, un productor puede invertir en esta franquicia con muy poco riesgo, estando seguro de que millones de personas estarán interesadas.
Una historia llena de acción
Este concepto es fácil de entender: la historia tiene que estar caracterizada más por la acción y los viajes épicos que por tribulaciones y hazañas puramente intelectuales.
En este sentido, historias épicas de fantasía como El Señor de los Anillos (que, por cierto, llegó a convertirse en un MMO), historias sobre superhéroes o mangas japoneses, especialmente Shônen, son ideales.
Sin embargo, incluso algunas franquicias literarias o cinematográficas muy populares a veces no tienen las historias llenas de acción que estamos buscando para crear juegos de películas o libros que atraigan y no decepcionen a sus fans.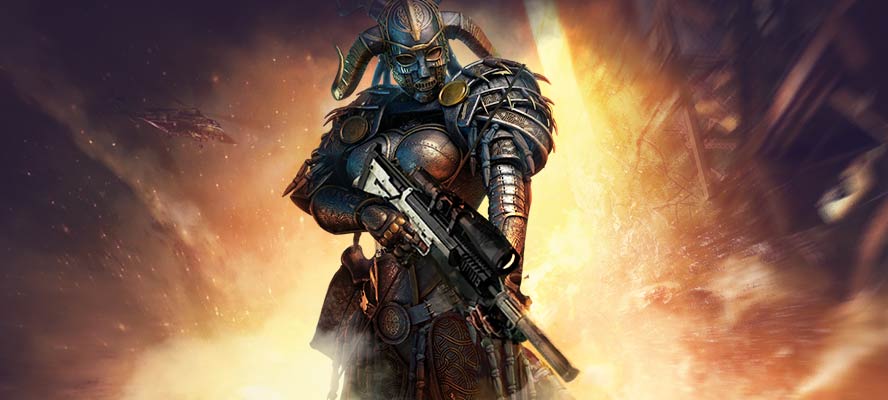 Tomemos las historias de Sherlock Holmes y sus diversas adaptaciones como ejemplo: aunque existen momentos de acción, la historia se desarrolla alrededor del espectacular intelecto de los personajes, y es poco probable que resulte en un MMO particularmente apasionante.
Una lucha de gran envergadura
Con una historia llena de acción por un lado, y un interesante universo inexplorado por otro, aún falta un componente esencial: el conflicto. ¿;Qué obstáculos habrá que superar para que el protagonista tenga éxito en su misión?
Esta cuestión suele encontrarse fácilmente en juegos de películas, libros o cómics en los que el protagonista se enfrenta a una misión o dilema de proporciones épicas.
En lugar de centrarse en logros personales como los que vemos en películas como Sin límites y Karate Kid, donde tu fracaso no tendrá ninguna consecuencia en el resto del mundo, películas como Avatar añaden repercusiones a nivel global: ¡el destino de toda la humanidad está en tus manos! Los resultados de los juegos de películas son mucho mejores estos se desarrollan alrededor de una trama de tal calibre.
En cuanto se ha creado el MMO, los jugadores necesitan sentir que participan en una lucha que va más allá de sus propios problemas. Incluso en un formato tipo MOBA (campo de batalla multijugador en línea), los juegos de películas que giran en torno a una lucha de envergadura siempre está presente en la historia ofrecida a los jugadores.
Resoluciones que permiten lo inesperado
Este punto probablemente sea uno de los más complejos a la hora de crear juegos de películas y libros. Aunque es importante, no es absolutamente obligatorio adaptar una franquicia a un MMO.
Los cuentos de hadas son un ejemplo perfecto de este principio. En una historia como Blancanieves o Enredados, los problemas a los que se enfrentan los personajes principales se resuelven al final. Está claro que hay maneras simples de reavivar la historia, pero normalmente precisa de la introducción de nuevos oponentes.
Por el contrario, en una historia como Harry Potter, la amenaza que el personaje principal tiene que superar continúa a lo largo de la historia, aunque es posible que aparezcan nuevos oponentes por el camino. El universo de la historia es propicio para el surgimiento de nuevos rivales y nuevas amenazas.
Este universo, con su final relativamente abierto, encaja mejor con una adaptación MMO. De esta manera, los jugadores pueden mantener una conexión entre los personajes que les gustan y los avatares con los que juegan en los mundos virtuales.
Contenido accesible a todos
Por último, la franquicia tiene que ofrecer algún contenido adecuado para todo el mundo, sin discriminar entre tipos de espectadores o jugadores.
Esta es la razón principal por la que franquicias como Cincuenta sombras de Grey o Alien no se convertirán en un MMO en un futuro próximo. Los juegos de películas como estas se considerarían demasiado perturbadores para mucha gente.
Cuando los MMO imitan al cine: juegos sobre películas
Entre las franquicias convertidas en MMO, destacan juegos de películas de gran éxito.
Es imposible realizar un análisis completo de los juegos sobre películas sin hablar de títulos como Star Wars, Matrix o Star Trek. A pesar de tratarse de películas enormemente taquilleras, los MMO basados en ellas no tuvieron una gran aceptación.
The Matrix Online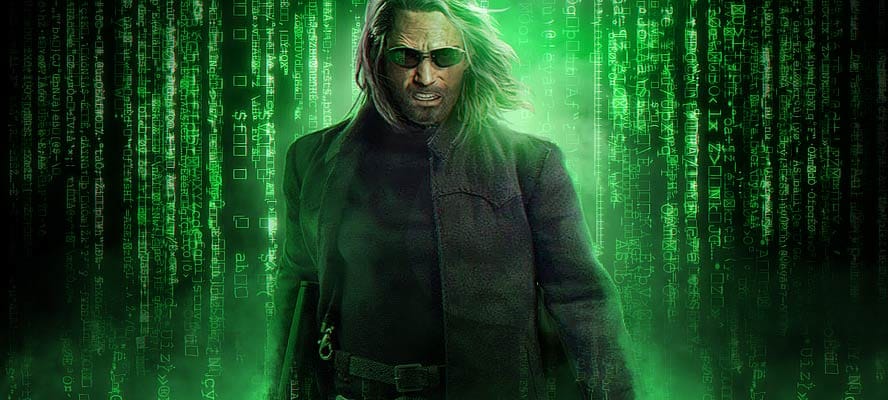 The Matrix Online (MxO) fue desarrollado por Monolith Studios y lanzado en 2005 por Warner Bros Interactive Entertainment.
El éxito al que aspiraba este ambicioso juego fue extraordinaria, y no se escatimó en gastos en un esfuerzo para intentar lograrlo. No solo es que el universo que se ofrecía a los jugadores fuera muy popular, sino que había toda una infraestructura para abordar las necesidades de los jugadores y resolver los problemas que se pudieran encontrar.
Se escogió un modelo tipo "sandbox" en el que los jugadores podían actuar libremente con un equipo dedicado a dar vida a personajes principales como Morpheus. Los jugadores podían interactuar directamente con este equipo o recibir pistas o advertencias para progresar. Incluso con estos recursos y una de las tramas más interesantes de la historia de los MMO modernos, MxO cerró solo cuatro años después de llegar al público. El problema de MxO era, en parte, su propia naturaleza
El juego sumerge a los jugadores en eventos que tuvieron lugar inmediatamente después del final de la última película. Los desarrolladores crearon personajes activos del juego, no solo algunos NPC (personajes no jugadores). Y para darles algún material con el que trabajar, tenían que crear constantemente nuevas tramas, lo que era una tarea descomunal.
En lugar de permitir que los jugadores llegasen a ciertas etapas una tras otra (vencer a un jefe, terminar una mazmorra, etc.), las "misiones" de MxO se componían de eventos únicos en los que todos los jugadores podían participar.
Incluso aunque este concepto sea interesante para los juegos sobre películas, mantenerlo demostró ser una tarea casi imposible para el equipo creativo, que tuvo que producir continuamente contenido sin perder nunca de vista los códigos y paradigmas del universo de Matrix. Dicho esto, durante su corta vida, el juego causó bastante impresión. Esto queda claramente demostrado por el hecho de que haya gente que aún esté intentando revivirlo.
Star Trek Online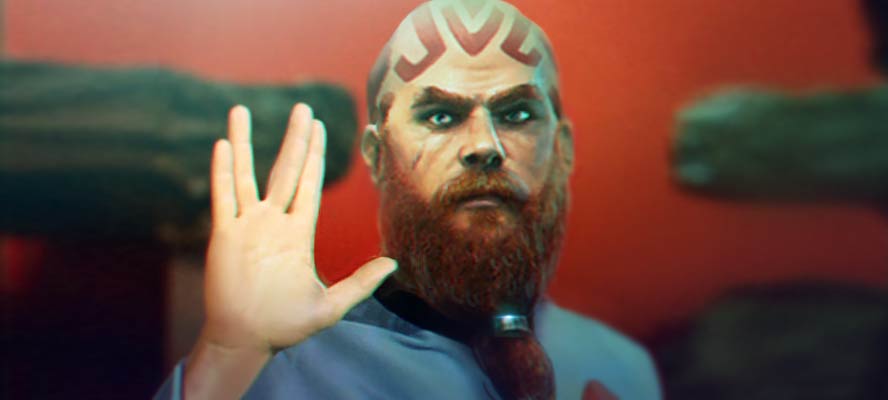 El juego se publicó en 2010 para capitalizar el creciente interés de la gente en la franquicia. Desarrollado y publicado por Cryptic Studios, el juego estaba pensado para ser una inmersión total en el infinito universo de Star Trek. En retrospectiva, podemos ver que las ambiciones de los desarrolladores fueron demasiado altas.
El juego ofrece un conjunto de misiones repetitivas. No es posible explorar los planetas en los que pueden aterrizar los jugadores, y ni las secuencias en el espacio ni el TPS ofrecen inmersión real. Sin embargo, más allá de esas desventajas, los gráficos del juego están ciertamente entre los más espectaculares jamás creados para juegos de películas y series.
Una vez más, la conexión entre el juego y la franquicia despertó el interés de los jugadores. En 2013, el proyecto contaba con 2 millones de usuarios activos, con picos de hasta 4.000 jugadores activos a la vez. Pero en cuanto los jugadores se dieron cuenta de que había una gran diferencia entre la idea que tenían del juego y el contenido que realmente se ofrecía, el tráfico cayó en picado. Otra demostración más de que los juegos de películas no siempre funcionan, aún cuando la franquicia tuviera un éxito aplastante.
Hoy en día, en STO, el número de jugadores activos alcanza un pico de 1900.
MMO de Star Wars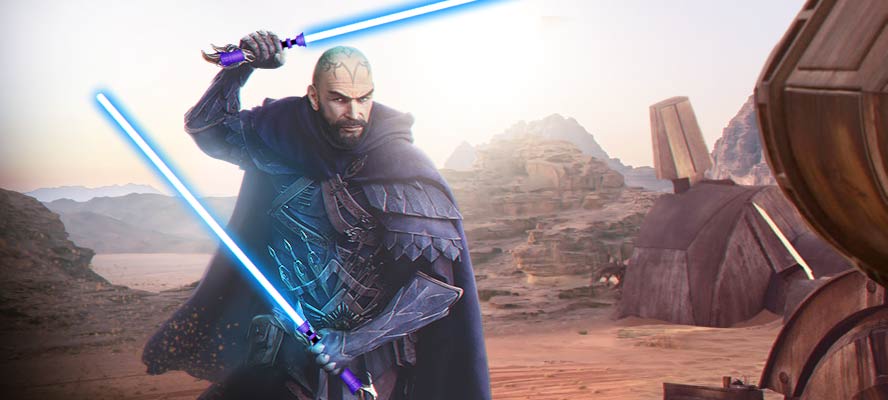 Cuando hablas de Star Wars y juegos de películas, la adaptación MMO que a todo el mundo se le viene a la cabeza inmediatamente es SWTOR (Star Wars: The Old Republic). Existen otras, aunque no son tan populares, como Star Wars Galaxies y Clone Wars Adventures.
A diferencia de Matrix, que incluía personajes conocidos de la franquicia, Star Wars eligió un enfoque similar al de Star Trek. La diferencia está en la composición de los propios universos.
Aunque el universo de Star Trek es rico y dinámico, elegir un estilo "sandbox" para el juego fue perjudicial para la inmersión. Por el contrario, Star Wars ofrece una experiencia basada en un parque temático.
Todo el mundo está de acuerdo: la historia de SWTOR es realmente inmersiva y atractiva. Pero ninguno de los personajes de la película está realmente allí. Los seguidores más fieles, que conocen los cómics y libros, reconocerán algunos nombres y eventos que ocurrieron 4.000 años antes de las películas.
Y es aquí cuando llegamos al corazón del problema: cuando decides basar un MMO en una franquicia preexistente, corres el riesgo de no cumplir con las ya altas expectativas del público, un público que ya tiene alguna idea de qué eventos deben ocurrir y de cómo debe ser el juego. Y los juegos de películas, igual que las películas basadas en libros, tienen muchas posibilidades de decepcionar a sus fans.
Toca decir que es imposible satisfacer a todos y que, como resultado, los desarrolladores estaban claramente arriesgando alienar a su público desde el principio. La clave aquí es conseguir que el juego sea lo más fidedigno posible con el universo de la película, el libro o el manga sin tratar de dictar el futuro de los personajes o los lugares y eventos con los que los seguidores ya están encariñados.
Lo mismo ocurre con los MMO inspirados en juegos que ya existen. Cuando tienes cierta continuidad en el desarrollo, por ejemplo con The Elder Scrolls y The Elder Scrolls Online, los jugadores están dispuestos a aceptar cambios y explorar las novedades.
Pero, incluso en estos escenarios, una mala implementación puede traer resultados desastrosos. Un ejemplo perfecto de esto sería Final Fantasy XIV de Square Enix.
FFXIV se ha convertido en un caso de estudio del compromiso de los jugadores en la industria de los juegos multijugador masivo en línea. Después del fracaso de la primera versión, Square Enix meditó sobre lo que había pasado. El productor evaluó el rendimiento del juego comparando los objetivos establecidos con los resultados obtenidos.
EEl productor japonés identificó rápidamente la clave del problema, permitiéndole establecer prioridades más realistas. Mientras que el primer FFXIV ponía más énfasis en los efectos gráficos que en la mecánica del juego, el nuevo FFXIV: A Realm Reborn ponía al jugador por delante de todo.
Esta nueva versión en línea de Final Fantasy fue un gran éxito. Al acceder a romper los códigos de la franquicia en línea y refinar la jugabilidad del MMO, Square Enix logró levantarse de nuevo y recuperar todo el trabajo y los recursos invertidos en la versión anterior.
Limitaciones del proyecto
El desarrollo de un MMO basado en una franquicia existente es un método 100 % eficiente para atraer a un público ya comprometido. Sin embargo, nadie debería pensar que desarrollar juegos de películas o libros es un camino asegurado al éxito para un juego multijugador masivo en línea. Y por una buena razón, ya que el equipo creativo tendrá que trabajar para tratar de satisfacer las aspiraciones irracionales de los fans, lo cual no es cosa fácil.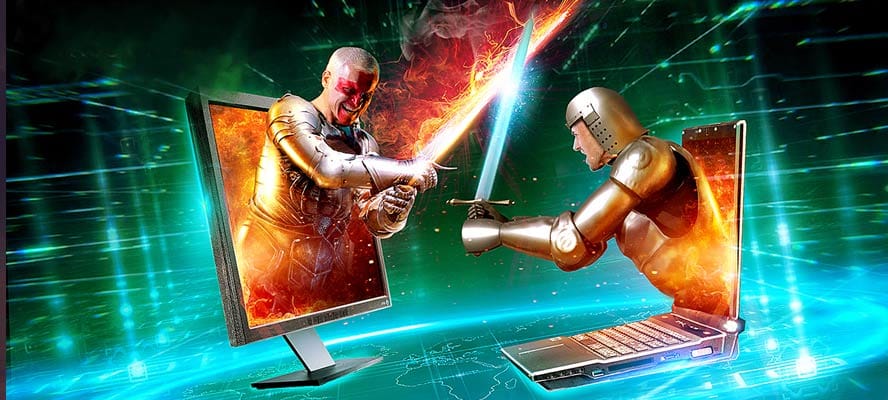 Si por casualidad los desarrolladores deciden elegir un mundo tipo "sandbox" para sus juegos sobre películas y libros, tendrán que estar seguros de que la historia y el universo de la franquicia elegida son capaces de adaptarse fácilmente a este formato.
Como hemos visto antes, ninguna franquicia es la excepción a la regla. Ni libros, cómics, mangas, películas ni videojuegos ya establecidos. Basarse en este enfoque representa un riesgo inherente que los productores y desarrolladores de juegos de películas y libros tendrán que estudiar a fondo.
Otro problema para cualquier estudio de desarrollo interesado en una franquicia existente es la cuestión de los derechos intelectuales. El estudio de desarrollo o el productor tiene absoluta libertad sobre su juego, pero cuando el juego en cuestión es una adaptación, los derechos secundarios no necesariamente pertenecen a los desarrolladores, sino posiblemente al autor o al productor de la franquicia.
Por ello, aunque muchas películas o mangas podrían convertirse en excelentes MMO, incluso en formato "sandbox", no se espera que salgan al mercado en un futuro próximo.
Pero eso no significa que esta tendencia deba olvidarse. ¡Todo lo contrario! El atractivo de un MMO basado en una franquicia, como los juegos sobre películas, es el de ofrecer a los jugadores una inmersión multifacética que va más allá de su experiencia original.
Pero sin una voluntad de sacrificar recursos y desarrollar un mundo de juego basado fielmente en el mundo de una franquicia existente, no vale la pena que se materialicen estos proyectos de juegos de películas o libros.
¿;Qué películas para gamers te gustaría ver en forma de videojuego? ¿;Hay algún universo en el que te gustaría sumergirte en forma de MMO? ¡Comparte este artículo con tus amigos para que descubran el mundo de los juegos sobre películas, libros y cómics famosos!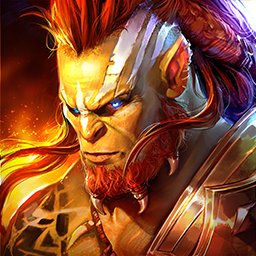 RAID: Shadow Legends
Colecciona 700+ Campeones y lucha por la gloria