In the lands of Vikings: War of Clans, there are many dangers that await you in the world, many who would do you harm, including the very land itself, which is ripe with hostility.
The sooner a fresh warrior learns this, then the better their odds of surviving and prospering within these dangerous lands.
A good clan will constantly be recruiting, constantly adding new members to their ranks, replacing those they have lost in previous wars and hoping to gain in strength overtime. The most successful of these clans have one thing in common lacked by all those who are destined for the dust bins of history: a strict training program.
It is within these clans that young Jarls will find their best hope of surviving the elements and their fellow men who would do them harm within the Kingdoms they reside.
Clans take on many different training programs, but the most common is a simple, tried and true method of sending out a dedicated list of tips to their fresh faces. Tips that many wish they had others teach them when they first entered into the world of Vikings, War of Clans.
The Elf Lords Clan is one of these clans and true to their word, they began to look out for their new members, sharing a set of tips for them as the days went on and as their rosters began to burst to fulfillment.
They labelled this training program "Staying Alive". A simple and straightforward name, the goal of which could not be mistaken: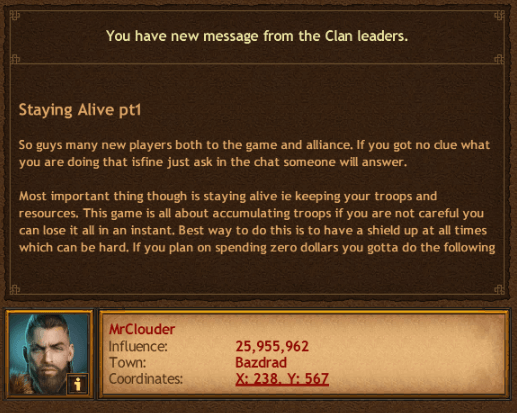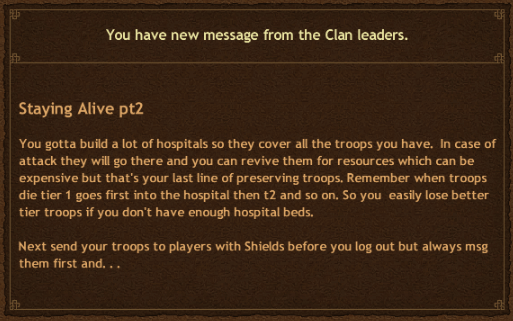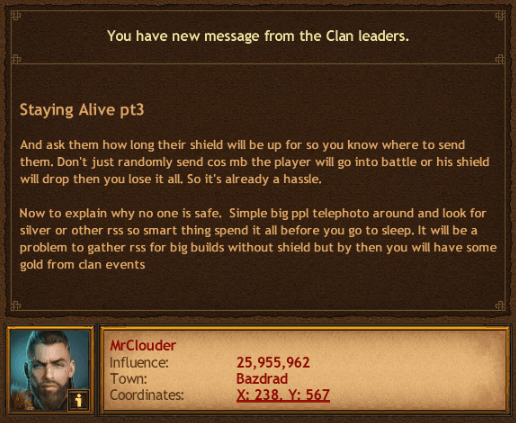 The first part of the training program, which was sent out in a series of three separate messages, detailed tips on how members should engage themselves within the land and how best to protect their hard earned troops and assets.
Placing a shield up was first and foremost, as this is a vital action within these lands, unless you wish to see your town pillaged and burned while away from your station.
If this is not an option, then one must send their troops to a shielded clanmate, but not just any. You must confirm and verify that this is a safe location, before just blindly sending your troops to a neighboring town for protection.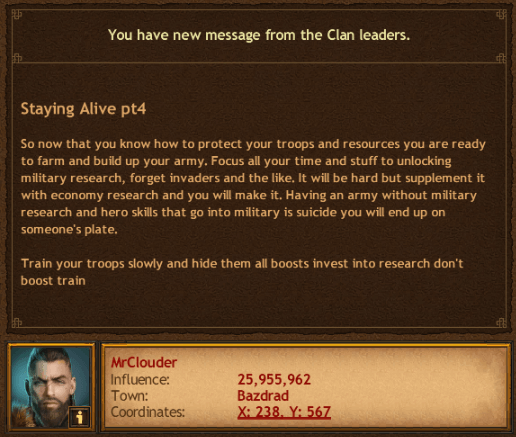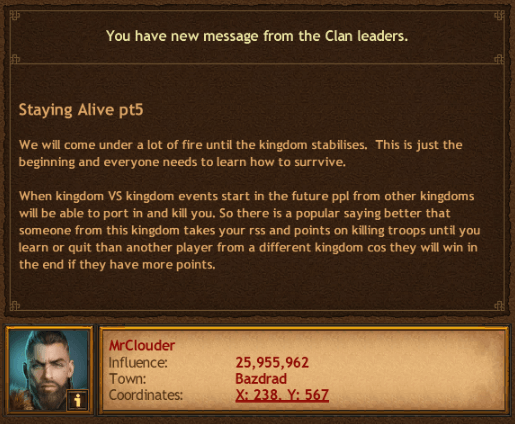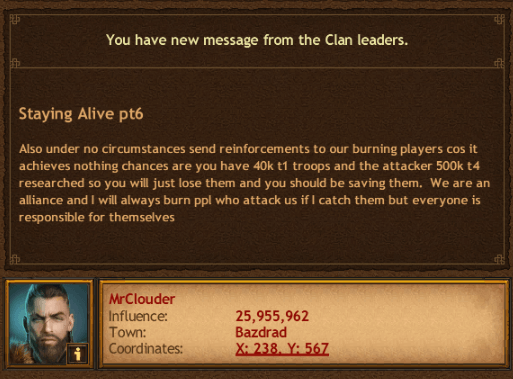 After a period of time, in which new members were able to absorb the information properly, the training program continued with a series of three more messages.
In this series of messages, the Elf Lord Clan went into more advanced details, such as how to build and progress your troop strength. Knowing that they are in dire need of men at arms, this was their primary focus, to protect their hive and their Kingdom at large in the upcoming global events.
Many took this advice to heart, asking numerous follow up questions and putting what they learned into action. Most have survived the harsh early days because of this advice and are now becoming capable warriors. The few who did not and scoffed at what their leaders advised found themselves slowly destroyed through the attrition of battles that wracked their town during their absence.
These are hard times and dangerous times, but for those who take the proper steps and protect themselves through tried and trued methods, they are also prosperous and joyous times, filled with adventure, glory and triumph.