A great challenge has been issued across the lands. This event is so massive, so large, that it stretches from North to South, from East to West. No part of the realm is excluded and no Jarl has been left out. The Hunt for Knowledge has begun.
No longer do we live in the dark ages, where men beat each other into submission with rocks and sticks: our greatest minds have unlocked knowledge that has increased not only our weapons of war, but also our production capabilities and quality of life in general.
Still, there is so much more that we have yet to learn and that is exactly what this event hopes to achieve.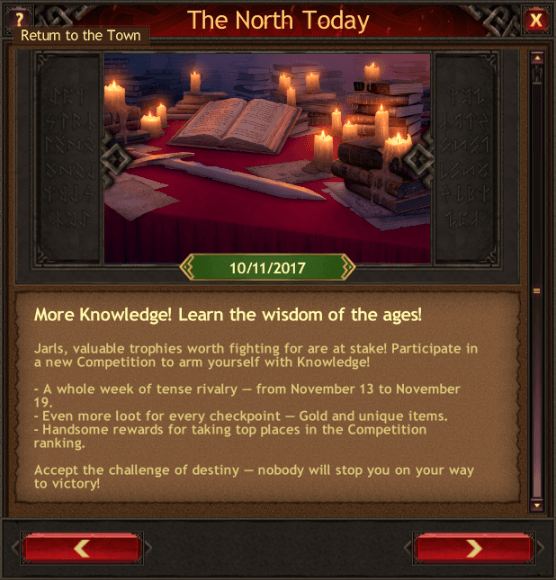 To help encourage participation within this event—one that will benefit all of mankind—the great lords of the realm have attached a large number of rewards that can be achieved as Jarls increase their participation within the event, thus adding their knowledge to the collective lore of mankind.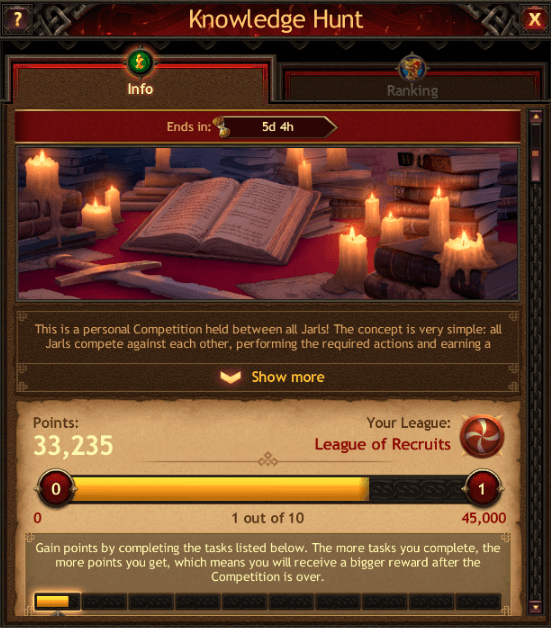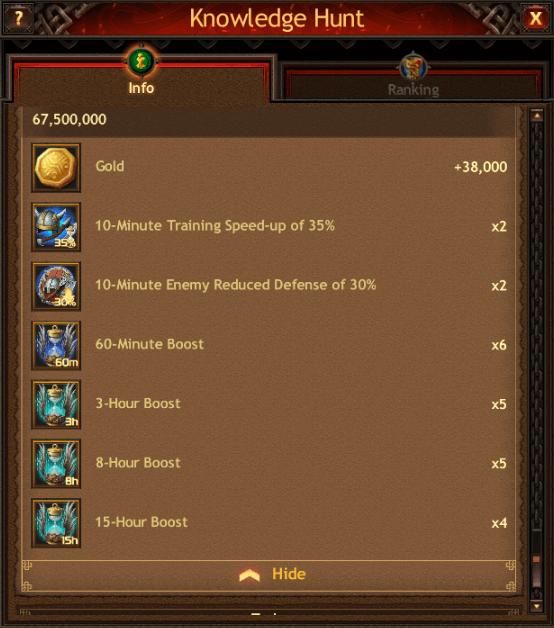 As shown above, this is a peaceful event, with the only way to gain points being from increasing your influence by upgrading your Knowledge via your Oracle within your town.
This has resulted in our Oracles spending long days and nights combing through their books of knowledge, increasing their towns' abilities and skills—an added bonus that is quickly being realized by all.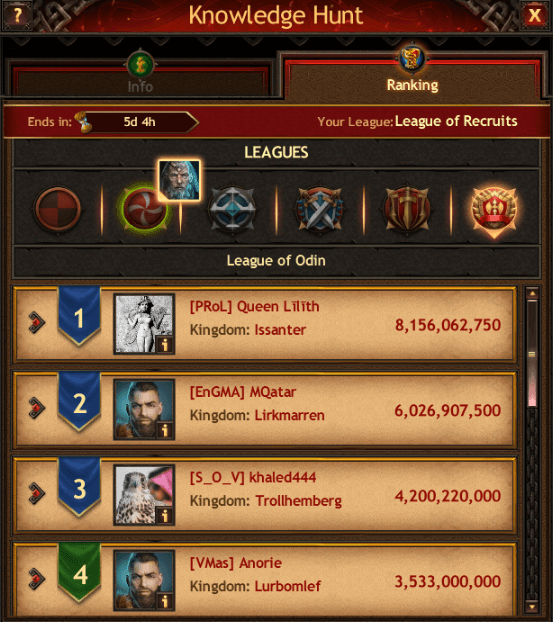 Some Jarls have garnered truly impressive results, even though this event is still only in its infancy with many days yet remaining before its completion.
As shown above, within the top-tier "League of Odin," four names currently stand out above all others. Queen Lilith, MQatar, Khaled444 and Anorie have learned more within these few days than most Jarls will learn within their entire lives.
Queen Lilith alone is on track to gain more than 10 billion influence points! Such a remarkable feat will place her in the history books for all time if she is capable of holding onto her impressive lead.
Still, this event is not even half over yet, and it is anyone's guess as to who the victor will be. Set aside those blades, sharpen those pens and get out your reading glasses, the Knowledge Hunt continues on...