Week after week, since coming on the scene, Baggi the Big and his counterpart, Igna the Wise have been embroiled in a battle unlike any other ever seen before within Vikings: War of Clans.
This battle has taken place between realities, within a land of neither black nor white, but rather the dismal, depressing color of grey. The undead reside here; it is here that we have seen countless horrors break through into our realm. Baggi and Igna, every time, have rallied their mystical powers and fought back, containing the evil as it attempts to escape from the underworld.
This has led to our brave heroes growing in power and might, as they collect experience points and master their art. This has led to the unlocking of great skills - skills that have aided both their Chieftains and their towns.
Still, limits have been reached and even our mighty heroes are in need of assistance from their fellow clans-mates and allies.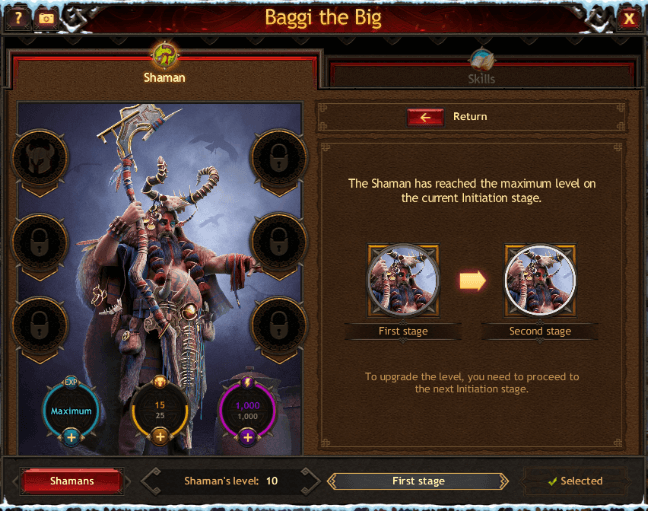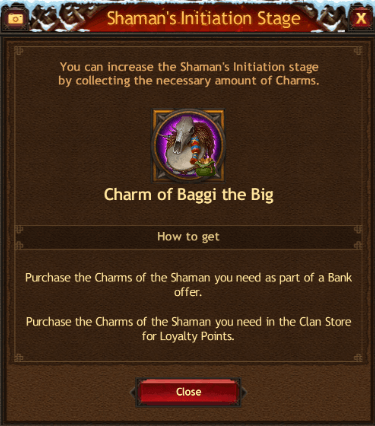 Having reached the maximum experience points within their first initiation wave, many of our shamans now rest at the tenth level and cannot proceed. This is because their inherent skills can take them no further. They will need the aid of powerful charms—charms that will allow them to reach new limits in their power and level.
To acquire these charms, Jarls must spend their loyalty points within their "clan store," or buy them with some extra coin as part of special bank offers.
Whichever route you choose, time is of the essence, as new, more powerful ghosts continue to pour into our world.
The latest of these threats is the Abyss Guard, a ghost more powerful and stronger than all the others we have witnessed combined. Upgrading and strengthening your shamans to the next initiation stage is more important than ever, and already many Jarls have done so, purchasing the charms they require.
Who has done so is clear from the recent ghost banishment event standings, as some stand out from the rest, proving their mystical powers and prowess in battle.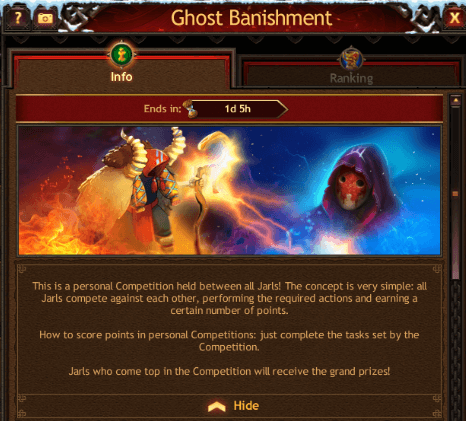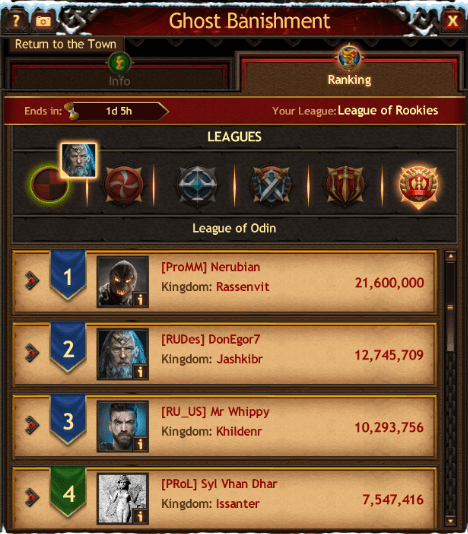 Within all the lands, none can say they have done more than Nerubian to stem the tide of darkness that threatens to overtake our lands. This brave Jarl has led his shaman to victory time and time again, scoring a stunning 21,600,000 points in the process. A miraculous feat.
Following behind him, are DonEgor, Mr Whippy, and Vhan Dhar, all of whom have scored massive points as well and have helped immensely in preserving the lands from evil.
Still, many Jarls must act now and do what they need to do, in order to upgrade and enhance their shamans to the next initiation level. No one Jarl can hold this tide of darkness back forever. We will all need to come together if we wish to have any hope of defeating and conquering these otherworldly denizens once and for all.