A trend is broken and the tides have turned. A clan that has suffered greatly from defeat after defeat has revised their strategy and adapted, and now, they have claimed a monumental victory as their own.
The Valhalla Damned have overcome and they have conquered their opposition in a stunning and absolute victory.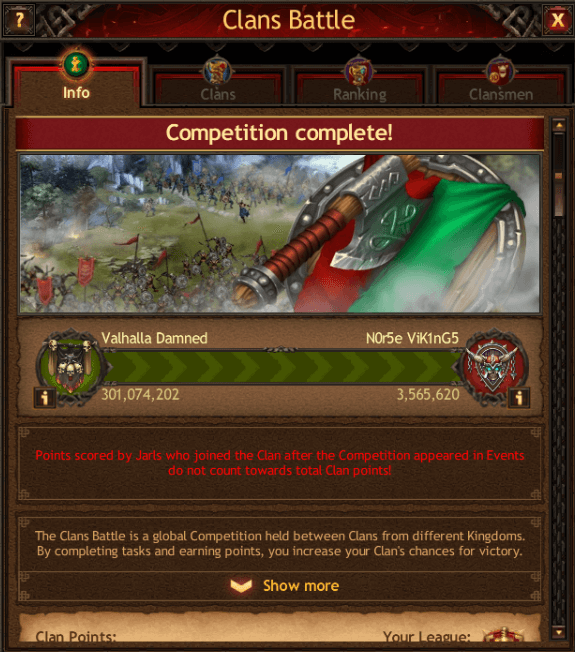 As seen from the above battle report, the Valhalla Damned completely and utterly decimated their foe, who was forced under bubbles of protection and had no choice but to simply take shelter from the onslaught that was being rained down upon them.
The Valhalla Damned did exactly what they said they would do, they removed their inactive players and those who would not place bubbles of protection upon their towns, thus making themselves vulnerable and easy targets for points.
By removing these players, as they stated that they would do, they ensured that they were able to deploy their new strategy and overcome and conquer their challengers, foes who did not engage in these newly developed tactics and thus, were left behind in the dust, with no real chance of victory.
Many members rose up to the challenge, with some of the most notable from the Valhalla Damned being Viking_X, LittleEarthQuakes, KristiRose, Mahk and Darko Masic.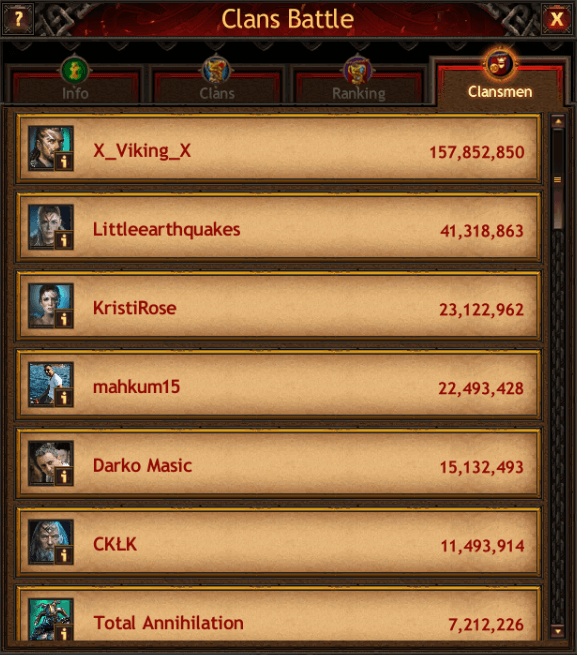 This victory unlocked much-needed rewards and boosts for the entirety of the Valhalla Damned clan, which will surely help them in the future events that they will face in the coming days.
They still face many challenges and there are rumors within the ranks that even more change is needed to raise the Valhalla Damned to even greater heights. Perhaps, but just what are these changes that these people speak of?
For the time being, a trend has been broken, but now, they must prove to the realm that they can consistently win and are not to be trifled with. Their warriors must continue to sharpen their blades and their skills, they must not grow idle now.
By Odin's name, they intend to do just this and now that they have tasted victory, they have no intentions of stopping. Onward to victory, onward to glory! The halls of Valhalla can wait, at least for one more day.