New lands are constantly forming, we know them as Kingdoms and the ability to constantly expand our borders represents the true strength of our realm as a whole. Man's ability to tame the wilds shows how powerful we are as a whole—but what causes this expansion to occur, what drives it?
The fact of the matter is, the population in Thrones continues to expand, new lives replace those lost at a faster and faster pace. In addition to this, we have an insatiable desire for precious metals and resources, resources that are required to maintain the economic engine of our societies and the war machines that we have built.
Around the point that a Kingdom hits 40,000 population is what the lords of the land have considered its saturation point, the point at which settlers are sent out to the neighboring lands so that others can have the same opportunities that those before them had.
The latest Kingdom born is the land of Kisterdavn and it too is about to reach its limits in growth.
As can be seen above, this Kingdom rests at a population of 39,399 which means that it too is about to close its borders. But fear not, this is the natural progression of mankind: we continue to push our limits and venture into the wild eastern lands, where danger, adventure and riches await any who are brave enough to rise up to the task.
In Kisterdavn, we have seen an incredible amount of Orders rise to this challenge, planting their roots and fighting back the Assailants that called these lands their own.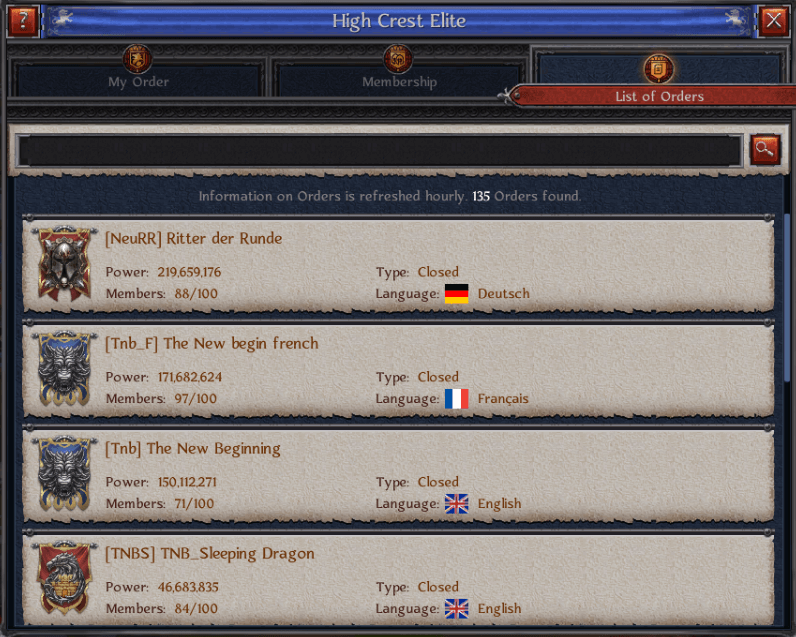 As is typically the case, one Order rises above the rest, enforcing their will upon the rest of the Kingdom through the strength of the warriors who make up their ranks.
In Kisterdavn this was the Ritter Der Runde Order, who have managed to accumulate a stunning 219,659,176 influence points in a span of one short week. They have proved that this Kingdom's borders will be secure and strong, with powerful citizens such as this making up its population.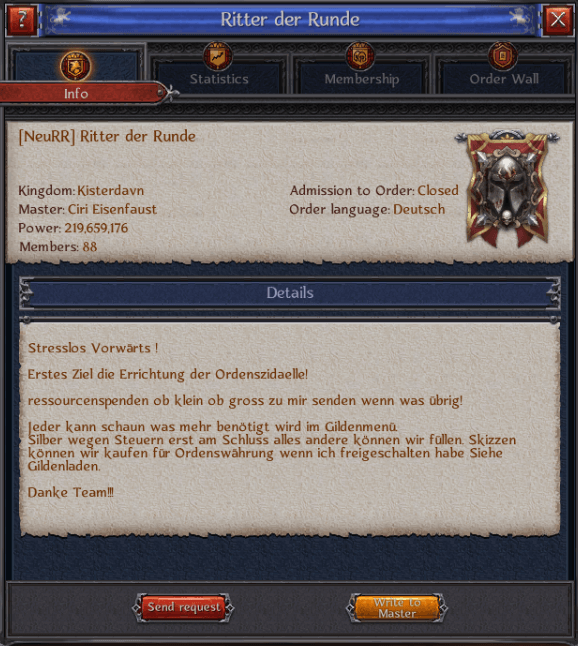 Now, the entire realm awaits its next expansion and the newest Kingdom of man. What adventures will lay in store, is anyone's guess, but the Chronicle plans on venturing forth, following it, and reporting back to you, our readers, with the latest and most important news that affects this proud and mighty realm...