The bells ring, the trumpets blare and citizens can be seen out in the streets of their respective towns. A great day is upon us, for it is the first birthday of the realm as a whole and with this day comes much reflection and much awe, for the the many achievements that mankind has made since the founding of this great realm.
The Lords of the realm made the following announcement, proclaiming to all that great achievements had been made, but many more were yet to come: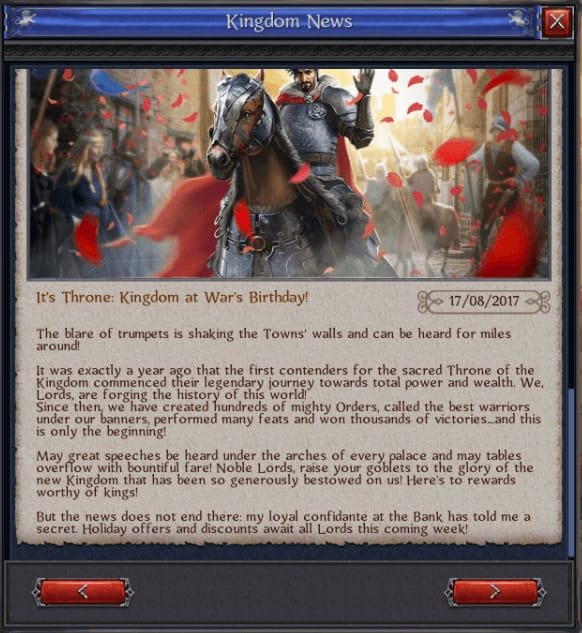 As we celebrate this joyous day and enjoy the parade of our knights and men at arms through the streets, we reflect on the how we as a people have expanded the reach of our realm, which now spans sixty-eight Kingdoms, with the newest one being founded just days ago, Rizerstin.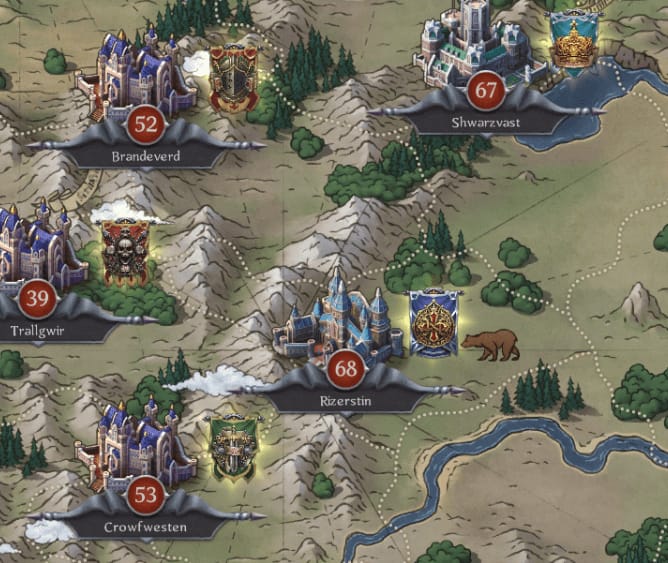 In addition to the celebrations that are being thrown across the realm, new accomplishments have been ushered in. Now, the citadels of Orders can upgrade vital buildings within their borders up to level 2, increasing their strength and influence in the process.
Already Lords are rushing out to achieve these new goals, not wanting to be left behind the others who take immediate action and thus gain an advantage over their opponents.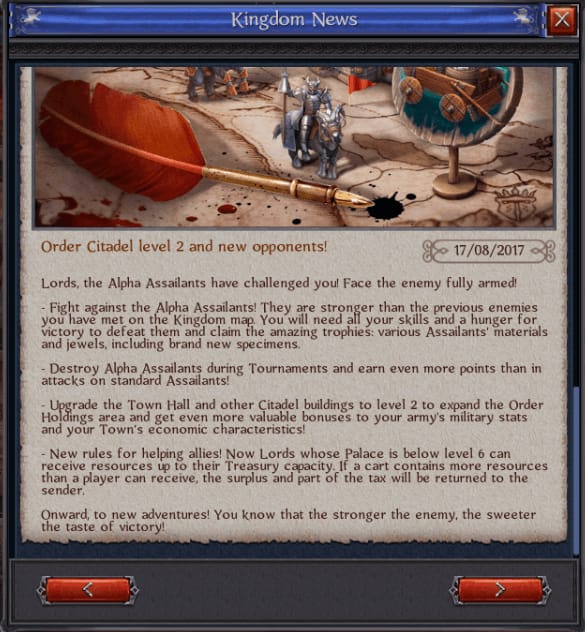 For all the joyous celebration on this anniversary, we must also pause mournfully in remembrance of the great wars have been fought over this past year and many brave heroes have been vanquished in the process.
Some Kingdoms have been almost entirely crushed due to these non-stop wars, but this is the natural progression of things in these violent times and with it, the cream of the crop can be seen rising to the top. Mighty champions have been born and have written their names in the history books for all time.
As we move forward, we know that many more battles will be won, as well as lost. Mankind will push ever onward, expanding our knowledge, reach and might. Push on brave warriors, for the future is yours!