The Knights Templar is under siege, from within and without. Losing a number of key members they are in a weakened position. Will they be able to regroup and reform, or splinter and fracture?
Are KT Losing their Grip on the Realm?
What is happening over at the Knights Templar? This is a question that many are asking, as there are stories leaking out and signs of disunity spreading across the realm. Whether or not these stories have much foundation is for time to tell.
Yet, some things cannot be denied. The top league has recently suffered a loss in their ranks, losing some of their key players in all of the Knights Templar leagues, most notably, KT1 and KT2, which are showing signs of extreme stress.
This fact has been raised over and over again, and has even shown its face on the public forums, where one citizen asked the following, "Is KT Falling Apart?"
Unfortunately for the top ranking leagues, the screenshots don't lie and is not very reassuring for many who are currently enjoying the relative stability this realm is sharing.
For those who call the lands of the Knights Templar home, this is especially troubling, as it shows that their Lords are unable to protect large sections of their homeland, opening their borders to raids and the barbarian masses.
A few KT members took to the forums after this post was shared, defending the strength of their league and stating that all was ok. This led to a series of back and forth discussions, some claiming the forming and some sticking to the idea that KT is losing its grip on its lands.
Regardless, as previously stated, there has been a departure of important, long term KT members. Most notably are some of its key Captains, all of which have moved over to the ranks of the Fellowship.
RickB, the longtime Marshal of The Knights Templar 2 is one of these key members that recently left KT2 to join the Fellowship. His dissatisfaction was becoming increasing apparent to his members, as he released a series of league wide messages, ultimately ending in his departure from the league he has grown into what it is today.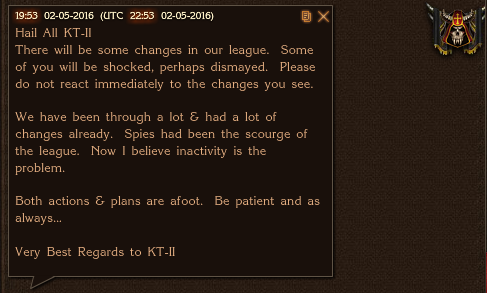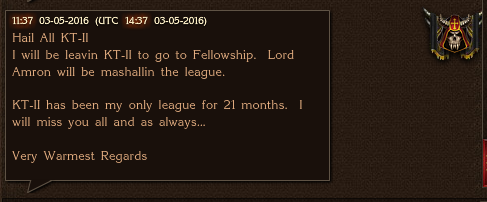 Lord Amron, the new Marshal of the Knights Templar 2, immediately sent out a message, attempting to calm the ranks of his soldiers.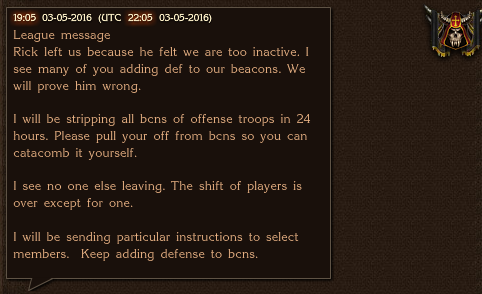 Further showing signs of weakness, the Knights Templar 3, attempting to execute a covert operation which would see them transfer ownership of a beacon to an allied league, had their plans foiled by their arch enemies, Anarchy.
Gaining knowledge of these goings on, the leadership of Anarchy decided that quick action was needed and executed a small strike against the Knights Templar 3 beacon. It was defeated in one fell swoop.
The rumors may have some foundation, but it is incredibly unlikely that the top ranking league in the realm is simply going to drift away. The history and those members remaining will simply not allow it to do so.
What is more likely, is the fact that the enemies of the Knights Templar are going to act on the rumors and renew their attacks on the weakened KT. Whether or not they will be able to hold on to the top ranking position in the realm is yet to be seen and a story for another day.
This article was written by a player who granted permission for it to be posted on Plarium.com. Any thoughts or views expressed herein are the player's own, and do not necessarily reflect the views of Plarium Global.