My Lords and Ladies, welcome João Moita, one of the strongest Battleground players. João is the League Marshal of "Lords Of The World". Let's learn a little about him and his League!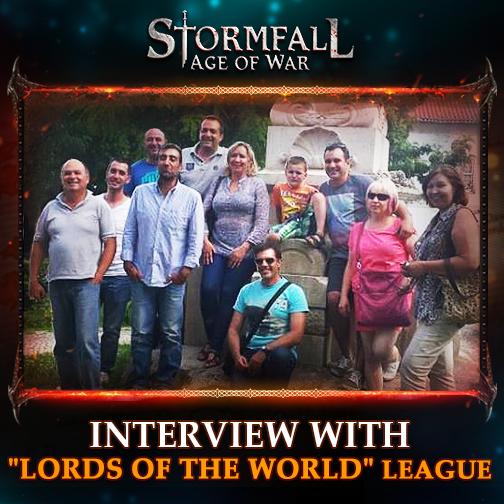 Q: Tell us about yourselves. How did you find out about Stormfall?
A: We are an International League with players from all over the world. Anyone who is willing to work to make our League the best it can be is welcome. It doesn't matter what country they're from, their religion, color, or anything else. Personally, I started playing Stormfall because my boss at work used to play. He got me started.
Q: What do you like about the game the most? What makes you come back again and again?
A: We like battling and building things but what brings us back every day are the friendships we have made in the game. I think that is what is most important. And of course, we love the PVP challenges. We love any kind of competition within the game!
Q: What is the usual daily routine of your League?
A: Every day we complete Daily Quests, launch Raids, and Build more Units. We're always looking for ways to improve our League.
Q: Which adjective characterizes your League: Offensive or Defensive?
A: Both actually. We have strong defensive players, and strong offensive players. We have Beacons so we need lots of defensive power. But in this game, defensive Units alone are not enough. We need strong offensive Units as well. We love to raid and set traps and many players just like to battle, regardless of whether they're earning PVP points or participating in Quests!
Q: Do you socialize with your League members in real life? Can you tell us a story about one of your meetings?
A: We are an International League so it's almost impossible to bring everyone together at once, but we have a lot of Portuguese players from the north and south of our country. So when we get the chance we schedule a lunch with whoever can show up. The last meeting of Lords of the World was on July 18th, 2015, when some Lords came together for a meeting in Mealhada, Portugal. We choose Mealhada in order to eat one of our most famous dishes, Leitão á Bairrada (you can google this to see what it is).
We took this opportunity because our Captains Rui Silva, who lives in Andorra, and Luis Antonio, who lives in Germany, visited Portugal at the same time for vacation. This almost never happens. I had already met them both in the past, on separate occasions, but this time I managed to catch them together in Portugal.
When we knew that these two Captains were coming, we invited those of our fellow players that live in Portugal, some of whom actually managed to show up. In total, we had 12 players from our League and we all had a really nice lunch. The players that attended our lunch were Joao Moita, Rui Silva, Luis Antonio, Rui Brandão, Maria Conceicao, Janine Duarte, Jacqueline, Leon, Carlo Nobrega, Ricardo Gouveia, Pimentel, and Eduardo Correia. Some even brought their families.
It was great to finally meet our fellow League Members in the flesh, not just on the internet. Of course, we talked about the game and our League, and also made plans for the future. Hopefully in the near future we can arrange other meetings with more friends from our League. I would like to thank all of our players who came together to make this meeting possible.
Q: Who are your biggest opponents right now?
A: For now, I don't think we have any big opponents. Of course, each of our players has their own enemies and they help each other out a lot with them. It's part of the raiding game, with Hamlets and Settlements. As a League, we are always looking for ways to participate in PVP challenges and as a result we have our enemies. Apart from that, the only enemies we have are those that try and mess with our League without having a valid reason for doing so. And, of course, we can't forget our enemy Balur... we all love to hit Balur.
Q: Please share some tips on raid tactics you think would be useful to newbies.
A: We'll give you some tips on raiding from our best raider, Luis Antonio. First, raid all your neighbors. That is to say, those closest to to you. This will give you plenty of Castles to raid and you won't lose too much time doing so. We also hold contests inside our League to see who can conduct the top raids. It's an incentive to keep our guys and gals active and they have fun trying to beat each other.
Darkshine will be happy to see your future achievements, Lords of the World! Good luck!