The Knights Templar continue their slow decline, while other leagues flourish and prosper. Most notable is Destiny, who has taken over the much coveted number one position. Will the Knights Templar sit idly by, or will they rise again?
It Was Destiny
The times, they are a changing. A power that has held dominance and had the privilege of holding the top position in the realm since the beginning of the Beacon Wars is no longer able to do so. The Knights Templar has lost their first place position.
This did not happen easily, it has been a slow and gradual process. As the Chronicle has followed for some months, they have been plagued from attacks by Anarchy, they have had infighting that has resulted in many of their members leaving and joining ranks with The Fellowship and they have had to battle heavily in their turf as new beacons have risen.
All while this was occurring, other powerful leagues have continued to flourish and prosper, most notable being the league Destiny, which has dethroned the Knights Templar and has proudly taken up the mantle as the top league in the realm.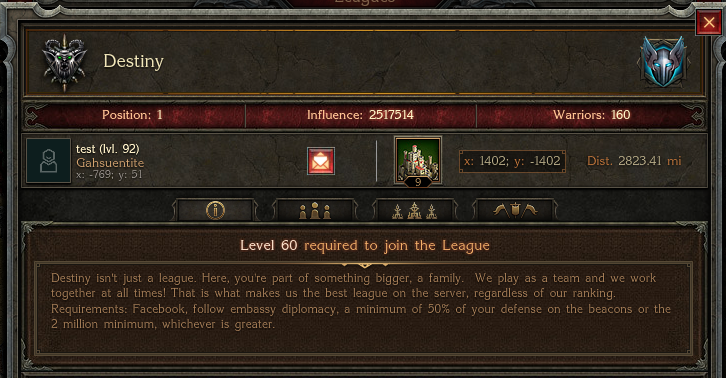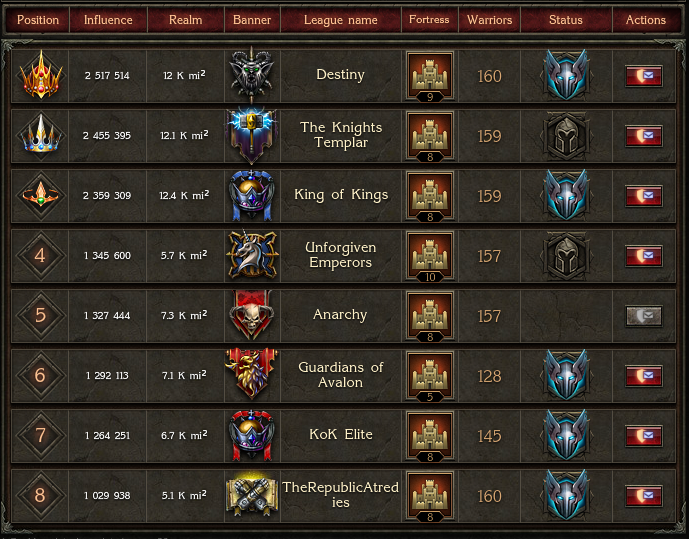 This is a major event in our realm's history. As previously stated, the Knights Templar have held on to this first place position since the onset of the Beacon Wars, a monumental feat in and of itself, but one that is now history for the time being...
For now, Destiny has taken on that honor of calling themselves the top league. This does not come without threats of its own.
One amusing repercussion of being spotlighted and on the top is the amount of impostors that will try to besmirch and smear your name. Already Destiny is becoming aware of this, as their Marshal Test recently made aware to the realm in the public forums.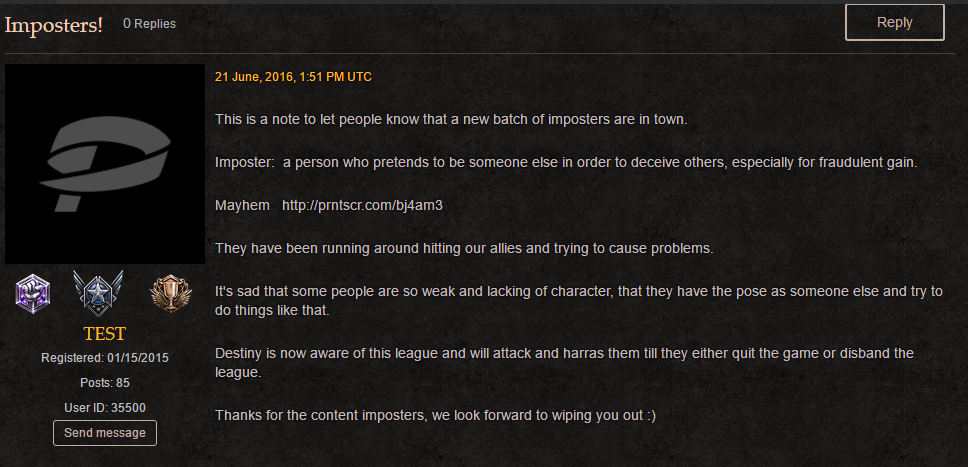 This league Mayhem will be but a minor footnote in Destiny's history. As they will face many more difficult challenges in the future, as their enemies try to challenge their supremacy. Undoubtedly, we know that Destiny is more than ready for this challenge and the others that are likely to come their way.
Whether or not The Knights Templar will sit idly by and watch Destiny hold onto "their" number one position is yet to be seen. Will they strike out and attempt to expand once again, moving themselves up the charts, or is their destiny to drift lower in the charts? We shall have to wait and see.
This article was written by a player who granted permission for it to be posted on Plarium.com. Any thoughts or views expressed herein are the player's own, and do not necessarily reflect the views of Plarium Global.