A speculated new power alliance within the realm has the Knights Templar and their allies on edge. Will war come to the shores of our realm once again? Can disaster be averted, or is now only a matter of time?
Knights Templar Go Into High Alert
The threat of a major war is once again in the air. The source of this information is yet unknown, but it has some of the most important leagues in the realm on edge.
News has reached the Knights Templar and their sub-leagues, of the breaking of the Coralition and the potential formation of a new power alliance. We have heard rumored that this new power is called the "Umbrella Corp", but it is yet unconfirmed.
What is most troubling for those in the ranks of the Knights Templar and their allies is the apparent inclusion of the Anarchy league, which has been violently opposed to KT since the ending the Beacon Wars, and a constant thorn in their sides.
Taking into consideration the other incredibly powerful leagues, such as Destiny, the KoK, Guardian of Avalon, The KoC and the Republic Atredies, then we at the Chronicle can understand their nervousness over this recent development.
In addition to this, this new "alliance" has already flexed its muscles in a co-ordinated effort and taken down a number of the Unforgiven Knights beacon in one short evening.
A number of messages from within the Knights Templar ranks were sent out, as well as from some of their allies. A sample of these is presented below.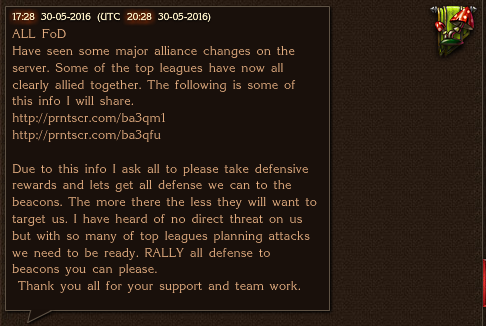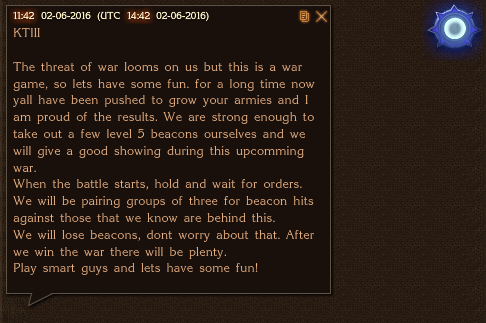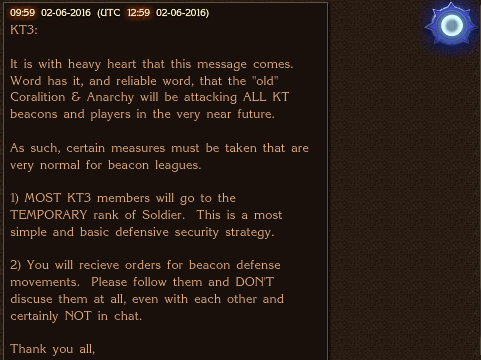 Yet, it must be noted that just because Anarchy is now a part of this new power alliance and an old enemy of the Knights Templar, it does not mean that the alliance will be going to war anytime soon with KT and their sub-leagues.
We will have to follow this story closely as it develops, for it is certain that something major is brewing here. It is now just a matter of whether or not a spark will ignite the situation.
For the sake of all of us in this great realm, we hope that this is simply jawboning and another Beacon War will not come to our shores. Let us hope and pray: there is little else we can do.
This article was written by a player who granted permission for it to be posted on Plarium.com. Any thoughts or views expressed herein are the player's own, and do not necessarily reflect the views of Plarium Global.