Readers of the Chronicle, thank you once again for joining us here in our quest to spread knowledge across the lands! The great lords of Stormfall have been busy and war is once again the discussion of choice as many dine around their tables.
Yet, this is not any war, this is the Beacon Wars and this time there appears little chance that the fighting will stop until one side is ultimately deemed the victor and the other in ruin.
As we previously reported, The Knights Templar found themselves recently in a position where their long term allies, The Fist of Honor and the Destiny leagues broke ties and joined forces with the enemy of The Knights Templar, the newly formed power alliance, the Coralition.
This left The Knights Templar in a dire position, on their own against a group of powerful leagues.
Fortunately for them, things are beginning to look up. No longer alone in their fight for survival, the DaM Empire, which has been discussed many times in the Chronicle before due to their ongoing war with the Legacy League, has declared war on the Coralition and decided to join forces with KT.
A member of the DaM Empire who was more than proud to share this news with the Chronicle and show his support for his new allies sent the us the following message sent out by the leadership in DaM Nations, the main branch of the DaM Empire.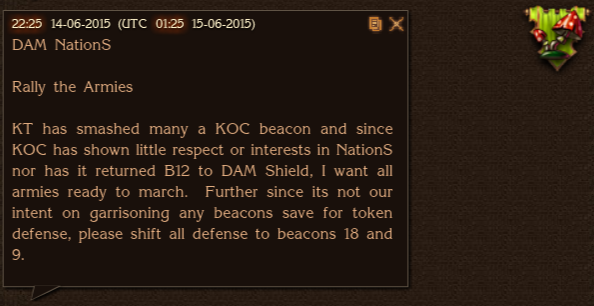 Within days of announcing this declaration, the DaM Empire mobilized its forces and joined in on the carnage that was ensuing across the lands of Stormfall, striking out at a stronghold held by their enemies The Knights of Camelot, in which they were victorious in taking.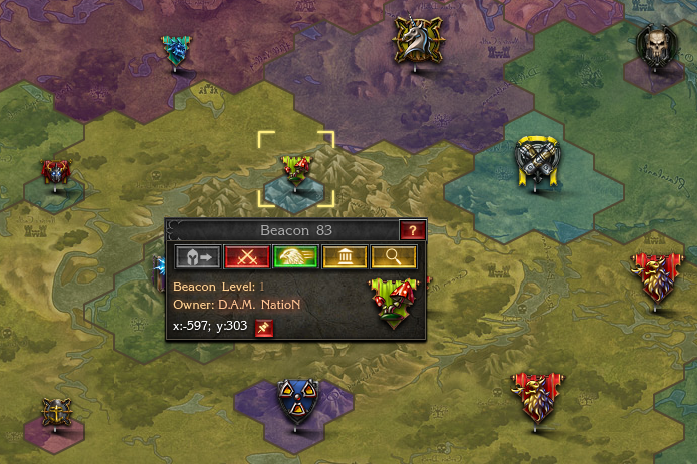 Unfortunately for DaM Nation, The Knights of Camelot did not sit idly by as their strongholds were molested, they struck back, quickly seizing back their lands.
Although The Knights Templar are still sorely outnumbered and the DaM Empire possesses only a fraction of the power it once held, this can still be looked at as a victor for KT and a sign that the Beacon Wars are far from over.
The drums of war beat on and the Chronicle will be there, reporting on what matters most, be safe citizens of Stormfall.
This article was written by player, who granted permission for it to be posted on Plarium.com. Any thoughts or views expressed herein are the player's own, and do not necessarily reflect the views of Plarium Global.