By A.R. Montgomery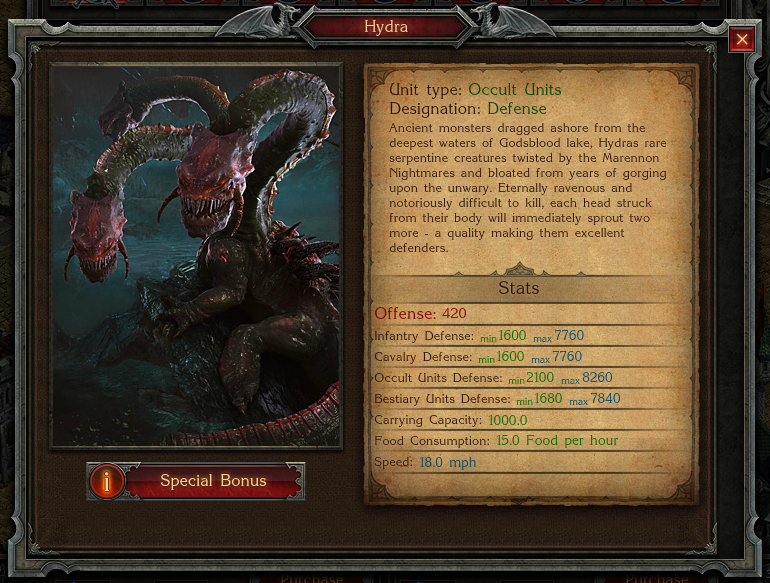 Who
Plarium says:
"Ancient monsters dragged ashore from the deepest waters of Godsblood Lake, Hydras rare serpentine creatures twisted by the Marennon Nightmares and bloated from years of gorging upon the unwary. Eternally ravenous and notoriously difficult to kill, each head struck from their body will immediately sprout two more – a quality making them excellent defenders."
This bad-ass, ugly and multi-headed serpent monster is not for the faint hearted. Personally, I prefer the Niathi to look at, however for the defensive strategist with abundant Golem or Demon production power – then this is the Legendary Unit for you!
What
The Hydra is a Legendary Unit.
"Each additional Golem or Demon that stands alongside the Hydra receives a bonus to its Defensive Statistics."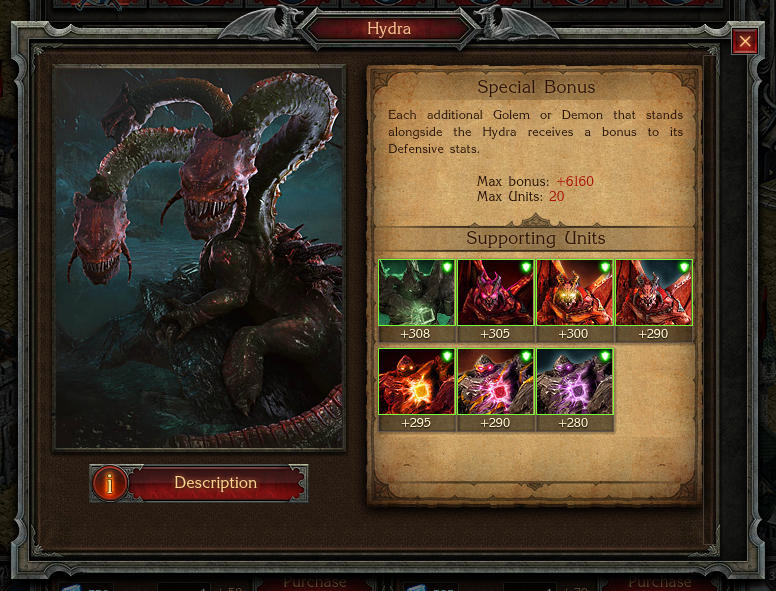 So as we can see in the screenshot above, 1 Hydra can enhance power to +20 Occult Units that support it. Depending on the type of unit, they receive a positive edge to their standard fighting ability. We can see that a Golem will receive +280 defensive points. Add 20 Golem base units at +280 and you will receive +5600 Defensive Points for 1 Hydra, which is slightly below the Hydra maximum load of +6160 points.
What they are not, or should not be confused with, are your Castle Guard Hydras as can be seen below and which is described by Plarium as so:
"The Hydra are many-headed serpents that belch a noxious miasma worse even than that of the Wyvern. Able to regrow lost heads, they may return to battle within 2 hours, or be revived instantly by a brave friend."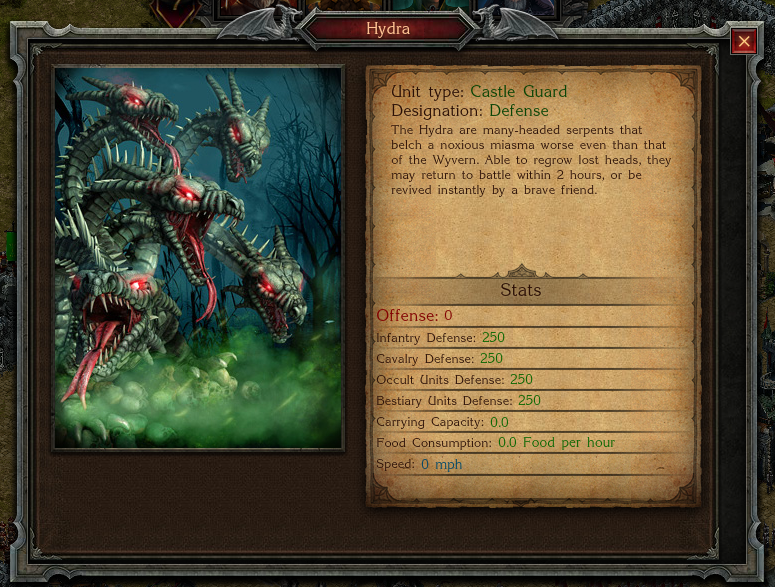 When
Available now from your friendly Black Market on browser versions and soon on the mobile version!
Where
Use your Hydra with your Defensive Occult Units, basically all Golems and Demons.
Why
When we are talking about Defense, then the legendary class Hydra is where it is at. This is the heavy hitter of the Defense Strategist's Army when combined with the right combination and numbers of Occult Defensive Units.
The Hydra can really be the difference between keeping your Castle safe and secure, along with your Resources, or losing them all to a rival. When people see some big red serpent-monster with multi-heads supported by Occult Units in your back-yard … well let's just say they are not coming around for a quick chat and a cup of tea.
How
Visit the Black Market, open your wallet and spend the coin. Think of it as an investment – the amount of time and money Hydra will save you with re-training Occult Defensive Units will make them worth the investment. The Hydra are the heavy hitting "Tanks" of Defense Strategy within the Stormfall lands, and if you do not have any, well let's just say that you will be getting visitors more than you would prefer!