Violence and strife are daily events within our realm since the Pantheon wars broke out, yet not all coalitions are suffering: indeed, many are prospering. Enter the Union Hispartana, a coalition that has gained much and thus made history in the process.
Opportunity Amongst the Ashes
The shakeup of the map has hit many of the top coalitions in the realm. As we recently wrote about in an edition of the Chronicle, many have fallen and many have risen during this time of increased hostilities.
Not all have suffered though. Some have taken full advantage of the situation and have gained much land and influence due to so many of the top coalitions losing their grip on their lands.
One coalition that has risen through the ranks is the Spanish team Union Hispartana, a coalition that in its own right is a powerful force, although not through any individual but rather through their team efforts.
A member of the community recently took to the forums to announce their congratulations to this rising star and pointing out the fact that they are indeed the first ever Spanish coalition to break through into the top 8 rankings.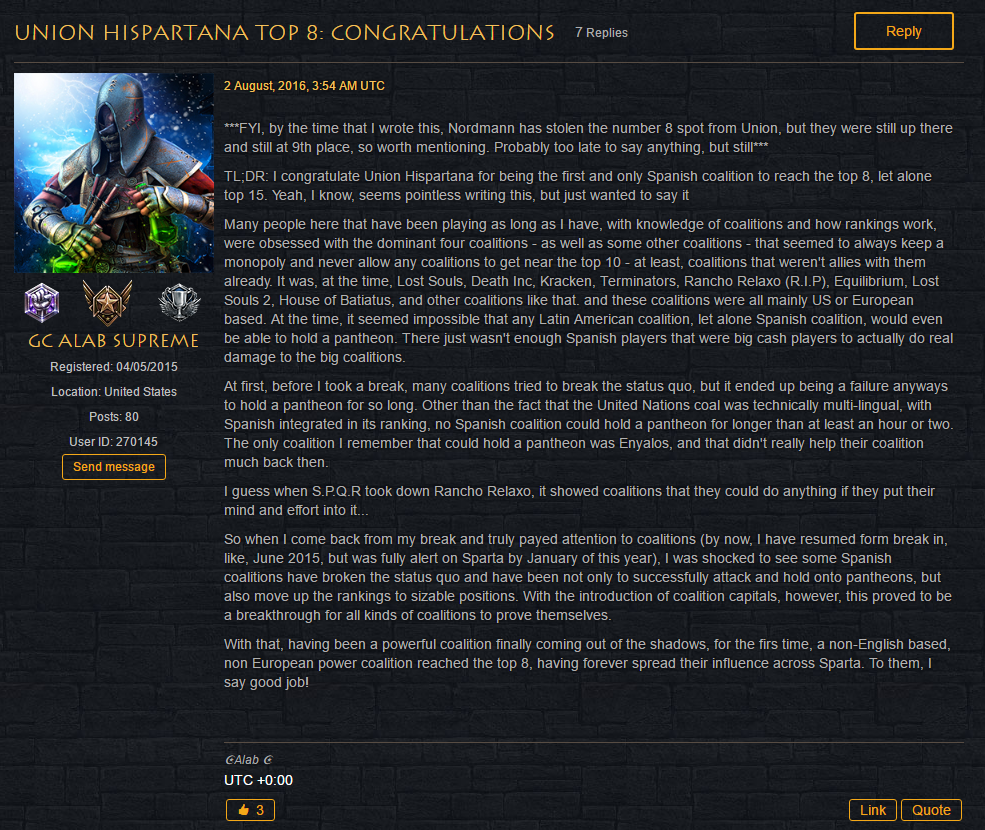 Following this congratulatory message, one of the leadership within the ranks of the Union Hispartana voiced their thanks on behalf of his coalition, pointing out the fact that they did this through hard effort and not the Dracmas in their coffers. A rare event in this realm, but one that proves it is a possibility for all.

Shonwing even further support, a multitude of others after hearing this announcement joined their voices in on the chorus that was singing praises for the Union Hispartana. Showing a rare sign of unity in these times of conflict.

Whether or not this rising coalition will be able to hold onto their newly conquered lands is yet to be seen. The void that exists from so many powerful coalitions either being cast out or voluntarily leaving their lands is a great one at this time, but that is not to say that they will one day not return, and wreak vengeance on any who have taken up residence in what they believe to be "theirs".
But this is a story for a another day, and for now, we can all rejoice and give praise to the Union Hispartana and their significant achievements. Congratulations to you all.
This article was written by a player who granted permission for it to be posted on Plarium.com. Any thoughts or views expressed herein are the player's own, and do not necessarily reflect the views of Plarium Global​.