Never forget Archon, that the Olympian gods observe all!
Ritter D. Tafelrund is the FIRST Coalition in Hellas to have earned the right to use their own specially designed logo! Their names will forever be associated with perseverance and valor!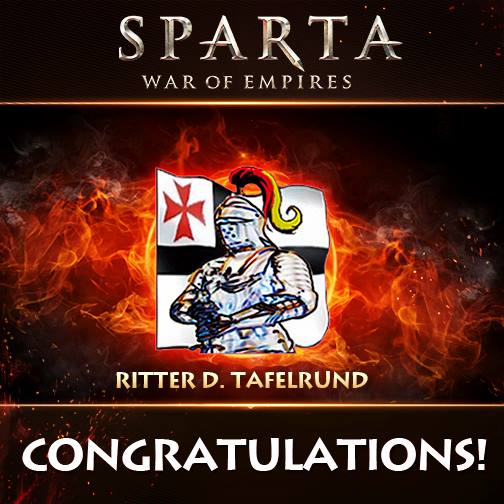 The marathoners asked the Coalition Hegemon, Kai Nimmrichter, to tell their story and share their experience. Now we all can learn from these courageous Archons!
1. How did your Coalition come into existence?
We were one of the first Coalitions in Sparta. From the very beginning, I directed our diplomacy and other actions in the game towards becoming the best Coalition. One of our major goals at the time was to complete all the Coalition Achievements but we did not tell anyone about that because we feared they would think we were mad.
When the first Pantheons appeared in Sparta, we were a Pan-Coalition already so we could and did place in the TOP 3.
2. Tell us more about the Archons in your Coalition. Do you have anything in common? Other than fighting for Hellas.
Like in every Coalition, you will find some things players in our Coalition have in common but I don't think we are a homogeneous group. We are a very diverse group with people coming from various backgrounds. Our Coalition members come from all over the world but all of us can speak German.
The one thing we all have in common is the desire to become the best Coalition, and we are working hard to reach our goal. We are not always the best in the Rankings but we are striving to be.
3. What kind of difficulties has your Coalition encountered? The ones that made your blood boil! What did you do about them?
Our biggest conflict was with the SWC alliance. We fought against 70 Coalitions that were part of the alliance, including very strong Coalitions like Beer Runners, Fenix, and Sacred Legion. At the time, our alliance, Knights of Destruction (KD), consisted of only four Coalitions – The Ritter, Sparta 300, Sons of Anarchy, and German Union. We were a young alliance but had a good strategy and extraordinary team spirit. We were defeating League after League.
More and more Leagues were leaving SWC and begging for a separate peace agreement. Thanks to our diplomatic work, team spirit, and the excellent planning on the part of our leadership, we won the war. SWC dissolved and the remaining Coalitions spread all over Hellas.
4. Tell us how your Coalition managed to get the first customized logo in Sparta: War of Empires.
Team spirit, having fun playing the game, and the desire to achieve something outstanding is what has taken us this far. The first year we were actively conquering and upgrading Pantheons, thus completing more and more Coalition Achievements.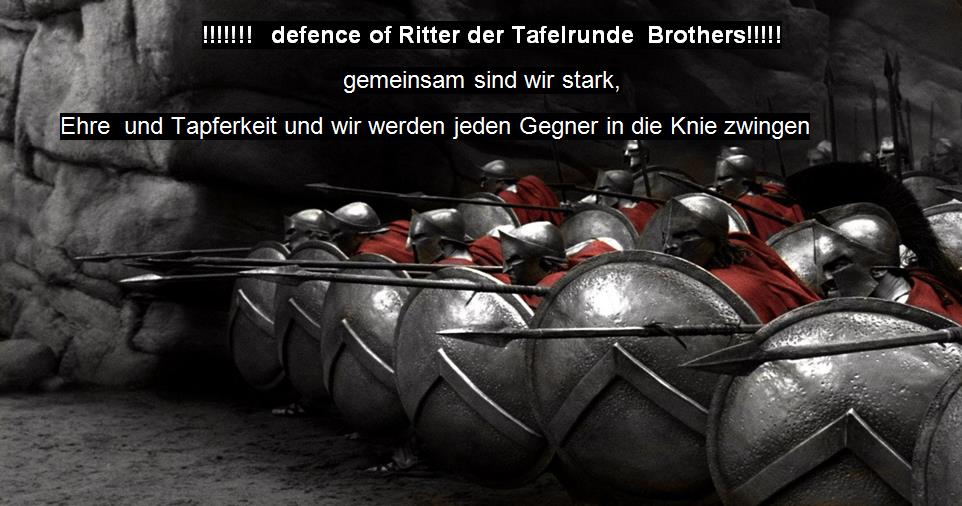 Now, over two years later, we are the only Coalition that has completed all the most important Achievements possible for a team to complete (Sons of Cronus, The Wolves of Ares, and The Brotherhood of Jason, to name a few). One of the last Achievements remaining is "Exalted of Sparta" for which you need to downgrade Pantheons. We are now at Level 5 where the goal is to downgrade 750 Pantheons.
This is, in short, how we managed to earn our very own unique logo. Creating it, however, was a completely different story. Plarium told us that the maximum acceptable size of a logo was 65x60 pixels. We are named after the Knights of the Roundtable, from Arthurian legend, so it made sense to have a knight depicted on our logo.
Unfortunately, the restrictions in size did not allow for a high quality picture. One of the members of our Coalition, Peter Pedersen, negotiated with Plarium for several weeks and in the end we hit upon a solution.
In the foreground you can see a knight with his hand on a sword and a cross colored in black, red, and gold. In the background is the flag of the Knights Templar, maybe the best historically known knights. This was all squeezed into the maximum allowable 65x60 pixels but with a little imagination, you can see that it's all there.
There is only one thing left for me to say as Hegemon, and that is that I am proud to be one of the Knights of the Roundtable of Sparta, and I'm confident that the other Archons in my Coalition are as well.
5. Which of your Achievements were the easiest to obtain, and which were a challenge?
Conquering 10 Pantheons and upgrading them to Level 5 was a piece of cake. We became the first League to have completed this Achievement. The hardest one to gain has been "Exalted of Sparta," so much so that we are still working on it. So far we have managed to downgrade 536 Pantheons. The second best Coalition has, I believe, downgraded a comparably paltry 250. So our success speaks for itself.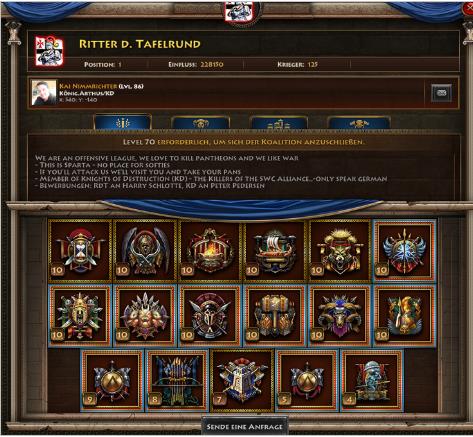 6. Has your Coalition experienced moments when the players lost motivation?
Every Coalition experiences losses and ours is no exception. Archons have left but that gave new, enthusiastic players a chance to join us. After all, the number of members is limited, so what's happened is kind of like natural selection.
On the other hand, we have many players who have been in the Coalition from the very beginning and are still very enthusiastic.
Being able to find new ways for my knights to stay motivated and continue to enjoy playing is a challenge, but one I welcome. Like any good knight, my Archons are looking for action, and it is action that I offer them!
7. I am sure you delegate special duties and responsibilities to players in your Coalition. How do you assign them?
In such a big Coalition it is almost impossible for one person to do everything. We all have a real life, after all. Many duties are carried out by people from our Coalition leadership. They keep me up to date on what is going on and support me in my decisions.
I also appoint people when certain tasks arise. Let's take Pantheons as an example. It is important to watch that no one takes too much Orichalcum. This can take a lot of time and requires diligence, so I appointed trustworthy Archons to perform that duty. You don't need a Hegemon for this.
8. How often does your Coalition recruit new players? What are the requirements, if any, other than prior gaming experience?
There are a lot of Archons that think they can easily become members of RdT but most of them fail. First of all, a new member should be a team player. Those that think they can do whatever they want and hide behind our logo will quickly get the boot.
This doesn't exactly seem to be the same in other Coalitions. Which Coalition can boast having captured 30 Pantheons and having upgraded them to Level 5 within five days?! That takes all members being on the same page and working together.
Unity is another important characteristic feature of our Coalition. When one of my Archons asks for help, it is everyone's duty to help them to the best of their ability. It is not important whether it is a man or a woman, Level 90 or 65. Everyone helps and everyone is helped, be it with Resources, or Offensive or Defensive Troops.
Thank you for a very insightful conversation, Archon! And good luck out there!