The recent Pantheon wars in Sparta: War of Empires have ripped the realm to pieces, old leaders in the realm have been cast down and new ones have risen to take their place. As the Death Inc suffers, the HoB rise.
Down With The Death Inc, Long Live HoB
As is now common knowledge, unless you have been a hermit hiding in a distant land, the realm has erupted in a Pantheon War and the once former top coalition has been toppled. New ones have risen to take their place, but is the realm any safer, or do we once again stand at the edge of total destruction?
The Death Inc saw their vast network of Pantheons dealt a devastating blow, as they spread their defenses too thinly and became an easy target for their now sworn enemies, the NWO alliance.
Making quick work of these lightly defended pantheons, the NWO spit in the face of the status quo and showed the realm that the previous top leagues could be taken on directly and that much of their strength was simply a facade and nothing more.
The most powerful of the coalitions in the NWO alliance is HoB, and thought of as many in the realm as the "ring leader" of this collection of noble armies. Therefore, it was no surprise to see that they benefited the most with the fall of the Death Inc and inherited much of their once prosperous land.
This fact has propelled them up the charts and landed them for a short time as the number one ranked coalition in the entire realm, toppling the Death Inc.
An official announcement was made by the leadership of HoB on the public forums for all to see and discuss.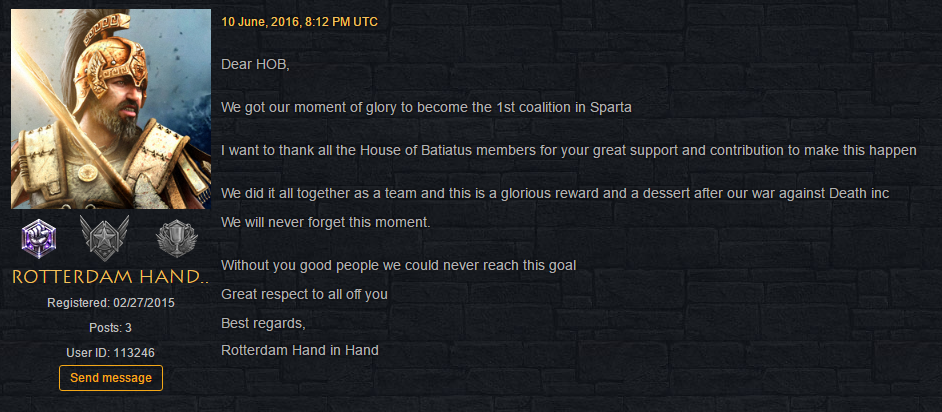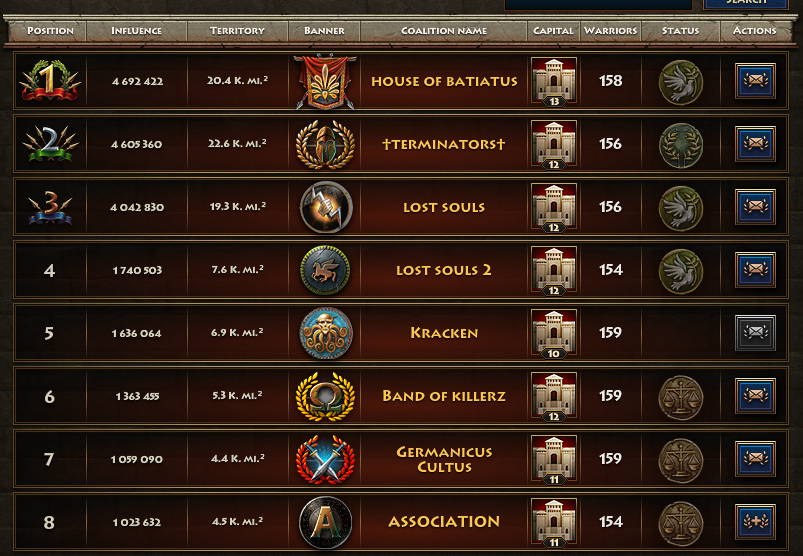 This initial conversation sparked a number of debates back and forth and led to much speculation as to whether or not that HoB would simply become the new powerhouse coalition and dictator of the realm. Even more discussed the situation that The Terminators and other top coalitions now find themselves in, are they next?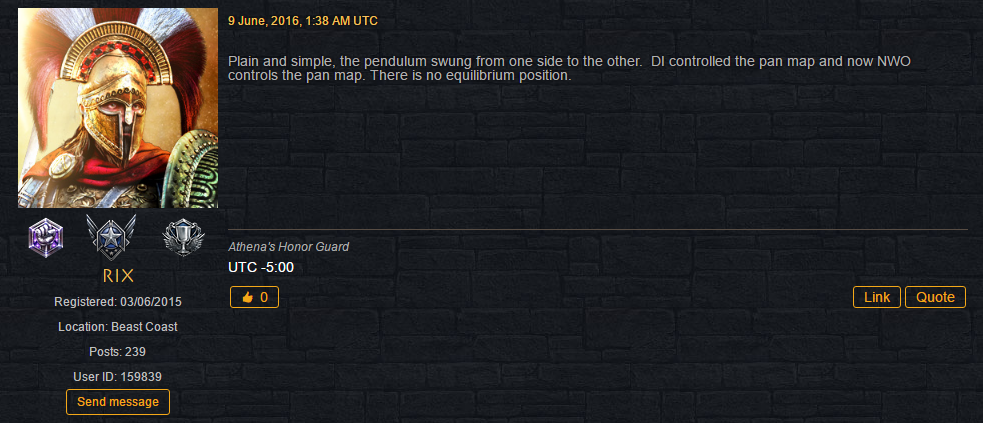 Regardless of what the future may hold, what is certain is the present day facts. At this time, the NWO alliance is strong and in charge. They wield the most powerful collection armies ever seen in this realm and have sent the former top coalition down the charts to 16th place, an impressive feat and one that must not be dismissed...

This article was written by a player who granted permission for it to be posted on Plarium.com. Any thoughts or views expressed herein are the player's own, and do not necessarily reflect the views of Plarium Global.