Complete madness has broken out across the realms, as the NWO alliance has put the old power structure to the test. Will peace ever return to the realm, or is this bloodshed now the new normal?
The New Normal is Madness
Complete and utter madness, that is the theme of this week's Chronicle. War has broken out across the realm, as the once peaceful state of the realm has been shattered.
With the fall of Death Inc, who was toppled by the NWO alliance, a new normal has become the reality for our great citizens across the realm. The stability we once had is no more and those who were considered "untouchable" are now open to assault and are fair game.
Pantheon fever has overtaken many coalitions as they battle for the chopped up Death Inc lands. Anarchy runs amuck in these territories, something that is blatantly obvious when one looks at the battle reports that continue to pile in.
The slaughters that are seen above have become common practice. The Death Inc, thought defeated, has proven that they still have a will to fight, and a cause that is just. Battling on they have lashed out against the top coalition in the NWO alliance, the House of Batiatus.

Although unable to hold Pantheon 391 once taken. The Death Inc is letting everyone know that they are still here, and they are not happy.
Reacting to this, HoB rapidly upgraded one of their seats of power, bolstering their defenders as they suspected further assaults were on the way.

Adding to the confusion, the Lost Souls took down the Red Squads pantheon, number 19. This attack was not endorsed by the leadership of the Lost Souls and shows the high level of confusion that exist across the realm, now that this new "normal" has been established.
The Lost Souls leadership first told their members to rally to this newly taken pantheon, only to quickly reverse their position.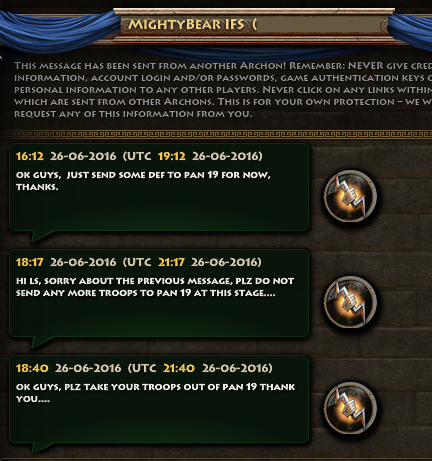 Will things now begin to settle down, or will more and more coalitions be brought into the fray? The battles rage on even as we put ink to parchment. The gates of many pantheons shake and the ground quakes as the armies of countless coalitions march on. Take heed and stay safe, we live in turbulent times.
This article was written by a player who granted permission for it to be posted on Plarium.com. Any thoughts or views expressed herein are the player's own, and do not necessarily reflect the views of Plarium Global.