A challenge is born, spectators all across the realm come out to bear witness to this event, as two evenly matched sides are pitted against one another. Who will be the victor, who the loser?
The Stoics vs the Fawkes
Despite all the chaos, all the madness, and all the frustration that has been generated of late due to the Pantheon Massacres and the ensuing bloodshed, coalitions still find the time to engage in even more death and destruction.
Despite these numerous battles happen all across the realm, they are rarely civilized and structured. Typically, they are animalistic, as man is pitted against man and it becomes nothing more than a fight to the death. However, this is not always the case.
With a common set of agreed-upon rules and an end in sight, the Stoics coalition and the Fawkes have agreed to settle their differences in a show of skill: a seven day challenge, where in the end arms can be laid down and differences settled, once and for all.
With trumpets blaring and flags flying high, the two parties cautiously entered into the fray, testing each other's strengths and weaknesses.
As the days passed and we neared the midpoint of the challenge, the sides were scoring incredibly close, with no clear winner yet determined.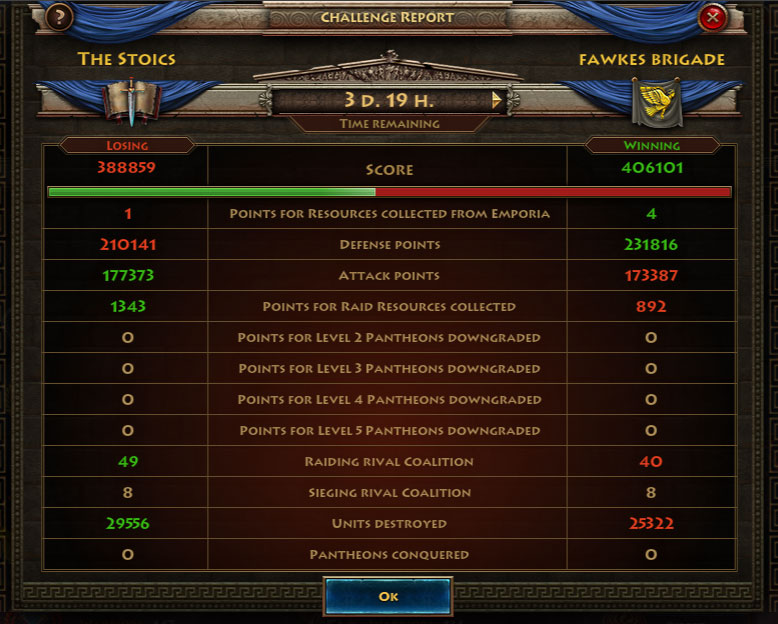 As can be seen from the initial report above, the Fawkes led by a mere few thousand points. Both sides were also evenly pitted in both attack and defensive points, with the Stoics leading in the latter and the Fawkes in the former.
As the days dragged on, the attacks continued, yet neither side could find a weakness in the others defenders. This was one of the most evenly matched challenges we at the Chronicle have ever seen, and we knew that it was going to come down to the wire.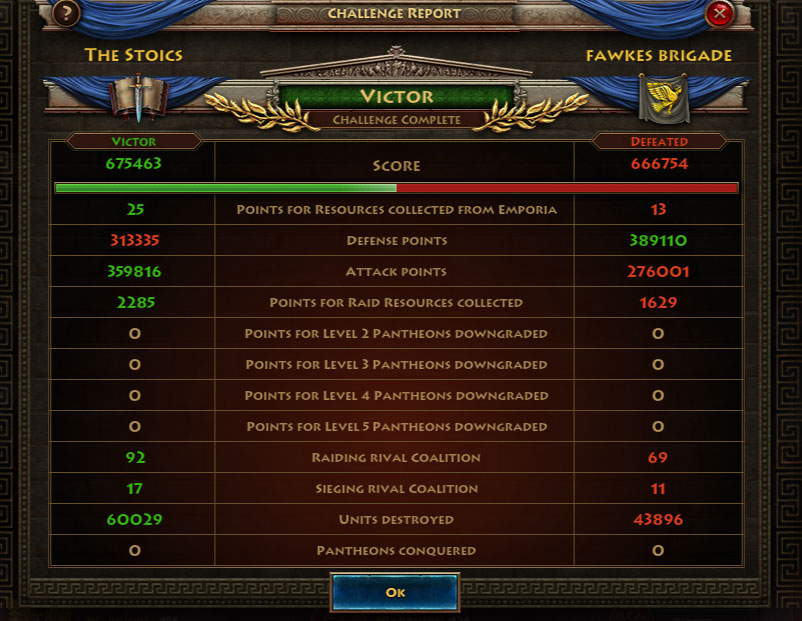 As the challenge came to an end and the men of arms laid down their swords, the points were calculated and a winner was determined. The Stoics would take the day!
Yet, as can be seen from the above results, the score was exceedingly close, with the Stoics winning by less than a 10,000 point gap. Right up to the very end the fate of the challenge lay in the balance, with either side on the verge of claiming victory. Only once the dust had settled was it calculated that the Stoics had narrowly edged out their rival.
For now, the fighting has stopped, and as honor demands, the challengers have laid down their weapons.
This challenge was truly one for the record books. Congratulations are in order for both sides, for a well-fought and honorable battle in which both sides can take pride.
This article was written by a player who granted permission for it to be posted on Plarium.com. Any thoughts or views expressed herein are the player's own, and do not necessarily reflect the views of Plarium Global​.