Dark are the days, long are the nights, yet even in these times we can find examples of growth, prosperity and happiness. The Stronghold coalition is just one such example.
A Shining Light, in the Darkest of Times
Death and destruction are two things that are commonplace in these turbulent times as our realm faces constant conflict.
Much of this conflict is created internally, by the people of the land, while other scenarios are forced upon us by the gods above, as seen with the recent Pantheon Massacre, an event that has threatened to rip the realm to shreds due to its violent nature and rapid recurrence.
Yet, life has gone on and taken root, even in the most evil of times. The people of this land are resilient--many coalitions, exceptionally so.
One example of this resilient will for survival is found among the warriors of the Stronghold coalition, who continues to grow, prosper and recruit new members to their ranks.
Taking to the public forums, they, as others have done in the past, have showcased what they have to offer to prospective Bannerman, attempting to prove that they are the desired location for those with budding forces and no place to call home.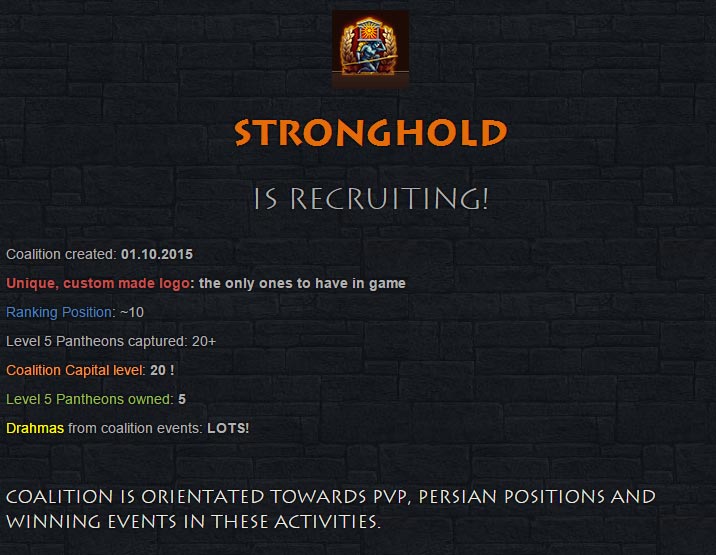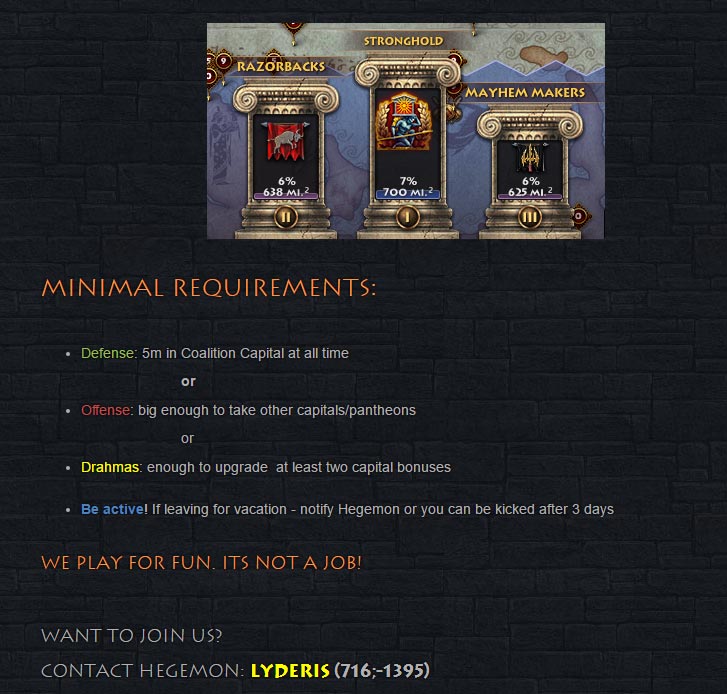 Backing up the claims of this coalition's leadership are the facts of the land. They have proven themselves to be a battle-hardened force, forcing their way up to the second-ranked position, in these times of increased conflict.
Not only have they risen in the ranks in the face of constant threat from the Pantheon Massacres, but they have also been able to raise their fortress to an impressive level 20, a tremendous feat and one that few within the realm share with them.
Last but not least, this coalition is the only one in the lands that can boast the fact they have a unique, custom made banner, crafted by the gods above.
The future looks bright for the Stronghold coalition and this story should serve as a shining example of what your coalition one day could achieve, as anything is possible even in the darkest of times.
This article was written by a player who granted permission for it to be posted on Plarium.com. Any thoughts or views expressed herein are the player's own, and do not necessarily reflect the views of Plarium Global​.