Player: Marco Mascherpa – Leader
Coalition: Free Fun Sparta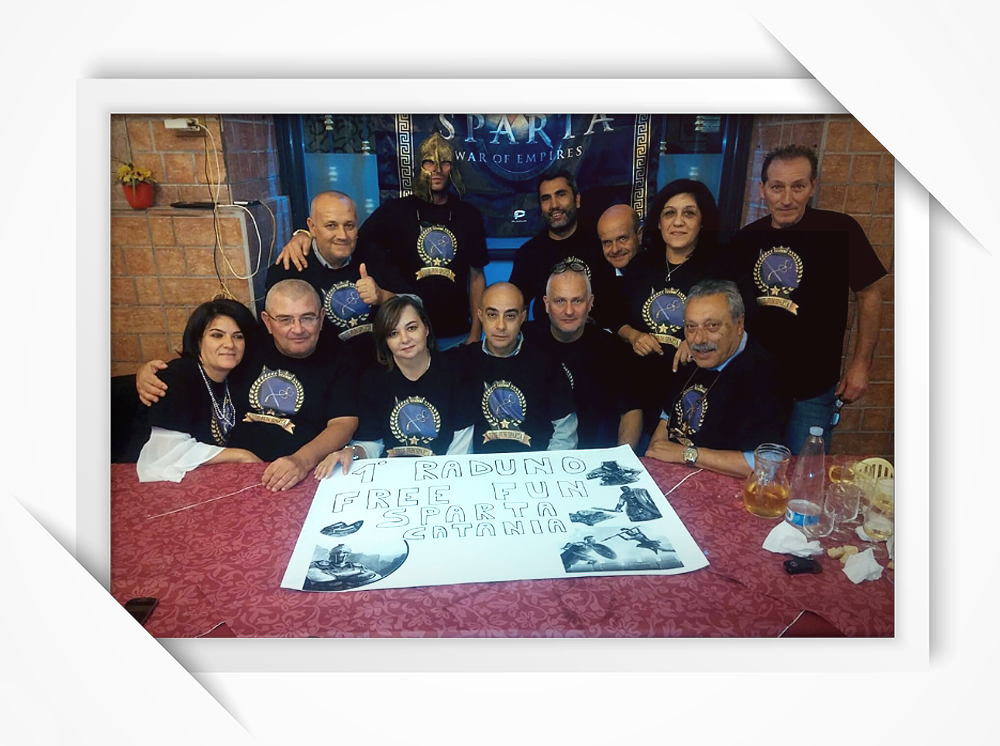 1. When was your League created?
We have been playing together as a Coalition for over three crazy years.
2. How often do you organize your gatherings? Tell us your story.
This was actually our first gathering. We have forged strong friendships together over the last few years, talking on social media and sometimes calling each other. We decided together it was time to meet in person.
We quickly realized a smaller gathering was best to start with, so we extended an invitation for anyone to meet us in Catania, Italy. In the future we hope to meet as a larger group that represents all of the different countries our players are from.
League members from all over travelled to meet up with us. The planning of it was great fun, and eventually we met in a wonderful restaurant.
3. How many players took part in the gathering?
Due to some flight cancellations and other logistical problems, not everyone who wanted to be there could make it. In the end 12 of our dedicated members were able to join us, with both Italy and Malta being represented.
4. How did you organize meeting up as a group?
The evening planning was between five Polemarchs and overseen by the Hegemon. It took a lot of understanding and cooperation between us, and it definitely brought us closer together. The whole process took about a month and what we learned from it will certainly lead to bigger and better gatherings in the future.
5. What was the highlight of your evening?
Being able to meet together as a group and cementing the online friendships that already existed. It was a really special moment. And since we were in Italy, we were also presented with a grand banquet of food and wine!
6. What was the funniest thing that happened? Anything unexpected?
We joked around a lot during the gathering, but the most hilarious was when someone pulled out a Spartan helmet from their bag. We took turns wearing it to take photos, shouting "AHOU!" (like the Spartans in 300). The whole restaurant looked at us as if we were out of our minds.
7. Would you recommend organizing a gathering to other players?
Definitely. After spending so much time with your Coalition and building your friendships up through a screen, it is amazing to meet up properly and chat face to face. We talked about everything, from our normal every day lives to game strategies. It was a new experience and one that really made us closer as a Coalition.
8. Did you like the flag you received?
Most of us saw the flag for the first time that night! We were honored that our Coalition had been considered to receive one for the occasion. It made us proud to be a part of this community.
We had also designed t-shirts with our Coalition logo on it, and had a "Sparta: War of Empires" flag hung up behind our feast table. The display was truly impressive.
9. Any more comments for our readers?
We are hoping that one day Plarium will host an international Sparta convention, where friend and foe can meet together.